Feature F1 Unlocked
DATA POINTS: What we learned from Friday practice in Spain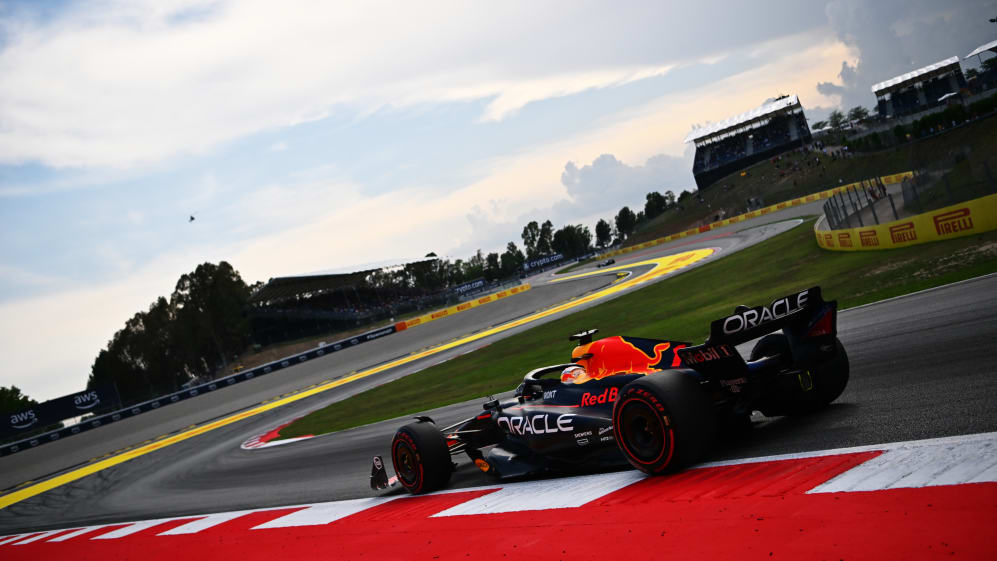 Formula 1 teams were greeted by bright and toasty conditions in the familiar surroundings of Spain's Circuit de Barcelona-Catalunya on Friday. The layout is renowned as the ideal testbed for every aspect of car design, courtesy of its variety of corners.
This year, that design has featured a tweak with the removal of the final chicane to leave a super-fast double right to end the lap – much to the delight of the drivers.
READ MORE: Vasseur explains Ferrari's sidepod change and how it will 'open some doors' for future development
Seven of the teams have brought upgrades to Spain – and for most of those, these are in addition to the new packages that appeared for the first time in Monaco – one race later than planned after Imola couldn't take place.
It meant a plethora of data gathering aero rakes, which look like giant grills, and a splattering of flo-viz paint were in use to measure how air flows over the car and analyse the new parts. So, who looks to have made a step forward with the new bits and who has been left scratching their heads?
Red Bull look mighty across the board
Red Bull set an ominous tone in first practice, the RB19 frighteningly quick straight out of the box to lead the field by nearly a second. That margin was slashed in FP2 as Aston Martin showed a bit more of their pace – but when our data team crunched the numbers, it's clear Red Bull are in a commanding position.
Over one lap, they have a 0.33s advantage over the field – and they retain that in terms of race pace (the latter data is based on soft tyre running only as there wasn't enough representative running on the other two compounds for a fair comparison).
It's in the medium-speed corners where their advantage is very impressive – they are nearly a quarter of a second quicker than the Ferraris and just under a tenth clear of Aston Martin through those turns.
Based on these numbers, it's no surprise championship leader Max Verstappen was in such a good mood after Friday's running, saying he "felt very comfortable in the car and looking after my tyres". He added "everything looked very good". Rarely is he this positive on a Friday, so that is ominous for his rivals.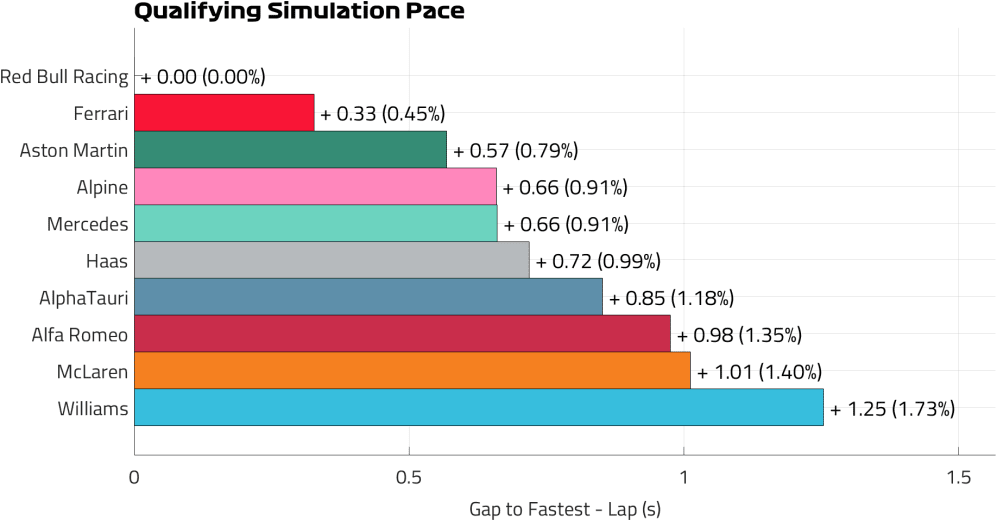 Aston Martin in the ballpark
The grandstands were rammed with Fernando Alonso fans on Friday, the Spaniard saying 67% of them were bedecked in Aston Martin green. He couldn't give them a table-topping time, but he did show a turn of pace to suggest, at the very minimum, a podium to reward their support is on the cards.
Our data shows the Aston Martin is only third-best on low fuel runs, but Alonso said the laps aren't representative and that he reckons the field is so close, if you hook up the ideal lap, anything is possible.
Our data shows that had Alonso done his best tour of the Barcelona track, hooking all his best mini sectors together, he would have been just a fraction behind Verstappen. That, in part, supports his theory.
Alonso looked very good in the final sector, he was the only driver other than Verstappen and Ocon to go flat out through the fast Turn 9 and looked mighty in the final corner, making the most of Aston Martin's slender advantage over Red Bull in the high-speed turns. Even if he doesn't have the car to fight for the win outright, based on what he learned today, it's hard to count him out.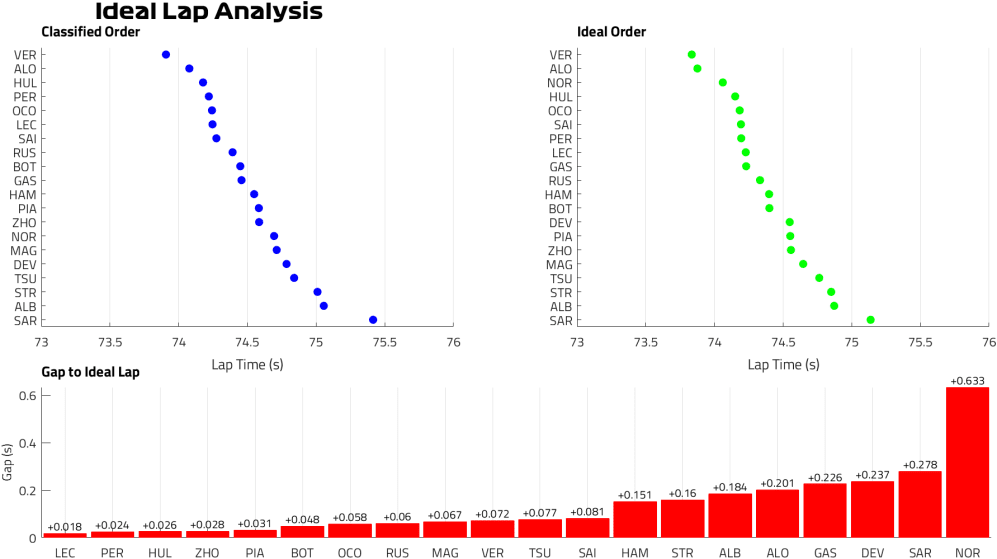 Ferrari hard to read after introducing upgrade
Support for Alonso in Barcelona was only rivalled by countryman Carlos Sainz, who sold out a 3,300-seater grandstand bearing his name in just EIGHT minutes. I'm told 14,000 tried to purchase them, so strong was the demand.
The Spaniard was evenly matched with team mate Charles Leclerc in FP2, the duo around three tenths of a second off the pace in both metrics.
READ MORE: Vasseur explains Ferrari's sidepod change and how it will 'open some doors' for future development
Today, though, was more about learning about their new parts, some of which were added to the car in Monaco while others – including a different sidepod concept – broke cover for the first time in Spain.
It's way too early to read anything into them, but the data does show they continue to be a threat to Red Bull and Aston Martin in the slow-speed corners. The medium and high-speed turns, though, are more of a challenge.
Alpine causing a stir once more
Esteban Ocon is still riding high from his stellar performance in Monaco, the Frenchman delivering his best-ever all-round weekend performance in the Principality – and he wasted little time picking up where he left off on Friday.
The Alpine driver was the first driver to go flat-out through Turn 9 in FP1, suggesting he had confidence in the car early doors. The Alpines are brilliantly quick in the straights and lead the way in the high-speed turns.
On one lap, they are fourth-best and a match for Mercedes – and while they drop to fifth in the race simulations, there's a feeling that the aero efficient Alpine can make gains overnight with a few tweaks and get on top of the graining that affected all the teams.
Several drivers mentioned Alpine as a threat, which is praise indeed – and the data suggests that at the very least, they will comfortably be contenders for Q3 and solid points this weekend, continuing their Monaco form despite Barcelona being a very different circuit.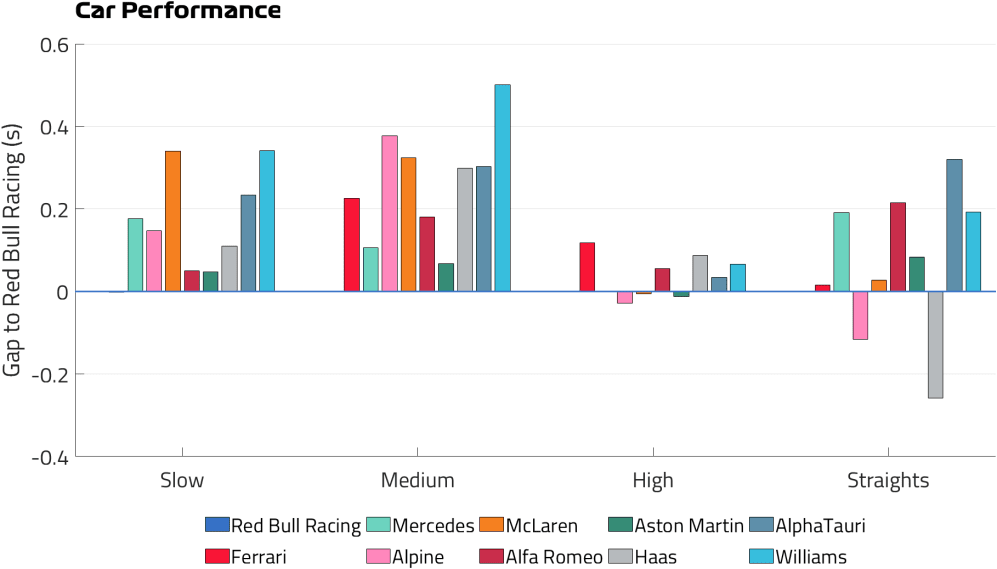 Mercedes have a lot of work to do
Lewis Hamilton is fearing a difficult weekend ahead, the seven-time world champion reckoning it'll be difficult to get his upgraded Mercedes in the top 10 based on his current feel.
He looked to struggle more than team mate George Russell across Friday's two practice sessions and while our data does suggests they are a match for Alpine, and not too far off, but they don't have much of an advantage over the Haas and AlphaTauri cars, suggesting it may well be a very tight fight for Q3.
READ MORE: Hamilton fears 'struggle to get into the top 10' in Spanish GP qualifying as Russell gives verdict on Mercedes updates
On the race pace front, things look better – Hamilton saying the pace didn't look "terrible" while Russell believed they have some steps they can make in that area before Sunday to improve their form.
They seem to have the fourth-best car in that metric, with a healthy advantage over Alpine. Helpfully for them, the consensus is that overtaking should be a little easier with the corner change – though they'll need to make gains with their speed on the straights – only two teams were worse than them – if they are to make any progress in the race.
To read on, sign up to F1 Unlocked for free
You'll unlock this article and get access to:
Live leaderboard data
Epic experiences and rewards
Money-can't-buy competitions