Defending champion Hamilton says he 'feels great' after dominating FP2 in Abu Dhabi ahead of title showdown
Lewis Hamilton was brimming with confidence after the first day of running in the 2021 Abu Dhabi Grand Prix, which saw him set the fastest time in FP2, as he prepares to hunt for a record eighth World Championship.
Hamilton finished third in the opening practice session at Yas Marina Circuit, 0.346s off leader Max Verstappen, with whom he will battle for the title on Sunday. But he then managed to go three-tenths clear as he set the fastest time of FP2 under the lights.
READ MORE: FP2 – Hamilton leads Ocon and Bottas in second Abu Dhabi practice session, Verstappen fourth
"It doesn't feel too bad. It started off good but got a bit worse in P1, then started off better in the second session with some changes we made," said Hamilton of his car on Friday evening. "But yes, now we just have to crank through the data and try to figure out how we can improve, where we home in. The target is always moving, but yes. Otherwise, I feel good.
"I feel good, I feel great in my body," he added, "and as I said I think we made some positive steps set-up wise, so we'll try and perfect it tonight and come back hard tomorrow."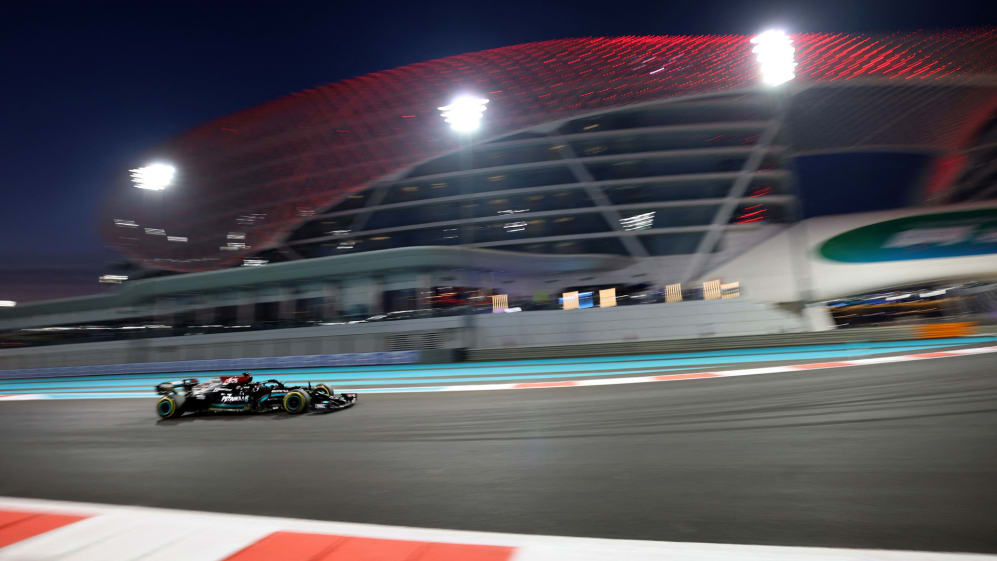 The Briton was also complimentary over the new changes made to the circuit, which have seen Turns 5 and Turns 9 reshaped while the third sector has been refined too, making the lap much faster than it was in 2020 – with Hamilton's fastest Friday lap of 1m23.691s comparing to the 2020 pole position time (set by Verstappen) of 1m35.246s.
READ MORE: Wolff and Horner shake hands before giving their thoughts ahead of 'amazing, unprecedented' championship finale
"I like the changes they've made to the track, it's made the track much more enjoyable, much more flowing," said Hamilton. "It's obviously close between us all but yes, we got through our sessions and still a bit unknown in terms of pace but I'm sure it's going to be super-close like it has been in previous races."
As for team mate Valtteri Bottas, he finished second in FP1 and third in FP2 – behind Alpine's Esteban Ocon – and suffered a near-miss in the second session when he drifted and tapped the wall outside Turn 12. Later, the Finn said he was caught out by the new track layout.
"Yes, you know, that section is a bit faster now, and the track still feels that off-line it is a bit dirty, a bit dusty, so I think I went a bit too wide on the kerbs before that corner… and I paid for it. But luckily, no damage – it was a nice drift," he quipped.
"I mean it was nice to get a feel of the modified layout and it definitely feels a bit nicer than before, like, the track has a bit more flow, I would say some increased overtaking opportunities," added Bottas.
Mercedes lead the constructors' championship by 28 points while Hamilton and Verstappen are equal on points before this crucial decider in the United Arab Emirates.