Wolff and Horner shake hands before giving their thoughts ahead of 'amazing, unprecedented' championship finale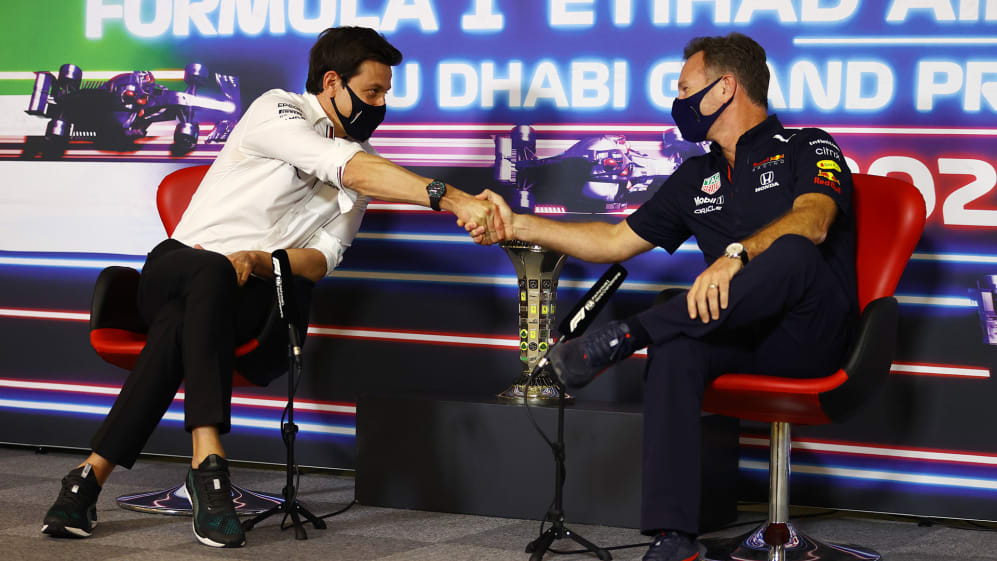 The eyes of the world are on the Formula 1 title conclusion this weekend as Red Bull's Max Verstappen and Mercedes' Lewis Hamilton enter level on points while Mercedes enter favourites to wrap up the constructors' championship. Ahead of the Abu Dhabi Grand Prix, Team Principals Christian Horner and Toto Wolff shook hands and spoke about the battle that lies ahead.
We've seen wars of words, technical battlegrounds set ablaze and of course, Verstappen and Hamilton going wheel to wheel in such fierce fights as their stunning duel that set the scene in Bahrain, their scrap at Imola, crashes at Monza and Silverstone, and most recently controversy in a heated Saudi Arabian clash. But now it all comes down to Abu Dhabi, where both titles will be decided on Sunday.
"Good luck. May the best man and the best team win," said Mercedes chief Wolff to his counterpart Horner on Friday. "This one is just a fierce fight between teams and drivers that have done a really great job, but, sometimes in the races [Max and Lewis] were 45 seconds up the road lapping almost the whole field.
READ MORE: One race to go – but at the end of a blockbuster season, who will be crowned champion in Abu Dhabi?
"It shows that the push that all of us have done in order to win this is a level that certainly in my years at Mercedes is unprecedented."
In response, Horner said: "Who'd have thought coming into this season that we'd be here with an outside shot of going for the [constructors' trophy] but to be tied on points with Lewis?
"It's been an amazing journey, it's been an amazing championship. We've won 10 races, nine [of which] Max has won. That's matched his previous victories from the previous seasons he's been involved in the sport."
Each team boss also shared what they have said to their respective drivers – Hamilton and Verstappen – ahead of this showdown.
"I think there was overall discussion on where we are as a team," revealed Wolff, "and after Brazil, the easiness that we have rediscovered in the team and all agreed that this why we are here: close competition, fierce fighting for both championships, and Lewis is one of the protagonists in the team to install and instil this kind of mindset," revealed Wolff.
"I see him and Valtteri in a way, as a kind of pillar, playing their role, concentrating on their job, not being distracted by any noise. And that's why he's a leader with the great support of everybody else – and of course Valtteri."
ONBOARD: Check out the Abu Dhabi track changes for 2021
Horner added: "We've obviously talked about the weekend, and the most important thing is obviously for him [Verstappen] to enjoy this weekend and to give his best, to drive exactly as he has in the previous 21 races, to attack the weekend in the way that he has, that has given him those nine victories, that has taken him to this point of being tied on points with Lewis, and to enjoy it.
"He's driven phenomenally well. I think since the summer break, we haven't had the strongest car, and I think it's Max that's kept us in this championship. So I think the biggest thing for him is just go for it, just enjoy it. Obviously the target is, we have to beat Lewis.
"The only chance we have to win this championship is to beat Lewis, and we want to that on the track. We want to do that as we've done on at least nine previous occasions with Max so far this year," surmised the Red Bull boss.
While Horner admitted that the constructors' championship trophy is a "long shot" for Red Bull, Wolff however warned that Mercedes' 28-point advantage could well slip away this weekend.
"Now, statistically that's a very strong advantage that we have but you can see how quickly it goes," said Wolff. "We were just five points ahead and Checo was involved in that crash [in Saudi Arabia] and scored no points, and suddenly that swings massively and there still can be events on Sunday where that could swing in the other direction."
Whatever happens now, history will be made in Abu Dhabi. Find out when and how you can watch the action here, and stay tuned to F1.com for up-to-date news and the latest reaction from the 2021 season finale.