Feature
DHL Fastest Pit Stop Award: Williams pick up where they left off
Williams dominated last year's DHL Fastest Pit Stop competition, claiming top honours in 14 of the 21 races. But will they continue to be the team to beat in 2017? On the evidence of Australia, it looks like they might…
Formula One racing's shift to wider tyres has helped the drivers corner at considerably higher speeds than before - but it isn't just behind the wheel where the impact of the change is being felt.
In the pits, teams have had to double their efforts in order to make sure that the chunkier rubber doesn't have a negative impact on the speed of their tyre changes - but it hasn't been easy.
Not only are the tyres wider (by 60mm at the front and 80mm at the rear), they're also heavier (by 0.8kg at the front and a whopping 1.8kg at the rear) making them much more cumbersome to manoeuvre than before. Wheel nuts now also need to be retrieved and replaced within deeper rims, adding crucial milliseconds to the overall time.
It'll come as no surprise then that many teams chose to dedicate a considerable amount of time to additional training and pit stop practice during the off-season.
For world champions Mercedes, who revealed before Australia that they completed nearly 300 pit stops at their Brackley base over the winter, this meant switching their pit crew to a five-day-a-week preparatory programme, with three separate pit stop practice sessions pencilled in during that same seven-day period. Using competition as motivation, crew members also had a dedicated app on their phones to track their progress and compare themselves to team mates.
The question is: did all the hard work pay off for the Silver Arrows and their similarly-minded rivals? Judging by the pit stop times in Melbourne, yes.
Despite the bigger tyres, Mercedes slashed 0.18s off their fastest time from Australia last year - but even that wasn't enough to earn them top honours.
Instead the quickest stop went to last year's standard setters Williams, whose crew knocked 0.01s off their 2016 table-topping time from the same race while servicing Felipe Massa's FW40 on lap 20. Aided by the Brazilian stopping perfectly on his marks, the well-drilled team swapped all four tyres in just 2.34s.
Under new rules for 2017, designed to add further spice to competition for the DHL Fastest Pit Stop Award, the Grove-based team earn 25 points for their rapid turnaround of the Brazilian's car, and a further 15 for clocking the third-quickest time changing the tyres on Lance Stroll's identical machine.
Mercedes, Ferrari and Force India also all scored twice, with Toro Rosso and Red Bull each opening the season with a single points score.
Williams on top again then - but who will be fastest in China?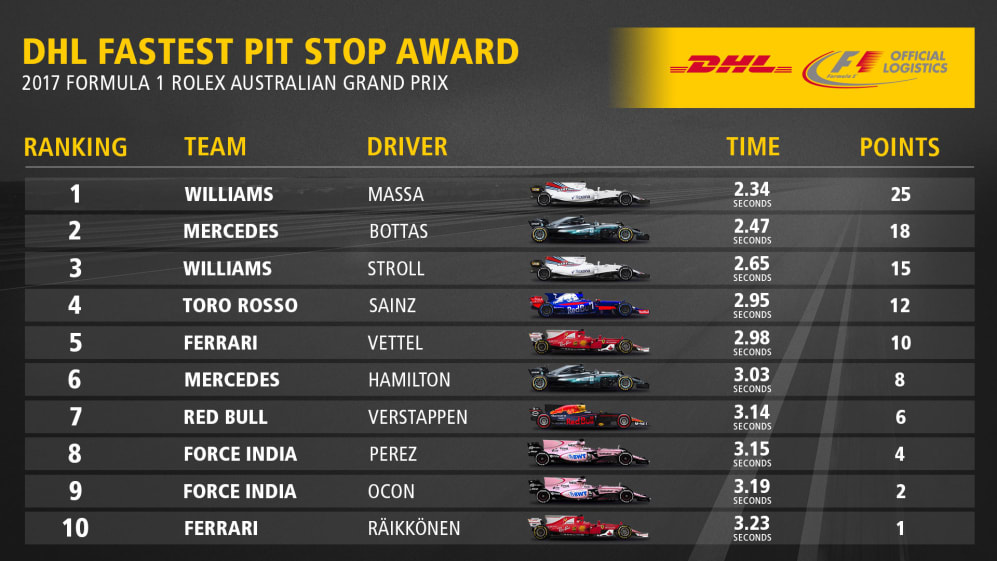 Top image © Steven Tee/Williams F1