Disappointed is an understatement – Red Bull on Ricciardo's FP3 engine issue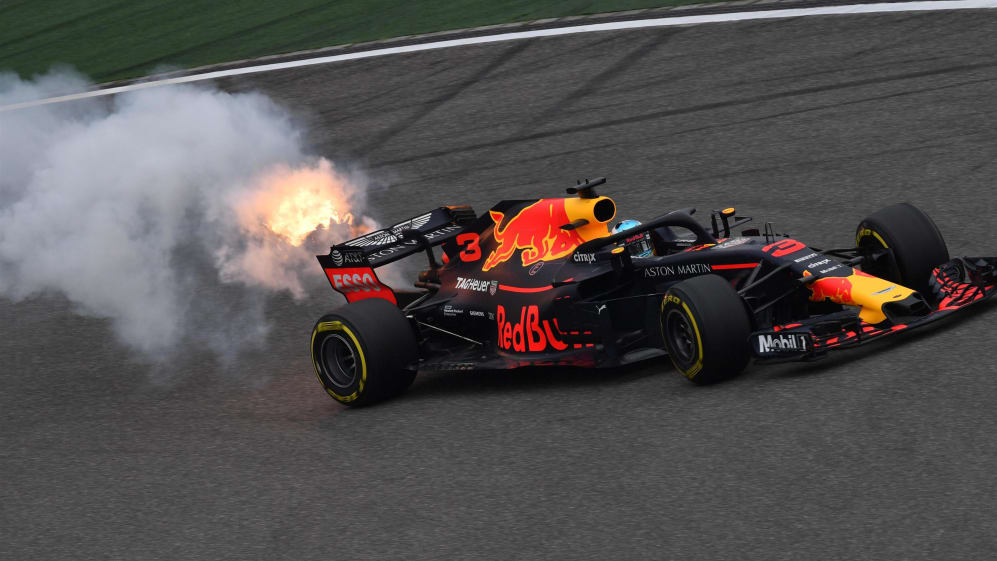 It's not been a great seven days for Red Bull. After seeing both of their cars exit the Bahrain Grand Prix within the first four laps - the team's first double retirement since 2010 – the former world champions suffered another setback in FP3 in China as Daniel Ricciardo ground to a smoky halt with another power unit issue.
Ricciardo, who went out on the second lap in Sakhir with an electrical issue, was forced to park up at Turn 15 with just four laps on the board, leaving Red Bull with a race against time to get his car ready for Saturday afternoon's qualifying session.
"We've got a suspected turbo failure, that's what the analysis is at the moment," team boss Christian Horner told UK broadcaster Sky Sports. "Whether it's damaged the combustion engine as well, only time will tell. It certainly looks turbo orientated at the moment."
The latest setback is sure to heap further pressure on Red Bull's relationship with power unit provider Renault. Asked if the Australian's car would be repaired in time to join the fight for pole, Horner replied rather pointedly: "The amount of time we've changed these engines, we've had plenty of practice. The guys are pretty well averse to it.
"It's the second race in a row. We had an energy store [problem] last race and we've got this issue here before we've even got into qualifying and we're on race three. Disappointed is probably an understatement."
The works Renault squad and McLaren – the two other teams using Renault power units - both boast a 100 per cent finishing record this season, but Horner said that he doubted whether Red Bull's packaging could be to blame for the failures.
"The failure we had last weekend has been seen previously," he said, "and in pre-season on other cars as well. This failure today? Let's get the analysis, understand what it is fully – there will be plenty of information on it I'm sure.
"I feel for the guys on that side of the garage. But they'll bounce back and we'll be ready for quali."
If Ricciardo requires a new engine, it'll be the second of three he's allowed for the season before grid penalties are applied. Renault's Nico Hulkenberg and Carlos Sainz have both taken a second MGU-H this weekend.