Report
Dominant Hamilton eases to fifth Spanish GP win as Verstappen splits Mercedes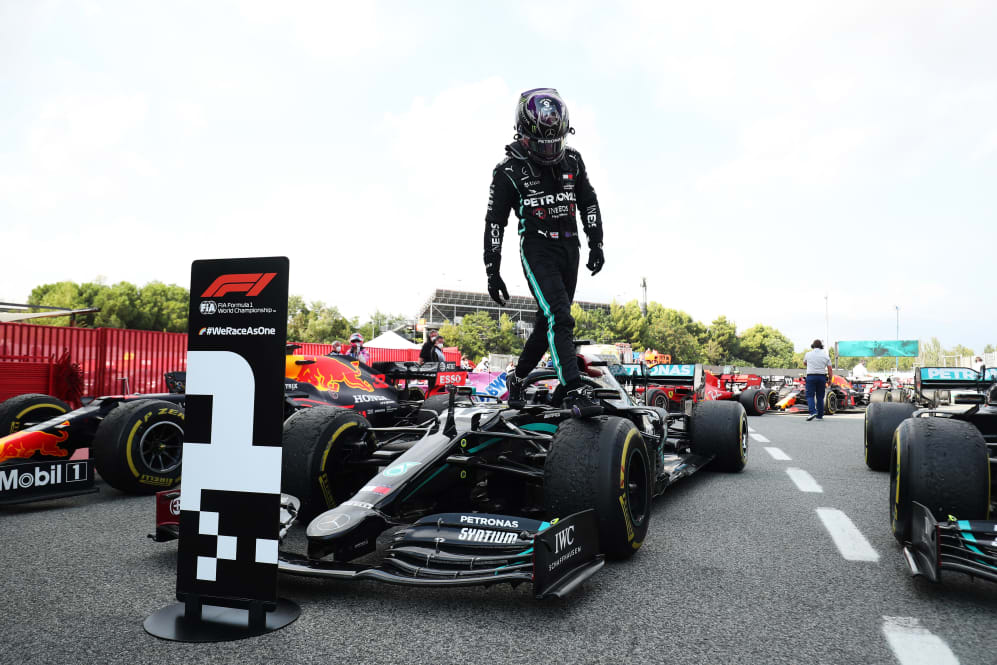 Mercedes' Lewis Hamilton executed a near-perfect race at the Spanish Grand Prix, leading every lap from pole to record his fifth Spanish Grand Prix win, and his fourth victory of the season, with Red Bull's Max Verstappen coming home ahead of the sister Mercedes of Valtteri Bottas.
The seeds of Hamilton's victory were sown by a strong start for him, as Bottas dropped from P2 to P4 off the line, before eventually recovering to third, while Verstappen jumped to second at the getaway, but ultimately wasn't able to make any in-roads into Hamilton's lead, as he finished 24s adrift.
Racing Point's Sergio Perez crossed the line in fourth but dropped to fifth thanks to a five-second penalty for ignoring blue flags, allowing Lance Stroll to claim P4. Perez eventually slotted into fifth, ahead of the McLaren of Carlos Sainz – who maintained his 100% record of finishing in the points at his home race – and the Ferrari of Sebastian Vettel, who benefitted from a late decision to switch him onto a one-stop strategy to come home in seventh.
DRIVER OF THE DAY: Gritty one-stop drive gets Vettel your vote
He finished ahead of the second Red Bull of Alex Albon, the Thai driver hurt by having had to switch early to a set of hards, while the AlphaTauri of Pierre Gasly and the second McLaren of Lando Norris rounded out the top 10 – the expected strong race pace from Renault having failed to materialise on race day, as Daniel Ricciardo wound up 11th, with Esteban Ocon 13th.
Ferrari's Charles Leclerc, meanwhile, was the only driver to retire from the race, the Monegasque suffering an electrical issue at the halfway point that pitched him into a spin at Turn 15, before eventually boxing his SF1000.
FORMULA 1 ARAMCO GRAN PREMIO DE ESPAÑA 2020
Spain
2020
Race results
POSITION
TIME
POINTS

1

Lewis

Hamilton HAM

Mercedes

1:31:45.279

25

2

Max

Verstappen VER

Red Bull Racing

+24.177s

18

3

Valtteri

Bottas BOT

Mercedes

+44.752s

16

4

Lance

Stroll STR

Racing Point

+1 lap

12

5

Sergio

Perez PER

Racing Point

+1 lap

10

6

Carlos

Sainz SAI

McLaren

+1 lap

8

7

Sebastian

Vettel VET

Ferrari

+1 lap

6

8

Alexander

Albon ALB

Red Bull Racing

+1 lap

4

9

Pierre

Gasly GAS

AlphaTauri

+1 lap

2

10

Lando

Norris NOR

McLaren

+1 lap

1
AS IT HAPPENED
Hamilton was faultless off the start, powering untroubled down the 612-metre run to Turn 1. Alongside, there was little wrong with Valtteri Bottas' getaway.
But the fast start of Max Verstappen from third, and directly behind Hamilton, prevented Bottas moving over into his team mate's slipstream, allowing Verstappen through into second, while an incisive Lance Stroll darted first to the left then all the way over to the right of the track before diving down the inside of Bottas to pinch third with a brilliant move.
Bottas was down in fourth, then, and was nearly had by the sister Racing Point of Sergio Perez too, who was momentarily ahead of the Finn at Turn 3 before Bottas moved back in front.
Alex Albon had enjoyed a fine start from P6, but was baulked by Bottas in Turn 2, having to get off the throttle and losing his advantage to remain sixth. Pierre Gasly had a good start in the AlphaTauri, jumping up two places to eighth as Lando Norris fell down to two to P10.
After starting P13, Daniel Ricciardo had made up a place at the start by passing the AlphaTauri of Daniil Kvyat, but lost it again after a fantastic move on Lap 2 from the Russian, who re-passed him around the outside of Turn 4, just as he had done on Kimi Raikkonen in the 2019 race.
Haas' Kevin Magnussen had a fantastic start from 16th on the grid, passing the Alfa Romeo of Raikkonen and the Renault of Esteban Ocon.
A presumably frustrated Bottas then DRS-ed his way past Stroll for third on Lap 5 of 66, allowing vaguely normal service to resume for Mercedes, albeit with Verstappen now between their two cars.
The Dutchman had done well to hold onto the coattails of a "super slow" (in Verstappen's words) Hamilton for the first 10 laps of the race, staying within around two seconds of the Mercedes. But when Hamilton began to open the taps from Lap 10 onwards, Verstappen struggled to live with it, complaining about his soft rear tyres as he dropped to around six seconds back by Lap 20.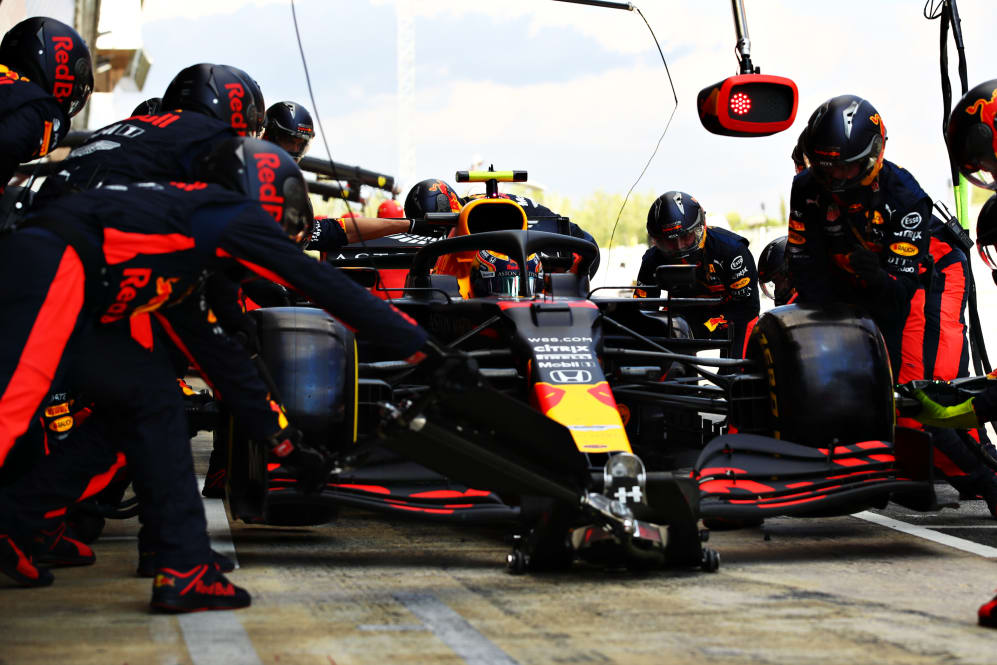 His team mate Albon, having been trapped behind the Racing Points of Stroll and Perez in sixth, was pitted on Lap 18, Red Bull sticking him on the hard tyres (with only one set of new mediums available) and putting him out all the way down in 16th. It was mediums for Verstappen four laps later, however (with a 1.9s stop for good measure) the Dutchman having been getting increasingly frustrated on team radio about the state of his soft tyres.
He managed to emerge just ahead of the Racing Point of Stroll in third. With Hamilton having eked out an 11 second gap over Bottas, Mercedes were then able to double stack Hamilton and Bottas on Lap 24, Hamilton retaining his lead despite a slow 4.3s stop, with Bottas slipping into third behind Verstappen.
The hottest fight by the midway point of the race on Lap 33 was thanks to a huge train of jostling cars led by the fourth-placed Daniel Ricciardo – the Australian yet to stop – ahead of Stroll, Perez, Sainz, Albon, Ocon (also yet to stop), Gasly, Norris, Leclerc and Kvyat, with Vettel falling off the back of the group.
Eyes were starting to be drawn, meanwhile, to an intimidating bank of clouds looming up to the north of the circuit, with Hamilton – around 8s clear of Verstappen, with Bottas in close quarters – inquiring about the risk of rain, although they would ultimately fail to arrive in time to spoil Hamilton's party.
There were clouds on Charles Leclerc's horizon, too, with his Ferrari SF1000's engine cutting on Lap 37, locking the rear axle and making him spin at Turn 15. He managed to get going again (having undone his seat belts after thinking his race was run), but reported the car as feeling "strange", Ferrari attempting to both fix Leclerc's car and strap him back in before eventually wheeling the Monegasque into the garage and out of the race, with an electrical problem later diagnosed.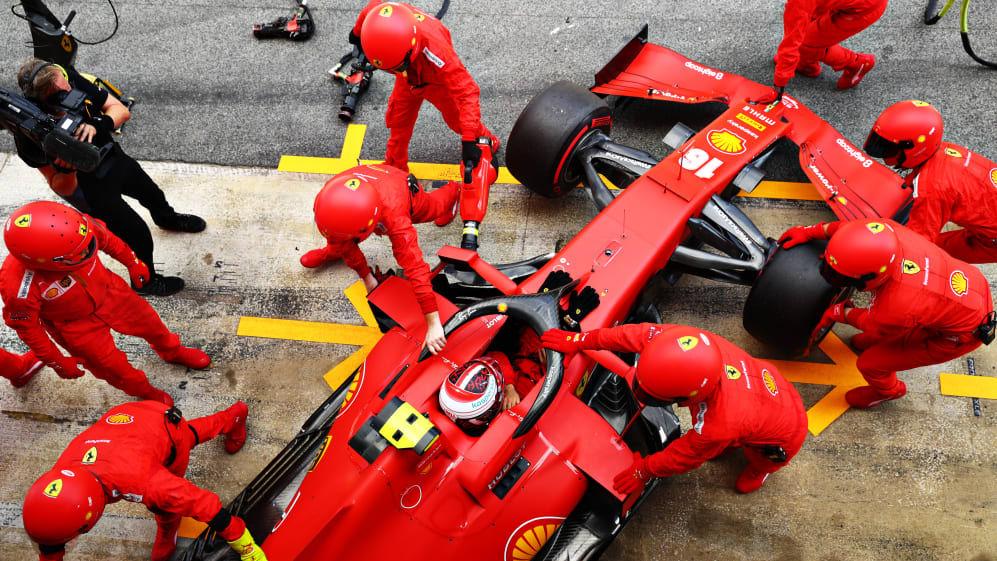 Albon signalled the beginning of the second round of stops on Lap 40, shedding his hard tyres and taking on mediums, while Verstappen came in two laps later for mediums, having appeared to have been struggling on his previous set, emerging in third, 30s off Hamilton.
Sainz had his own second stop on Lap 43, the Spaniard coming out in 10th just in front of Albon, before cleverly resisting the Thai driver trying to immediately pass him – Albon calling Sainz's stout defence "dangerous", but the stewards not seeing any need to investigate.
Bottas was pitted onto new softs on Lap 49, allowing Verstappen through for second. Hamilton would have come in a lap later but resisted. "Don't put me on the soft, man," he pleaded with his engineer. He stopped on Lap 51 of 66, picking up mediums instead and retaining his lead.
Vettel was up in fifth by Lap 52, having not made his second step yet. "What do you think about going to the end?" came the hopeful call from his engineer, and evoking an angry response from Vettel. "I asked you about this before!" he yelled, before acquiescing. "We've got nothing to lose," he said, calling Ferrari out on a strategy call for the second time in seven days...
As he said, he didn't have anything to lose, though. He was unable to resist Lance Stroll and Carlos Sainz nipping past him, but he then settled comfortably into seventh place on softs that, by the chequered flag were nearly 40 laps old.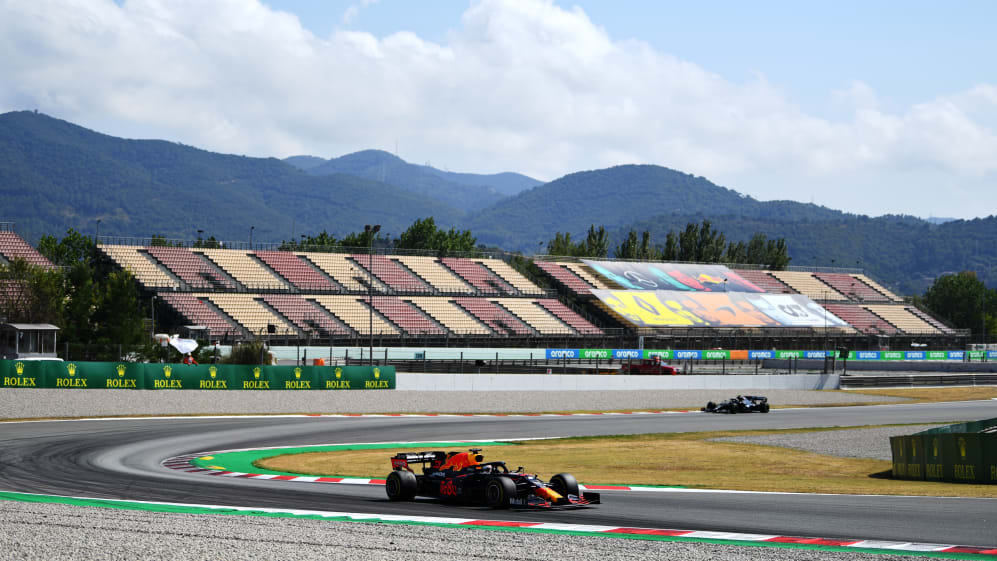 Up at the front, Bottas' move to the softs had failed to pay dividends, as he was unable to get stuck into Verstappen, with the Finn calling off the fight a lap from the end and pitting for new mediums. He duly took the fastest lap, the only thing left in his arsenal to spoil the day of his team mate, as he prevented Hamilton taking a grand slam of pole, fastest lap, win and leading every lap.
Otherwise, though, the Spanish Grand Prix had been all Hamilton, as he swept across the line 24s up the road from Verstappen for victory #88, having lapped everyone up to P4, with Verstappen maintaining his 100% podium record in the races he's finished this year. Hamilton also took his 156th podium finish, establishing a new record in the sport, one ahead of Michael Schumacher.
Sergio Perez had made a one-stop strategy work beautifully to take fourth on the road, but that became fifth after a five-second penalty was applied for ignoring blue flags – Daniil Kvyat suffering the same fate.
That put Lance Stroll up into P4 – the Racing Points still yet to take a podium in 2020, although this was their best finish of the year – Perez taking fifth ahead of Sainz, who drove one of his strongest races of 2020, his chassis and power unit change appearing to have restored the Spaniard's confidence, and making him once more a thorn in the side of the second Red Bull car, as he was for much of 2019.
Behind Vettel – who would have been a mix of happy with seventh but frustrated with having to once again coach his team from the car – Albon saved his blushes by narrowly holding off the AlphaTauri of Gasly, while Norris hadn't quite managed to match the pace of his team mate on Sunday, coming home 10th.
Meanwhile, with Renault's new CEO Luca de Meo in town to see how the team were getting on, it wasn't a great day for the Regie, Ricciardo only able to take 11th, while even Kvyat's penalty wasn't enough to lift Esteban Ocon past the Russian, as he finished 13th, with Kvyat in between in 12th.
Romain Grosjean was classified 19th and last, and might have some explaining to do in the next Grand Prix Drivers' Association meeting, after he once again executed a late defensive move, this time on Raikkonen – while a scrap with the sister Alfa of Giovinazzi saw Grosjean run off at Turn 1, damaging his car slightly.
Raikkonen ended up 14th, ahead of the Haas of Magnussen, team mate Giovinazzi in 16th, with the two Williams of George Russell and Nicholas Latifi in front of Grosjean in P17 and P18 – with Grosjean adding a final flourish of a half-spin at Turn 8 a lap from the end for good measure.
Hamilton's win, meanwhile, moved him 37 points clear of Verstappen in the drivers' standings, with Verstappen himself now six ahead of Bottas. Can the Hamilton juggernaut be stopped at the next race, the Belgian Grand Prix in two weeks' time? We can't wait to find out.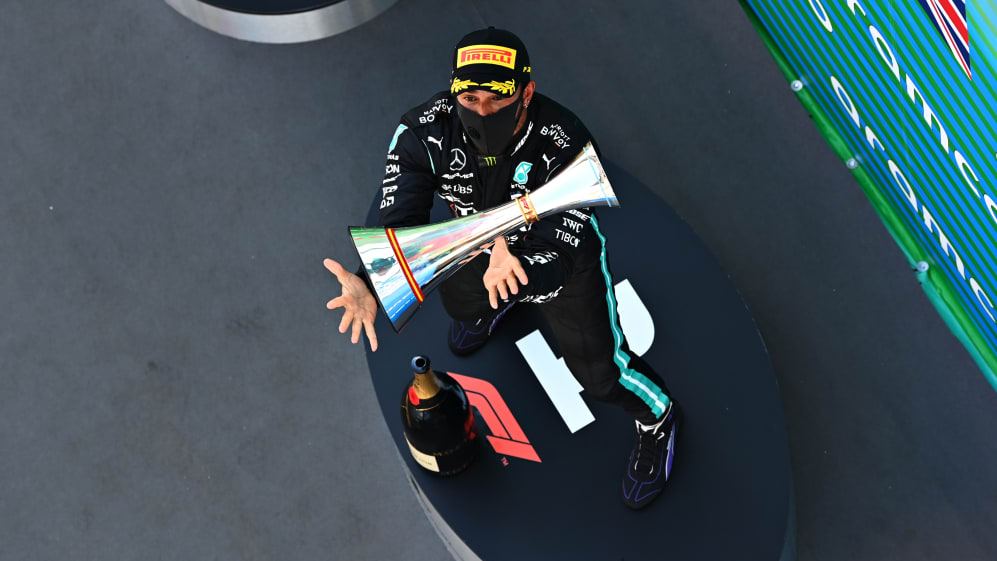 The key quote
"I was just in a daze out there… it felt really good! It felt like a fantastic effort from the team, but oh God it felt good out there. It was a real surprise because we had this problem with the tyres.
"Management was very, very good and I think that's ultimately our understanding of what happened last week, what we brought in to this weekend has inevitably allowed us to do what we did today. I didn't even know it was the last lap at the end, that's how zoned in I was, I was ready to keep going.
"I just want to say a big thank you to all the guys in the factory through this really difficult time, for everyone in the world to keep pushing continue on and stay safe, I hope everyone at home is stay safe we have to keep wearing these masks not only to protect ourselves and other people" – Lewis Hamilton, Mercedes
What's next
We're at the end of the second triple header of 2020 now, so it's time for a bit of respite before racing returns at the magnificent Spa-Francorchamps with the Belgian Grand Prix on August 28-30.