Double points finish just what Williams deserve says 'super happy' Latifi after his first top 10 finish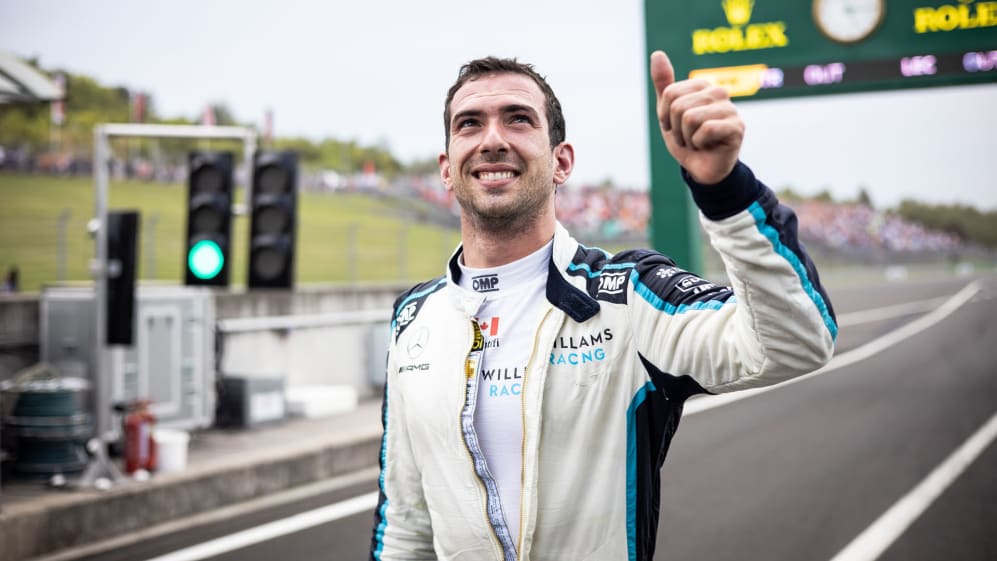 You wait ages for a point-scoring finish and then two come along at once, as Nicholas Latifi led home a big score for Williams that was far beyond the team's expectations heading into the Hungarian Grand Prix.
Latifi expertly negotiated the Turn 1 chaos to emerge in fourth place behind Lewis Hamilton, Esteban Ocon and Sebastian Vettel, and was then promoted to third when Hamilton failed to pit for slick tyres after the red flag interruption. From there, the Canadian simply focused on maximising his race performance regardless of the lofty position he was sitting in and duly secured his first ever F1 top 10 result in eighth place, which was bumped up to seventh after Sebastian Vettel's disqualification.
"I'm super happy," Latifi said. "I think coming into this race I guess it's what we could have hoped for but was probably not what was realistic! But the start is what sealed it all, avoiding all the carnage, and then just making the right call.
READ MORE: Russell says he 'shed a tear' after sealing his first-ever points for Williams in Hungary
P8 in the championship going into the summer break, I guess that's the best we could have hoped for.
"As soon as we pulled away on the restart, within two corners I was like 'Yeah, it's slicks, we have to pit'. It's kind of like well if nobody else does it and you're the only one then you give away a good starting place, but it was clear and a lot of people also pitted.
"I just focused on my own race. In the end I knew I didn't have the pace to stick with the guys in front when I was in P3 so was just making sure I was getting my tyres to the end. In the end I really struggled with them, I got hit quite hard. So a double points finish for the team, amazing being P8 in the championship going into the summer break, I guess that's the best we could have hoped for this weekend!"
READ MORE: Hamilton explains decision not to pit for dry tyres at restart as Wolff maintains Mercedes 'did the right thing'
It wasn't all plain sailing for Latifi, however, as he admitted to a rather unusual mistake that he made when it came to a choice during the red flag delay.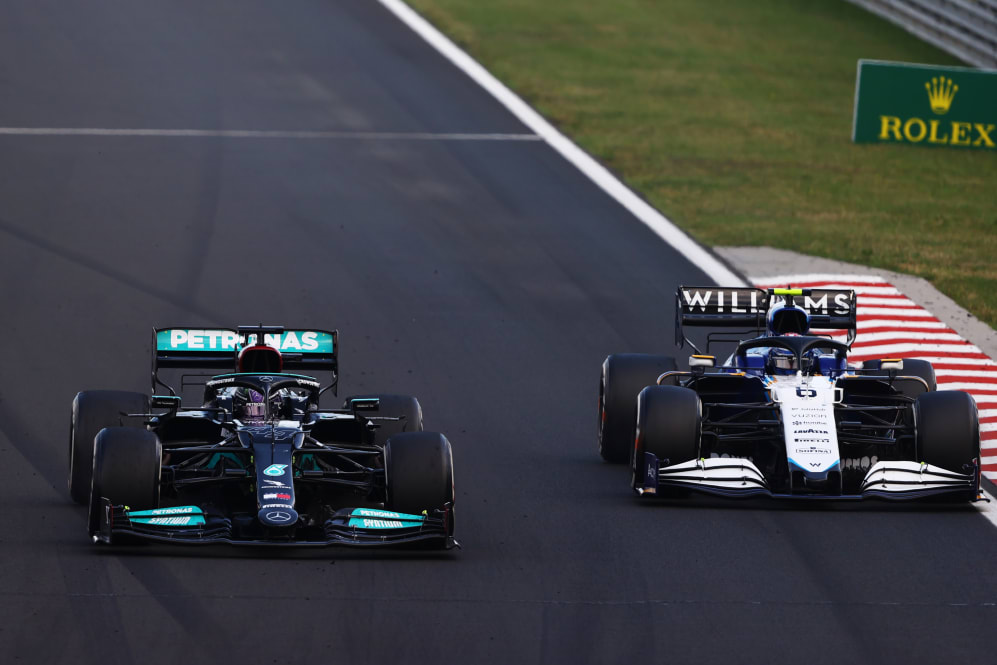 "My face was cooking as well because I kept my rain helmet on which normally we cover the vents and I probably should have changed it afterwards, so I had to drive with my visor cracked open the whole race which wasn't so nice!"
With team mate George Russell finishing immediately behind Latifi to ensure a double points finish for Williams, the Canadian says he takes greater joy in seeing the team finally score after failing to do so at all in 2020.
RACE HIGHLIGHTS: Lap 1 crashes, a red flag and Ocon's first win – All the action from a thrilling Hungarian GP
"I haven't been in the point scoring positions this year but George has. As a team we've been making improvements on the car from the start of the year to now and we've been knocking on the door of those points, so it's just so nice to actually get them and reward the team for that. Obviously on my side on a personal point of view extremely satisfied, and for the team even more so because they're all working so hard."