Drivers praise halo and F1 safety as Grosjean makes 'miracle' escape from crash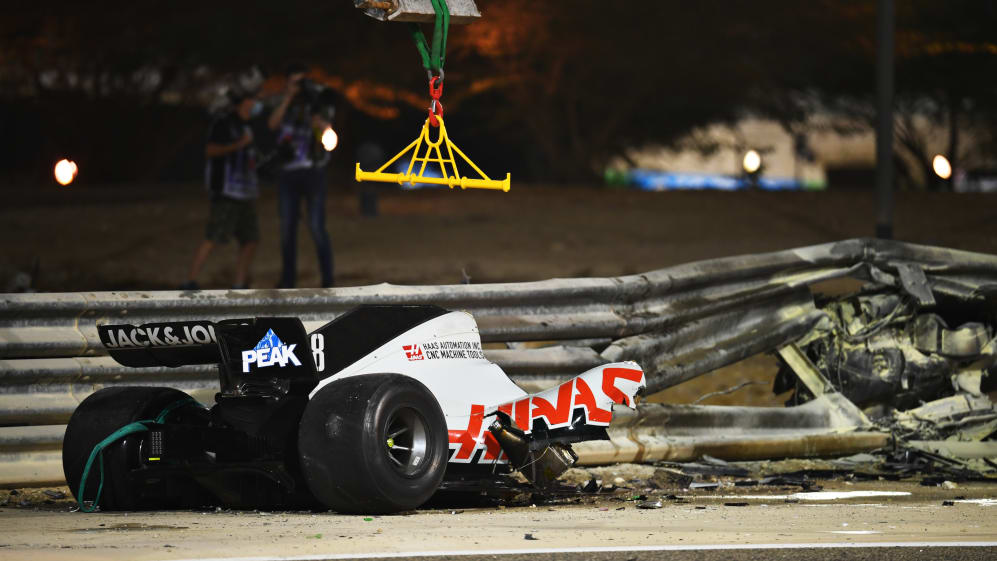 There was one topic on the drivers minds when they faced the media after Sunday's Bahrain Grand Prix, and for once it wasn't about finishing positions or what had happened in their respective races – it was about what had happened to their friend and rival Romain Grosjean on the opening lap of the race.
The Frenchman was taken to hospital with what Haas said were 'minor burns' and possible broken ribs after a fiery shunt through the barriers – a sombre reminder of the ever present dangerous inherent in the sport, but also, say the drivers, evidence of the massive strides taken by the FIA and F1 to improve safety in recent years.
"Naturally it was terrifying to see," said eventual race winner Lewis Hamilton. "I haven't seen something like that for a long, long time and it really hits home for a driver because I think whilst we all are competing for each other and want to beat each other we definitely, I would think, want safety for everyone and worry about one another when there is an issue, when there is a crash.
"So I'm really grateful that he's safe and was able to get out. But I think it's a real stark reminder of just how dangerous this sport can be. The speeds we're travelling, the energy that we're carrying whilst we're travelling at those speeds and the FIA have obviously done an amazing job; we can't stop at where we are, we have to keep trying to improve but I think that's what makes this sport great: we're constantly evolving, and it is a dangerous sport.
"I'm sure there's people that have tuned in that have never seen something like that and it just shows that these things can happen. I think we're aware of that and the risks we take – now everyone else is."
Of the safety improvements brought in over the years, many drivers were quick to praise the halo – a ring of titanium circling the cockpit, introduced in 2018 – for protecting Grosjean.
"To see him survive that is frankly a miracle," said Grosjean's Haas team mate Kevin Magnussen. "So happy that the halo was introduced, that we have this thing on the car, because without that surely it would have been very different. "I'm very, very happy to see Romain walk away from that crash."
George Russell was close by when Grosjean crashed, saying he saw events unfold in his mirrors.
"It was like something out of a movie to be honest where it just blows up in flames," said the Williams driver. "And obviously when I came back round after the red flag I still saw it was on fire which was incredibly worrying.
"[It's] incredible that he walked away. Incredibly thankful that we have the halo. There is no doubt it would have been a different outcome – no doubt - had the halo not been there. Everyone can say what they want but that is a massive step forwards. Just pleased he is ok. And proud of the job the FIA and F1 have done for safety over the years."
Max Verstappen said the incident underlined why it was wrong to be critical of the halo for aesthetic reasons.
"It was a crazy incident. When I saw the flames I was… that was pretty scary to watch but luckily he jumped out of the car himself and that was the most important, and you could really see the safety, how much it has improved.
"And I think also the halo today saved his life. In the beginning when it came onto the car I was quite critical about it that it looked ugly but you can't say anything about the safety because today it definitely saved Romain so I'm very happy with that."
Verstappen's team mate Alex Albon was another to say he'd found the incident "scary" but that the outcome was a testament to the efforts put in to improve safety.
"It's one of those things when you come out of Turn 8 and you just see this fireball, it's really scary. It's scary because you just want to know whatever has happened there that the driver has got out and at the time, the team didn't know, and it was just one of those things where you're worried for your fellow driver.
"I think it just shows how good of a job the FIA are doing in not just standards of the car but also the marshals, the medical car, everyone involved in that and of course there's always a little bit of luck involved in it as well, but to see Romain walk away, it's a testament to all the hard work that's been done behind the scenes."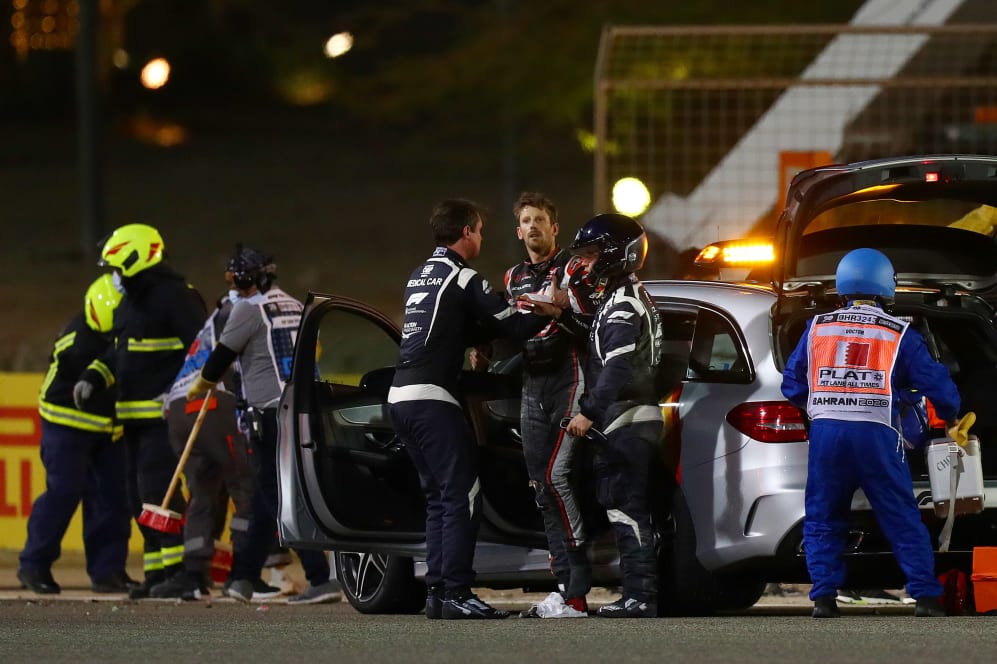 McLaren's Carlos Sainz, who suffered a big crash in Russia back in 2015 when he became buried in the barriers, said he hoped more positive lessons would be learned from Grosjean's accident.
"I never expected honestly a Formula 1 car and an armco to generate that kind of crash. It's definitely something we need to look into as [part of the] general safety, without pointing fingers at all.
"It's another day where we need to learn as a sport, same as we have to learn from days like Mugello [where there was a massive re-start crash] and the days of Anthoine [Hubert, the F2 driver killed in a crash in Belgium last season] for example.
"There's always an opportunity to feel lucky that nothing major happened today, and always an opportunity to learn and keep making this sport as safe as possible, because that's what's going to allow us to race harder, to race safer and to make everyone happy."
The FIA's Race Director and Safety Delegate Michael Masi has said an investigation into the accident is already underway.