Steiner thanks rescue crews as Grosjean escapes burning car with what appear to be minor injuries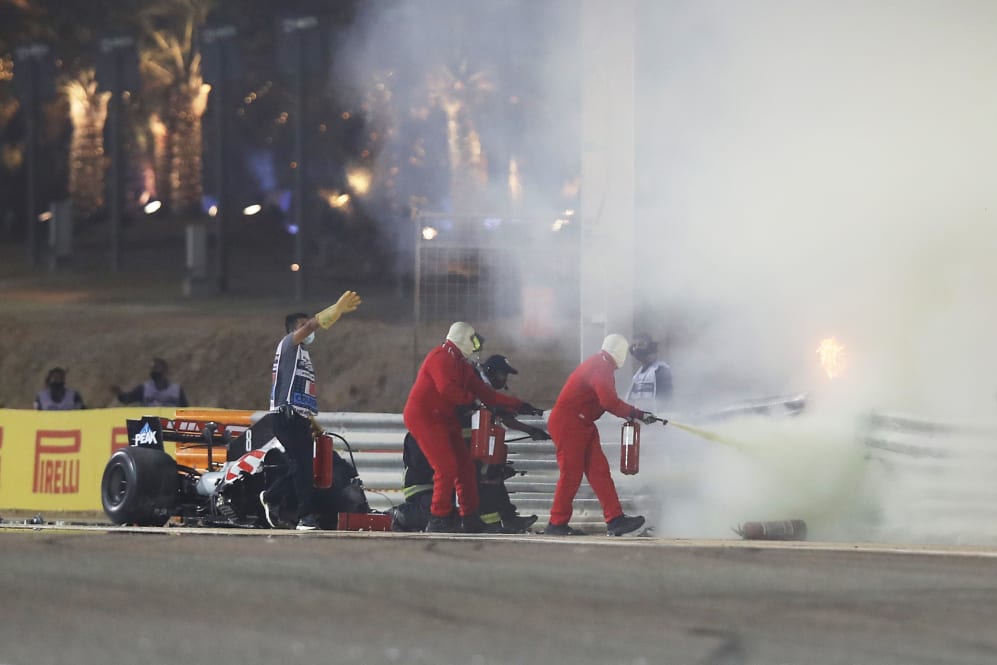 Haas Team Principal Guenther Steiner has thanked the rescue crews who were first on the scene when Romain Grosjean suffered a huge crash on lap one of the Bahrain Grand Prix.
The race had only just got underway when Grosjean, who started from 19th on the grid, moved across the track and touched with Daniil Kvyat's AlphaTauri before spearing off the track and into the barrier just after Turn 3.
Bahrain Grand Prix red flagged as Romain Grosjean escapes big crash on Lap 1
The car, heavy with fuel, appeared to split in two as it pierced the barrier and immediately burst into flames. Marshals were quick on the scene to extinguish the flames as Grosjean freed himself from the wreckage, with FIA doctor Ian Roberts helping to pull Grosjean over the barriers to safety.
Speaking immediately afterwards, Steiner said his driver was "doing ok".
"Obviously he didn't have any deep medical; I don't want to make a medical comment here but he had light burns on his hands and his ankles where the gloves is with the overall but it's light stuff," added Steiner, before it was confirmed Grosjean was going to hospital for further checks and with possible broken ribs.
"Obviously he's shaking and he's going through all the checks that you need to do after an impact like this. He's conscious, he's fine but I didn't have any direct contact with him. Just with the people there. He seems to be OK.
"I think I want to thank the rescue crews, which were there very quick. I didn't see who it was yet but the marshals and the FIA people, they did a great job, you know. It was scary. It is scary, we know what happened."
Steiner was left in awe at the safety of Formula 1 machinery, which includes the effectiveness of the halo cockpit safety device.
"Absolutely," he said, "I mean when you see what is going on out there, if you see the barrier they have torn down it is unbelievable. I think we were lucky by being unlucky. It's better, I prefer that luck than any racing luck. He seems to be doing good, hopefully there is nothing coming. He got away with it, I think."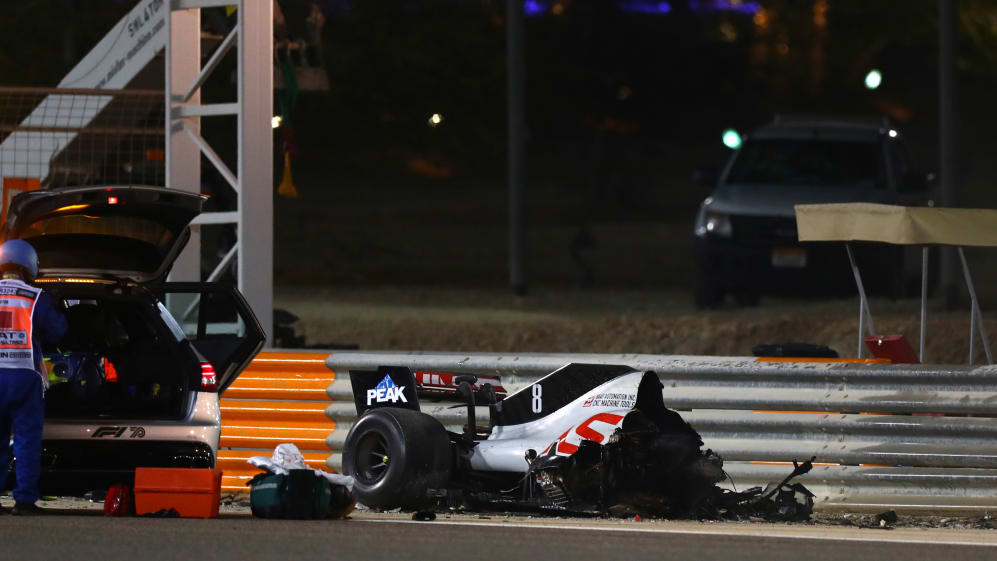 Van der Merwe said it was the first time he's seen such an accident in all his years of driving the Medical Car in F1.
"[It was a] big surprise for us well. We've never seen that much fire – I mean, in 12 years, I've not seen that much fire at an impact like that," he said. "So we just took a little while to process what's going on. I'm sure it was only a second or so but it felt like ages. And then Romain just actually started to get out of the car himself, which is pretty amazing after an accident like that.
Asked if he felt relieved when he saw Grosjean emerge from the wreckage he said, "Not yet. Some relief when he got back here and he was OK. Very impressive, it just goes to show, all the systems that we've developed, everything worked hand in hand – the halo, the barriers, the seatbelts – everything worked as it should and without just one of those things it could have been a very different outcome."
Formula1.com and F1 social channels will provide updates as we receive them.