Driving Monaco even more intense in 2019, says Thursday pacesetter Hamilton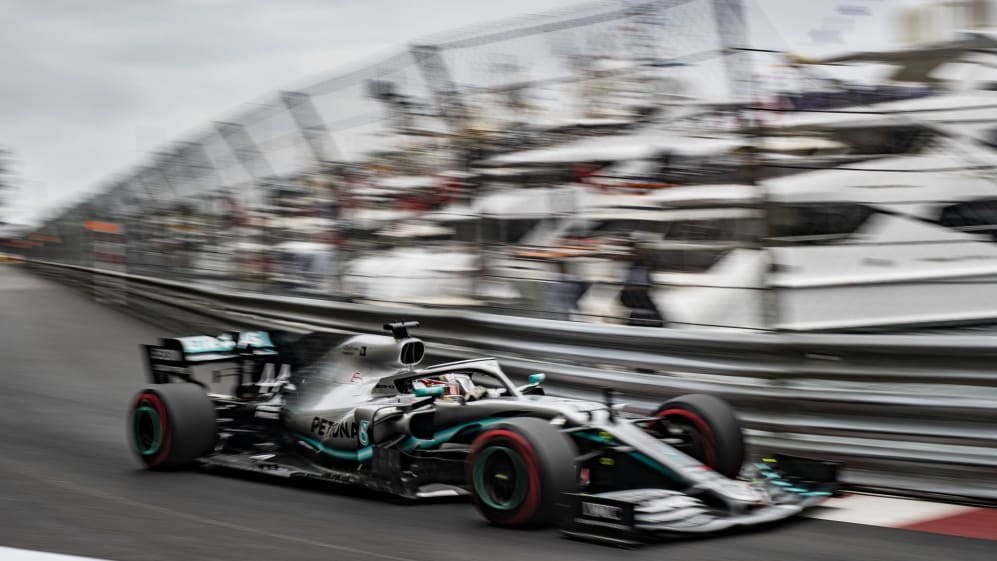 World championship leader Lewis Hamilton was in imperious form as practice got underway in Monaco on Thursday, guiding his Mercedes to top spot in both sessions, with team mate Valtteri Bottas the only man within seven-tenths of him in FP2.
Having had such a productive day, with his Silver Arrow seemingly in the sweet spot all drivers crave at Monaco, allowing him to use the perfect blend of aggression and caution, Hamilton was buzzing when he stepped out of his W10.
"It's the dream for every driver to come to Monaco and have a car that you can exploit and utilise your abilities with," said Hamilton, a winner in the Principality in 2008 and 2016.
"I'm really proud of the team and naturally our goal is to try and do something really positive this weekend. We've made some small tweaks over the two sessions and during the sessions as well, but I've been quite happy with the set-up."
Hamilton's best lap on the day was only three-tenths slower than Daniel Ricciardo's 2018 pole time, so with more rubber laid down and set-ups tweaked further, we can expect that outright lap record to be smashed come Saturday if the weather stays fair.
Even Hamilton admitted to being surprised by the sheer speed he had been able to carry through several sections of the Armco-lined harbour venue.
"Every year we come back here, it gets faster and you really notice it when you're going past the barriers," he said. "Coming into Turn 12 [Tabac], you carry so much speed into that corner, and then there's just the wall in front of you; going up the hill to Casino, it's the same thing. It's incredibly intense out there and you have to be so focused."
READ MORE: Trackside Performance Analysis: Comparing the drivers through a key Monaco corner
Despite his confidence, both Hamilton and team mate Valtteri Bottas had minor moments as they pushed the envelope on Thursday. Bottas, who entered the weekend seeking a first Monaco podium, got away with a big bounce over the kerbs at the chicane, though like Hamilton he said his first day on the streets couldn't have gone much better.
"In previous years, the car felt sometimes difficult to drive, but today it was very driveable, responsive and enjoyable. You need to find the limits on this track and I felt comfortable to push towards the limit, which is a good sign.
"Now we need to fine-tune the set-up and make sure we keep going in the right direction. I think we've started the weekend on the right foot, but we're in Monaco and anything can happen."
With both of their drivers flying – and feeling comfortable pushing the limits – Mercedes are certainly on course for a victory they so dearly want to win for their late team mate Niki Lauda.