Feature
DT'S 10 THOUGHTS… On Belgium and beyond
A celebrated Formula 1 journalist with more than 500 (consecutive) Grands Prix' experience, David Tremayne is one of those familiar paddock figures who has seen it all, met them all, and written about it all, over almost five decades of F1 racing. Here, he shares his thoughts after round 13 in Belgium…
1. Are we seeing the title tide turn again?
So, was Ferrari's great performance at Spa all down to engine performance, and the boost claimed for a new Shell fuel?
"Well, I hope so!" Sebastian Vettel grinned, as though some might think that having a power advantage was a crime. "I hope we do have more power. That's what we're working for. If that's the case then obviously well done to our engine guys. I think we've been making progress, especially the last two years, so that's good news."
He admitted that Ferrari also backed off their rear wing, but the general feeling for some time now has been that Ferrari lead the horsepower race.
Since the French Grand Prix they've been on their back foot a little and have fumbled some catches, but they didn't put a wheel wrong at Spa, where their horsepower advantage must have chilled Mercedes.
And the bad news for the Silver Arrows is that Ferrari's extra power will help everywhere, just like theirs used to.
"They seem to have it wherever there are straights," Lewis Hamilton said glumly, having being passed on the opening lap – without Vettel using DRS, remember – like he was tied to the fence at Kemmel. "You've got Mexico, long straights, they will have the advantage there. They generally have the advantage at places like Singapore. The next race, with this kind of performance they have on straights, we might struggle to match them there. We gave it everything we had today. We were, generally, often quicker in the middle sector in qualifying but for some reason, I think in the race even then, I couldn't keep up. For them to pull over a second gap, that's some serious pace they had today so we've just got to keep working hard and keep pushing."
Are we seeing the championship tide turning yet again? I really think that we are.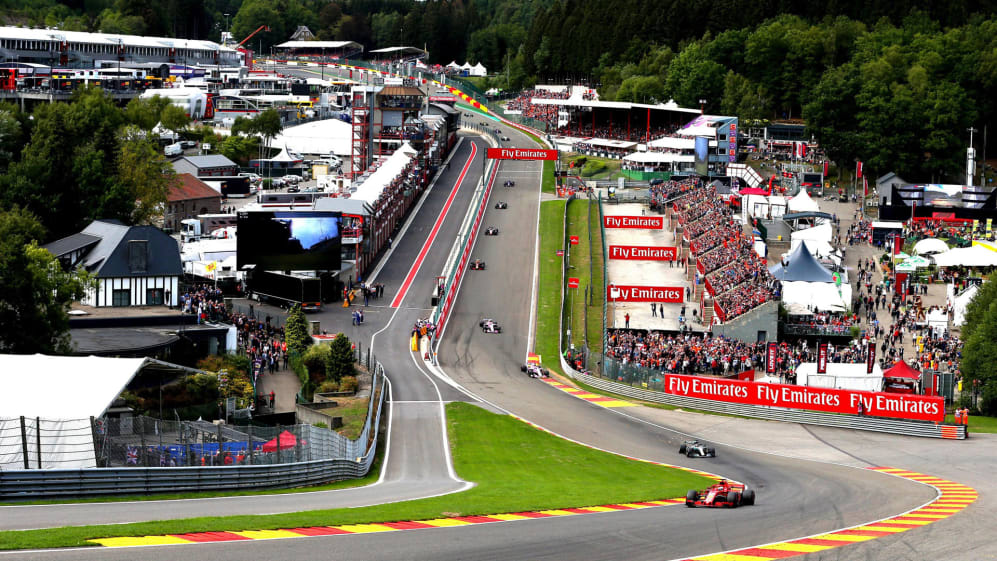 2. Was Mercedes' latest upgrade enough?
Andy Cowell and his team at Brixworth thought they had come up with a pretty decent upgrade for Mercedes' power unit at Spa, so I suspect there will be some alarm bells ringing after the way that Sebastian Vettel blew past Lewis Hamilton on the opening lap.
"We came here with a pretty good engine upgrade and generally every time we bring one they [Ferrari] bring a bigger one," Lewis said. "We have known for the last four races or so that they have something that enables them to be quicker on the straights. They've got a few tricks on their car, and we just have to work harder."
Neither Mercedes nor Renault seem to have unlocked a solution to matching Ferrari that doesn't lead them into what they believe to be questionable grey areas. My feeling is that until they do, Ferrari are going to have an upper hand in the horsepower stakes that could be very decisive.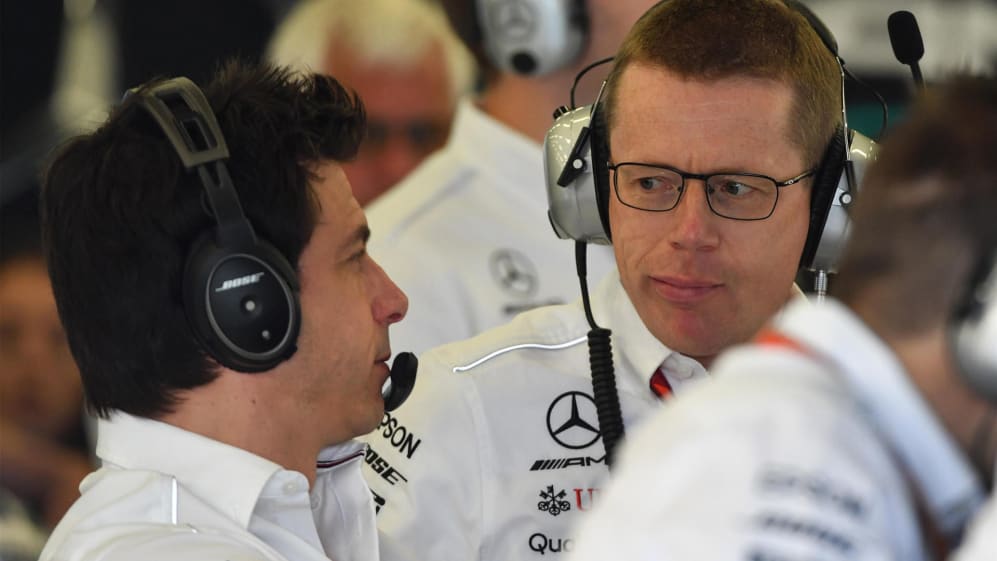 3. Did Lewis Hamilton accuse Ferrari of cheating?
When Lewis talked of Ferrari having "a few tricks on their car", some of my media colleagues just about had a baby.
Tricks! Did he really mean trickery? No, he didn't.
"Not at all," he said calmly. "We all have trick things on our cars, and trick is just a word in racing for special things. I don't know what's on their car so I couldn't tell you either way.
"I'm not saying that there's anything illegal. I'm just saying we all have something trick. Trick is just something that helps you bring that extra bit of performance. That's all I mean. I don't mean anything to it so please don't read anything into it, and please don't twist my words and say that I say they're doing anything illegal, because they're not.
"They just outperformed us today and we've got to work harder, but there are things that they have on their car that we might not have on our car and vice versa, and we've got to try and find out what and improve on that. That's it."
All clear?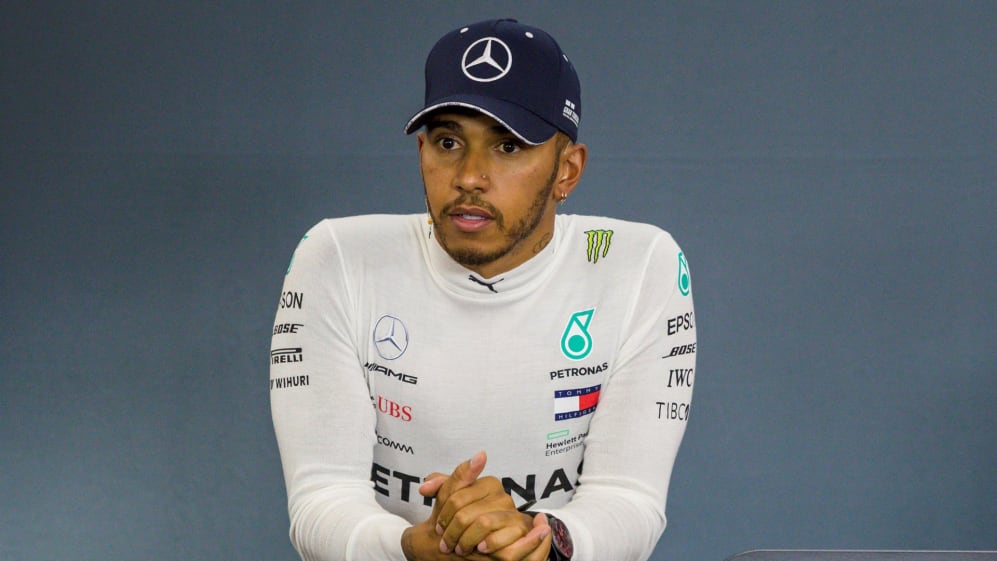 4. Have we heard the last word against the halo?
I don't like the halo, and I know a lot of people who don't. I find it aesthetically offensive, as though someone's shoved a zimmerframe into the cockpit.
That doesn't mean, however, that we don't like what it is meant to do. And the first corner shunt surely will put to bed the arguments against it, since without it Charles Leclerc – perhaps the great rising talent – could have been severely injured.
But I liked what Anthony Davidson – a halo proponent – said, when he described it as the best solution currently. That for me holds out the hope that a visually more elegant solution may yet be created, one that is more befitting of the inherent sleekness and beauty of an F1 car.
Perhaps one day we will even see enclosed fighter-plane canopies, such as those that have long been so successfully and aesthetically integrated into the Unlimited hydroplanes, which prove that safety needn't mean ugly…
5. Should Ocon have kept his foot in?
Wouldn't it have been fantastic if Esteban Ocon had kept his foot down and made up that last bit that he needed to squeeze alongside Sebastian Vettel, as the Frenchman, the German, Lewis Hamilton and Sergio Perez ran four abreast up to Les Combes before the Safety Car came out on the first lap?
For sure, that image will be one of those we savour for years to come, and, yes, it would have been a chart-topping overtaking move if Esteban had been able to pull it off.
But it was also possible that he could have created a second huge pile-up that took out the two title contenders and his own team mate.
The fact that he backed out for the want of the one metre of extra progress that might have made it possible said to me that, far from lacking moxie, he has the ability to think fast at racing speed.
Doing what he did ensured that his new team scored their first points and that Vettel and Hamilton continued their championship battle unmolested.
Smart boy. No wonder he's spoken of as one of the real stars of the sport's future.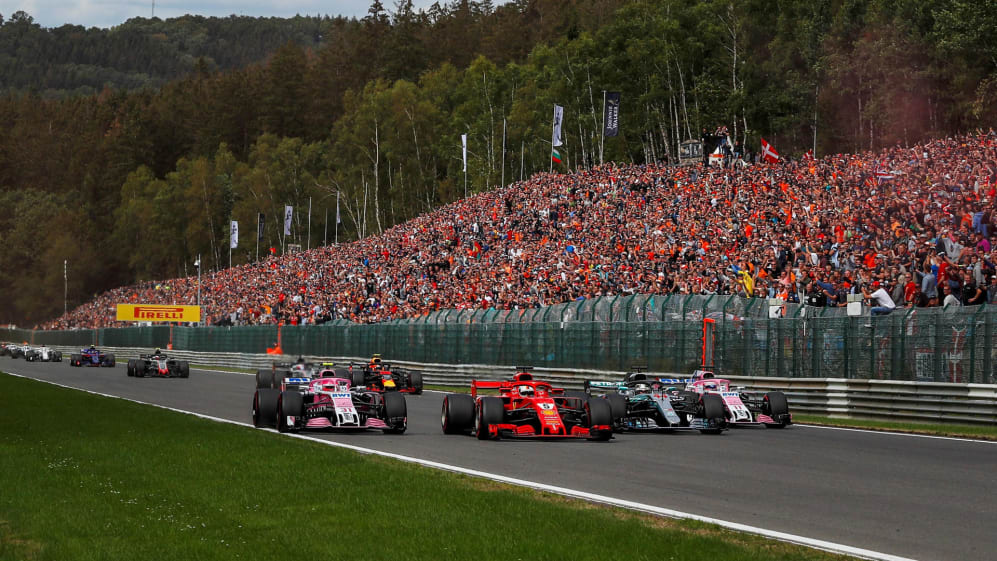 6. A rare mistake from The Hulk
The shunt at La Source involving Nico Hulkenberg, Fernando Alonso and Charles Leclerc was spectacular, and an echo of that involving the Spaniard, Romain Grosjean, Sergio Perez, Kamui Kobayashi and Lewis Hamilton in the same corner in 2012.
So whose fault was it?
Hulkenberg was going too fast when he came upon the bunching pack in front of him, and whacked Alonso so hard that the Spaniard's McLaren was launched right over Leclerc's Sauber. During its flight, the orange car's front wing smacked the rear wing on Daniel Ricciardo's Red Bull and pushed the Australian's car into contact with Kimi Raikkonen's Ferrari, which ultimately eliminated both of them, too.
So four innocents and one guilty German, who received three penalty points and a 10-place grid penalty for Monza.
Some wondered why, like miscreant Grosjean six years earlier, Hulkenberg didn't get a one-race ban. But the Frenchman had already sinned a few times and needed to cool down. In fairness, The Hulk is normally one of the most cool-headed guys on the grid.
7. Did Hulkenberg have mitigation?
On the face of it, The Hulk really screwed up big time, but while putting his hand up and admitting his gross error afterwards, he also made a couple of interesting observations.
He was, he confessed, too keen while accelerating and too late on the brakes, but he also said it was "just incredible" to discover just how sensitive the modern F1 car is aerodynamically, and how, when a few cars become bunched up in front of you, you lose so much grip and aero load in a heartbeat. He said that the moment he hit the brakes they locked instantly, leaving him a passenger in the dramatic accident he generated.
8. Did Force India make their Racing Point?
The emergence of Racing Point Force India generated a lot of work for a lot of people in the build-up to the Belgian Grand Prix, and ruffled many feathers. But the team got their permission to race even if they had to give up the 59 constructors' points they had earned thus far in 2018, because they now counted as a new team since they had not acquired the Sahara Force India entry from former team owner Vijay Mallya.
Trust me, it was not a fluke that they did such a tremendous job to qualify both cars on the second row of the grid. Indeed, they had risked another lap on slicks while everyone else pitted for intermediates, while also readying Ocon and Perez for action quicker than many others. And their drivers delivered. But for an off on his last try Checo might even have snatched the pole…
Team members such as Andy Stevenson were there when the team were Jordan and Rubens Barrichello grabbed a surprise pole in similar changeable conditions back in 1994. They're racers, and they get it.
Then Perez and Ocon delivered again with fifth and sixth places in the race, to earn 18 points for the 'new' team on their debut.
So yes, I'd say they more than made their point. And I fully expect them to do that a lot more this year, especially as long awaited upgrades will be on the car from Singapore onwards.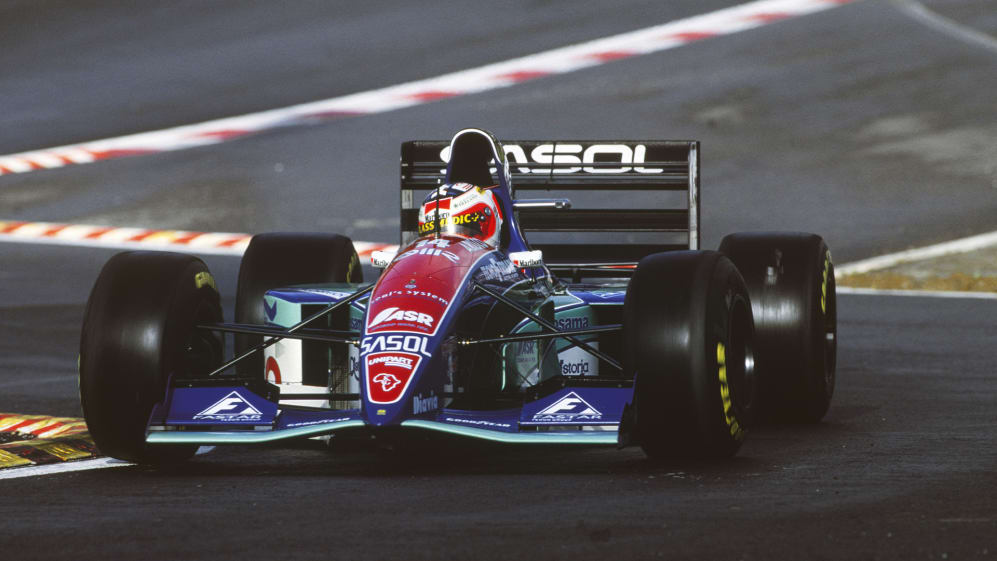 9. What's happening at Renault?
The excitement over the signing of Daniel Ricciardo for 2019 notwithstanding, the wheels seem to be coming off Renault's campaign right now. Since France they have scored only 26 points, after a spate of disparate problems, many of which shouldn't have happened.
Meanwhile, Gene Haas' boys have been very industrious, garnering 57 in the same time period.
Thus, while Renault were once a clear fourth, they now have 82 points while Haas are coming at them hard with 76.
That upper midfield fight is going to get very interesting over the final eight races, and right now Cyril Abiteboul must have everyone at Enstone on red alert.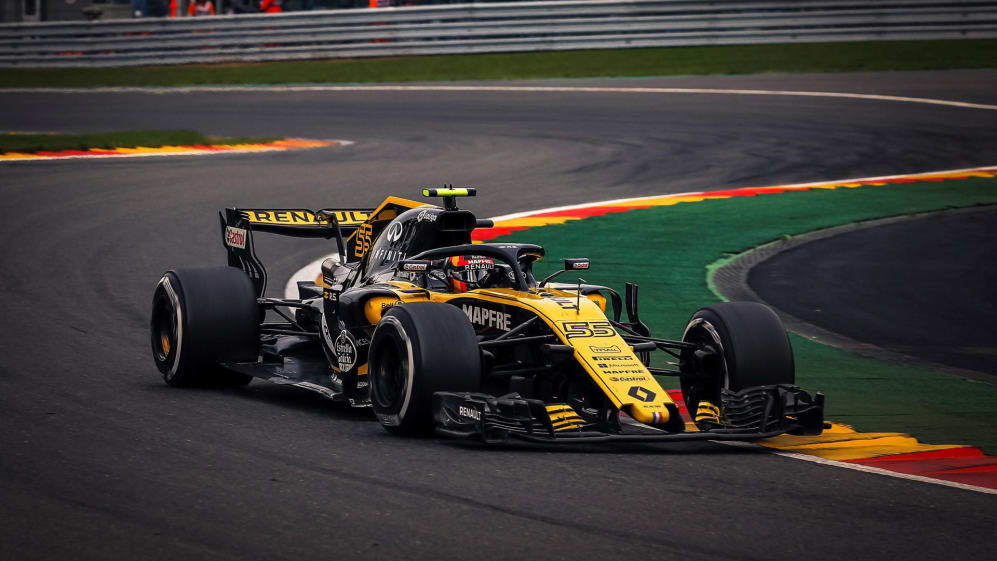 10. Who'll be in the second McLaren in 2019?
I've been getting the distinct impression lately that Stoffel Vandoorne may be in a minority of one believing he will be in a McLaren next year.
For a while over the summer break, after Carlos Sainz had been confirmed in one car – presumably that soon to be vacated by his mate Fernando Alonso – it seemed that Force India's soon-to-be refugee Esteban Ocon was a shoo-in, even if he needed a shoehorn to get into the MCL33 when he went for a seat fitting recently. But these are tense times between McLaren and Mercedes, as the latter move closer to having Force India as their B team and the former worry about oligarchies.
And I get the feeling that there is now no chance of Mercedes' French protégé getting a ride with the Woking team, as has been speculated.
Meanwhile, Lando Norris did a very solid job in his first FP1 session at Spa. He was smooth, precise in his feedback and didn't put a wheel wrong, and was decently quick on the hardest Pirellis – the mediums – even though he never really got let loose on a performance run.
McLaren are still in a rebuilding phase, so I don't see that they have a lot to lose by giving the soon-to-be 19-year-old a go next year. Based on what he's done in testing and what he did in FP1 here, I'd say he's more than ready. McLaren will get another chance to assess him in Monza this coming weekend. And so will we…