Feature
DT'S 10 THOUGHTS… On the United States and beyond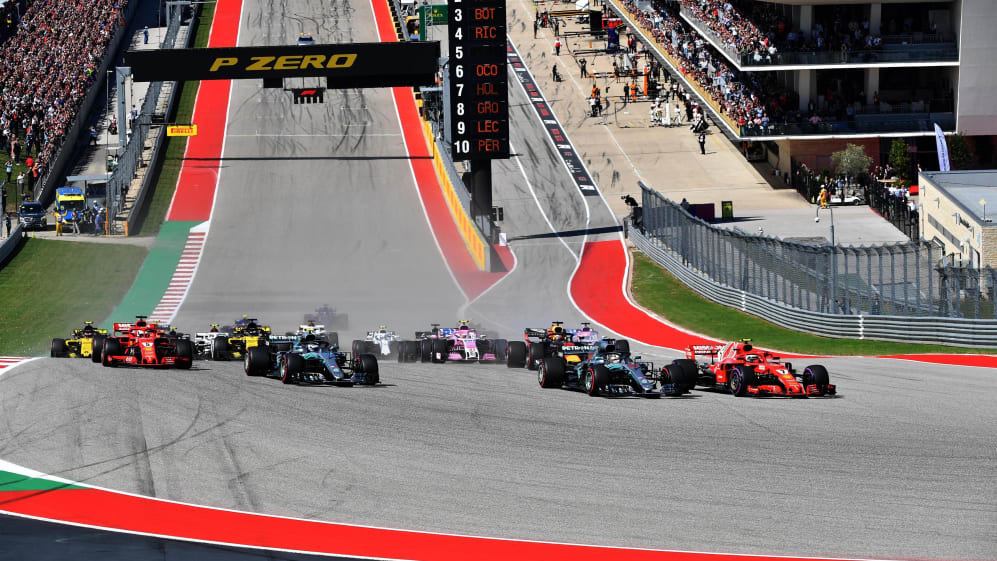 A celebrated Formula 1 journalist with more than 500 (consecutive) Grands Prix' experience, David Tremayne is one of those familiar paddock figures who has seen it all, met them all, and written about it all, over almost five decades of F1 racing. So what's on his mind after round 18 in the United States…
1. The Iceman melts
I confess that Kimi Raikkonen irks me at times, with his frequently disobliging manner and monosyllabic delivery like a human Morse code. But also that I warmed to him this weekend.
I've known him since he came into F1 when we worked together at Sauber back in 2001 (and once came close to having a fight), but wouldn't say I have ever really worked him out. I guess he's just his own man, and that's that. Each to his own, and all that.
These days he's also a family man, and there was a little moment in the post-race presser that really resonated as he talked about his wife and children.
Admitting that this win, his 21st, had been a long time coming, he said: "My kids have been asking for a while, but they're probably more interested in the Pirelli cap than the win itself. I know that we can buy it also but I know it's not fair play to bring one if I had to buy it. I have a lovely wife and kids and I'm sure they're happy. I'm not sure if the kids… they probably fell asleep during the race, but the wife probably looked at it. I'm more than happy for all of us. It's nice.
"It's nice to win again – but like I said, it doesn't change my life or they don't look at me differently. My son said at the previous race that he wants a new Pirelli – the same tyre from the qualifying – because he wants to play with it. Again, I'm sure they're happy and I'm happy to help them, more than happy. We'll have a nice talk when we get home."
Now you'd have to be very hard-hearted not to be touched by that. Yes, it was sweet. A nice bit of down-to-earth humanity in a tough sport that takes no prisoners. And proof that Kimi can be quite engaging when he lets you see beyond the protective Iceman facade.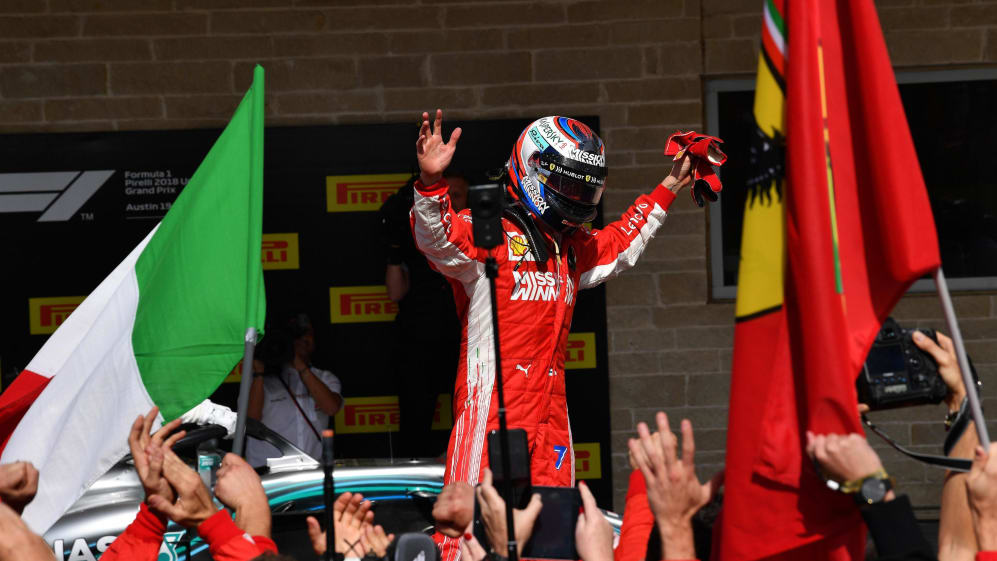 2. Lewis didn't think about the championship
Lewis Hamilton is adamant that he was more focused on winning the race in Austin than thinking about the possibility of clinching the world championship.
"Honestly, I didn't give a single thought to the championship over the weekend. I was just here to win the race. I figured if I can do that maybe we'd win the championship, but I only thought of winning the race and there were a lot of things against us today."
He said that Mercedes' usual post-race debrief had revealed a lot of things that could have been done better.
"Ferrari have gained some pace, and we had lost some. When we were in those meetings, we all take blame together, and we keep working and keep pushing. The guys do great analysis and we'll come back stronger at the next race."
He cited floor damage from debris from the Leclerc/Grosjean accident which remained down in the last corner, the disruption of having to replace the water pumps on both cars on race morning when new ones showed signs of leaking and older units had to be substituted, the folly of the early pit stop which obliged Mercedes to switch him to a two-stop strategy, and an unidentified "outlier" which caused the W09 to be a "real handful" and harder on its rear tyres than normal.
Interestingly, Pirelli's data revealed him to be suffering from exactly the same blistering characteristics that affected Raikkonen in Monza, and from which he was, on that occasion, the beneficiary.
What goes around, comes around...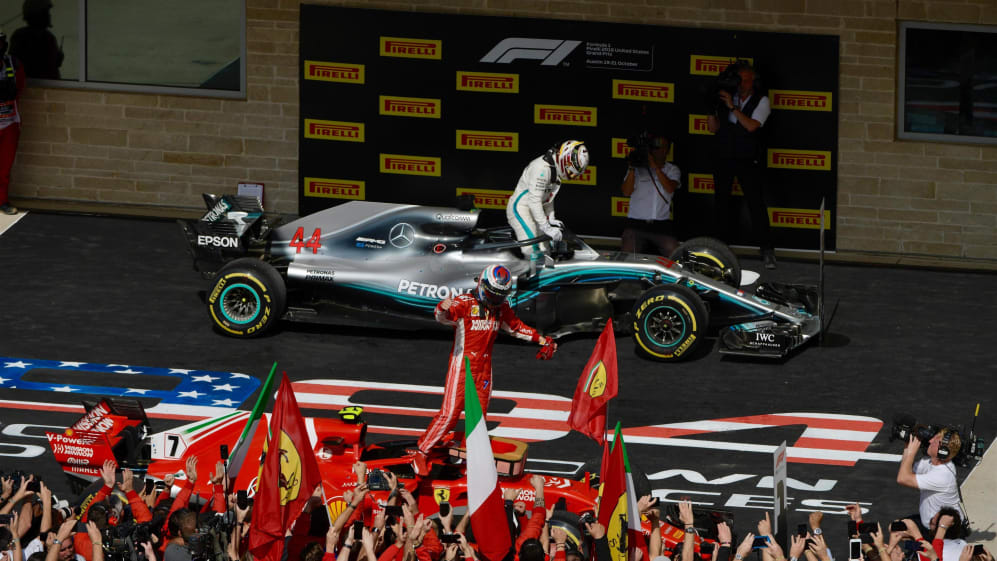 3. How did Ferrari recover their mojo?
What do you do when you have trouble going forwards? Well, sometimes you go backwards instead.
That was exactly what Ferrari did in Austin, after a lot of head scratching and detailed investigation back in Maranello following their recent slump in performance.
That SH71H you watched Kimi winning in? It was in 95 percent Spa specification, which was the last time the car worked really well. Principally, that meant that a new rear wing, a new floor which had appeared at Suzuka, and the newer floor which appeared here in Texas on Friday, were all consigned to the scrapheap, only a new front wing introduced since Belgium being retained. But as a result, the car was back on form, and running strongly. It had been transformed and was once again a strong contender.
I understand that Ferrari were 50 per cent happy about this state of affairs, because they were back on the pace even though they had not expected to be, and 50 per cent unhappy because most of the development work that they had invested over the last two months had proved unsuccessful.
But as far as comebacks are concerned, it certainly did the trick. Chapeau!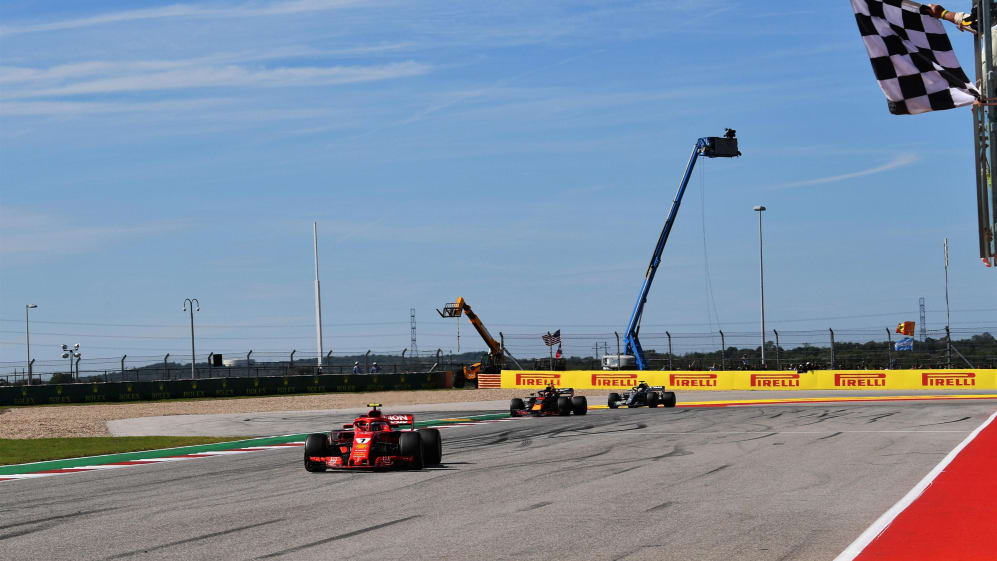 4. Was this Max's greatest drive?
Barcelona 2016 probably remains Max Verstappen's best drive to date, but Sunday's comes close to the top of that particular list. Make no mistake, when he gets a fully competitive Red Bull, he is going to be trouble!
The soft Pirelli wasn't the best tyre for Austin, according to both the Dutchman and Hamilton, but boy did Max make the most of it. Starting 18th on the grid on a set of them after the mistake he made running over one of the new kerbs in Q1 and breaking his right rear suspension and damaging the gearbox, he was already ninth at the end of that frantic first lap. Others were driving like they were in a demolition derby, but somehow he avoided all the carnage. Impressive.
Then he picked off others and climbed quickly to fifth by the seventh lap. His move round the outside of Vettel in Turns 16 to 18 on the 26th lap was outstanding, even if he was on a fresh set of supersofts and Seb was struggling prior to his first stop on similar rubber.
Remembering the controversy of 2017, he quipped over the radio, "I'm not allowed to use the inside, so I'll go round the outside!"
Second place was a superb result, and made you wonder what he might have achieved had he started fourth or fifth…
5. Max and Lewis – now that's racing!
One of the highlights of the race, of course, was the wheel-to-wheel dice between Max and Lewis in the closing stages, when the Red Bull's supersofts were reaching the end of their life after 32 laps and the Mercedes' fresher softs had been pretty much used up while Lewis was closing down a 12s deficit.
It was a classic dice, with Max keeping his car where it needed to be, and Lewis looking for a way by. It nearly came on the 54th lap when Max locked up in Turn 12, setting them into their side-by-side duel which thrilled fans across the globe.
Max knew full well that Lewis had too much to lose in title terms to risk it all, but what was nice was that both behaved with respect for the other and there was a nice bit of joshing between them afterwards.
Lewis: "Was it close between us? I think I gave you too much space…"
Max: "I think you could have squeezed a bit more! Yeah!"
Lewis: "I never know with you. I didn't want a coming to come together…"
Max: "A bit of wheel-banging… I was also thinking 'I don't know what Lewis is going to do here!'"
Lewis: "I couldn't see you!"
Max: "It was alright – I was just really struggling with the tyres the last two or three laps but, yeah, made it a bit more fun!"
This, of course, is the lifeblood of racing, and while it lasted, it had us on the edge of our seats – especially as, at that stage, if Lewis had taken second place, he would have scored the eight points he needed over Seb (though next time around they would have become six as Seb overtook Valtteri – shades of Brazil 2008!)
"I really enjoyed the racing and the wheel-to-wheel run with Max," Lewis said. "It was exactly what it is like with anyone else – he placed his car the same way anyone else would. He didn't do anything revolutionary, but it's probably the closest battle we've had. When I was alongside him, he was in my blind spot so I didn't know where he was. Other guys might be prepared to risk it for the biscuit, and part of me wanted to take that risk for the win, but another part of me didn't want to lose ground because then Seb could have finished third. Had it been Seb and me racing, fighting for the championship, I would have been tighter and more aggressive."
Let's see a lot more of this!
6. A great race for the US
The world championship might still be open – which in itself is probably a good thing for all but Mercedes and Hamilton – but the United States Grand Prix was a blinder.
There was a fine battle between leader Kimi Raikkonen and Hamilton in the opening laps, and a great drive up the field from Verstappen. Then the three of them ran nose-to-tail in the closing laps when all it would have taken was a small slip by one of them to upset the order.
No, there wasn't quite any overtaking (though Lewis did his best) but there was tension and the possibility of it, which is the next best thing.
F1 is slowly regaining its foothold in the US, and this race certainly helped – as did Lewis' appearance on Trevor Noah's The Daily Show in New York recently.
Very few sportsmen transcend their genre, but Lewis has for some time now, and his amusing and urbane performance on screen was promising. He spoke, as ever, from the heart, while Noah revealed himself to be a huge F1 fan thanks to his father, who took him to the South African GP where he watched Nigel Mansell follow up his debut victory in 1985 with another success next time out at Kyalami. A very smart bit of booking there by someone in the Hamilton/Mercedes fold.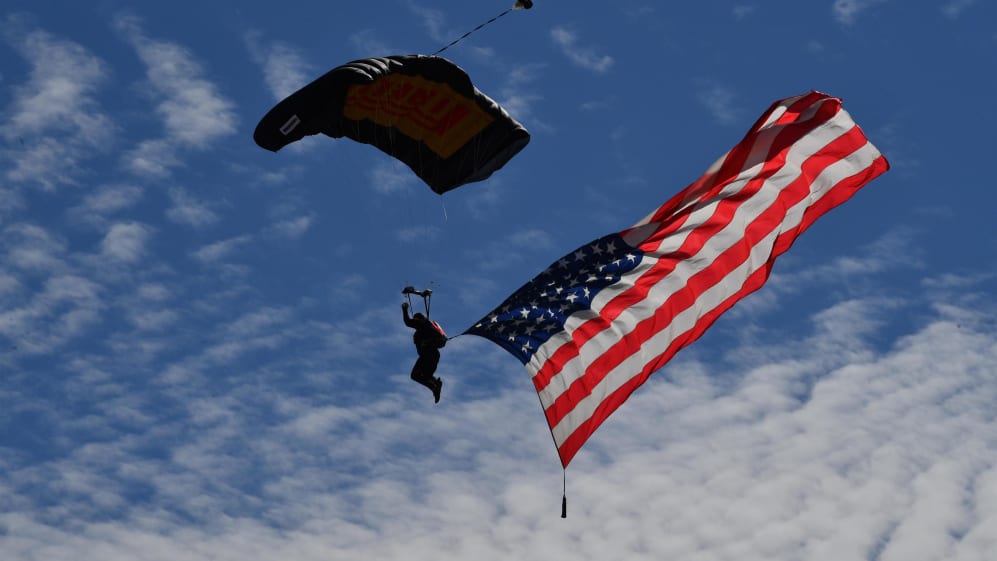 7. Renault recover their form
Sixth and seventh places for Nico Hulkenberg and Carlos Sainz put Renault back on track in Texas and, I hope, was some comfort to team boss Cyril Abiteboul, who had to miss the race due to family matters.
Both drivers and their cars performed strongly, though Carlos was a little concerned about the five-second time penalty he had added for a track limits violation. As things turned out, it didn't cost him anything, on an afternoon when the yellow and black cars were clearly the 'best of the rest'.
Esteban Ocon kept them honest but was almost five seconds behind Sainz, who was in turn nearly eight behind Hulkenberg (before Ocon's Force India was disqualified).
Things have been tough for the Regie of late, but a haul of 14 points has pulled them clear of the Haas threat for the time being, with the American squad's challenge dented when Kevin Magnussen was also disqualified from ninth for fuel violations. With three races remaining, it looks as if the French team can hang on to their crucial fourth place in the constructors' stakes.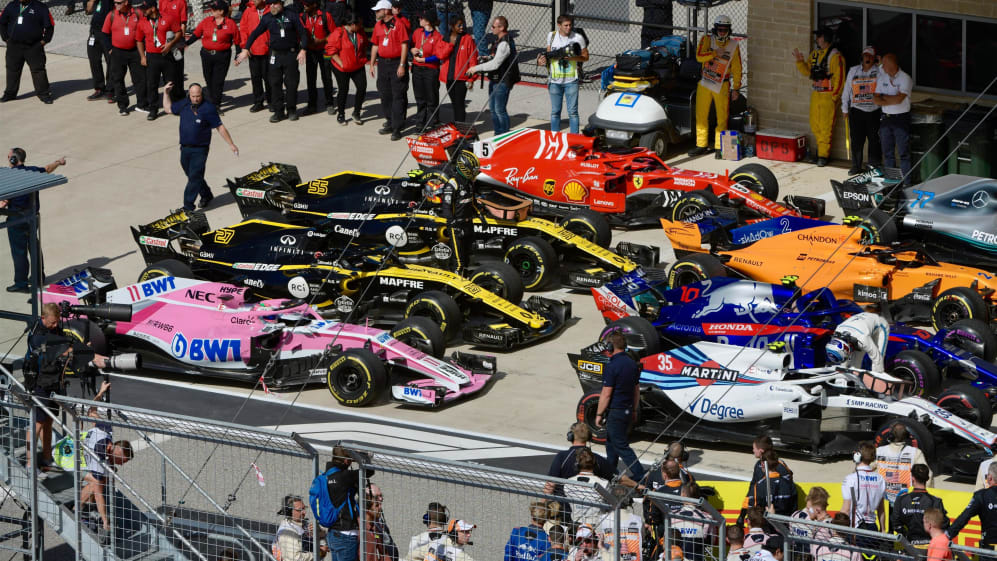 8. What's to be done about backmarkers?
Regular readers will probably have spotted that I don't much care for backmarkers who get in the way. Right, Romain?
The Toro Rosso drivers, notably Brendon Hartley, helped Lewis to lose 8.2s of his lead between the 30th and 36th lap, but when I mentioned that to him afterwards, expecting him to be condemnatory, he made some interesting points.
"It wasn't entirely their fault. They've got their own race to run, and as soon as you get within five seconds of them, you feel their aero wake and your advantage starts to disappear. On this track I couldn't get closer to them and had to lift off. It's a fundamental issue in the sport, and there shouldn't be such a massive difference between the cars. They need to change the rules to get the gaps closer."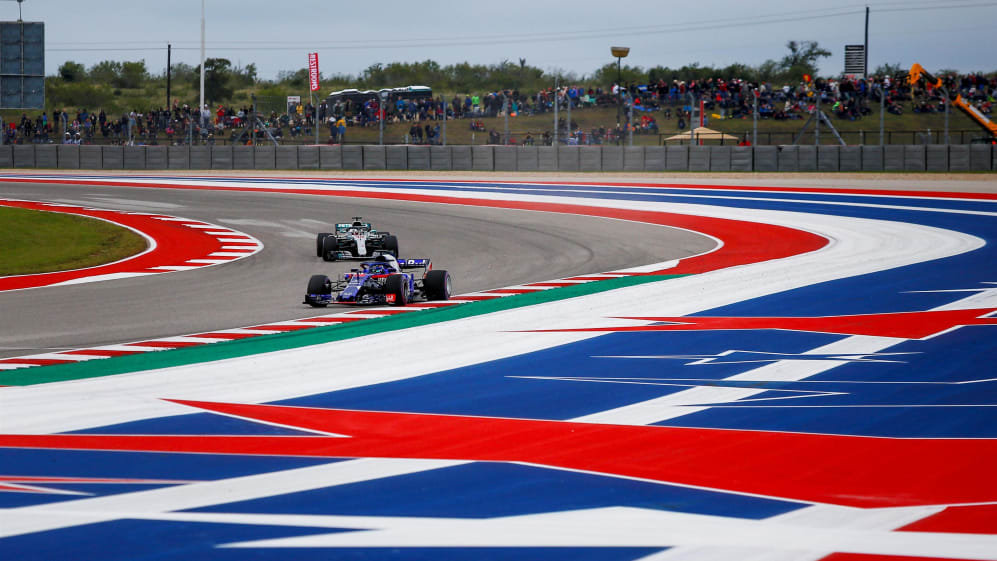 9. Fernando isn't happy
Oh boy, Fernando Alonso was not a happy bunny after Lance Stroll drove into the side of him in the Esses on the opening lap in Austin. He limped his McLaren to the pits, where the damage to the right-hand sidepod and newly Coca Cola-branded barge boards was sufficient to prompt retirement.
Later, the Spaniard did not feel the need to hold back.
"I'm not upset - I'm disappointed," he declared. "Because I'm here nine days in the US to do a race and I do 600 metres and they push you off. That's the way it is, but it's more a problem for the FIA if they keep allowing this type of driving. I drive in another series [WEC] with amateur drivers, theoretically, and there has never been a problem. There are more amateurs here than in other series..."
Ouch!
With my F1 fan hat on, I hope Fernando has more luck in Mexico, Brazil and Abu Dhabi, as another incident like this would make for a sad way for an illustrious career to end.
10. Don't mess with Texas
Austin has a great paddock, another one of those which is narrow enough so that people don't get lost and too spread out. And it is usually full of interesting people.
It's fun when you spot actors such as Matthew McConaughey, James Marsden and Mille Bobby Brown, spaceman Andrew Feustel, former racers Johnny Rutherford, Michael Andretti and Stefan Johansson, or the odd four-star general.
Throw in concerts by Bruno Mars and Britney Spears, and besides the raison d'etre of the on-track action, that's what F1 should be about, so you know you've been somewhere special!