Feature
DT's 10 Hot Takes – On Hamilton's 'luck', Leclerc's toughness & more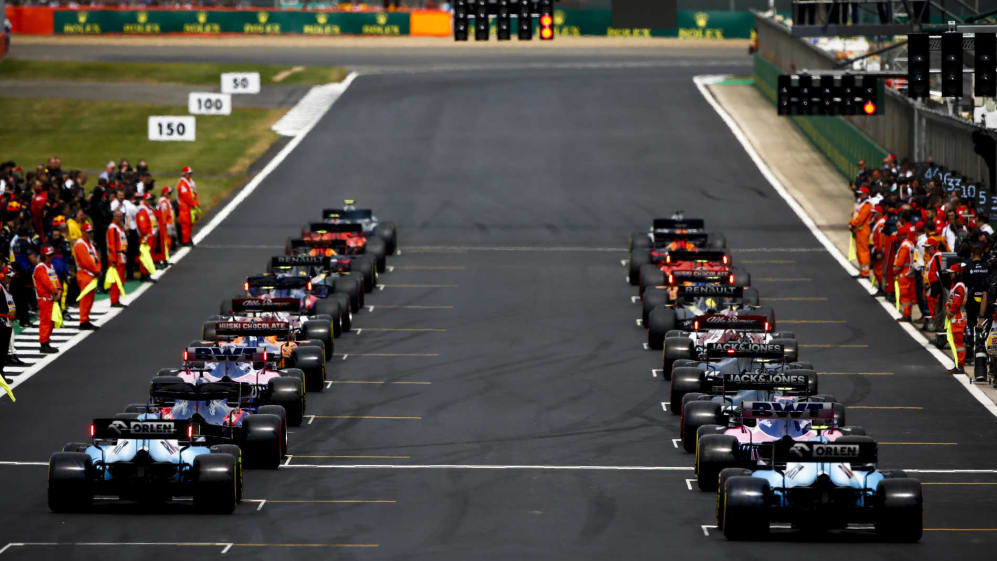 A celebrated Formula 1 journalist with more than 500 (consecutive) Grands Prix' experience, David Tremayne is one of those familiar paddock figures who has seen it all, met them all, and written about it all, over almost five decades of F1 racing. Here, he shares his hot takes from round 10 of the season at Silverstone…
1. Lewis didn't luck in under the Safety Car
I lost count of the number of people who thought that Lewis won the British GP for a record sixth time because he lucked in under the Safety Car.
Well, he didn't.
On raceday morning he and Valtteri Bottas were offered a number of strategic choices for the race. Valtteri, as the polesitter, got the most favourable, which was a two-stopper starting on the medium Pirellis, taking another set quit early on, then finishing on the hards.
Lewis decided to go for a one-stopper, running longer on the mediums and then switching to hards. The latter had barely been tried by anyone, but they worked so well he could refuse to do a late stop and was even able to set fastest lap on them. That was clever judgement mixed with his usual brilliant feel for the car and tyres.
After their brilliant early fight when both were going flat-out, Valtteri stopped on lap 16. Lewis was planning to run to lap 21, but dived in under the Safety Car when it was deployed on lap 20. He was fortunate that he was at Stowe at the time, so could do so without having to run another lap, and would probably just have had sufficient in hand over his team mate to make it out in front even without that.
READ MORE: Record win felt 'just like the first time' for Hamilton
But even had he come out behind him, all he needed to do was stay close and wait until Valtteri had to make his second stop for the mandatory switch to a different compound.
As it turned out, he came out still in the lead, and the hard tyre proved the better choice, so in many ways he made his own luck and was a deserved winner, especially as he went quicker on his very last lap than Valtteri had on the soft tyres which he had ultimately chosen in preference to the hards, and grabbed that fastest lap as well.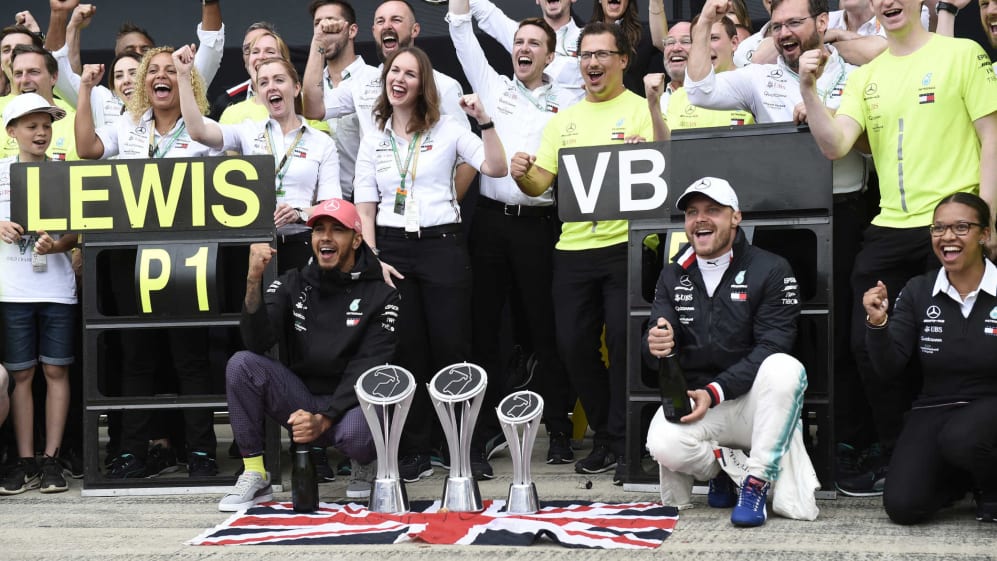 2. Result soul-destroying for Bottas
You had to feel very sorry for Valtteri, however. His defence of the lead at Brooklands/Luffield/Woodcote on the third lap was not just a bit of brilliant racing, but super-clean, too. And it had everyone metaphorically on their feet as F1 put on a superb display for spectators across the globe.
He wore the glum expression afterwards of a man who had given it his all, and was still trying to figure out just where it had all gone wrong and slipped away. It must have hurt later when some questioners asked if he would consider going to a sports psychologist for help in figuring out how to beat Lewis, as Nico Rosberg admits he did. The answer, since you're dying to know, was an emphatic no.
READ MORE: Strategy error cost me victory shot, says Bottas
He thought he had everything under control after his first stop and was closely monitoring the gap to Lewis, just waiting for him to make his pit stop so he could resume the lead, but it never happened. That was when he realised that he was stuck with his two-stop strategy, and as things progressed, he further realised that the one-stopper was going to work for his team mate. A soul-destroying end of story.
"It was a mistake from our side," he said with that familiar resignation. "Two-stop we thought would be by far the fastest but, actually one stop was possible as well. Not quite ideal, but one of these days."
3. Excellent stewarding kept the race exciting
One of the key aspects that made the race such a humdinger was some excellent stewarding by former F1 racer Vitantonio Liuzzi, Garry Connelly, Dennis Carter and Felix Holter. They allowed the drivers the freedom to race.
Not so long ago the clash, in which Charles Leclerc collided with Max Verstappen while they fought over fifth place in the Vale and Club corners on the 24th lap, would have resulted in penalties of some sort. The Monegasque would have been penalised five or 10s for the collision as he barged through on the inside to Club, and the Dutchman would have been penalised similarly for running off the track and staying there on the outside as he refused to lift off and eventually succeeded in regaining his position. This time, it was rightly deemed to be great racing, and everyone who watched adored it.
When Sebastian hit the back of Max's Red Bull at Vale on the 37th lap, the German received a deserved 10s time penalty.
WATCH: 'Cool' to be fighting Verstappen – Leclerc
This was all nothing more than common sense and apposite justice to many race fans, and the racing was so much better for it. So was F1's global image. Strong work, chaps!
4. Charles drove tougher than in Austria
I loved the way that, having dived down the outside of Max going into Vale to grab the inside line for Club then pushed the Red Bull to one side, Charles then kept Max pinned wide out on the dirt as they exited the corner. It looked like payback for what happened in Austria.
The seemingly mild-mannered Monegasque described his race as "by far the most fun of my Formula 1 career to date." And he added: "In a way, I have to say that what happened there [Austria, where he played a cleaner game] allowed me to understand how aggressive I can be in the race, and I didn't hold back."
He's no wallflower, that's for sure.
5. Gasly's race his most convincing yet
Max is a real street fighter, as he reminded everyone by refusing to give up in his fight with Charles on the 24th lap.
The way he just kept pushing round the outside at Club, and regained his position, was awesome.
It was also nice to see Pierre have by far his most convincing race thus far for Red Bull as he battled for a podium slot, just as his career was beginning to look in jeopardy. There is talk of him starting to run Max's set-ups more, while he described his improvement as a 'big step.' There's still room for more, but Silverstone looked like a useful reset.
And it underlined that Red Bull have quietly been making a lot of progress of late with their chassis. With just a little bit more power, they'll really be pushing Mercedes hard everywhere before long.
6. Seb is in the toughest spell of his career
You have to feel sorry for Seb, too. Things just aren't running his way and Silverstone was close to a disaster. He qualified only sixth, was fighting for third after Ferrari's soft-tyre gamble completely failed to pay off, then made another big mistake when he misjudged his braking for Vale on the 37th lap and smashed into Max's Red Bull.
A points-free race leaves him not only well behind the Dutchman overall, but only three ahead of team mate Leclerc.
I liked the fact that the first thing he did afterwards was to go over and apologise to Max, but without question he is in the middle of the toughest spell of his career right now.
7. Change could be on the cards after latest Haas disaster
Could things have been any worse for Haas this weekend?
Romain Grosjean and Kevin Magnussen struggled in qualifying then collided on the first lap and ultimately took each other out.
READ MORE: Grosjean and Magnussen's driving 'not acceptable' says furious Steiner
I'd love to know exactly what Team Principal Guenther Steiner had to say to the Netflix film crew this time, let alone to his hapless drivers.
I see change on the horizon for one of them at the end of the year...
8. Lewis made Frank's weekend
On Thursday a black Mercedes lapped the track and was seen doing several spectacular doughnuts at various points. It was driven by Lewis Hamilton, and his passenger was none other than Sir Frank Williams. It was delightful to see Francis at a race again, especially it was a celebration of his 50th anniversary as a Team Principal. Daughter Claire had arranged the fun with Mercedes, and after the first lap Lewis's offer to do a second was warmly welcomed.
"You're a hooligan! That's something that will live in my brain for a long time," Frank told him afterwards with a huge grin.
Once a racer, always a racer; the expression applies equally to both men.
9. Charlie would have been proud of tributes
There was a splendid memorial to the late Charlie Whiting on Thursday night at the BRDC Clubhouse which was packed with all sorts of people from the racing world keen to pay their respects to the much-missed FIA official. And in a touching gesture somebody had the brilliant idea to let his young son Justin become the youngest official starter of the race in history. Charlie would have been very proud as Justin upheld family honour in style.
10. New Silverstone deal is great for the sport - and the fans
The 353,000 spectators who flocked into Silverstone for their annual fix of Hamilton-mania not only got a great race, but the well-received news that the British GP will stay at the Northamptonshire venue for at least another five years.
Under the new agreement with F1, the race is protected until 2024.
Chairman and CEO of Formula 1 Chase Carey stressed that "Silverstone and Great Britain represent the cradle of this sport, its starting point back in 1950."
John Grant, the chairman of the British Racing Drivers' Club who own the track, said that it would have been disastrous for the sport had the parties not managed to find a way forward.
I couldn't agree more with either of them, and neither could thousands of delighted fans who applauded that as the kick-off point to such a great weekend's sport.