Opinion
DT'S 10 THOUGHTS… On Great Britain and beyond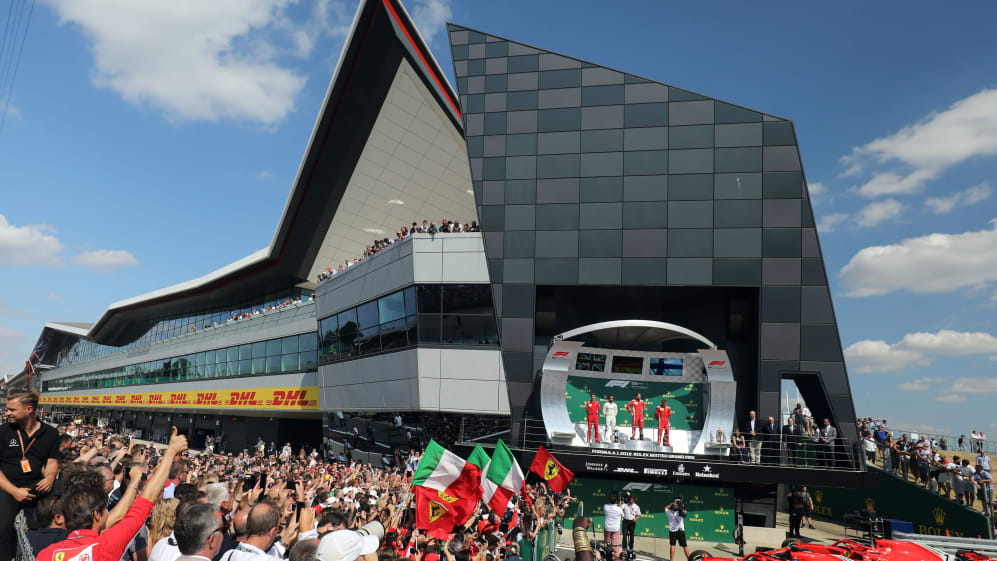 A celebrated Formula 1 journalist with more than 500 (consecutive) Grands Prix' experience, David Tremayne is one of those familiar paddock figures who has seen it all, met them all, and written about it all, over almost five decades of F1 racing. Here, he shares his thoughts after round 10 in Great Britain…
1. Are Ferrari the title favourites now?
Ferrari came to Britain expecting a kicking from Mercedes, who have traditionally dominated round the very fast sweeps and down the long straights of Silverstone.
Yet right from the start of practice the red cars looked hooked up, and Lewis Hamilton was later moved to suggest that a new floor had made the SF71H three-tenths of a second quicker.
Mercedes won the qualifying battle, by a scant 0.044s, thanks to a brilliant lap by Hamilton, but Kimi Raikkonen's clumsy move on him in Turn 3 on the opening lap skewed full comparison of the respective cars in the race.
The very high temperatures – 52 degrees Celsius track, 26 ambient – certainly favoured the Ferraris, even though the harder compound Pirellis – hard, medium and soft – should have favoured the Mercedes.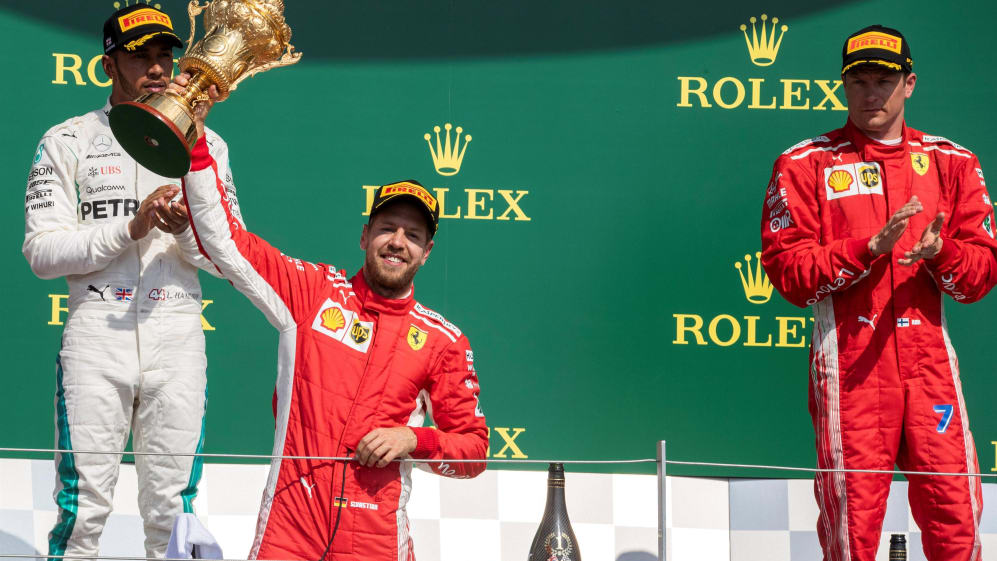 As it was, the day belonged to Ferrari, much to their surprise and Mercedes', and as he whooped it up on his slowing down lap, Sebastian Vettel told his crew: "We are leaving with the British flag to hang in Maranello!"
There were bells ringing in that town, as there always are after a Ferrari win. But if any were ringing over in Brackley, they were sounding an alarm rather than a celebration. Mercedes struck back after Canada to win in France and should have done so again in Austria. But right now, I'd say the Ferrari is back in front in the development war.
2. Lewis' fightback was an honourable pursuit
He got a lot of flack for not making the immediate post-race interviews with Martin Brundle, and then for his comments about Ferrari's "interesting tactics", but those who were critical on both counts simply don't get what it means to race your heart out – and come up short.
In the ideal world, the hero gives it his all and waves off disappointment and defeat with a broad smile and a cavalier wave. In real life it doesn't work like that – not when the stakes are as high as they are in F1.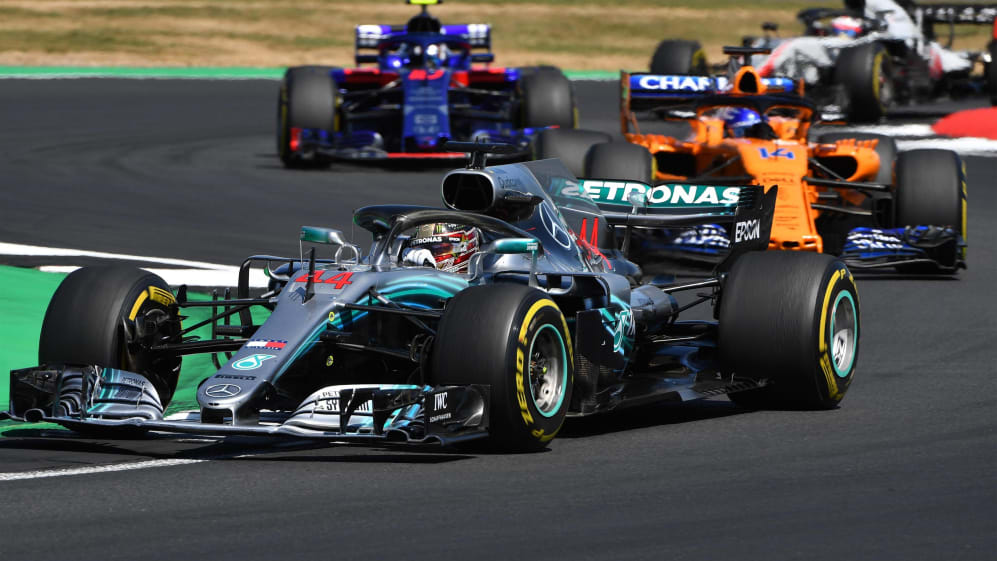 For an hour and 27 minutes and 32.048s he had been driving flat-out, giving his best in an effort to haul himself back into contention and, yes, to give his thousands of fans what they had come to see after his superb pole-winning effort had been derailed by his own over-aggressive use of the throttle and resultant wheelspin at the start, then Kimi Raikkonen's mistake under braking.
Yes, he fretted a lot about the likely state of his car's floor, but then he got his head down and set a string of fastest laps as he hauled his way back to fifth place by the 31st lap.
On track, his performance was both noble and impeccable. His behaviour afterwards merely the product of intense commitment and then frustration. That's racing.
3. Mercedes strategy in the spotlight again
Yet again, Mercedes adopted a questionable strategy when Marcus Ericsson crashed his Sauber on the 32nd lap, triggering a Safety Car intervention a lap later. Ferrari brought both drivers in, Vettel from the lead, Raikkonen from fourth. Red Bull also brought Max Verstappen in from third, leaving out Daniel Ricciardo who had only changed to softs in a second stop four laps earlier.
Mercedes left both of their drivers out, triggering suggestions once again that in racing situations they perhaps think too much by wire rather than by gut.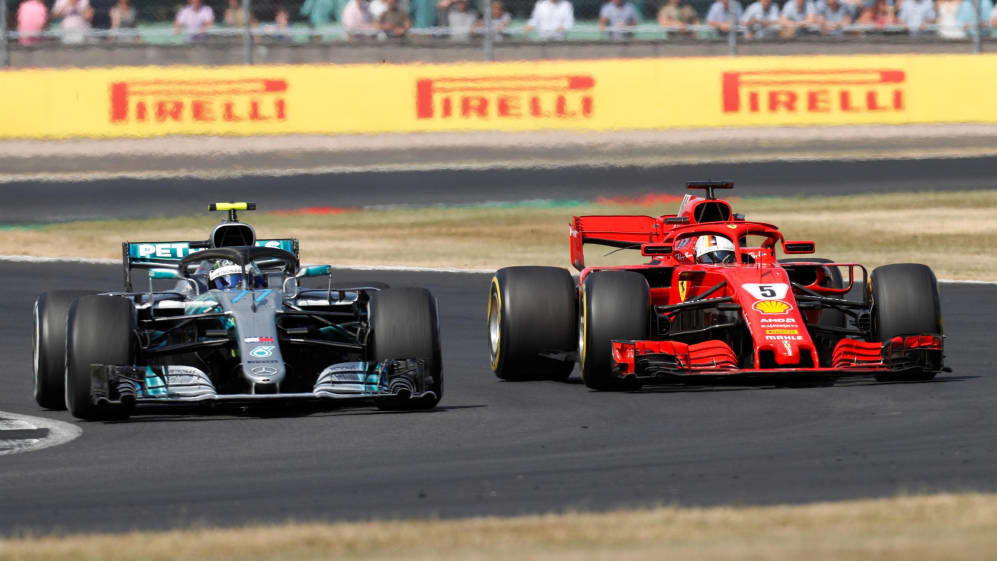 Bottas said later he was on the same page with his crew, as a stop would still have left him behind Vettel. But as it transpired, and as seemed clear to many others, his medium tyres were already 13 laps old and would soon be no match for the fresh softs of his rivals. Indeed, a second Safety Car intervention on lap 38, for the Sainz/Grosjean crash, served only to delay the inevitable. Bottas was bold in repelling Vettel's advances when the track went green again on the 42nd lap, but by the 47th Vettel had surprised him at Brooklands and was long gone.
As Bottas went backwards, his tyres finished, Hamilton on his four-laps younger mediums was also struggling. He might have been the fastest man by a country mile on them when everyone else was on the same rubber, but again, he was no match for a Ferrari on softs.
But where it was the wrong decision with Bottas, which Mercedes acknowledged to have been risky but (incorrectly) the best chance he had to win, in Hamilton's case staying out moved him to third, and thence to second when he passed Bottas. Had he pitted, he would probably have finished lower and thus been more than eight points behind Vettel when the dust had settled.
4. What does Valtteri have to do to get a break?
When Lewis Hamilton was slow getting off the line, Valtteri Bottas slipped through into second place and, for a while, was taking the fight to Sebastian Vettel.
The likable Finn, as we have already noted, is a nice guy whose outward manner conceals a steely resolve best not underestimated. Last season he fulfilled much of his potential with three victories, wholly justifying his promotion to Mercedes alongside Lewis Hamilton. This season he has looked stronger than ever, and having missed out on victory by six-tenths in Bahrain, could justly have felt robbed in China and Azerbaijan. Elsewhere he's backed Hamilton strongly, establishing himself as a genuine front-runner. Vettel, Hamilton, Ricciardo and Verstappen have all won races thus far this year, and it's way past time that the gods smiled on the man from Nastola.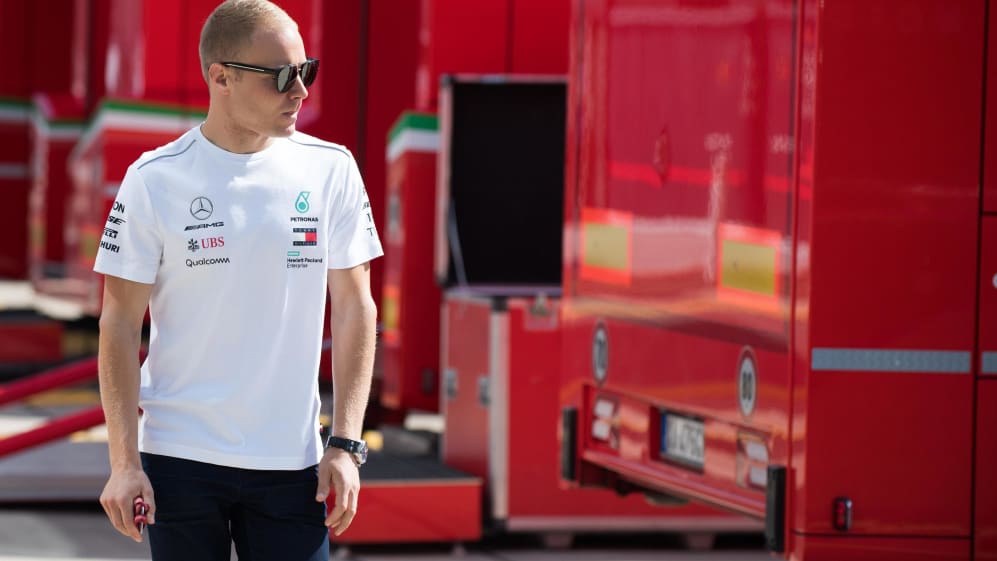 5. Red Bull asthmatic on Silverstone's straights
Max Verstappen reckoned that his Red Bull RB14 was the fastest car in many of the quick corners at Silverstone, but was losing up to nine-tenths of a second on the straights. It was notable in the race how Kimi Raikkonen was able to reel him in on Hangar Straight. According to Max, the Renault power unit is 70-80bhp down on the Mercedes and the Ferrari.
For the record, over the finish line Raikkonen's Ferrari was fastest in the race at 257.8km/h, while Verstappen's Red Bull was sixth at 252.1. At Intermediate 1, Sergio Perez's Force India was fastest with 332.9km/h, Ricciardo's Red Bull being eighth on 319. At Intermediate 2, Vettel was fastest at 270.3, Verstappen eighth on 259.6.
I couldn't help thinking, when I heard all that, just how hard it might be for the team next year, given that Pierre Gasly was unhappy with the performance of the Honda engine in his Toro Rosso. His respective figures were 247.9 and 310.8 and 258.10…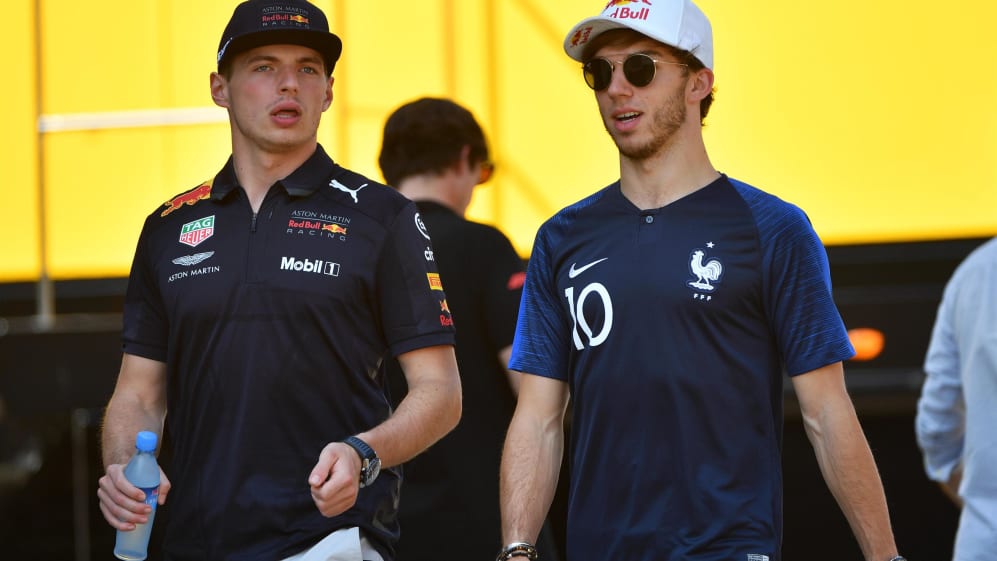 6. What's really happening at McLaren?
It's been known for many months that all has not been well within McLaren. The Woking team has already lost Technical Director Tim Goss, and Racing Director Eric Boullier's was the latest head to roll when it was announced on the Wednesday preceding the British Grand Prix that he had resigned.
Goss' departure came in April in the first shake-up. Boullier's is part of a second and is not likely to be the last as the team continue to reorganise in search of a better management structure intended to presage revisions to strengthen the team's level of competitiveness.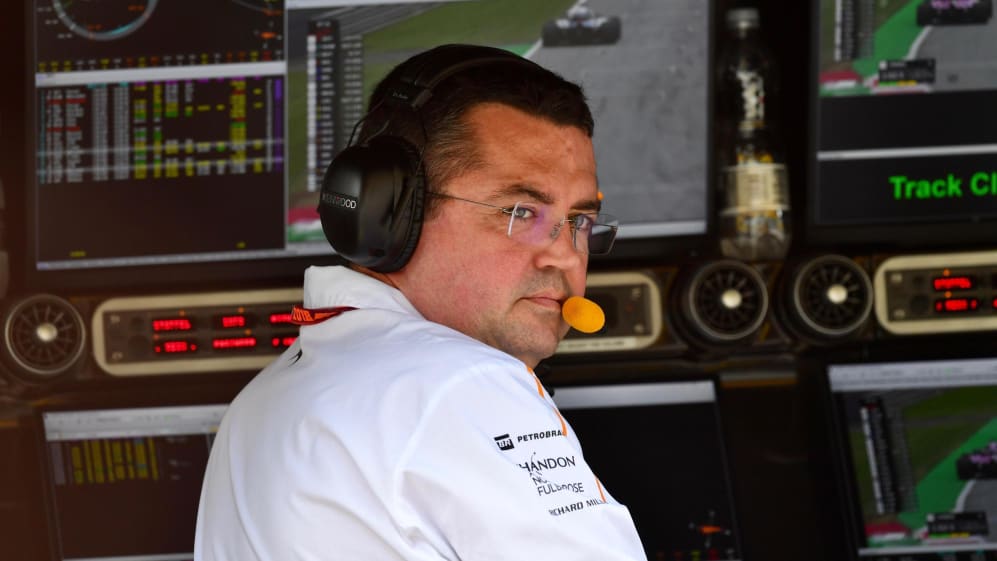 There's been much talk of late of an IndyCar programme for Fernando Alonso in 2019, but it's more likely that the Spaniard will just try the Indianapolis 500 again now that he is two steps towards his Triple Crown ambition, having added victory at Le Mans to his previous successes in the Monaco Grand Prix.
CEO Zak Brown said in Silverstone that McLaren are now "laser focused" on F1.
7. A noble act
I like David Richards. We once had an argument over the phone when Motoring News' advertising department screwed up and left it to editorial to fix. Years later, when DR arrived in F1 with Benetton, I reminded him of that. When he laughed and said, "Yeah, I get like that sometimes!" I recognised a kindred spirit and we've got along nicely ever since.
These days he's not just the driving force behind Prodrive, but the boss man at the MSA. I hear from many sources that he's a big new broom there, preferring a major drive for the little guys in national racing rather than chasing the luminaries.
He's a retiring fellow, and there was a nice little vignette on the podium on Sunday. Normally the prize for the third-place finisher is presented by the chairman of the National Sporting Authority, but DR chose instead to ask Nathalie McGloin to perform that task. She is the president of the FIA Disability and Accessibility Commission, and the only female tetraplegic racing driver in the world, running a Porsche Cayman S in the Porsche Club Championship.
Oops! Error retrieving Instagram post
I thought that was a noble gesture, and in another welcome sign of the times, Silverstone had installed a permanent lift to enable disabled competitors to reach the podium.
McGloin described the invitation as "humbling beyond words", and I thought it notable that Lewis, in that racer's pit of despair after giving everything and just coming up short, nevertheless had the grace to pose with her.
8. Mystery British racer
He was in an underpowered car that was many years older than those of his rivals, yet he qualified 16th out of 28 for his Masters Historics F1 race on Saturday morning at Silverstone. He then battled mightily with several newer machines, most notably the Ensign N177 driven by former British F3 champion, Theodore F1 racer and ARS star Tommy Byrne.
He finished 13th overall after a drive noteworthy for its smooth cleanliness, in his immaculate 1968 Gold Leaf Team Lotus 49B. And then he went back to work, overseeing Max Verstappen and Daniel Ricciardo in free practice, qualifying and the British Grand Prix, in which the Australian finished fifth and the Dutchman retired with brake problems.
I like racers, and while he might be one of the world's most self-effacing technical people, Adrian Newey certainly grows horns when he's in the cockpit himself.
9. Who says F1 isn't as popular as it once was?
As we travel the globe, you sometimes hear suggestions that F1 has seen its best days and that people just aren't as interested as they used to be. It sure didn't look that way to me over the British Grand Prix weekend.
After the big crowds seen in Austria, almost a quarter of a million people came to Silverstone on Saturday and Sunday. The weather was brilliant, England advanced in the World Cup, and though local favourite Lewis Hamilton couldn't quite make it six wins at home, it was a gripping race.
More than anything, in the hours leading up to it race, I would describe the overriding mood – in the paddock and all around the track – in one word: happy. And isn't that what sporting events should be all about?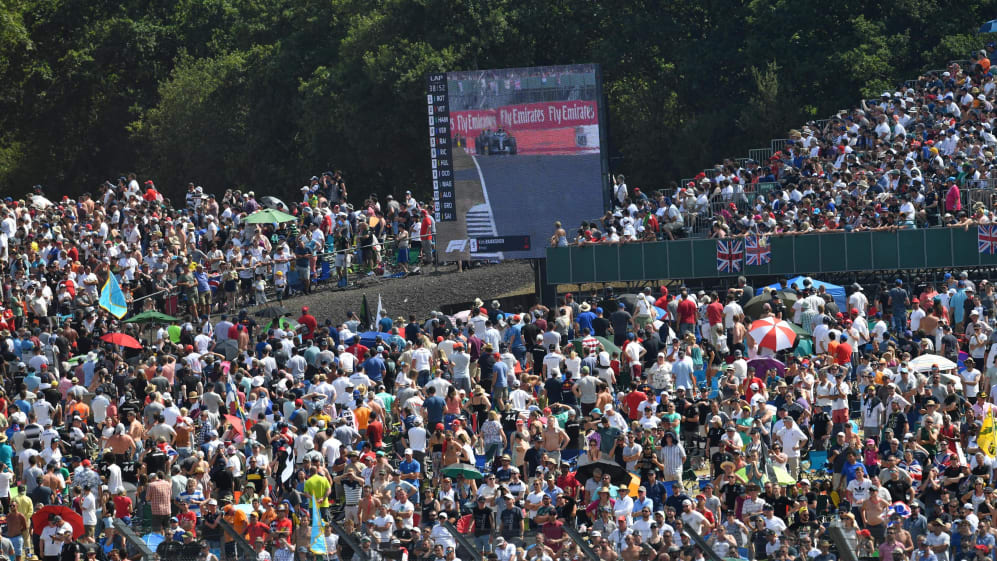 10. There's something familiar…
The British GP marked the 68th anniversary of Alfa Romeo's first Formula One Grand Prix victory, when Giuseppe Farina won the opening race in the newly inaugurated World Championship in an Alfa Romeo 158 at Silverstone on May 13 1950.
Alfa Romeo Sauber celebrated the occasion by inviting the sons of Farina's team mate and rival Juan Manuel Fangio – Oscar and Rubens – to attend on Sunday.
There was no question to whom they must be related. Oscar in particular bears an uncanny resemblance to his great father.