'Each weekend's a rescue' says Hamilton after both Mercedes miss out on Q3 at Imola
Lewis Hamilton emerged from qualifying downbeat after both he and George Russell were eliminated in Q2 at Imola. The seven-time champion offered a candid post-mortem of Mercedes' performance on Friday evening.
While Max Verstappen took Red Bull's 75th pole position, Hamilton qualified 13th and Russell 11th – marking the first time Mercedes failed to reach Q3 with either car since the 2012 Japanese Grand Prix.
READ MORE: 'That's what we like' – Verstappen pleased to take pole in 'hectic, long qualifying'
"It wasn't a great session. Yes, naturally it's disappointing. We come here with optimism, and you know everyone's working really hard at the factory and things just don't come together. It's disappointing. I think we underperformed as a team today," said Hamilton.
"There are things that we should have done that we didn't do and yes, anyway, we'll work as hard as we can to move up in the Sprint… It's going to be a difficult race but hopefully tomorrow's better weather-wise and who knows? Maybe we can move our way forwards.
"We'll just keep working hard… Each weekend's a rescue."
Meanwhile, with the cameras having picked up Hamilton having a seemingly heated conversation with Team Principal Toto Wolff at the end of qualifying, the seven-time champion was asked if he could shed any light on the discussions…
"That's all internal stuff," he replied. "I don't want to share that, but we'll just keep working. It is what it is."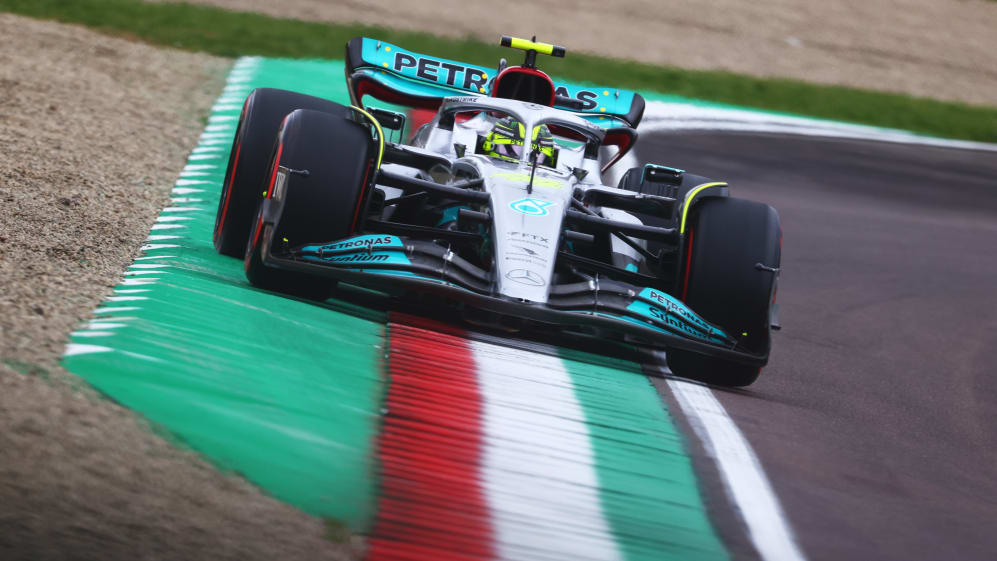 Russell out-qualified his team mate for the second time this season, and shone further light on why the Silver Arrows couldn't shine in slippery conditions at Imola...
"We always struggled a little bit to get the temperature in the tyre and were always seemingly taking a bigger jump in the second lap, and we saw it in Australia as well when compared to the Alpines and the McLarens, they were first-lap qualifiers; we had to do it on the third lap or even the fifth lap doing the fast-slow-fast consecutive sequence.
"It was a bit of shame with how the red flags panned out today, but obviously if there is a weekend to not be where we want to be, Sprint weekend is the one to do it. So, it's not ideal."
READ MORE: 'The car surprised me' says Sainz, as he reflects on costly Imola qualifying crash
Russell wasn't too optimistic about Mercedes' hopes in Saturday's Sprint, however, where points are now awarded to the top eight finishers.
"It will be interesting in these new cars if we can follow a bit closer, but I don't think there are enough laps, with enough degradation for us to take our advantage where we are generally stronger compared to our current rivals, which this weekend aren't the top two teams.
"Let's see what we can do. We got Sunday as well… it can only go up," he concluded.