Report
Esports Series Pro Championship: Rasmussen claims first victory of 2022 at Silverstone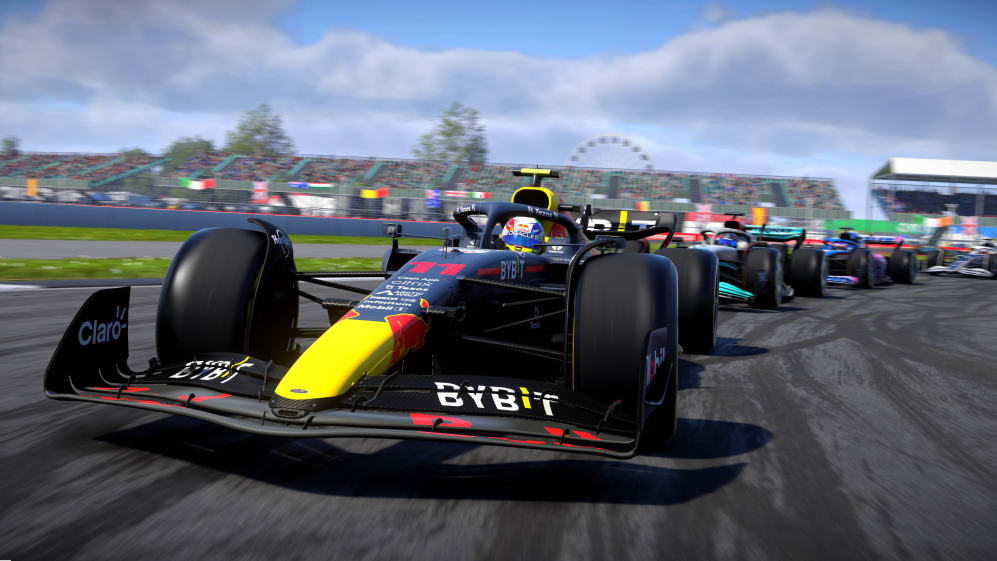 Oracle Red Bull Racing Esports driver Frede Rasmussen broke his duck on Friday night after claiming victory around Silverstone.
Winning the third race of the opening event, the Dane now has his 2022 F1 Esports Series Pro Championship up and running, after a hit-and-miss start.
An uncharacteristic mistake in the curtain-raiser in Bahrain earned him a penalty, and he was stuck in a queue for the lead in Imola, unable to pass.
Nothing and nobody would stand in his way in Silverstone, though, and he crossed the line just ahead of the ever-impressive Thomas Ronhaar.
Previously on F1 Esports
The aforementioned race in Bahrain saw Lucas Blakeley win convincingly after resisting late pressure from reigning champion Jarno Opmeer, with team mate Bari Boroumand coming home third to make it a first McLaren Shadow double-podium in F1 Esports.
The Blakeley Train powered into Thursday, and he came out of the Imola round with another win, holding back the tide of Red Bull duo Marcel Kiefer and Rasmussen to extend his perfect start.
READ MORE: McLaren Shadow's Blakeley claims victory in opening round of 2022 F1 Esports Series Pro Championship at Sakhir
Oops! Error retrieving Twitter post
Silverstone action
Qualifying in Silverstone came with a few shocks, not least of which was Thursday's runner-up Marcel Kiefer dropping out in Q1. Usual suspects Blakeley, Ronhaar and Rasmussen placed well, but Opmeer could only muster P9. Rasmussen put it on pole, with Red Bull family alumnus Sebastian Job filling the P2 spot for AlphaTauri, and Ronhaar just behind.
Not content with going backwards at the start in the first two races, Ronhaar powered past Job through Abbey and settled in behind Rasmussen for a long first stint. With no other option, Opmeer decided to run a contra-strategy, ditching his medium tyres on Lap 10 to go long on the hards to the end of the 26-lap affair.
READ MORE: Lucas Blakeley doubles up with Imola win in Round 2 of the 2022 F1 Esports Series Pro Championship
Two laps later, the first of the leaders – Blakeley (P4) and Longuet (P5) – came in to trade for the mediums, but they emerged ahead of Opmeer. The reigning champion's gamble on a tyre differential didn't work out, much like Ferrari's at Monza just five days prior.
Leading duo Rasmussen and Ronhaar came in together and when the pit stops shuffled out, they maintained the lead. The loser in all this was Job, demoted to fourth, with Blakeley taking his spot on the podium.
Oops! Error retrieving Twitter post
Opmeer's strategy left him in no-man's-land in P7, but he was able to surpass both Longuet and Brendon Leigh on the final lap, elevating himself to P5.
Rasmussen soared over the line to take his 11th win in F1 Esports, coolly taking the chequered flag ahead of Ronhaar, Blakeley, and Job. Opmeer consoled himself with fifth, followed by Longuet and Leigh. Patrik Sipos (Alpine), Fabrizio Donoso (Ferrari) and Luke Smith (Alpine) occupied the final three positions; all three opening their accounts for the season.
READ MORE: 2022 F1 Esports Series Pro Championship calendar revealed
State of play
The first event leaves Lucas Blakeley firmly top of the pile, boasting a 21-point gap to Rasmussen in second. Ronhaar's spellbinding first event sees him sat in third, ahead of double-champion Opmeer, and Boroumand rounds out the top five.
The team standings are are a similar story, with McLaren Shadow leading the way after three consecutive podiums for Blakeley. Hit and miss races for Red Bull Racing Esports and Mercedes-AMG F1 Esports Team means they have ground to make up, and Haas are in the mix, outscoring their 2021 tally several times over already.
We now wait four weeks for our second event, where three fresh rounds of racing action await us. Austria, Belgium and the Netherlands form a European triple-header, commencing on Wednesday, October 12. See you there…
Oops! Error retrieving Twitter post