Esports stars Leigh and Bonito to feature in Race Of Champions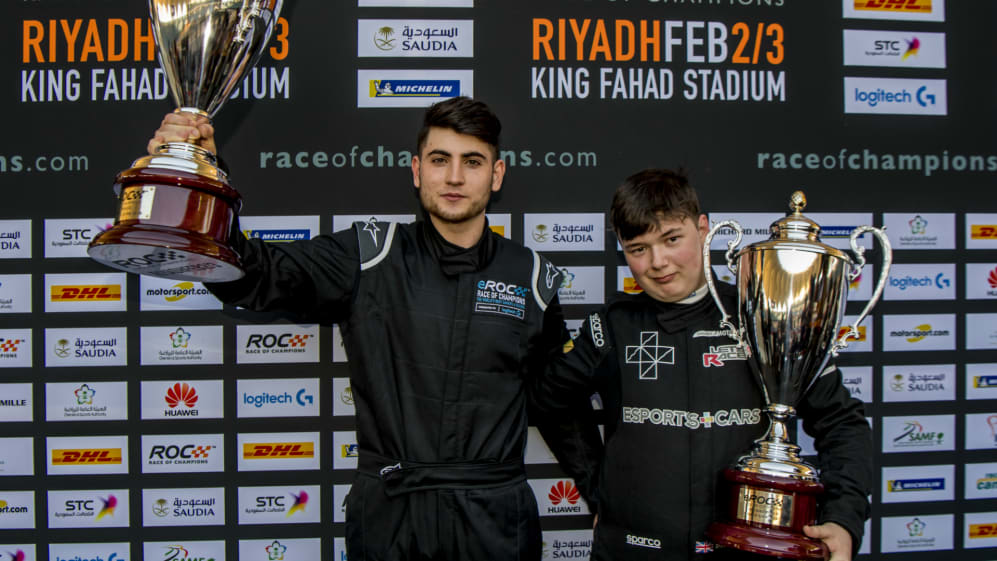 Over the past two years, he's taken the world of sim racing by storm. Now, Brendon Leigh has another shot at converting his rapid Esports pace into reality, as he prepares to tackle the 2019 Race Of Champions around the stadium section of the Mexican Grand Prix circuit over the weekend of 19-20 January.
Leigh, the two-time F1 New Balance Esports Pro Series champion, was announced on Monday as one of the four finalists of the eROC event, alongside racers James Baldwin, Sebastian Job and Nils Naujoks. The quartet will face off against one another, both on a racing sim and on the physical track at Autodromo Hermanos Rodriguez, with the winner crowned as the 2019 eROC champion.
The champion will then join McLaren Shadow racer and reigning eROC champion Enzo Bonito on Team Sim Racing All Stars, where they will compete in the real life Race Of Champions against a vast array of talent – talent that includes F1 personalities such as Germany's Sebastian Vettel, Great Britain's David Coulthard, Brazil's Lucas di Grassi, and son of Germany's seven-time champion Michael, Mick Schumacher.
The other drivers so far confirmed for the Race Of Champions are Mexico's Daniel Suarez, Memo Rojas, Patricio O'Ward and Benito Guerra, Denmark's Tom Kristensen, Sweden's Johan Kristoffersson, Brazil's Castroneves, and American duo Ryan Hunter-Reay and Josef Newgarden.
Though it's not yet clear which drivers will be drawn against one another, the prospect of F1 Esports drivers racing against Formula 1 legends – on an historic F1 circuit no less – is indeed a tantalising one.
The Race Of Champions, held in Mexico this year, is an annual celebration of motorsport that sees racers from all different categories competing in a side-by-side track style, with motorsport legends from Formula 1, endurance racing, rallying and several other disciplines all facing off.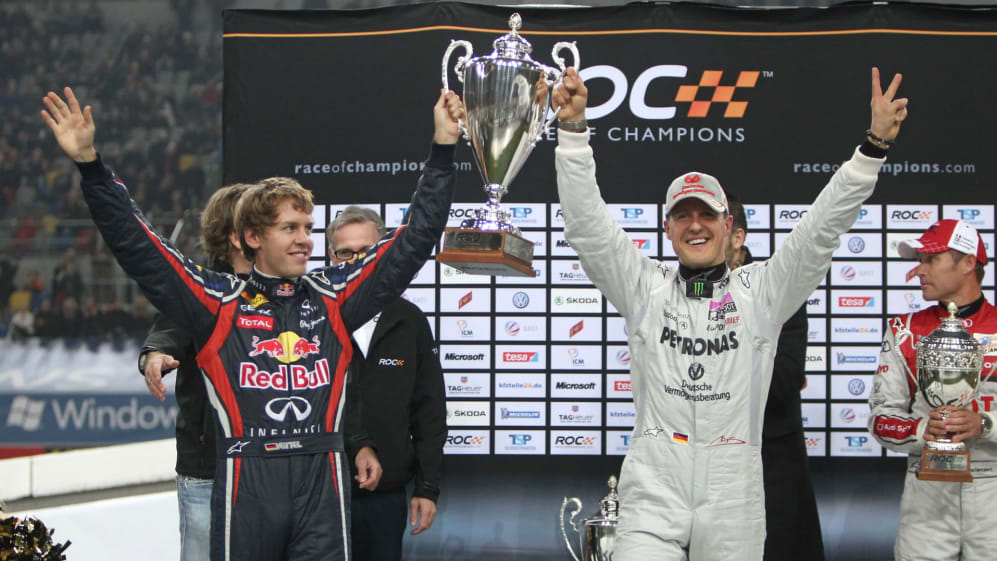 Race of Champions 2019
The main events of the Race Of Champions are spread over two days, with the Nations Cup held on Saturday 19 January – and this is where Bonito and the eROC champion will race against the roster of motorsport royalty in heats.
The second day of the event will see the Race Of Champions itself take place – where teamwork goes out of the window, and it's down to individual speed to make a difference. Bonito and the eROC champion will face off against one another in this event, with the winner progressing to take on another motorsport hero.
Leigh and Bonito both previously raced at the 2018 Race of Champions, held in Riyadh, Saudi Arabia, just months after the culmination of the 2017 F1 Esports championship at the Abu Dhabi Grand Prix, where Leigh was crowned the inaugural F1 Esports champion.
Despite it being Leigh's first time ever behind the wheel of a car, he impressed judges with his adaptability and fast learning pace. Bonito did what many were unable to in F1 Esports – he beat Brendon, claiming the eROC crown and booking his place in this year's event. It was however a close call, emphasising just how competitive the F1 Esports Pro Series has been.
The Race of Champions will be held over the weekend of 19-20 January. With the reigning eROC and F1 Esports champions potentially competing against one another, it's not one to miss…