Feature
F1's most memorable car launches: Jordan EJ12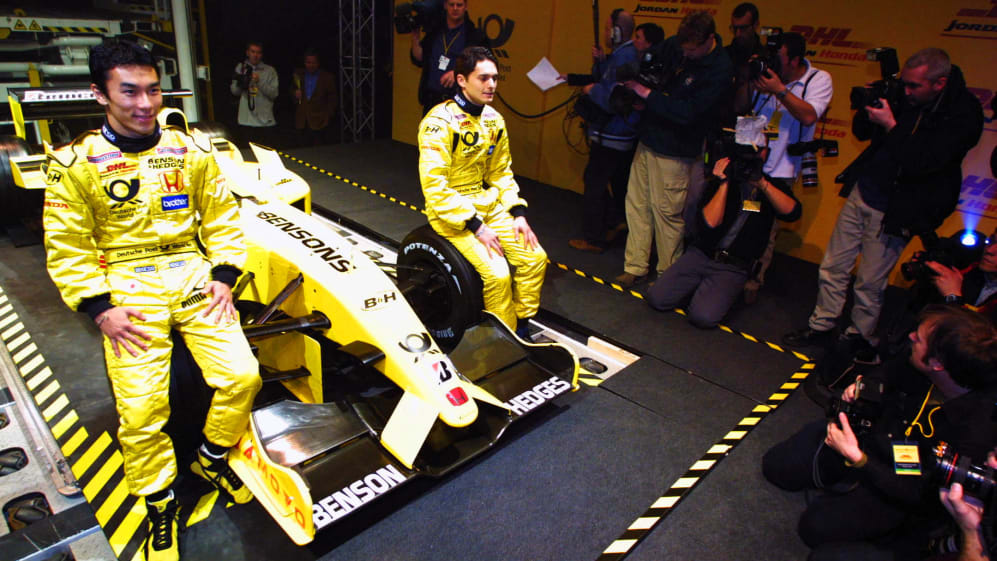 After a long winter, the F1 car launch season is the reviving tonic that puts the pep back in the steps of Formula 1 fans the world over. But before the covers start getting pulled off the latest generation of contenders, we wanted to look back at the most shocking car launches in F1 history. From parading pop stars to some truly eye-catching (read: eye-watering) liveries, we bring you the reveals that have made the front pages as well as the back pages over the years. Today's offering: the Jordan EJ12.
When?
February 22, 2002
Where?
Brussels Airport, Belgium
What?
Say what you want about Eddie Jordan, but the guy could spot a PR opportunity in the fog at 20 paces – and after signing up DHL as a Jordan team sponsor for the 2002 season, he wasn't about to pass up the opportunity to shout about it at that year's launch. That's why, in February 2002, a host of F1 journalists found themselves the salubrious surroundings of Brussels Airport, and DHL's main hangar there. Once in situ, they were treated to the standard F1-driver-and-team-owner-Q&A shenanigans before Eddie played his trump card.
The presentation was cut short by a message from the control tower saying that an urgent delivery had arrived for Mr Jordan. A video flickered on, showing a DHL-liveried Airbus A300 doing a fly past. Then, the hangar doors were wrenched asunder and the 52 metre-long plane was dragged into the building, where it duly disgorged its precious cargo from a side door: that year's EJ12 challenger.
In truth, hosting the launch at Brussels Airport was as convenient as it was headline-grabbing, with the Jordan team then having to rush the car back to Stansted Airport and on to Melbourne, where it was required to appear on track just a week later at the start of the 2002 season.
Enjoy these other memorable F1 car launches…