Bahrain preview quotes - Renault, Mercedes, Force India, Toro Rosso & more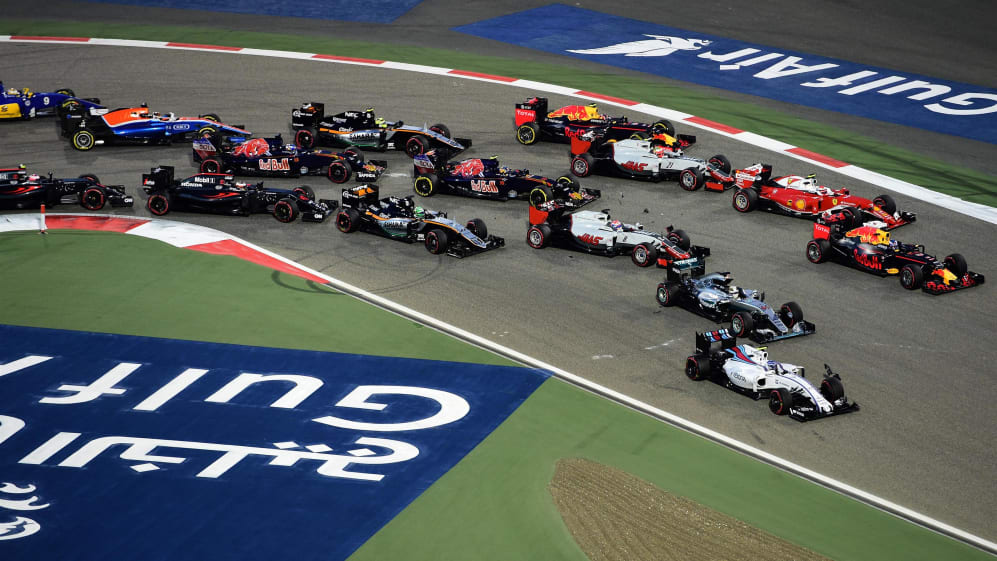 From Shanghai, the teams head west for round three of the 2017 FIA Formula One World Championship and the desert setting of the Bahrain International Circuit. Those involved look ahead to the 2017 Formula 1 Gulf Air Bahrain Grand Prix...
Renault
Nico Hulkenberg
"I'm heading to Bahrain with fewer winter clothes in my suitcase after the cold and wet we had in Shanghai; it should be a big contrast and I have my sunscreen at the ready! In terms of the venue, the Bahrain International Circuit is a great facility and it's quite a technical track with the added challenges of a variable wind direction and the scope for sand on track too. I really like Bahrain and the atmosphere there.
"It's a technical track and you have to be smooth and gentle yet, obviously, as fast as possible. Sand is a crucial element if it's windy and gusty it gets blown on to the track so from one session to another can vary a lot. You're always adapting to the grip levels as well as the wind direction, which can also present a challenge to getting the perfect lap. We know it's going to be pretty hot, but that's not so much of a factor now as we race far later than we used to here and it does cool reasonably quickly once the sun is down.
"There are a decent amount of challenges. There's a long straight with hard braking into turn one where you need to lose about 240kph and it's easy to go too deep into the corner. It's pretty traction limited on exit so you're fighting the rear end. It will be interesting to see how much difference there is with the new wider tyres and the greater downforce.
"T4 is another heavy braking point into what is quite a long corner and a little off camber. T5-6 is a very fast combination and pretty good fun if you nail it right. T8 is a tight and slow hairpin and another place where it's easy to out-brake yourself with front-locking, especially if you get off-line. T9-10 is a long left-hander where you're braking deep into it, trail-braking is always difficult because of the propensity for front-locking once more as well as the variability of wind direction trying to trick you too; headwind is your friend for braking late, tailwind is your enemy. The final sector is very fast and flowing which sets you up for the long, fast pit straight."
Jolyon Palmer
"I quite like the track and I have won there in the past so that definitely spurs me on after a couple of Grands Prix which have fallen short of expectations. I'll jump in the car on Friday and be working with my crew to get the maximum possible from each session then we absolutely are targeting points from the race as we've seen the potential of the car; all I need is a clean weekend.
"There is a lot of track evolution as it is very sandy at the start of the weekend, and then the track gets more and more rubber down, so conditions change a lot. The weather is almost always sunny, but it can be quite windy, which can blow sand onto the track. The fact it's a night race is pretty interesting. In terms of set-up, practice 1 and 3 are hard as they are a lot hotter than the race but there is a lot we can do in procedural terms, such as aero tests, and understanding this generation of car at this track. There are a lot of straights so plenty of overtaking opportunities and it should make for a good race.
"With dry conditions there's less chance of difficult circumstances like we saw in Shanghai so everything should be in our favour for a more straightforward race weekend and that's what we need to get some points down." 
Cyril Abiteboul, Renault Sport Racing Managing Director
"The weather is very different from that we saw in Shanghai and so we hope our race result will be too. The heat will test our power unit installation and drivers alike but both Nico and Jolyon are highly professional in their approach so the frustrations of Shanghai are forgotten even though the lessons are learnt.
"This weekend we are very much trying to harness the potential shown in the past two races and finally get some points on the board."
Remi Taffin, Engine Technical Director
"The two particular challenges are the heat and the sand. It's one of the hottest circuits we visit all year and this will test the power unit itself as well as the installation and cooling systems. Even though the race takes place later in the day than when we first started coming here, we do run daytime practice and there can be a load of heat radiated from the track surface. The other issue is the sand. It can be quite windy here and the sand from the surrounding desert means our air filtration systems leading into the engine have to really do their job.
"The first two races have definitely shown that we car challenging for points. Nico's P7 qualifying performance in Shanghai, which is quite a power-hungry track with its very long straight, shows we should be in the fight no matter what the location. We have run reliably on the power unit side at the last two races and we will always do what's needed to achieve this target for both cars. Hopefully Bahrain will be our first points of 2017."
Mercedes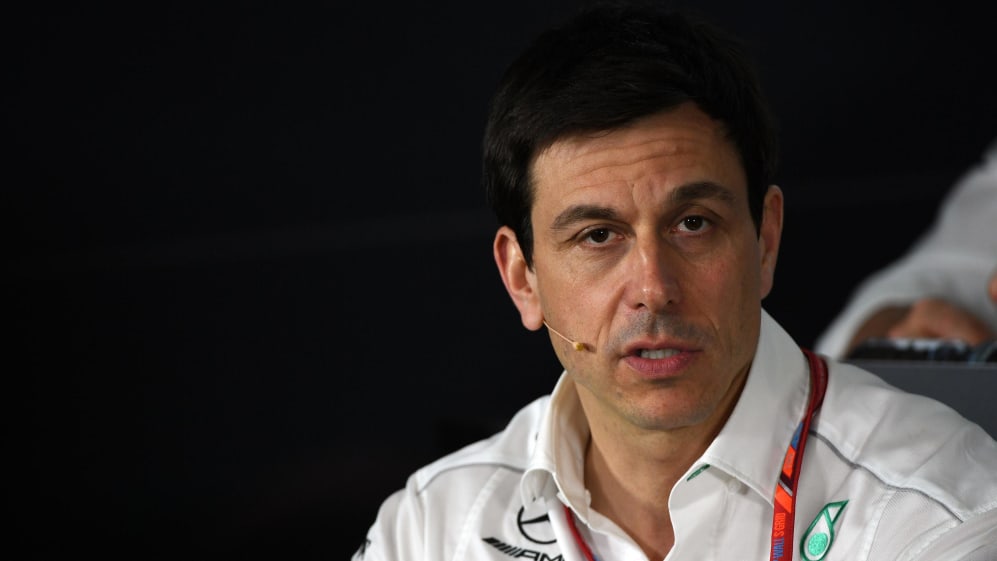 Toto Wolff, Head of Mercedes-Benz Motorsport
"China was a great way to hit back in the battle with Ferrari. We are very close on pace and I expect a bit of a ping-pong battle through the season, depending on the track. That's exciting for everyone.
"What we have in 2017 is the perfect situation for the fans and also for us as a team. We are all racers and we are all properly excited for this fight.
"Two races into the season and now it is 1:1 between Mercedes and Ferrari. And after racing on a very different circuit, in very different conditions, it's clear that we are very closely matched - and that small margins will make the difference.
"Our one point lead in the constructors' championship is anything but a comfortable margin. We need to - and we will - keep working with everything we have got to develop our car, correct our errors and continue improving. Our mindset is that of the underdog - not the Champion. And the fight has just begun..."
Force India
Sergio Perez
"I feel pretty happy about the way we have started the year. Eight points from two races is a good achievement and shows that we are working well as a team. I still think a better result was possible in China, but we can't complain about where we ended up because it wasn't an easy race considering how cold and wet it was on Sunday.
"Bahrain is always a track I enjoy and I think racing at night has made the event more exciting. I still smile when I remember our podium finish in 2014 - it's one of my best memories in Formula One. My big battle with Jenson [Button] in 2013 is also something I remember.
"It's a circuit that always produces good racing and overtaking opportunities. In the past you always had to worry about looking after the rear tyres because there are so many big acceleration zones, but maybe it won't be such a factor with this year's tyres.
"With the 2017 regulations the learning curve is very steep. The team is working really hard with the development of the car and we made some progress in China. There are more developments coming this weekend and hopefully we will feel the benefit straight away. It puts extra emphasis on the Friday sessions as we try and understand all the test items and how to get the best performance from them."
Esteban Ocon
"I feel positive after China and scoring another point. Despite the lack of running on Friday and the disappointment of qualifying, we were able to come back strongly in the race. I still believe we didn't maximise our opportunities and we have analysed everything that happened and learned what we could have done better. There is a lot on which we can build to get stronger as the season progresses.
"Bahrain is a fantastic track and I'm really looking forward to the first night race of the season. It's a track I enjoy and I have a good history there - I was on pole position in GP3 in 2015 so I hope to have another strong performance.
"There are many nice parts of the track, but my favourite is the combination of corners at turns five, six and seven: a quick chicane and then the hairpin - a very testing braking zone which you approach at really high speed. It's not easy to get the right set-up for this part of the lap, but when you do and you drive it perfectly, it's an awesome feeling.
"Sakhir is a hard circuit for tyres, brakes and engines, with big braking zones and long straights. It's also testing for the driver because you have to keep hydrated as the weather can get really warm.
"I'm quite pleased that we have races on consecutive weekends. Every time I get in the car, I feel more comfortable with the team and this reflects in the work we produce. At this stage of the season, it's important to score points whenever there is an opportunity and this remains the goal in Bahrain."
Tim Wright, Sergio Perez's race engineer
"The track in Sakhir provides a harsh test for Formula One cars. Racing at night means it's no longer as demanding on the cooling system as it used to be in the past, but conditions are still something we have to take into account when setting the car up for our drivers. The circuit can be very windy, as we are not far from the coast and in the open spaces of the desert, and that contributes to unsettling the car and blowing sand on the track, reducing grip. Tyres are a crucial element here – the rough track surface results in one of the highest degradation rates in the season, while the number of slow, high duration corners makes it even harder for the rubber. The slow corners and the long straights mean it's important to have good traction and plenty of engine power."
Vijay Mallya, team principal
"Ten points from the opening couple of races is a solid start to our season. We knew this new era of Formula One would provide some huge challenges, but I'm proud of how we have reacted as a team. We've taken our chances, ridden our luck at times and shown good reliability. We know where we can improve and where we need to focus our attention, but overall the VJM10 has performed well across two very different circuits in varying weather conditions. I'd like to think we can compete for points again in Bahrain. I expect the development race amongst all the teams will ramp up this weekend, but we will bring some extra performance to the car and hopefully take a step forward."
Toro Rosso
Daniil Kvyat
"This is a twilight race, so the light is different to other races that take place just after lunch. Here in Bahrain, the race starts with the sun still shining, but ends under the floodlights. So you need to have a clear visor, but the challenging part is always the start, as the sun can sometimes still be too bright for your eyes - dazzling!
"I'd say this is one of the trickiest qualifying sessions of the year because it's usually quite windy and the conditions are changing all the time. There's sometimes also a bit of sand on track, so it can be very difficult to get the perfect lap!
"I really like hot races like Bahrain, especially for its unusual night atmosphere - I think it's really cool to race in these conditions. Half of the races on the calendar should do this!
"The day also starts later, as the race is in the evening, which means that we can sleep more in the mornings! This is very nice and we always arrive to the circuit after a big, delicious breakfast and ready to rock the track!"
Carlos Sainz
"It's very frustrating to have not finished the race in Bahrain yet - in both cases I remember qualifying very well and doing good starts… But in 2015 we had a power unit issue and in 2016 I got hit by Perez in lap 1, so hopefully this year we can turn things around and score a good result this year: third time lucky!
"We normally go karting at the track right next to the F1 circuit and its great fun! I'd say it's actually one of the coolest karting tracks I've ever been to. I hope this year we keep the tradition and we get to go again, it's always good to have some fun!
"The race takes place in the evening in Bahrain, so the whole schedule is shifted and the day starts a bit later for us. This is good, as it allows us to spend the mornings doing a bit of sport or going to the beach, which is something different! And I have to say that the hotel we stay at in Bahrain is awesome! Its right by the beach and you can do any kind of sport you want - from squash to gym sessions, sea sports… And we always find some time to chill by the pool or at the beach, it's a must!
"I'd say I always prefer a good hot race, except for Singapore where it's a bit too hot and humid. The one thing that makes this Grand Prix tricky is the fact that on Friday we have a practice session during the day, when it's sunny and windy, and another one in the evening, when it's much cooler. This makes it very difficult to approach the weekend."
McLaren
Fernando Alonso
"I'm looking forward to going back to Bahrain, especially as I missed last year's race - I have good memories from my three victories there, and racing in twilight is always a fun experience. The Bahrain Grand Prix is always a pretty long race, so our first priority is to ensure we have reliability against the heat and harsh conditions of the desert before we can start thinking about performance.
"On the performance side, before retiring the car in Shanghai I was running in a very promising position, and our pace was much stronger than anticipated, so I'll be pleased if we can have some more good surprises in Bahrain!
"It will be another challenging race for us; the long straights don't make it easy and there's a lot for the engineers to work on. Brake wear and fuel consumption is high, and set-up is tricky as the track temperatures change a lot during the weekend, as we race later into the evening compared to the usual schedule.
"I'm pushing hard to get the absolute maximum out of our package every time I leave the garage, and in Bahrain I'll approach the weekend in exactly the same way."
Stoffel Vandoorne
"I have lots of good memories from the Bahrain Grand Prix weekend in 2016. We're a year on now, I'm a full-time McLaren-Honda driver, and I've already gained a lot more experience in the past 12 months, so of course my aim is to work hard and improve every time I arrive at a grand prix. This year will be difficult for us, but we'll be racing hard as always.
"The most important thing for me is mileage, and the weather will surely be better in Bahrain than it was in Shanghai, so I'm hoping to do as many laps as possible over the weekend. It helps that I know this track well and I won there twice in 2015 in GP2, so I'm already comfortable with the layout and therefore it's a case of building on what I already know.
"We were always expecting a difficult weekend in China, and I don't know if it will get a lot better in Bahrain - it's only one week later and there's obviously a limit to how many changes we can apply in that time, but we'll do our best as usual. The car is definitely improving and both Fernando and I feel confident and competitive, especially in the corners, so we'll have to wait and see what's possible at this track."
Eric Boullier, Racing Director
"Of the dozen Bahrain Grands Prix that have been held since the event's inception in 2004, McLaren has surprisingly never managed to win a single one. By contrast, Fernando has won the race no fewer than three times, a victory total that eclipses the efforts of any other driver [Lewis Hamilton, Sebastian Vettel and Felipe Massa have all won it twice].
"Sad to say, however, Fernando is extremely unlikely to add to his impressive victory tally next weekend, and neither will McLaren break its Bahrain duck on Sunday. But the weather will be much better than we suffered in Shanghai, where it was dull, wet and chilly, and as a result we can expect a lot more running than we managed last weekend.
"The race will mark the one-year anniversary of Stoffel's first Grand Prix, which was a highly creditable one. He duly scored a point on his Formula One debut. Both he and Fernando will be striving for points finishes again next weekend - and, although we never make rash promises or predictions, we hope their efforts will be successful. After all, Bahrain has been a happy hunting ground for Stoffel in GP2; indeed he won well there on his series debut three years ago.
"Last but far from least, Bahrain is one of McLaren-Honda's three home Grands Prix, Silverstone and Suzuka being the other two. As such, it would be fitting it we could score our first points of the year there, and you can be well sure that we'll be doing our best to do just that."
Yusuke Hasegawa, Honda R&D Co. Ltd Head of F1 Project & Executive Chief Engineer
"After a wet and cold weekend in China, we are now heading off to Bahrain where we expect the conditions to be the complete opposite, dry and hot.
"The race result in China was a big disappointment; despite the result, however, we took away a number of positives and, up until the retirements, we had an encouraging race in tricky conditions.
"I have more confidence in the progress of our PU reliability after the first two Grands Prix of the season, and I am now looking forward to seeing our performance in Bahrain, where hopefully we can continue to build on our momentum at what is something of a home race for McLaren-Honda.
"The hot conditions and two long front and back straights of the track will be strenuous on the power units, so we are not expecting this weekend to be easy for us. We will concentrate to find the best set-up during practice together with McLaren, as well as working on ensuring our reliability. We hope to show fans a good race here and we'll make our best effort to collect some points."
Pirelli
Mario Isola, Head of Car Racing
"The biggest gains at Sakhir are all to be found in traction: it is quite a stop-start circuit, so getting the power down properly and keeping the rear tyres in good condition is very important. Last year we found quite a high degree of wear and degradation, so it will be interesting to see how this has changed with the introduction of our 2017-specification tyres. The second free practice session will be particularly important, as it is the only one held in representative conditions of qualifying and the race."
Haas
Romain Grosjean
"Bahrain last year was pretty special. Of course, coming from Australia where we'd had a bit of luck with the red flag, we had no more expectation going into Bahrain. From the first free practice lap I thought the car's not too bad. In qualifying we just managed to be P9, which was what we wanted not going into the Q3, which at that time was the top-eight. We knew we had a set of tyres for the race. We had a very aggressive strategy. We had our first ever pit stop in the race - it was then a three-stop race. The car felt good. I was overtaking guys. Before I knew it, I had crossed the line P5. It was not down to luck or anything. It was the pure pace of the car. It was a pretty special race. I still remember having a lot of fun driving the car.
"I love the track in Bahrain. On paper, it doesn't look like the most exciting one, but driving it is pretty good fun. Big braking - I brake late. I love braking hard and late. It probably explains why my qualifying sessions in 2012 and 2013, I could have done better. The car was pretty good on tyres in the race. It's hard on tyres as well, but I was good with that, probably another thing that helped. I love racing in Bahrain.
"There's plenty of places where you can overtake. Basically, turn one is DRS, and going up to Turn 4 is another good place. Down to Turn 8, on the first few laps of the race, is a quick one. Before Turn 11 is a bit more tricky. Even though you've got the DRS, it's a tricky place to overtake. There's only one corner where you could overtake, but you don't really want to do it - it's the last corner, because the guy behind you has the DRS and he'll just take you back.
"I like Turns 11, 12 and 13, just because there's a cool flow. If you've got a good car, they are the corners where you can enjoy balancing the car. Turns 9 and 10 are pretty tricky. That's the braking going downhill and there's a lot of g-forces and front locking, with tricky traction on the exit. That's the place where you really need to focus.
"Conditions are going to be very different (to China). Bahrain is a very aggressive track with a high temperature. China is a very smooth track with low temperature. Shanghai is front limited, Bahrain is rear limited. They're two very different circuits. If you look at the first four races of the calendar, if we do well out of those four and manage to get a good consistency, we can then be very hopeful for the rest of the year."
Kevin Magnussen
"It's a track with some good braking zones, fast chicanes and medium-speed corners. It's quite fun."
Red Bull
Daniel Ricciardo
"Bahrain is very different to Shanghai but it has sunshine, the hotel is really nice and it's close to the beach and the ocean. It's kind of got a resort atmosphere and a lot of the time I can relax and walk around the hotel in my swim shorts.
"Since Bahrain became a night race I think the event has really come to life. It's like Shanghai, in that it was never my favourite circuit, but I seem to have good results there and both races have become ones that I really enjoy."
Max Verstappen
"The Bahrain track is actually very interesting, I like it but it's very hard on the tyres. It turns into a night race which means the conditions change a lot and the track can become very slippery with all the sand which brings new challenges.
"The hotel we stay at is very good, it's down by the beach and I also have good experiences of the Bahrain go kart track, so I always look forward to that race weekend."
Sauber
Marcus Ericsson
"Thinking about Bahrain, I am eager for the first night race of the season. The track, as well as the surroundings, have a special vibe under the floodlights. It is a spectacular race weekend that I enjoy a lot. Overall the circuit is technical and driving-wise not an easy one, but I always looking forward to racing there."
Pascal Wehrlein
"For me the most important is that I can train intensively to ensure a 100 percent performance from my side as soon as possible. I will then be well-prepared for my first complete Grand Prix weekend for the Sauber F1 Team. Hopefully this can be in Bahrain but, if not, then we will take the time it needs until Russia to make sure I am completely ready."
More to follow.