Feature
Bahrain preview - desert temperatures a blessing for Ferrari?
__It's one victory apiece for Mercedes and Ferrari, with Sebastian Vettel and Lewis Hamilton staging the first tied championship lead for half a decade as they head into Bahrain. With the high temperatures expected to suit Ferrari, will Vettel have the upper hand once more - or can team mate Kimi Raikkonen break his duck and finally end a string of near m__isses?
Mind games heat up in the Bahrain desert
High ambient and track temperatures, and a circuit which places a premium on rear tyre wear and traction… could anything sound better suited to the acknowledged strengths of the Ferrari SF70H?
Hamilton himself admits he is wary that the prancing horses will hit their stride in the desert. "Ferrari are very good in hotter conditions," he explains. "If anything, Ferrari have got a bit quicker and the gap's even closer – they will be very, very quick.
"When it steps up in temperature... so far in the first race it's been shown as not to be the greatest for us just yet, so we're just learning on the tyres. Hopefully it will be better…"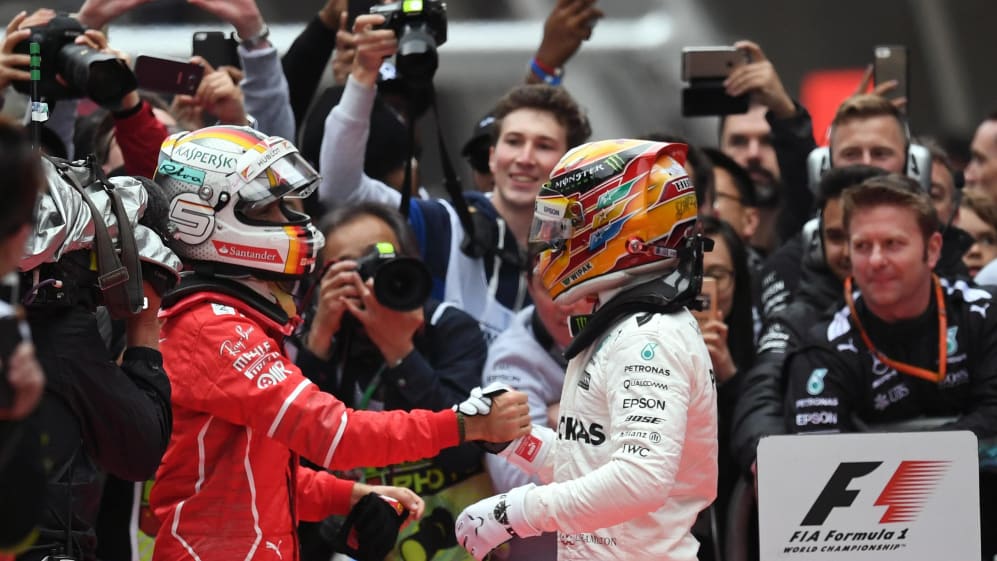 Do Ferrari have the pressure of being favourites then? Not according to Vettel, who is far more coy on his expectations for the weekend.
"I think if we can challenge Mercedes again, that's very good news," he says matter of factly. "They are very, very strong. They have had a very, very strong run the last couple of years. This year as well, so they have a good package.
"If we can be close it's good. I'm happy to get a surprise, but expectation I don't really have…"
WATCH: RE-LIVE LAST YEAR'S RACE IN BAHRAIN
Under pressure Raikkonen out to end his Bahrain jinx
Statistically the Bahrain International Circuit is Raikkonen's most successful track – after all he has collected silverware here on eight separate occasions. No other driver can boast the same record in Bahrain – and indeed only one driver in history, Michael Schumacher, has taken more trophies at a single circuit.
There's more: after a DNF in his first race in 2004, Raikkonen has only missed the top three on two occasions, in 2009 (when he finished sixth) and 2014 (10th). In the last five years, aside from that 10th, he has finished second in every race.
Therein lies the catch however: despite having more podiums than any other driver in history in Bahrain, Raikkonen has never triumphed here. Under increasing pressure following an underwhelming start to 2017, what better time to end the long wait?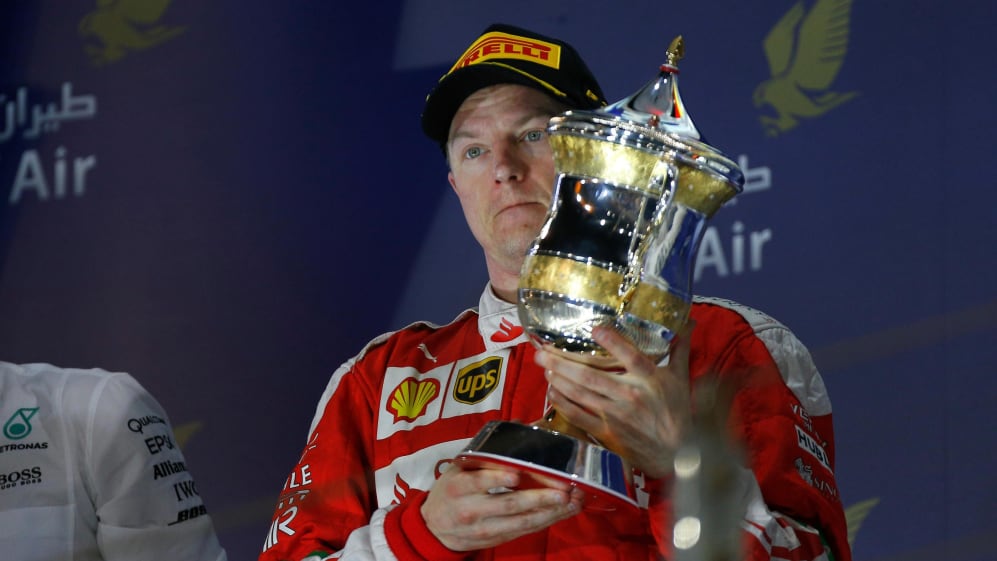 Wehrlein back on duty at Sauber
Pascal Wehrlein will be back in harness for Sauber this weekend, having stood down in favour of Ferrari reserve Antonio Giovinazzi for the opening two rounds in Australia and China.
The 22-year-old German injured his back in a shunt in January's Race of Champions, sustaining hairline cracks in several thoracic vertebrae and compressing some of his intervertebral discs. When his lap times were very inconsistent during race runs on the Friday afternoon in Albert Park, he agreed with the team that it would be better for him to stand down and to focus further on taking the time he needed to recover.
His fitness will continue to be monitored over the weekend – the stresses exacted on an F1 driver's body are after all extreme, with cars hitting 6.5G under braking in Australia. But Wehrlein is confident he is now fit enough to resume driving duties full-time, and is therefore set to make his first race start with Sauber on Sunday.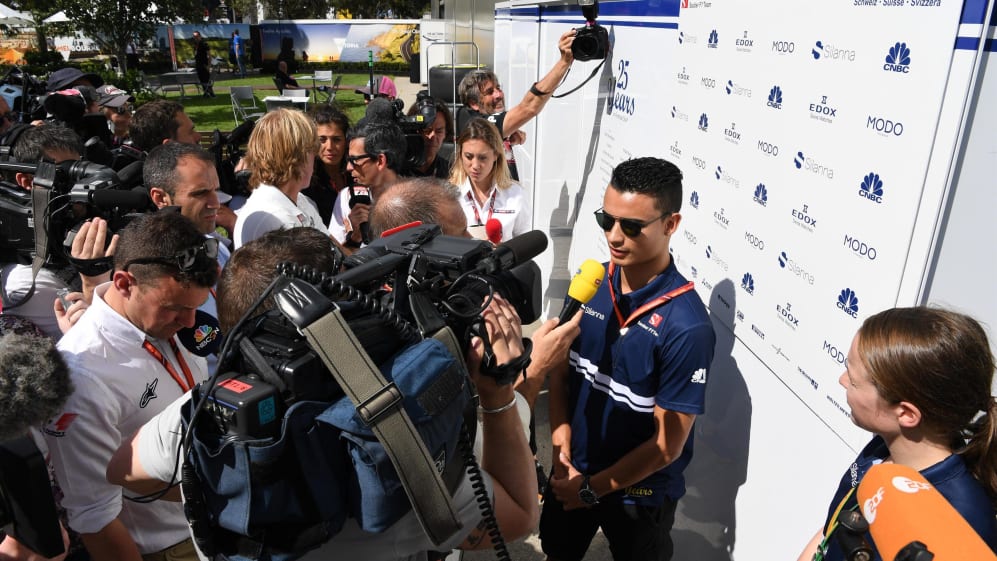 Can Vandoorne muster another dose of Sakhir magic?
Circumstances could hardly be more different between Stoffel Vandoorne's last two visits to Bahrain - but he'll be hoping he can repeat the sort of form that carried him to 10th in what was his F1 debut this time last year.
At that time, of course, Vandoorne was drafted in as a replacement for the injured Fernando Alonso, who he now partners full-time at the team.
"I have lots of good memories from the Bahrain Grand Prix weekend in 2016," Vandoorne says. "We're a year on now, I'm a full-time McLaren-Honda driver, and I've already gained a lot more experience in the past 12 months. It helps that I know this track well and I won there twice in 2015 in GP2, so I'm already comfortable with the layout and therefore it's a case of building on what I already know…"
Vandoorne, though, is well aware that 2017 could pose a tougher challenge than last year given McLaren's current struggles.
"We were always expecting a difficult weekend in China, and I don't know if it will get a lot better in Bahrain - it's only one week later and there's obviously a limit to how many changes we can apply in that time," he explains.
"We'll do our best as usual. The car is definitely improving and both Fernando and I feel confident and competitive, especially in the corners, so we'll have to wait and see what's possible at this track."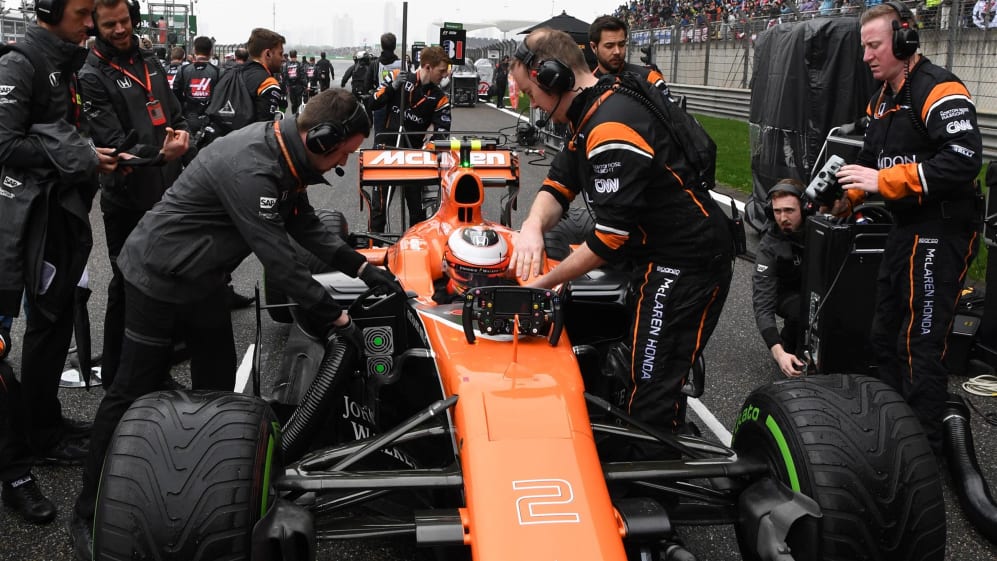 FP2 the key to unlocking performance in Bahrain - Pirelli
With both qualifying and the race held as dusk falls in Sakhir, F1 tyre suppliers Pirelli say the track tends to get faster as the day wears on - and that cars are rear limited because of the demands on traction.
As ever, adapting to the changing ambient and circuit conditions as they happen is crucial - and that means one session in particular stands out.
"The second free practice session will be particularly important, as it is the only one held in representative conditions of qualifying and the race," explains Mario Isola, Pirelli's head of car racing.
"The biggest gains at Sakhir are all to be found in traction: it is quite a stop-start circuit, so getting the power down properly and keeping the rear tyres in good condition is very important.
"Last year we found quite a high degree of wear and degradation, so it will be interesting to see how this has changed with the introduction of our 2017-specification tyres."
As they did in China, Pirelli are bringing their medium, soft and supersoft tyres to Bahrain, where thermal degradation tends to be a bigger issue for tyres than physical wear.
The weekend's outlook
The weather is expected to be consistent throughout the race weekend, with sun, partial cloud and temperatures around 30 degrees Celsius. Friday is set to be the hottest day with temperatures peaking around 38, although they are predicted to drop to around 29 when the lights go out on Sunday.
The 57-lap race gets underway at 1800 local time, or 1500 GMT.