China preview quotes - Williams, Toro Rosso, Sauber, Renault & more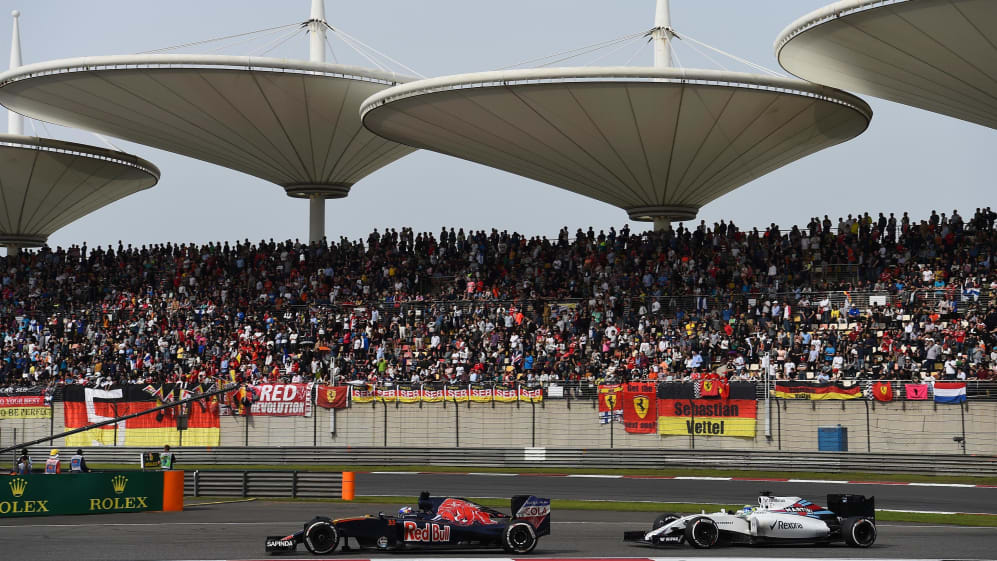 From the greenery of Albert Park, the F1 paddock moves on to the architectural grandeur of the spectacular Shanghai International Circuit. Those involved look ahead to the 2017 Formula 1 Heineken Chinese Grand Prix...
Williams
Felipe Massa
"It's always nice to go to China. I really like the track. It has a very old style, with many high speed corners and one of the longest straights in Formula One. It's definitely a fun track to drive. I also love the Chinese fans. They have a lot of love and whenever I leave my hotel they're always outside waiting! So I'm really looking forward to seeing them all again."
Lance Stroll
"This will be my first time in mainland China, as in the past I have just been to Macau where I raced in F3. I don't know a lot about the circuit. I have only done some simulator work on the track, so I still have to wait to see what it is like in reality. However, I have watched some of the races there so have an idea about the scale of the track. After Melbourne, which is a narrow track, I am going to change my approach a bit as it is a little more forgiving with the large run off areas. Having said that, I shall just prepare in the normal way as well as I can for the race."
Paddy Lowe, Chief Technical Officer
"The Shanghai International Circuit is the first track this season which will test the all-round performance of the car and so we will arguably see a truer measure of the relative performance of the cars within the new regulations. It is a great track with some demanding high-speed corners and a long back straight which is traditionally good for overtaking, but requires good set-up to ensure speed can be carried onto the straight. It is great to be heading to China as there is a growing fan base with more local fans each season showing remarkable dedication to the sport. It is also an important race for us understand where we are in the Championship to address the challenges for the season with our continued aim to improve and make progress."
Toro Rosso
Daniil Kvyat
"It was a very nice feeling to stand on the podium in China last year, I have very good memories of that moment, it was cool! This was the second podium of my career, after achieving my first one in Hungary 2015 - definitely two big highlights!
"I have to say it's a track I really enjoy driving at - it has very unusual and unique corners like Turns 1 and 2, where you can take many different lines; then it also has long straights where you can have good battles and take advantage of the many overtaking opportunities; and the fans are also very passionate there, which is good. I always receive a lot of support from them, which is nice!
"The strangest present a Chinese fan has ever given me is a panda teddy bear with a picture of myself on it – also for my trainer Pyry! We look quite weird on it, but it's always a good laugh!
"I've never got too close to any type of Chinese food, if I'm honest. When I visit the country I still prefer to stick to the food I know and not experiment much.
"I've walked around Shanghai quite a few times with my trainer. We have a few favourite places to eat over there - it's European food though, I'm quite traditional in this aspect, but it's very nice and we always try and go every year."
Carlos Sainz
"I love Peking duck, it's actually one of my favourite dishes when I travel to Asia, especially China. Of course I always miss the Spanish or Italian cuisine, but I don't complain when there's Peking duck on the menu!
"I have very good memories of the driver's dinner we organised in Shanghai last year - all 22 of us got together in the city centre and it gave me the opportunity to do some sight-seeing… It's the only time I've been able to be a bit of a tourist over there!
"The only word I can say in Chinese or, better said, the only word I always remember every year is 'ni hao'. It's a useful one to know, as I can say hello to everyone - I'm a very friendly person!
"I have to say that the paddock in China is the biggest one I've ever seen, enormous! Before a session starts, I usually give myself about a minute of time to go from my room to the garage, but here in Shanghai it's a minimum of three minutes because the distances are so big! This means I need to change all my routine and schedule for China!"
Sauber
Marcus Ericsson
"The Chinese Grand Prix brings us to the second round of 2017 Formula Championship. The Shanghai International Circuit has a very long straight, where a good top speed is crucial, and an interesting mix of low, medium and high speed corners. There are also several technical sections where unique corners lead straight into further corners, where a good car balance and precise driving is required."
Pascal Wehrlein
"For me the most important is that I can train intensively to ensure a 100 percent performance from my side as soon as possible. I will then be well-prepared for my first complete Grand Prix weekend for the Sauber F1 Team. Hopefully this can be in Bahrain but, if not, then we will take the time it needs until Russia to make sure I am completely ready."
Renault
Nico Hulkenberg
"I'm going to be pushing all the way for points. Australia was slightly frustrating as we could have done better with the pace we had in the car but traffic was an issue for most of the race. Our tyre strategy didn't help us either. It looks like we're in the midfield with some of our rivals slightly ahead, but certainly in reach, and Shanghai is a very different track from Albert Park, so let's see what happens.
"The track is famous for the never-ending Turn 1 / Turn 2 combination. It's a tricky corner because it's easy to go in too hot, especially during qualifying, and it's a corner that eats the front-left tyre. This combination really sucks you in as the corner goes on a long time after a really fast entry, but you are shedding speed thereafter as it gets tighter and tighter in a corner that seems to go on forever before spitting you out into the downhill, tight Turn 3.
"Historically, looking after the tyres has been hard work because Turn 13 is another long right-hander that takes even more life out of them. The tyres and the cars are very different this year so we'll have a lot to learn on Friday this year.
"The rest of the lap has a bit of everything from low-speed to high-speed, which makes it challenging to find a balanced set-up. There's a big long straight where you have enough time to complete your tax return and have an espresso as you're going in straight line with your foot hard down for so long, then you wake up and you're hard on the brakes. It's really important to get your braking right there as it's a pretty important corner."
Jolyon Palmer
"It's a clean slate approach for me as Australia was a bit of a shocker. Fortunately the team were able to find the particular gremlin which affected me over the weekend so I'm heading to Shanghai as if it's my first race of the season. Nico's shown the race potential so let's get out there and make points happen.
"More time in the car is all that's needed to lead to a much better weekend. It's as simple as that. Albert Park was a really frustrating start to the season so I'm looking to get more laps on the board and more progress in the race. Obviously, there were many factors out of my hands in Australia, so the team's checked over the car very carefully to ensure we don't see a repeat of any of the same issues. From my side, I'll be avoiding the walls very keenly too!
"It's a track made up of a long first corner, some fast corners in the middle sector and then a super-long back straight. To put a perfect lap together is not easy as there are a lot of different sections. We've seen some good races there in the past, degradation has been historically high - especially on the front left because of the long right-hand corners - so it will be interesting to see how the latest rubber fares.
"We should really get a keen appreciation of the downforce. In the first corner we should be able to attack with a lot more speed - and the entry to it should be pretty fruity. The middle section should also put a smile on our faces. Every track we visit this year will be exploring new limits and China should be a great example of this.
"There are very passionate fans in China so I'm looking forward to returning and meeting them again."
Nick Chester, Chassis Technical Director
"China is an interesting circuit in terms of layout. It's quite a demanding circuit in terms of power - especially with the long back straight. It is a relatively smooth circuit so easier to setup for in terms in terms of ride than Melbourne. As usual we will need to trade off downforce and drag to arrive at the optimum wing level. We will continue to learn more about the tyres which seem very durable."
Cyril Abiteboul, Renault Sport Racing Managing Director
"The big positive we take from Melbourne is that we have the pace to be where we want to be: fight for points. If we do everything right, we will fight for fifth place in the championship by the end of the season.
"The performance of the power unit seems to be delivering at the level we expected and we know there is more to come. In due course we will revert to the 2017-specification MGU-K and we will also introduce upgrades but this will only happen if we achieve the reliability level we need.
"In China we want to achieve what we didn't in Australia; make it into Q3 and finish in the points. It's a completely different circuit and last year it wasn't a great race for us so we want to do much better."
McLaren
Fernando Alonso
"Australia was a bit of a surprise for us, as we didn't expect to perform at the level at we did, although on paper, ultimately, the results show the reality. We know there's a lot of work to do and we aren't delivering what we had aimed for pre-season, but equally we're pushing hard behind the scenes. Despite there being a few fly-aways at the start of the season, we're still expecting to upgrades at every race, including China.
"In Shanghai last year everyone had their eye on the tyres as wear is typically high there and we often saw graining, but it'll be interesting to see how the new compounds perform on this type of track. The weather is often unpredictable and temperatures can change a lot over the weekend, so it's something all the teams have to manage with the balance and set-up of the car.
"Shanghai is a really quirky track - Turn 1 is actually my favourite corner on the whole calendar - and it provides a good test for the driver with a high average speed compared to the street circuit of Melbourne. I'm looking forward to seeing what the new cars are capable of there, and I hope we can at least have a trouble-free race and see where we are when the chequered flag falls."
Stoffel Vandoorne
"Although the race in Australia was disappointing for us in terms of where we finished the race, for me it was a big milestone in my career and I'm glad I've got my first official race start as a McLaren-Honda driver under my belt. I learned a lot and had to react quickly to various challenges we faced over the weekend, and I'm proud of the way we handled them to get the car home.
"Finishing last is never what we would want, and China will be equally difficult for us, but I know we have some new parts for this weekend and as usual we'll be pushing hard to get the maximum out of our package. The circuit is a new one for me, so I'm looking forward to driving it for the first time for real and not just on the simulator, and getting to grips with the changeable conditions.
"The Shanghai track has very different characteristics from Melbourne and from the next race in Bahrain, so I'm keen to get on top of that early in the weekend and work hard on set-up. It's a mix of low- and medium-speed corners and then the long, fast straights, so it has a bit of everything. Getting as much time on track during the practice sessions will be important, so I'll be aiming to learn as much as I can on Friday and will see what we can do over the rest of the weekend."
Eric Boullier, Racing Director
"The Australian Grand Prix at Albert Park was undoubtedly a difficult grand prix for McLaren-Honda, but also an event from which we were able to take a number of positives. Our pace on Saturday was better than expected and Fernando in particular was able to take advantage of a higher grid position to give us more muscle during the race, until his unfortunate retirement.
"Shanghai is known to be an unpredictable weekend for a number of reasons: it's tough on cars, tyres and power units and the weather is often precarious, but I can predict that we won't be as fortuitous with our pace, compared to our rivals, as we were in Australia.
"The characteristics of the Shanghai International Circuit are very different from Melbourne, and its long, fast straights will likely expose the weaknesses in our package more than Albert Park did. However, we will of course attack the race with our usual fighting spirit, and the most important thing will be to ensure reliability with both cars before focusing on performance."
Yusuke Hasegawa, Honda R&D Co. Ltd Head of F1 Project & Executive Chief Engineer
"Although the season opener in Australia was a tough race weekend for us, it allowed us to judge our current position on track. There were both positives and negatives to take away. We were able to confirm certain reliabilities on our power unit, but we also know that we still have room for improvement when it comes to performance.
"We expect the Chinese Grand Prix to be even more challenging. The race is always a bit of an unknown due to the changeable weather conditions, which affects the set-up and balance of the car. The track itself also places a lot of stress on the power unit with its slow- and medium-speed corners, and two very long straights. The key will be preparation and set-up.
"Once again we will work together with McLaren to ensure we do our best and extract the most from our package. It's important we gather as much information as possible. It's a long season and we are looking for progress at every race."
Force India
Sergio Perez
"Every time I visit China I see big enthusiasm from the fans. They wait outside our hotel and make special gifts for us. It always gives me positive energy. The size of Shanghai impresses me too. It's very international and there is so much to see and do. I always make an effort to try the local food.
"Our seventh place finish in Melbourne was very satisfying. We beat some cars that had better pace because we made the right decisions with the strategy. Our performance in Melbourne showed that we have done a good job over the winter, but there are still areas where we need to improve. The upgrades we have coming during the next couple of races should help. It's about improving the overall balance of the car.
"The seventh place in Melbourne represents my best ever start to a season with this team and I have a good feeling for the races to come. In the last few years we've shown that we can develop the car well and that's going to be especially important this year. We've already made a big step forward since pre-season testing.
"I enjoyed racing with these new cars. Yes, overtaking is not easy, especially with the shorter braking distances, but Melbourne has always been a difficult track for overtaking. I was happy with my fitness, too. The cars are much more physical, but I felt strong after the race and I believe I'm in the best shape of my life."
Esteban Ocon
"My first race weekend with Sahara Force India was a great experience. It was a very busy week and I had to learn a huge amount and get up to speed quickly. In Melbourne I said that I am on a big learning curve and the same will be true in China. I still need to build my speed with the VJM10 - it's about exploring the limits of the car and understanding how to manage the tyres during qualifying and the race. What we learned in Melbourne will certainly make things a bit easier this weekend, but you never stop learning in this sport.
"I was happy to score my first point in Australia and it's a great way for the team to start the season, especially with a strong result for Sergio as well. It shows that we have a solid base on which we can build. I've settled in nicely to this team and I'm working well with my engineers and my car crew. It's important to feel comfortable and I like the way we do things. It's a very open atmosphere and the team understands what I need from the car.
"I visited China last year but I've never driven at the Shanghai circuit. So it's going to be another new track for me to learn on Friday. After the street circuit of Melbourne, it will be nice to go to a track which is the complete opposite with lots of open space. I think the car should be more suited to Shanghai, but it's hard to know until we get there and drive. The goal, once again, is to score some points."
Vijay Mallya, team principal
"I was proud of our performance in Australia. We achieved our objective of getting both cars home in the points and we've got our season underway. Psychologically it's an important boost to get points on the board at the first race.
"Our new livery certainly caught everybody's attention in Melbourne. Sergio and Esteban were in the thick of the action and both drivers took their opportunities to overtake. Sergio's experience showed as he delivered another fantastic drive, while our new recruit, Esteban, earned his first point in Formula One. To leave Melbourne with both cars in the top ten was a tremendous team effort.
"Our expectations for Shanghai are similar to Melbourne. The development curve is going to be steep for all the teams so it will be interesting to see the pecking order at the end of the weekend. The midfield pack is exceptionally close at the moment and we need to work hard to stay at the front of that fight."
Tom McCullough, chief race engineer
"Shanghai is a proper, traditional race track - quite different from Melbourne. Set-up is a compromise because you need to find the sweet spot that allows you to maximise your performance in all sectors. High top speed is crucial on the long one kilometre back straight while the fast sequence of turns seven and eight tests the aerodynamic performance of the car. At the same time, there are several slow corners and big braking zones that offer overtaking opportunities. As a track, Shanghai is generally a tough test for the tyres, but wear and degradation are a lot lower this year so there will be a lot to learn during the practice sessions."
Mercedes
Toto Wolff, Head of Mercedes-Benz Motorsport
"Australia was the first weekend for the new technical regulations, with a new car, new tyres and a new driver. We collected lots more information that will be flowing into all future thinking and will help us make better decisions.
"As a group and as individuals, we are all on a personal development slope in this team. We try to improve every single day. On that particular day in Melbourne, Ferrari were better, so we now have to work out how we can improve again to beat them.
"The last three years were an outlier in Formula One and you need to be careful to manage your own expectations. If you think you are going to cruise to victory in the future, based on a track record of success, you'll be proven wrong very quickly. You need to put the finger in the wound, identify your weaknesses and then respond.
"We achieved a double podium in the first race of a brand new set of regulations - a strong result by any standard. But that doesn't mean we can be satisfied because there are still many areas where we can be better. We have been focused on these during the past week. It's not a case of looking at the competition for inspiration but of getting our own homework done to maximise our performance.
"On this subject, I've been encouraged by how both of our drivers are approaching this season so far. Lewis is the best Lewis that I've seen in the last four years, both on and off track. He has become a pillar of this team and he proved that in Melbourne. Valtteri has settled in well and performed at a high level, rising above all the pressure and seamlessly taking over from Nico.
"Our young drivers have also impressed me in different ways. Seeing Esteban not only fighting with top drivers like Alonso and Hülkenberg but coming out as the winner to take his first F1 point in Melbourne made me proud.
"I feel for Pascal, because he has had all the bad luck. I'm impressed with the maturity he has shown to inform Sauber that he wouldn't be able to perform at the level required in Melbourne. That took courage and selflessness, which I know earned him a lot of credit within the team.
"Now, he needs to build up his fitness and come back strong. I have no doubt that when he's back in the car, he'll prove he's still the same Pascal.
"Australia was a weekend full of lessons, now we go to China ready and excited for another battle…"
Haas
Romain Grosjean
"Shanghai is a tricky track because it's very different from the early stages in the year. It's a front-limited circuit, meaning that the car needs to work well with front tires. If it doesn't, then it gets very tricky. Overtaking in Shanghai is not impossible. There's the long back straight with DRS helping overtaking manoeuvres. In general, if the car is good in qualifying, the race should be quite good. If not, then in the race you're going to struggle. If you qualify in the top-10, you should finish in the top-10. If you're not, then it's harder.
"I love Turn 1, just because it's a challenge going flat-out into the corner, then downshifting into second to finish up. It's a pretty cool corner. It's such a long corner, you can actually make some difference. Then being up on the back straight, that long right-hand side corner, going onto the throttle, as well, is important because you've got one-and-a-half kilometre of straight line. You need to be as early as possible on the power."
Kevin Magnussen
"It's really good news that the car is as competitive as we had hoped for. There's obviously no guarantee it's going to be as competitive again. We need to work hard to get the most out of it and make it competitive again in China.
"Turn 1 is pretty good fun. It's a very unique corner where you turn in at very high speed and you end up at very low speed. It's an incredibly long corner and pretty unique for that. The rest of the track is pretty straightforward."
Guenther Steiner, team principal
"We are cautiously optimistic. We need to still prove that our performance wasn't a one-off. It's very tight in the midfield. On a good day, you could be on top, but on a bad day, you could be at the back. The other midfield teams have shown that this can happen. I think we surprised a little bit with our performance, especially Romain qualifying sixth with his lap, which was four-tenths faster than (Felipe) Massa's. That's pretty good."
Red Bull
Max Verstappen
"I always enjoy to go back to China as it's a special place and it's a very nice track. The food, I mean, I have good experience of it already in Holland but you always have to try the real stuff when you are in China. I do have to be careful with my diet not to eat too much Chinese though as I really like it.
"The country has a lot of history and I would actually quite like to visit the giant pandas sometime. I'm just looking forward to going there at this early stage of the season as everything is still very new and nothing has really been decided yet.
Daniel Ricciardo
"Shanghai is a track that has definitely grown on me over time. When I first went there it wasn't one of my favourites and I wasn't normally that competitive but since I've been with Red Bull Racing the circuit has been a real strength of mine and I've had some good results. Now I really enjoy the circuit and going back there.
"The city is quite far from the track but I try to take time to visit as it's a pretty cool place. It's a very international city with a good nightlife and some great restaurants, you really can find anything and everything there."
More to follow.