F1 Academy announces 2023 calendar and race weekend format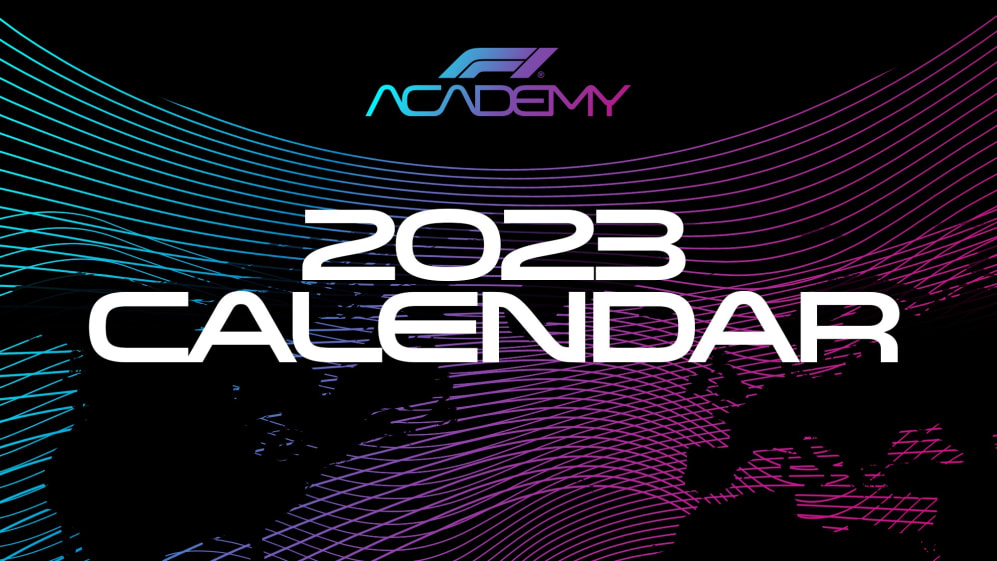 F1 Academy has revealed the calendar and format for its inaugural season of racing, with the all-women series set to feature seven events, with 21 races in total – including a season finale alongside a Formula 1 weekend.
Kicking off in Spielberg, Austria on April 28-29, the new series will then head to the Spanish cities of Valencia and Barcelona on May 5-7 and May 19-21, respectively. From there, June 23-25 will see them pay a trip to the historic Zandvoort circuit in the Netherlands.
READ MORE: F1 Academy announces the five teams entering 2023-2025 seasons
After taking on Monza's Temple of Speed from July 7-9, they'll head to Le Castellet in France for the penultimate round of the year.
Finally, the 2023 season will draw to a close at Austin's Circuit of The Americas, as a support event to the United States Grand Prix from October 20-22.
Designed to feature as many F1 tracks as possible, the calendar provides an opportunity for the 15 drivers to compete on a variety of challenging circuits, helping to develop their technical skills and prepare them to progress to higher levels of competition.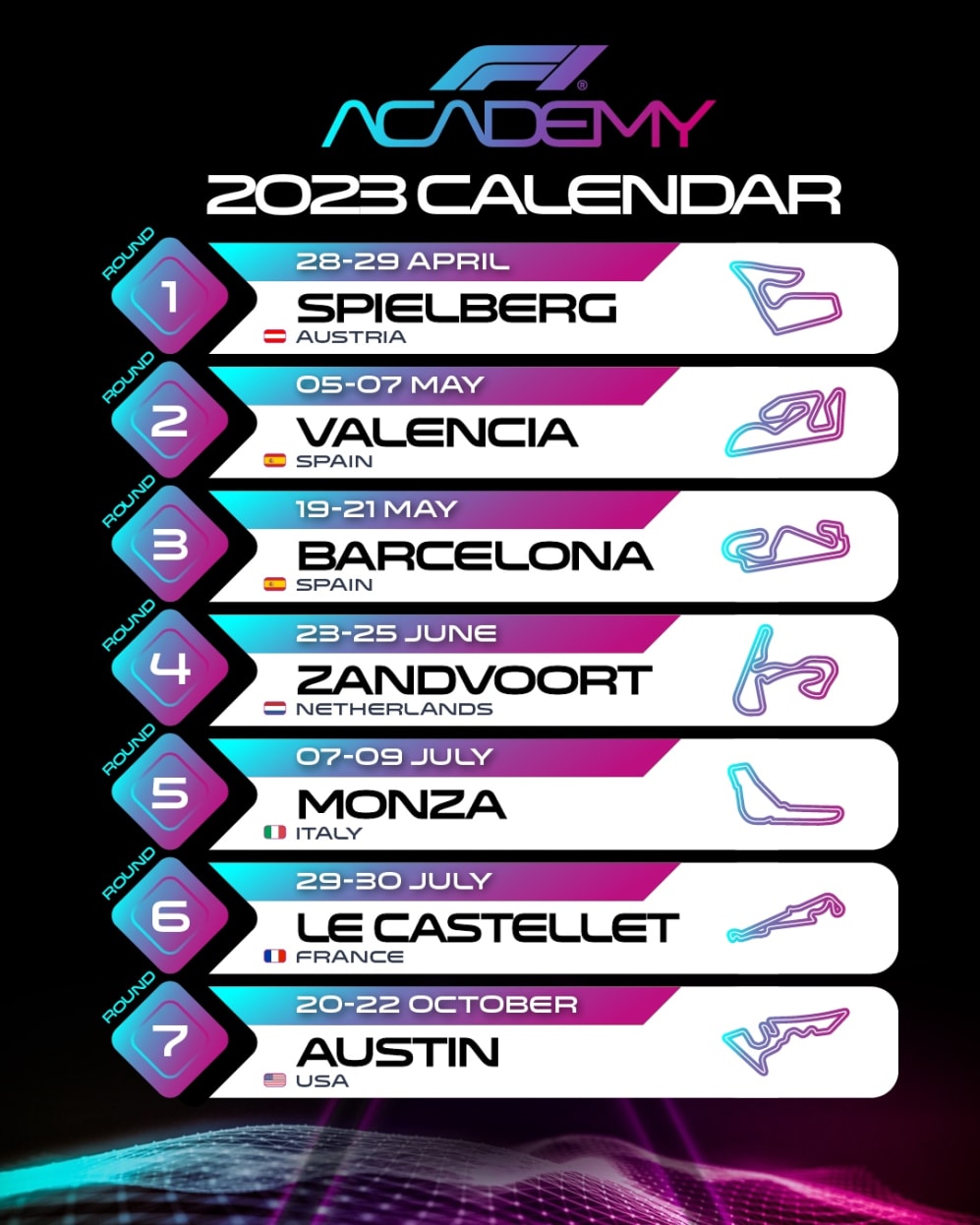 Six drivers have already been signed for the inaugural season, with Alpine junior Abbi Pulling and Sauber Academy's Lena Buhler joining Jessica Edgar, Bianca Bustamante, Nerea Marti and Carrie Schreiner on the grid.
They, alongside nine other drivers yet to be announced, will take to the track for the first time at the Circuit de Barcelona-Catalunya from April 11-12, while 13 additional days of testing throughout the season will also be revealed in the coming weeks.
F1 Academy have also confirmed their race weekend format for the upcoming campaign, with three races per event. Each round will feature two 40-minute free practice sessions, followed by two 15-minute-long Qualifying sessions.
READ MORE: Abbi Pulling to race with Rodin Carlin in F1 Academy
The first Qualifying session will set the grid for Race 1, while the second will set the order for Race 3 and the drivers who achieve pole position in each of these sessions will receive two points. Race 2's grid will be set by reversing the top eight drivers from Qualifying 1, with ninth and below lining up in the positions they qualified in.
Races 1 and 3 will be 30 minutes long and award 25 points to the winner, while Race 2 will be a slightly shorter 20 minutes and offer 10 points. One point for the fastest lap time will be up for grabs in each race, provided the driver finishes within the top 10.
Points Allocation
| Race 1 | Race 2 | Race 3 |
| --- | --- | --- |
| Position        Points | Position        Points | Position        Points |
| 1st              25 | 1st              10 | 1st              25 |
| 2nd              18 | 2nd              8 | 2nd              18 |
| 3rd              15 | 3rd              6 | 3rd              15 |
| 4th              12 | 4th              5 | 4th              12 |
| 5th              10 | 5th              4 | 5th              10 |
| 6th              8 | 6th              3 | 6th              8 |
| 7th              6 | 7th              2 | 7th              6 |
| 8th              4 | 8th              1 | 8th              4 |
| 9th              2 | | 9th              2 |
| 10th              1 | | 10th              1 |
"I'm very pleased to reveal the calendar of F1 Academy's inaugural season," said Bruno Michel, General Manager of the F1 Academy. "Our goal was to be able to race on as many Formula 1 Grand Prix tracks as possible, with circuits that could be a great challenge for the drivers. The teams know these layouts very well, so they will be able to help their young talents get to grips quickly.
"We had announced that F1 Academy would be racing alongside Formula 1 at one event, so it's fantastic to be part of the F1 Grand Prix package in Austin, where we will also conclude the first season, in front of the F1 paddock and the American crowd.
READ MORE: Carrie Schreiner announced as second ART Grand Prix racer for inaugural F1 Academy season
"There is quite a gap in between Rounds 6 and 7, but that is mainly due to the fact that we will be sending the cars and equipment by ship, to save on logistical costs.
"Additionally, there will be 15 days of testing to add to the track time in 2023, with the first two days in Barcelona on April 11 and 12. We will reveal the rest of the dates in due time."
For up-to-date news and information about F1 Academy, head to the official website here.