F1 attendance figures hit four million in 2017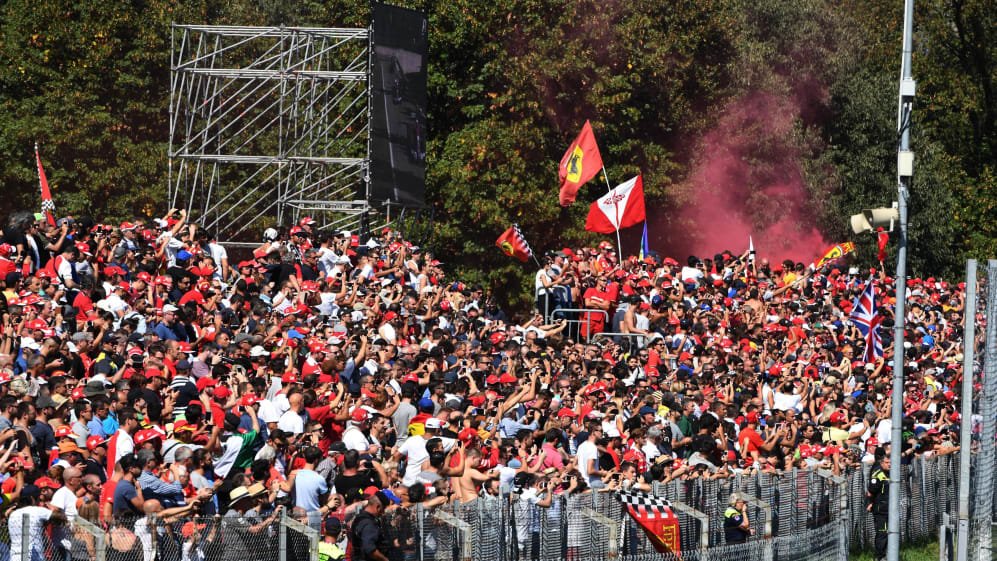 Four million spectators attended the 20 races of the 2017 Formula 1 World Championship, an 8% increase on 2016. The official figures, provided by the promoters of each Grand Prix throughout the season, came to a final total of 4,071,400.
Thirteen races registered positive increments. The highest increase in percentage was registered for the Azerbaijan Grand Prix in Baku (named European Grand Prix in 2016 season), with a +138.17% increase.
In absolute terms, the Canadian and the Austrian Grands Prix were the best, each boasting 60,000 spectators more compared to the previous year across the weekend. Particularly significant was the increase in the Spielberg race, which had a +70.6% year-on-year rise.
In total, eight events had a double-digit increment: the above-mentioned Azerbaijan and Austria, Italy (+25.4%), Malaysia (+24.5%), Canada (+20%), Singapore (+18.7%), Belgium (+13.4%) and Hungary (+13.1%).
Two race promoters, for Monaco and Abu Dhabi, declared an unchanged attendance compared to 2016, while only five had a slight decrease. The highest, in absolute figures, was Austin (-11,889, -4.4%) while in percentage terms Japan was down 5.5%.
The global average attendance per event was 203,570, while for race day, the estimated average attendance was 76,722. For reference, during 2016/17 the UEFA Champions League had an average attendance of 43,016 spectators per match, the Premier League 35,822 and the Bundesliga 41,511. The 2014 FIFA World Cup had an average of 53,592 live spectators, while the 2016 NFL regular season scored an average of 69,487 spectators per match.
Sean Bratches, Managing Director, Commercial Operations at Formula 1 said:
"The 2017 season was a great spectacle, on and off track, thanks to drivers, teams and, most of all, fans, the beating heart of our sport. An attendance of more than 200,000 per event means that for 20 weekends per year, the population of a medium-sized city visits a race track to watch to a Formula 1 Grand Prix. Our duty is to make each of these events even more entertaining to unleash what is the greatest racing spectacle on the planet."
Below the 2017 race-by-race figures and the comparison with 2016.
| GRAND PRIX | 2016 | 2017 | DIFFERENCE | % |
| --- | --- | --- | --- | --- |
| Australia | 271800 | 296600 | 24800 | 9.12% |
| China | 140000 | 145000 | 5000 | 3.57% |
| Bahrain | 92000 | 93000 | 1000 | 1.09% |
| Russia | 158000 | 150000 | -8000 | -5.06% |
| Spain | 165029 | 177984 | 12955 | 7.85% |
| Monaco | 200000 | 200000 | 0 | 0.00% |
| Canada | 300000 | 360000 | 60000 | 20% |
| Azerbaijan | 30000 | 71451 | 41451 | 138.17% |
| Austria | 85000 | 145000 | 60000 | 70.59% |
| Great Britain | 350000 | 344500 | -5500 | -1.57% |
| Hungary | 176000 | 199000 | 23000 | 13.07% |
| Belgium | 233730 | 265000 | 31270 | 13.38% |
| Italy | 147500 | 185000 | 37500 | 25.42% |
| Singapore | 219000 | 260000 | 41000 | 18.72% |
| Malaysia | 88828 | 110604 | 21776 | 24.51% |
| Japan | 145000 | 137000 | -8000 | -5.52% |
| USA | 269889 | 258000 | -11889 | -4.61% |
| Mexico | 339967 | 337043 | -2924 | -0.86% |
| Brazil | 136410 | 141218 | 4808 | 3.52% |
| Abu Dhabi | 195000 | 195000 | 0 | 0.00% |
| Total | 3743153 | 4071400 | 328247 | 8.77% |