Technical
Australia tech round-up - flexing fins, modified mirrors, & more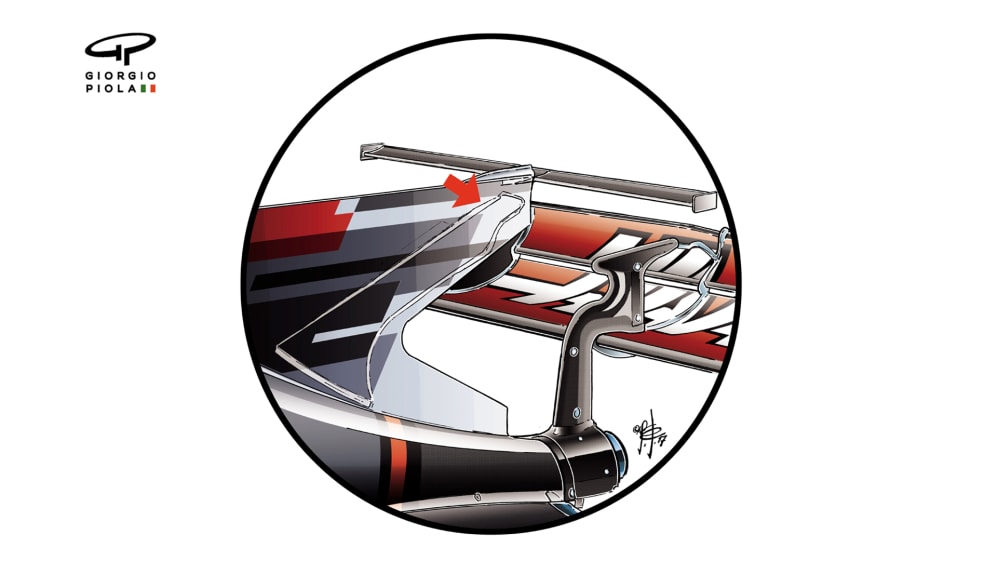 With teams having trialled various design solutions on their new cars over the course of pre-season testing, you are never quite sure what you are going to see when they arrive at the first round of the season. Here are some of the highlights from Melbourne, as chosen by renowned technical analyst and illustrator Giorgio Piola…
Haas VF-17 - shark fin modifications
Haas were forced to remove their T-wing after first practice because it was causing excessive vibration and movement in the shark fin attached to the car's engine cover. Keen to reinstate it in time for qualifying and the race, the team added carbon-fibre reinforcements (red arrow) to the fin in order to make the whole assembly stiffer.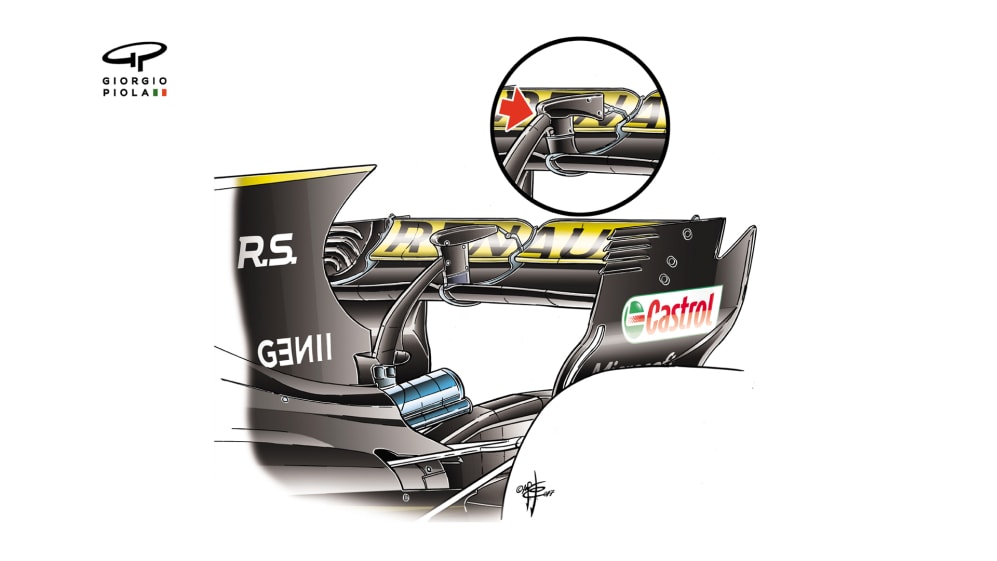 Renault R.S.17 - rear wing pick-up point change
In pre-season testing Renault had the pick-up point of their rear wing pillar attached directly to the top of the DRS actuator (inset, red arrow). At first this looked like a very trick solution, but then fears surfaced that it could provide an illegal advantage in terms of the wing's performance. This prompted a modification, retained for Australia, with the pillar instead attached lower down to the actuator mounting, rather than to the actuator itself.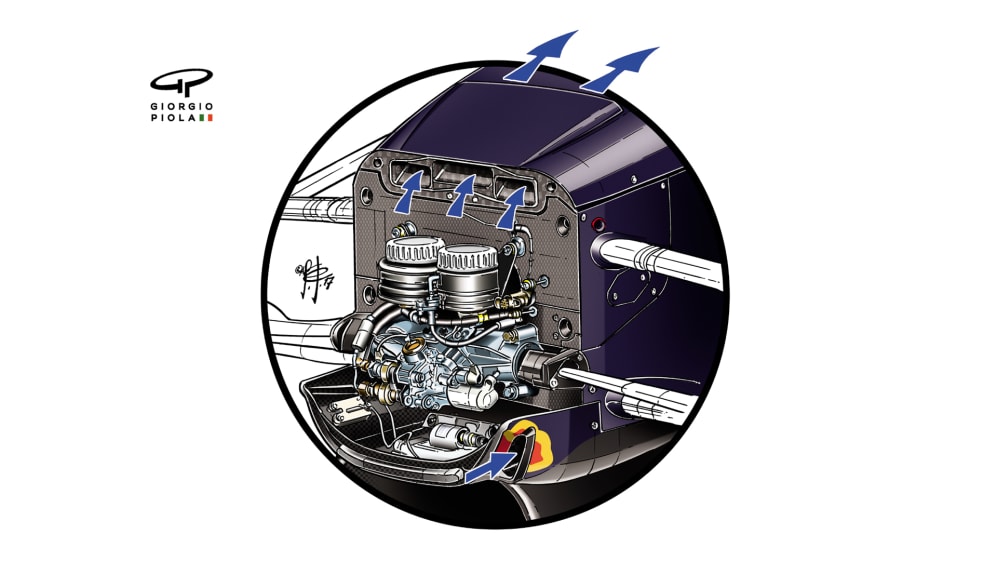 Red Bull RB13 - S-duct design
For 2017, Red Bull have kept the same design philosophy as last year for their S-duct, which channels airflow from under the nose through to the top of the chassis. There are two openings in the lower section of the chassis (one shown here, bottom arrow) that go to cool the boxes housing electronics near the front of the sidepods. Meanwhile, the main ramp for the S-duct (unseen) streams airflow out of the openings at the very top of the chassis, as indicated by the multiple blue arrows).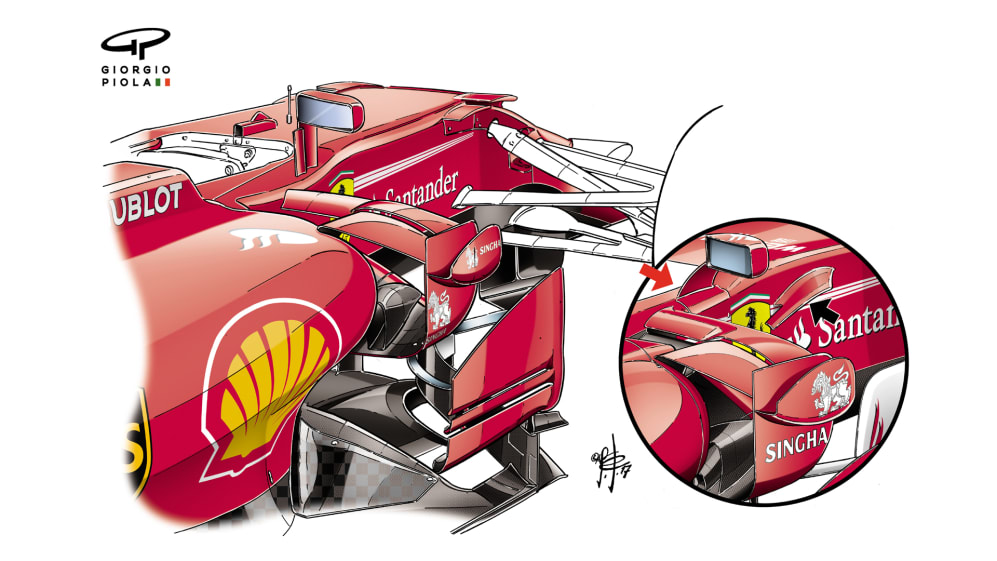 Ferrari SF70H - rear-view mirror mountings
For Australia, Ferrari modified their mirror pillars, with a new rounded mounting (inset, red arrow). Instead of a vertical fin behind the mirror, they introduced a horizontal, triangular fin in the lower section. The aim of the changes is to improve the efficiency of the airflow in this critical part of the chassis. Expect to see a lot of similar refinements in this area on other cars this season.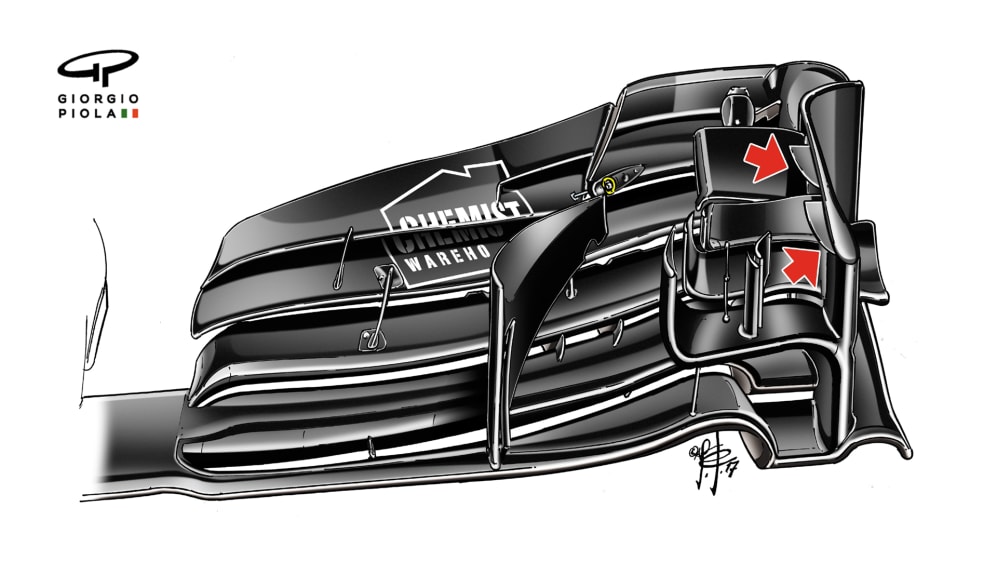 Williams FW40 - new front wing
For Melbourne, Williams introduced this new front wing. It features two small, triangular fins (red arrows) attached to the endplate, in a quite unusual position compared to the team's previous design.