F1 Esports sees record-breaking viewership and engagement figures in 2021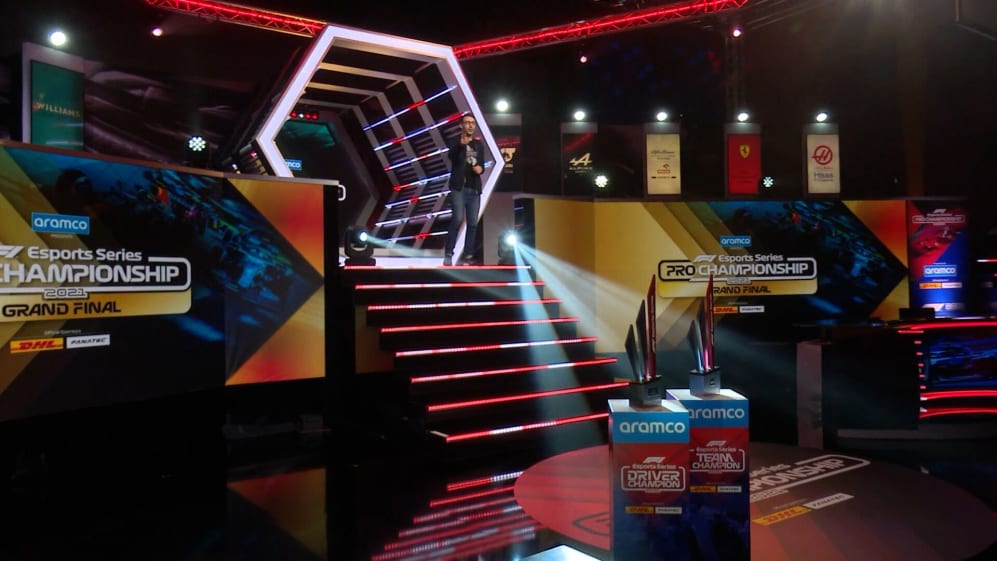 Following today's announcement of the 2021 F1 season's audience and attendance figures, F1 can confirm that the 2021 F1 Esports Series presented by Aramco has broken viewership and engagement records – building upon the huge momentum gathered in 2020.
The full series, which ran throughout 2021, achieved over 23 million views across digital platforms, a 103% Year on Year increase.
READ MORE: Formula 1 announces TV, race attendance and digital audience figures for 2021
Digital & TV
The Series' flagship event, the Pro Championship, was the main contributor to the large proportion of the 23m digital views with 13.8m views, representing a 47% increase from 2020.
The remaining views were split across the F1 Esports Series' mix of output, including the return of the F1 Esports Series Challengers, as well as the Pro Exhibition and Preview Show.
READ MORE: F1 Esports graduate Cem Bolukbasi secures Formula 2 drive for 2022
Each Event of the 2021 Pro Championship subsequently broke the previous Event's viewing record, culminating in 4.5m views for December's Grand Final, up 67% YoY, which saw Jarno Opmeer clinch his second consecutive drivers' championship, this time for Mercedes, who also secured the Teams' title for the first time since 2018.
In addition to digital viewership, the cumulative TV audience for the whole of the Pro Championship and the Preview Show, reached an estimated 858k – more than three times the total audience for the 2020 series (269k).
Social media
The social media output saw a significant increase in engagements, impressions, and video views compared to the 2020 season.
Across the Pro Championship events in 2021, there were 10.5m engagements on the official F1 Twitter, YouTube, Facebook, Twitch and Huya channels – more than double the 4m total in 2020. The content also received 458m impressions, and 4.1m video views, increasing on 2020 by 93% and 71% respectively.
The future of the F1 Esports Series presented by Aramco
The excitement and drama of real-world racing was replicated in the virtual world with fans wanting more and more action, and enjoyment across the 2021 Pro Championship was very strong, with an average of 70% giving scores of eight (or above) out of 10 for each race in a post-season survey – a significant increase on both 2019 (64%) and 2020 (55%).
The F1 Esports Series Pro Championship presented by Aramco will return in the second half of 2022, with more updates to follow soon.
Action in 2022 is already well underway, with the F1 Esports Series Challengers starting in January, with events for Xbox, PC and PlayStation competitors taking place every fortnight as competitors look to qualify for this year's Pro Exhibition.
As previously reported, a record 494k participants attempted to qualify in 2021, which was a 108% increase on the previous year.
Ben Pincus, Director of Commercial Partnerships at Formula 1, said: "It is fantastic to see the F1 Esports Series presented by Aramco break records across the board once again, crowning a brilliant year of action throughout our virtual racing. Not only are we seeing competition at the highest level, but thanks to the increased content output across our social channels, our strong community of fans has never been more engaged."
Paul Jeal, F1 Senior Franchise Director at Codemasters, said: "It's an incredible time to be associated with Formula 1, and we are extremely proud of the continued growth of the F1 Esports Series presented by Aramco. The quality of the racing has kept us all enthralled, and congratulations again to our champions Jarno Opmeer and Mercedes. Each year, we are driving new players into our game. The dream of getting to sign and race for a Formula 1 team is driving up participation, and the emerging talent coming up through the 2022 Challengers is a testament to that."
John Clarke, CEO at Gfinity, said: "The significant increase in viewership of the F1 Esports Series presented by Aramco is due to a growing passion for virtual racing and the appeal of all things Formula 1 amongst young gamers. The drivers are at the peak of their powers and the racing is competitive and exciting, and they are becoming true social media personalities. This is great news for the future of F1 Esports."