F1 ESPORTS: Tonizza runs riot at Monza as Opmeer solidifies championship lead
Outgoing champion David Tonizza claimed his second victory of the 2020 F1 Esports Pro Series presented by Aramco on Thursday night, with a fantastic home win in Monza.
The Italian put his Ferrari Driver Academy Hublot car on pole position for the race earlier in the day, and held on for a memorable lights-to-flag victory. The home hero didn't have it easy, withstanding extreme pressure from current championship leader Jarno Opmeer.
The pair were also joined by two-time champion Brendon Leigh, whose pace in the second half of the race looked good enough to challenge for the lead. However with a low battery the Briton was unable to make any inroads to Opmeer's second place, and the trio took the chequered flag line-astern.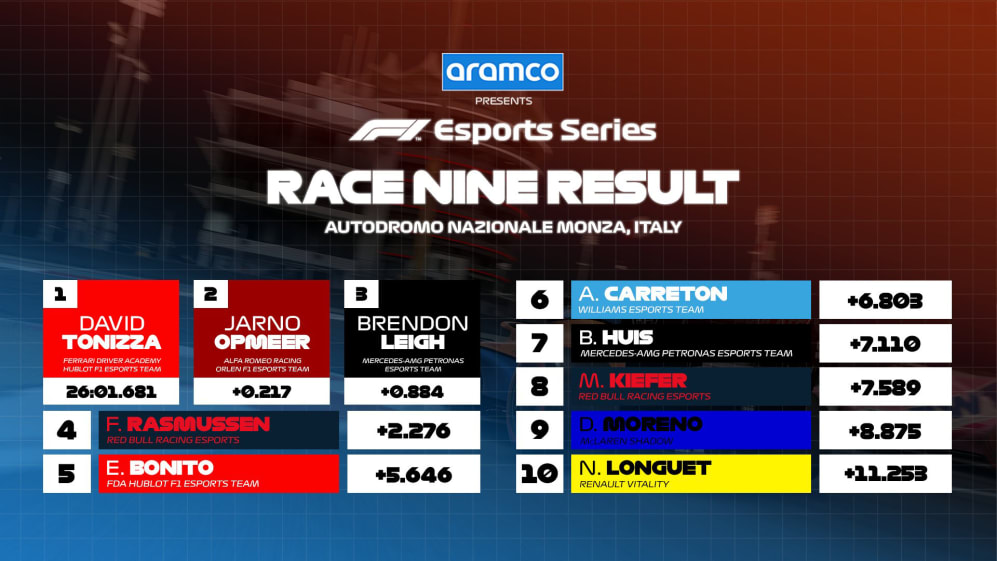 Wednesday night's alright for fighting
Two races on Wednesday night provided all manner of excitement, with two exhilarating final laps keeping viewers in the edge of their seats. The first, around Silverstone Circuit, saw Nicolas Longuet take his maiden win in the series, with Dani Moreno picking up the F1 Esports Aramco Driver of the Day award after a storming drive to second place.
Round 8 took the championship to Spa in Belgium, where Dani Bereznay faced the Red Bull pair Marcel Kiefer and Frede Rasmussen alone, in a three-way-duel that looked set to produce another 1-2 for the Austrian team. Bereznay though had other ideas and stormed down the inside, snatching second on the final corner.
READ MORE: Longuet, Rasmussen win as they cut gap to Opmeer in Event 3
Tonzilla thriller
Charles Leclerc's stunning Monza win in 2019 for Ferrari was the stuff of dreams. And on Thursday, David Tonizza got to replicate it in digital form, controlling the pace throughout to take win number two of 2020, with Opmeer and Leigh unable to get past. It may well end up being the most decorated podium in the championship's history, with two past champions sandwiching this season's championship leader.
Oops! Error retrieving Twitter post
Behind the leading three, Frede Rasmussen took the best of the rest honours, taking home 12 points for P4. Enzo Bonito took a season-best fifth, followed by Alvaro Carreton, Bono Huis, Marcel Kiefer and Moreno in ninth. Longuet took the final point on offer after a post-race penalty for Michael Romanidis.
With points and time running out, Tonizza is now unable to defend his crown. It's been a hit-and-miss season for the Italian youngster, with a brace of wins mirrored by four non-scores. Contrast this with Opmeer, Rasmussen and Kiefer, who have scored in every round, and it's clear that he hasn't been able to match the consistency he brought in 2019. Still, Tonizza has shone in his winning races, and will surely be back for more next year.
The fight for the title
With just three races remaining, it looks to be more of a case of if, not when, Opmeer will collect the 2020 crown, but nothing is ever certain. There are still 78 points up for grabs after all, and his lead over second-placed Rasmussen just 18 points. Kiefer is also in with a shout, a further 13 points behind his team mate. Longuet is still mathematically in the hunt, but with a 65-point chasm to bridge, he would need a minor miracle in the Grand Final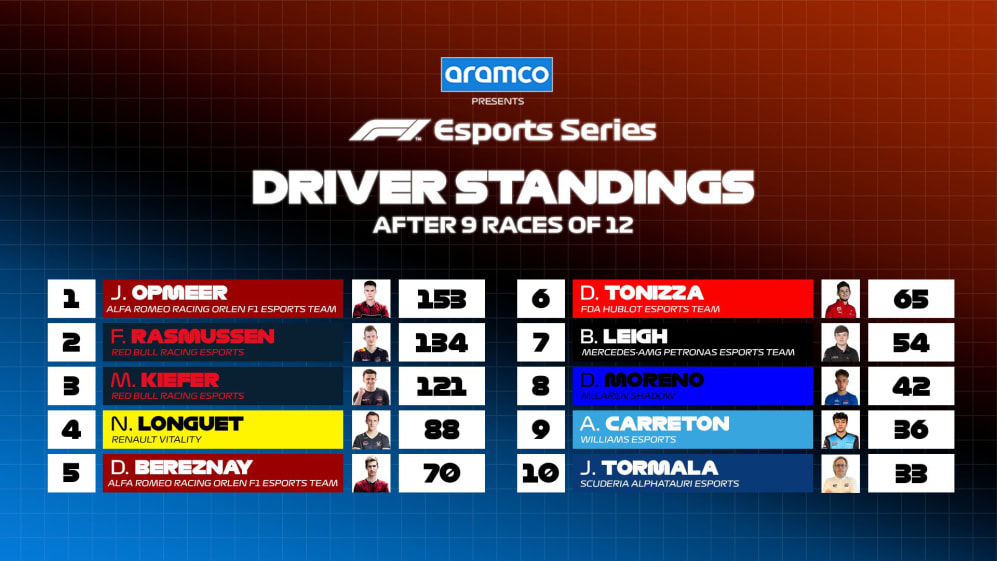 The teams' championship is much more clear-cut: A two-horse race. Red Bull Racing Esports sit on a comfortable lead of 255 points, with Alfa Romeo Racing Esports ORLEN on 223. Maths fans will tell you that's a gap of just 32, so it could genuinely go either-way in the Grand Final! Speaking of which…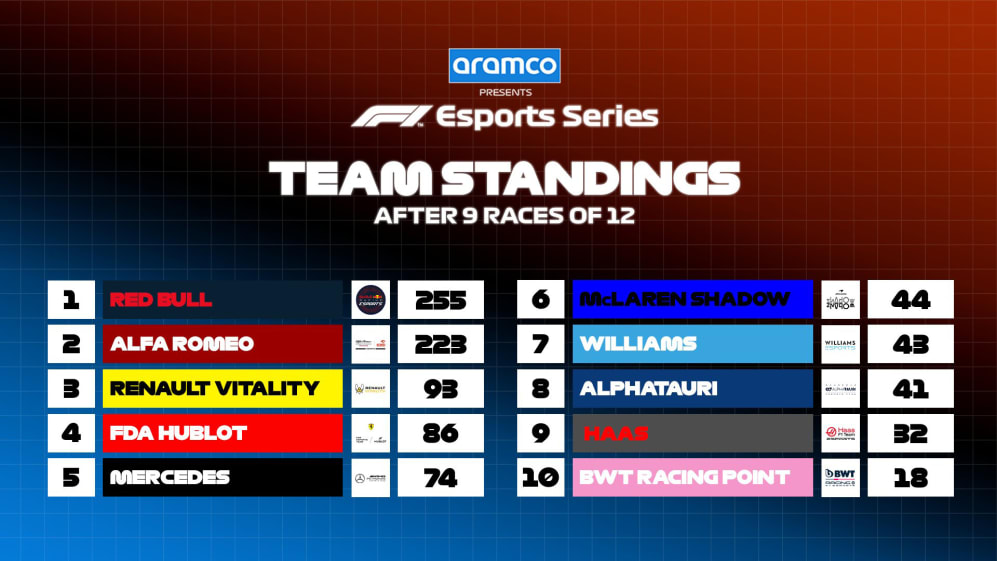 It's hard to believe, but just one event remains in this year's series. The Grand Final will take place over December 16-17. As with all events this year, we'll have four streams across the two days, with qualifying live on Twitch and YouTube from 15:30 GMT, followed by racing action in the evening at 19:30, on Twitch, YouTube, Facebook and TV.
Until then, keep your eyes on socials for more great F1 Esports content, enjoy the final three F1 races of the season, and we'll see you in December for one last ride!
To read more on F1 Esports, tap here to visit the official site.