Feature F1 Unlocked
F1 in America: The Grand Prix stars who tamed the Brickyard – and how F1 changed the Indy 500 forever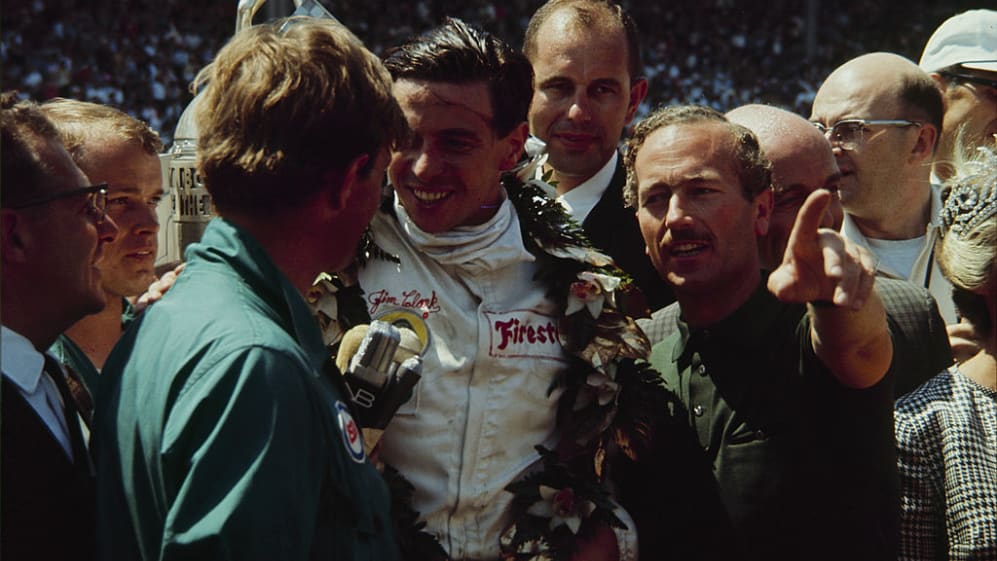 The 107th running of the famed Indianapolis 500 takes place this coming Sunday. Thirty three identical Dallara IR18s, powered either by Chevrolet or Honda engines, will compete for the victory over 200 laps.
To the casual observer they don't look all that different to F1 cars. The mandatory Dallara chassis weighs in around 748 kg in Indy 500 trim and is powered by a 2.2-litre V6 turbocharged engine. Their F1 brethren are slightly lighter at 733 kg and produce 1000 to 1100 bhp from their 1.6-litre turbo-hybrid motors, which are supplied by Mercedes, Ferrari, Honda or Renault/Alpine.
READ MORE: The curious case of the first United States Grand Prix
Both have top speeds around 235mph, depending on the tracks and aero trim they run, though the F1 cars are generally deemed to be nimbler on street and road courses.
But such close resemblance was not always the case… Indeed, its roots go back to the pioneering work of triple world champion Jack Brabham and designer Ron Tauranac who were persuaded in November 1960 by Indycar racer Rodger Ward to test their lowline T53 Cooper F1 car at the Indianapolis Motor Speedway – 'the Brickyard' – on their way to the US Grand Prix at Riverside.
The hefty front-engined Indianapolis roadsters at that time were permitted to run 2.8-litre supercharged or 4.2-litre normally aspirated motors, whereas Jack had only 2.5 litres at his disposal. But he lapped at 144.8mph, less than 3mph off pole-sitter Eddie Sachs' Dean Van Lines Ewing roadster.
Wealthy US sportscar racer Jim Kimberley, of Kleenex fame, sponsored Jack's entry in the 1961 race, in a mildly modified T53 powered by a tweaked 2.7-litre Climax four. He ran as high as fourth despite a huge power deficit, aided by his nimble machine's speed through the four turns.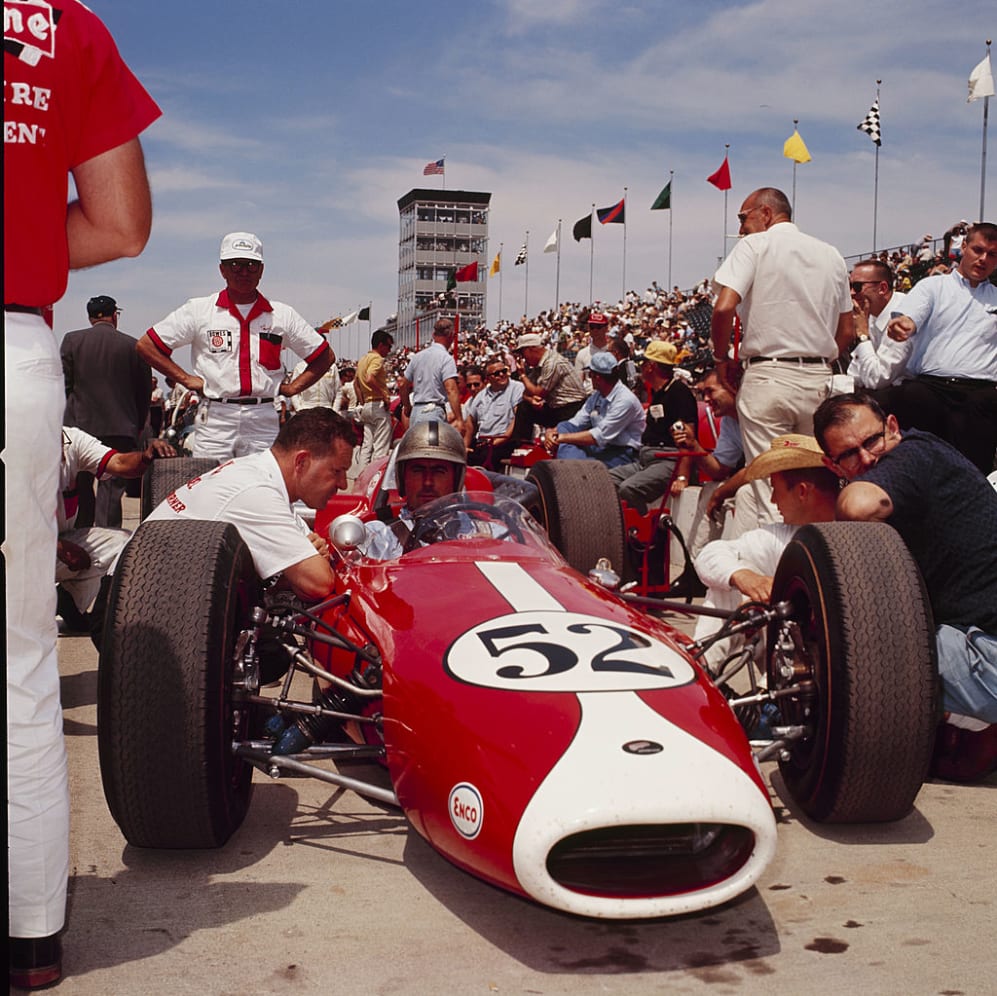 The taciturn Aussie was delighted with a strong ninth place finish despite the team's inexperience with refuelling and yellow flags. It might not have seemed like it at the time, but mould had been broken.
Rear-engined cars hadn't been unknown at Indy, but the speed of Jack's underpowered little car stood the Establishment on their nose, and they didn't like the position. 
READ MORE: Jim Clark - What made him so good?
It was left to Colin Chapman to affect the sea change, partnering with Ford and installing their 4.2-litre V8 engine in his Lotus 29 in 1963.
Only some dubious politicking from the race stewards prevented the great Jim Clark from winning first time out as the Establishment closed ranks to ignore an oil leak on Parnelli Jones' Watson roadster, which took a narrow and controversial victory over what the Americans had taken to calling the "funny car".
The writing was on the Speedway's concrete walls, however, and after Clark led the 1964 race before his Lotus 34's rear suspension failed, Chapman saw the Scot walk the 1965 event.
Thereafter, whether the traditionalists liked it or not, the roadsters – those beautiful front-engined monsters with their bus-angled steering wheels and blown Offenhauser engines – were dead. Nothing but a rear-engined car has won the 500 since.
BEYOND THE GRID: Sir Jackie Stewart on surviving and thriving in F1's most ferocious era
In 1966 the F1 Brits were again ascendant. Jackie Stewart might have won, Jim Clark possibly did – Jackie's engine broke close to the end and controversy remains over whether there was a scoring error as the timers missed one of Clark's laps after he survived not one but two 360 degree spins – and in the end it was Graham Hill in a Lola T90 who drove into Victory Lane.
There, as he quaffed the winner's traditional drink and Jimmy sidled up to ask him whether he himself might actually have been triumphant, Graham wiped his Dick Dastardly moustache and replied equably to his close friend, "No way, mate. I drank the milk."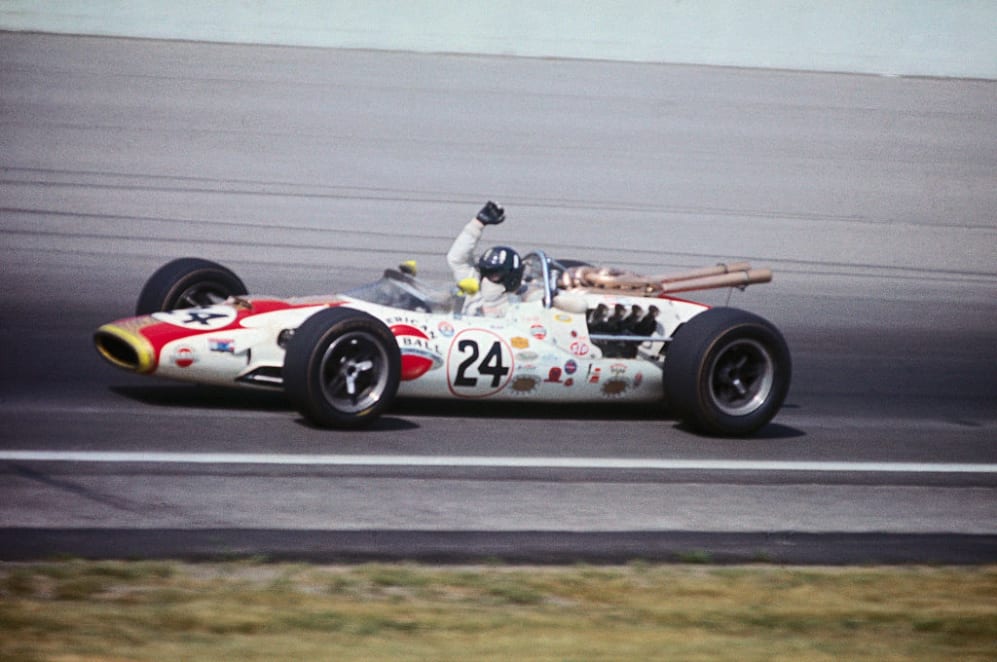 F1 drivers at that time loved Indy, for one very good reason. The money was fabulous. Jimmy had walked away with $166,621 (around $1.5m today) of the million-dollar prize fund in 1965.
Jochen Rindt was never a fan of all the regulations thrown at rookie drivers by USAC officialdom, but when he compared what he might earn with success in one 500-mile race (even if qualifying lasted a month) with his $20,000 retainer from Cooper in 1967, it was ridiculous.
READ MORE: Remembering Rindt – Why the Austrian racer is still so revered, 50 years after his death
So it was small wonder that besides US-born regulars such as Gurney and Mario Andretti, other F1 racers such as Clark, Hill, Stewart, Brabham, Rindt and Denny Hulme were strongly attracted by all that Gasoline Alley bread. Even John Surtees was tempted to test his Honda RA301 there in 1968 when, interestingly, it was one of the first cars to run the Speedway wearing a rear wing.
Chapman kept returning to Indy after 1966. His wedge-shaped turbine-powered Lotus 56 in 1968 showed just how cleverly such a powerplant could be packaged in a four-wheel drive car, but though it was much more elegant than Jones's 1967 STP Paxton Turbocar, it was just as fated.
BRM racer Mike Spence died in a 56 during a test on May 7th, 1968, and the cars of Hill and Joe Leonard suffered fuel pump drive failures just when posed for a victory that went subsequently to one of Gurney's F1-derived Len Terry-designed Eagles driven by Bobby Unser.
Dan was never destined to win his homeland's big race, but Mario took his sole success in 1969, followed for the next two years by Al Unser Snr's Lola T152/153-derived Johnny Lightning Colt.
READ MORE: The story of the US racer who was the only driver feared by the legendary Jim Clark
Then, in 1971, McLaren's F1 designer Gordon Coppuck cleverly exploited the rules on rear wings (which had to be part of the bodywork). The result was a huge hike in speeds as Peter Revson took pole at 178.696 mph in his M16, compared to Unser's 1970 figure of 170.221.
McLaren had to wait a year before Mark Donohue won in Roger Penske's M16B, but Johnny Rutherford would take a factory M16C/D to victory in 1974, and an M16E to the honours in 1976.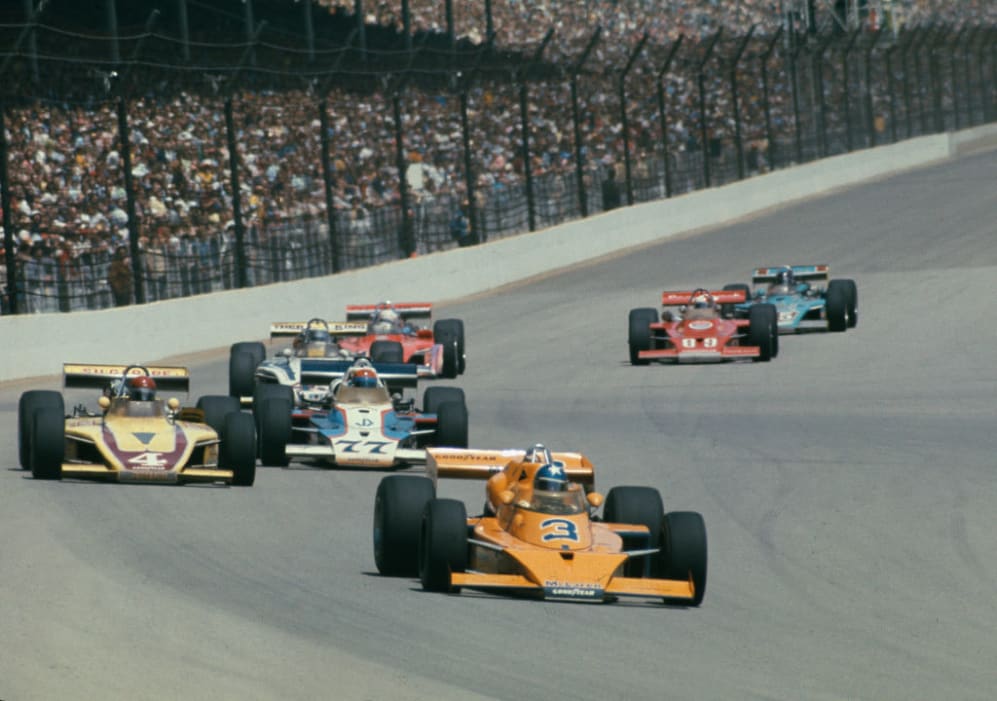 In 1978 Al Snr's third win, in Eric Broadley's Lola T500, sounded the death knell for the legendary Offenhauser four-cylinder engine and ushered in further F1 influence as it was powered by the turbocharged Indy version of Keith Duckworth's famed Cosworth DFV V8, the DFX.
That powerplant would win the next nine 500s until supplanted by Mario Illien's Ilmor Chevrolet V8 in 1988. John Barnard designed the Chaparral 2K with which Rutherford took a third win in 1980, and then Robin Herd's March Engineering concern saw their 83C, 84C, 85C and 86C Cosworth-powered racers take the 1983 to 86 events courtesy of Tom Sneva, Rick Mears, Danny (spin and win) Sullivan and Bobby Rahal, before that domination came to its conclusion.
READ MORE: The story of America's lesser-known Grand Prix winner
Al Snr took an 86C-DFX snatched out of retirement in a showroom to his record-equalling fourth win in 1987, and Lola's final success came in 1990 with Arie Luyendyk in a T90/00-Chevrolet.
Meanwhile, some of the Penske cars were built in the UK at Poole in Dorset by mechanics who had worked on their short-lived F1 team in 1976; they won the 1989 race with a PC18 helmed by former world champion Emerson Fittipaldi, who repeated in a PC22 in 1993.
By then, the pioneering work of Barnard and Ron Dennis at McLaren in 1980/81 had seen adaptations of their carbon fibre composite chassis becoming increasingly popular on the American scene, marking yet further F1 influence.
British-built Reynard-Fords won in 1995, with world champion-to-be Jacques Villeneuve, and 1996 with Buddy Lazier.
BEYOND THE GRID: Jacques Villeneuve on pushing limits, his father's influence & more
Luyendyk would win again in 1997 in a British G-Force GF01-Oldsmobile, future F1 racer Juan Pablo Montoya winning the 2000 race in a GF05.
His 2015 success in a Dallara DW12-Honda book-ended victories for former F1 designer Gianpaolo Dallara's cars by Brits Dan Wheldon, in 2005 and 2011, and Dario Franchitti in 2007, 2010 and 2012.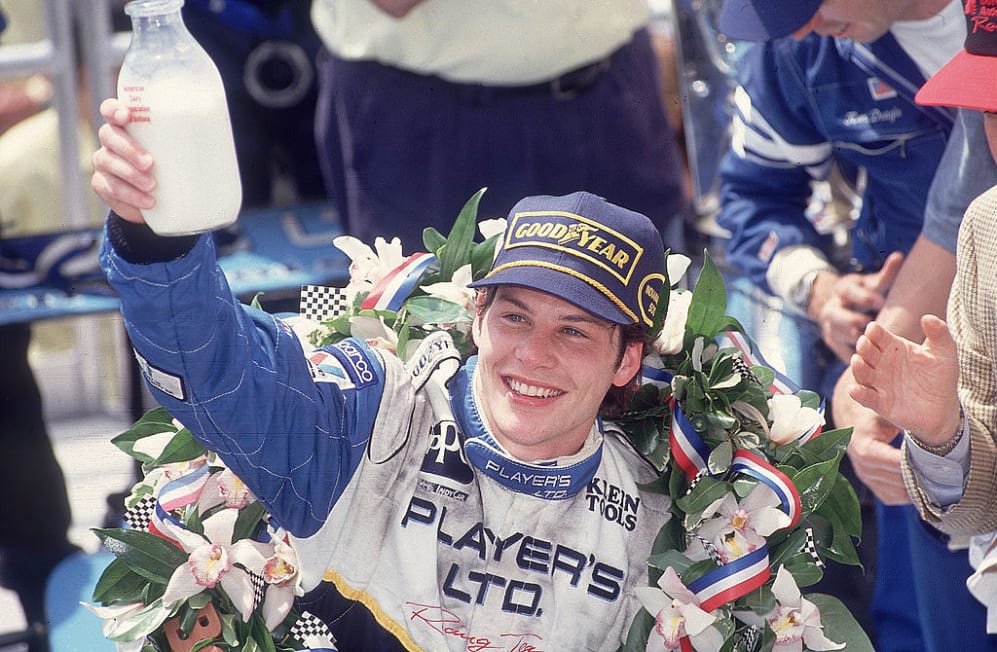 As Dallara's designs became the mandated chassis for Indycar, it's been left to three former F1 racers to leave their marks.
Marussia-Manor exile Alex Rossi won first time out in a DW12-Honda in 2016, Super Aguri refugee Takuma Sato won in similar cars in 2017 and 2020, and former Sauber racer Marcus Ericsson triumphed in one in last year's 500.
But while F1 racers such as Romain Grosjean follow the fading wheeltracks of Eddie Cheever, Derek Daly, Jim Crawford, Nelson Piquet, Nigel Mansell and Fernando Alonso to rebuild their careers in Indycars, together with the likes of Christian Lundgaard, Callum Illott and Conor Daly who missed their F1 chance, current race winners Alex Palou and Pato O'Ward harbour dreams of making an Atlantic crossing of their own – in the opposite direction.
To read on, sign up to F1 Unlocked for free
You'll unlock this article and get access to:
Live leaderboard data
Epic experiences and rewards
Money-can't-buy competitions