Feature F1 Unlocked
F1 IN AMERICA: The story of the US racer who was the only driver feared by the legendary Jim Clark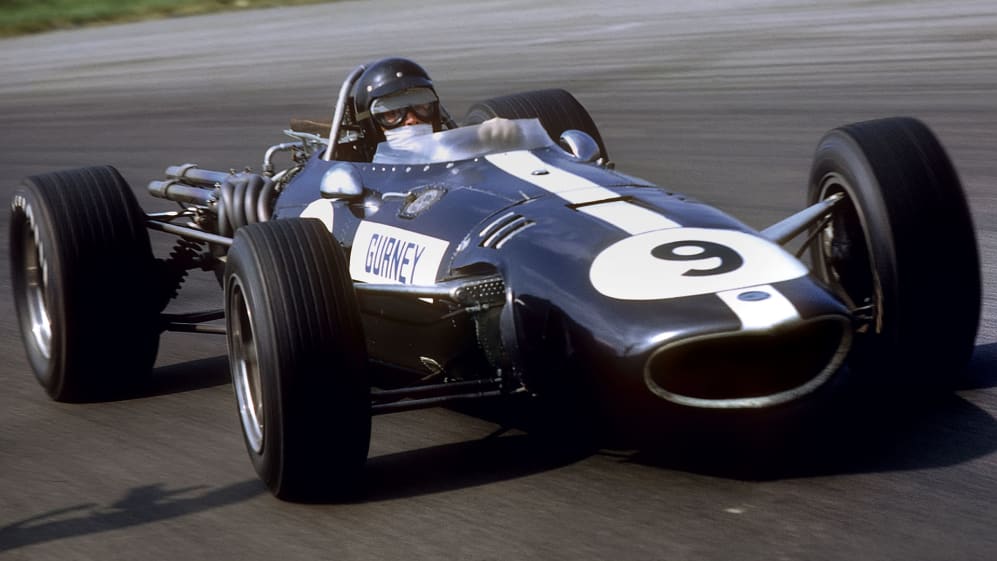 When the great and good of world motorsport gathered on a sad day in April 1968 to lay Jim Clark to rest in Chirnside's graveyard in his native Scotland, his father spoke quietly and privately to a tall, handsome American racer.
"You were the one driver that my son feared," he told him gently. At that time no accolade could have been of greater impact nor more emotionally challenging.
Daniel Sexton Gurney was that American, and he may just have been the greatest race driver America produced.
Born on April 13th, 1931, the son of an opera singer, it was when the family moved from New York's Port Jefferson to Los Angeles that drag racing at the not-too-distant Bonneville Salt Flats initially piqued his motorsport interest.
READ MORE: The curious case of the first United States Grand Prix
But soon Gurney was making a name for himself in West Coast sportscar events in Frank Arciero's lusty 4.9-litre Ferrari. And Ferrari importer Luigi Chinetti was calling Enzo Ferrari in Maranello, extolling the young driver's great talent.
"There were relatively few Ferraris around the world at that stage," Dan told me, "so they were aware of what was happening to their cars each weekend. I was able to draw some attention through Chinetti that led to being asked to try out for the Ferrari factory."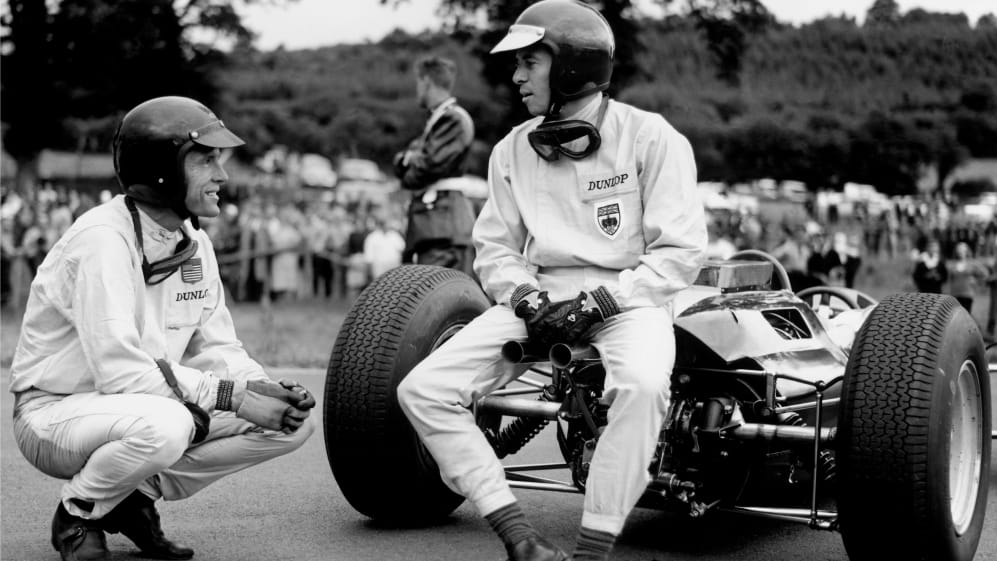 A mere 22 races into his career, he thus found himself sitting in a works Ferrari on the grid in Rheims for the French GP in 1959. And in only his second F1 outing, at Avus, he finished second to team-mate Tony Brooks and ahead of fellow Californian Phil Hill in the third works Dino 246.
Third in Portugal and fourth at Monza, plus fastest lap when he and Brooks shared a Ferrari Testa Rossa in the Goodwood Nine Hours, confirmed Chinetti's assessment.
READ MORE: The story of America's lesser-known Grand Prix winner
But Dan developed an uncanny trait for leaving teams just as they were about to hit paydirt. He switched from Ferrari to BRM for 1960, citing among other things the lamentable pay. In 1961, Phil Hill won the World Championship in Ferrari's 156 Sharknose.
For 1961 he left BRM for Porsche; in 1962 Graham Hill won the World Championship for the British team. Porsche brought him his first Grand Prix victory, in France in 1962, and non-title success at Solitude, but he left for Brabham for 1963, where he was super-quick but suffered woeful reliability. When he left at the end of 1965 to start his own Goodyear-backed Eagle team, Jack Brabham and Denny Hulme won the next two year's world titles.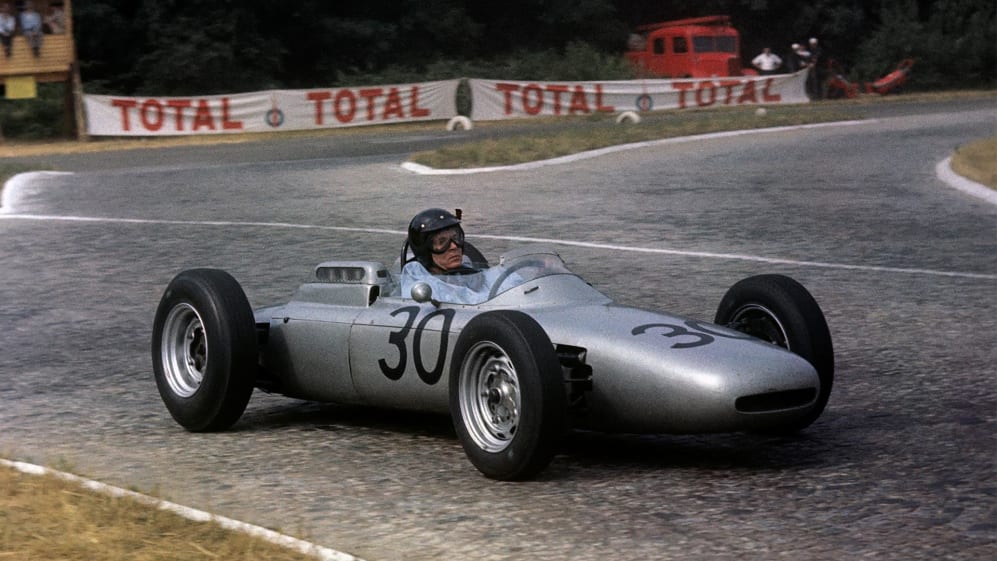 But to count such things as criticism would be wrong. He was a driver who followed his big heart. And it was at Brabham that he established that ability to challenge the best – Jim Clark included – as he won the French and Mexican GPs in 1964.
1966 brought the chance to set up his own race team, at the suggestion of Goodyear's Vic Holt. He called it All American Racers, and in a stroke of pure genius he named his car 'Eagle'. "I liked its connotations with the American flag," he laughed.
WATCH: From the Eagle Mk1 to the Jordan 191 – the 10 sexiest Formula 1 cars of all time
In March 1967 he won the non-Championship Race of Champions at Brands Hatch in his beautiful Eagle Weslake, then in June took it to a glorious, high-flying victory at Spa Francorchamps, the first Grand Prix success for an American car since Jimmy Murphy won the French GP for Duesenberg in 1921…
He should have won the German GP at Nurburgring too, but broke a driveshaft when leading. "I had the lap record at Spa and at the Nurburgring," he recalled one happy day in Santa Ana in 2015. "That really meant something to me."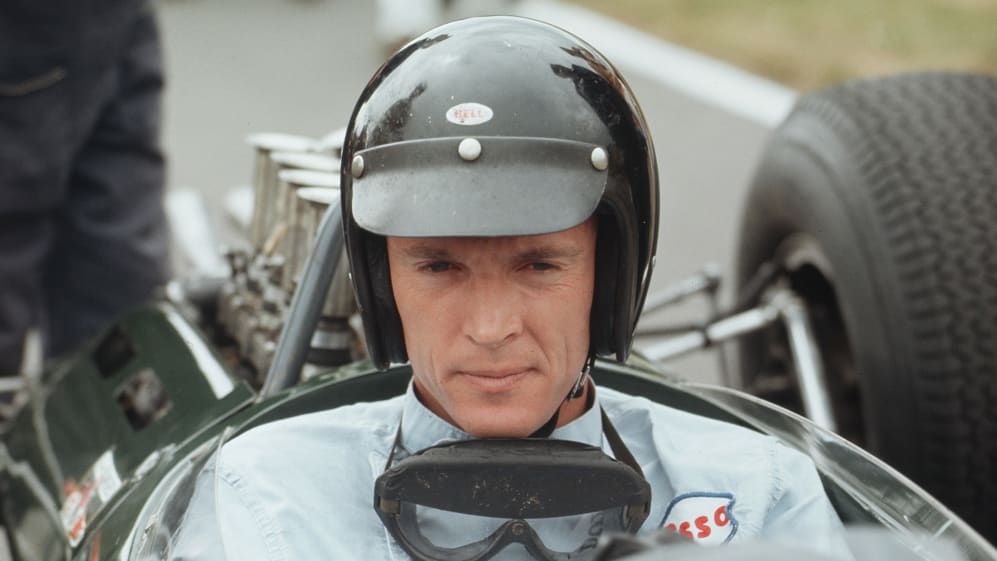 1967 was a great year for him, as a week prior to Spa another facet of his talent was highlighted with a dominant victory (with his friend A J Foyt) for Ford in the Le Mans 24 Hours.
And therein lay the key to the man: he was a hugely versatile racer. Besides his Grand Prix and sportscar successes, he also won races in CanAm, Indycars, NASCAR and Trans-Am.
READ MORE: Ranking the best American drivers in F1 history as Logan Sargeant joins the grid
And without the courage and commitment he displayed in the immediate aftermath of Bruce McLaren's death on June 2, 1970, the team that still races today might never have survived the darkest period in their history. Crucially, only weeks later he won the opening two CanAm races, at Mosport and St Jovite in Canada. His successes boosted the team after Bruce's loss and burns to his hands that team-mate Denny Hulme had sustained at Indianapolis.
Bruce's death, and Piers Courage's soon after in the Dutch GP, weighed heavily on Dan and his wife, Evi. He came to realise that he no longer had the 100% desire to race in F1, where he also helped McLaren out of sheer respect for Bruce. He felt lonely, so many of his old friends having lost their lives or retired. When, in the end, "it all boiled down to desire," he called it quits on October 4, 1970, with 37 major wins to his name.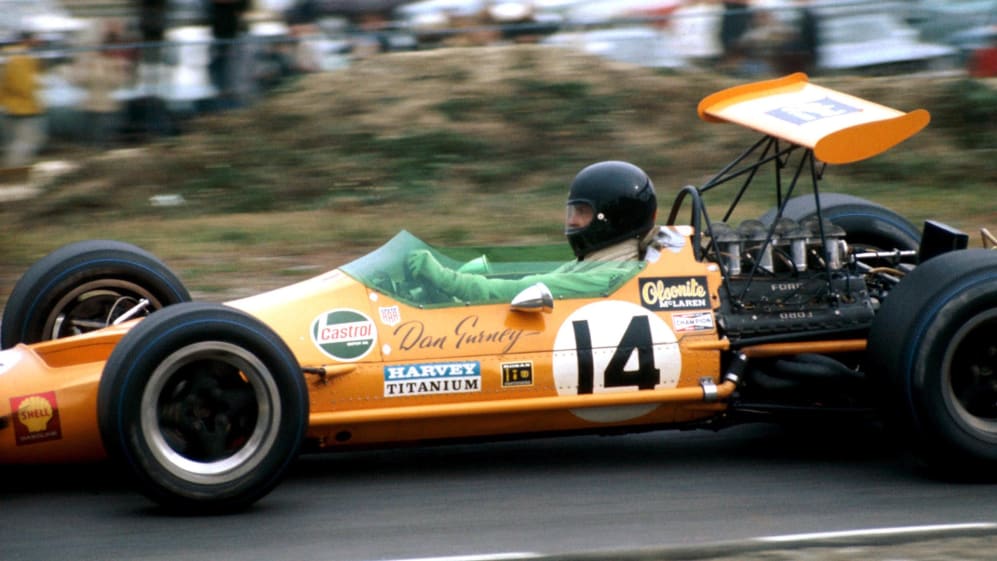 At the height of Dan's fame in the Sixties, when he was hugely popular, Car & Driver editor David E. Davis started a spoof 'Gurney for President' campaign. It amused Dan greatly.
Dan died on January 14th, 2018, but many things remain for which he will forever be remembered within the sport, besides his talent and grace.
READ MORE: Ford's best moments in F1 as they get set for a comeback with Red Bull
At Le Mans in 1967 he is generally credited being the first man to spray champagne, having spontaneously shaken a magnum of it on the victory rostrum. He was the first F1 driver to wear a full-face helmet, the original Bell Star at Brands Hatch during the 1968 British GP.
He had been instrumental in the rear-engine revolution at Indianapolis in the Sixties, first with Mickey Thompson's far-sighted Crosthwaite and Gardner-built rear-engined machine in 1962, then persuading the Ford Motor Company to help bankroll Colin Chapman's efforts from 1963 when he and Clark were team-mates – and the Scot confirmed that the rear-engined revolution was complete when he triumphed in the 1965 Indy 500.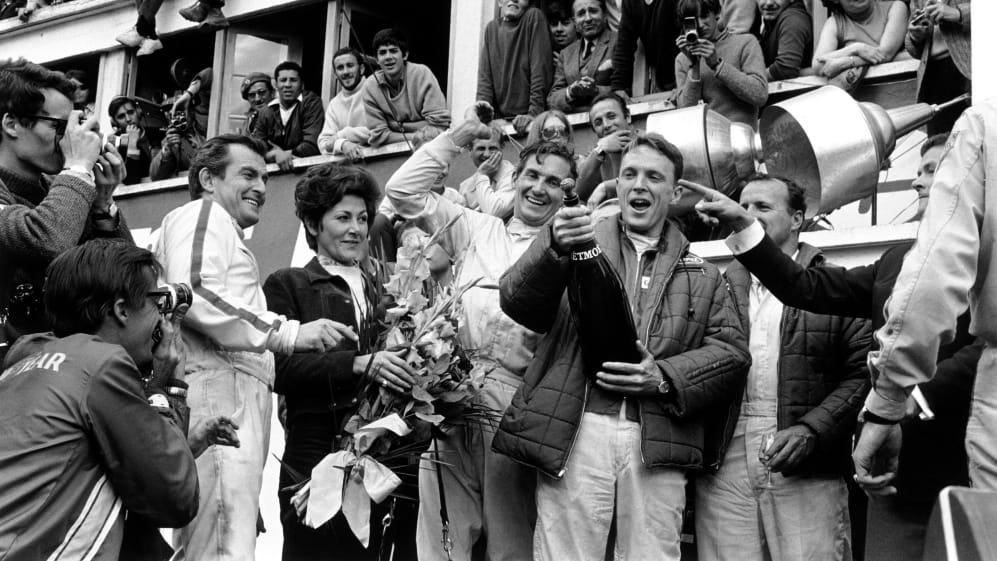 As a constructor, his Eagles also won races and championships in USAC and F5000. Notably, Bobby Unser won the Indianapolis 500 in 1968 and '75, while Gordon Johncock did so in 1973. Later, Dan would be a cornerstone of the CART Championship's creation following his firm belief that USAC had had their day.
While he was never afraid to innovate or to plough his own furrow, he was also an inveterate fiddler, always looking for set-up tweaks to improve car performance.
BEYOND THE GRID: Sir Jackie Stewart on surviving and thriving in F1's most ferocious era
In 1972 he developed what became known throughout racing as the Gurney flap, a 90 degree horizontal lip on the trailing edge of a wing which, when tested at the Phoenix International Raceway oval by Bobby Unser on one of his Eagle Indycars, proved to have such stunningly beneficial effects on downforce that it was eventually widely copied in all sorts of categories.
"It's true that I have gone my own way, but that's just the way it's been," he said of one of his great characteristics. "I think the challenge has always been something that means a lot, and you like to try and do things in a way that's a little bit out of the ordinary. I still have the remnants of that today. It's a lot of fun!"
Later in his life that probing spirit led him to develop his innovative Alligator motorcycle. There was talk in September 2002 of setting up an American F1 team with his old friend Phil Hill. And in 2011 he was instrumental in bringing Ben Bowlby's innovative and popular DeltaWing race car to life.
A brilliant driver and a great sportsman on and off the track, he had so much in common with Jimmy. "He and I had a doggone good relationship," Dan said. "I held him in the highest regard."
Small wonder that he also admitted of James Clark Snr's comment that day in Chirnside, "It destroyed me, really, in terms of my self-control. I was drowned in tears. It was more than I could cope with.
READ MORE: Jim Clark - What made him so good?
"That was very precious to me. I managed not to win a World Championship and I didn't win the Indy 500, so something like that means a good deal to me. To know that I was held in good esteem, and I was considered pretty doggone good by the guys that were running at the time."
Had he stayed at Ferrari, BRM and Brabham just that little bit longer, who knows what the record books might now reflect. But it says everything of a charismatic yet modest racer that being so highly regarded by Jim Clark – still reckoned by many all these years later to have been the sport's greatest – was testament enough, and he was content just to share the accolade with friends.
To read on, sign up to F1 Unlocked for free
You'll unlock this article and get access to:
Live leaderboard data
Epic experiences and rewards
Money-can't-buy competitions