Feature
F1 INBOX: Your questions on Verstappen's title chances, Gasly's future and more answered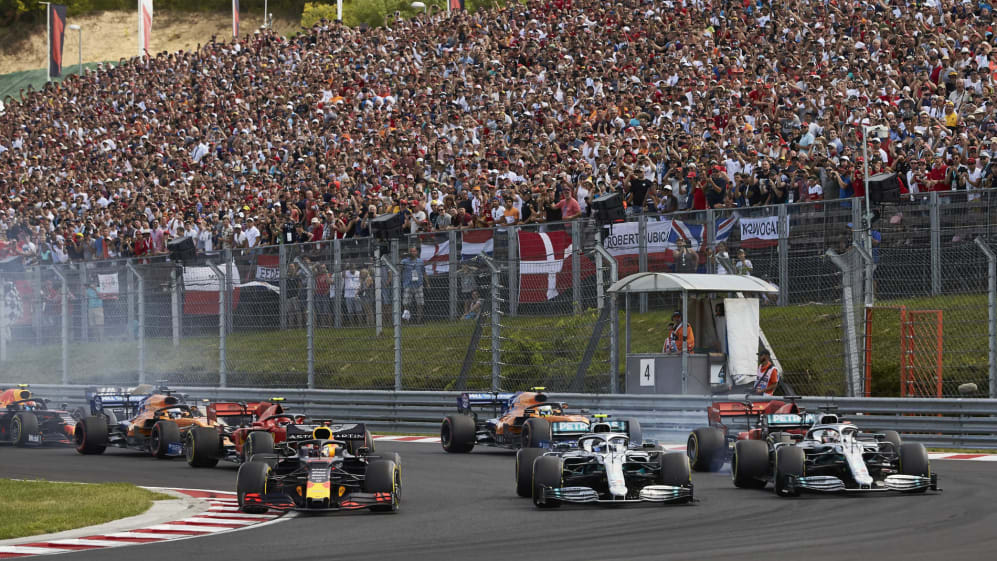 After the two thrilling Grands Prix in Germany and Hungary, we asked you for your questions following the Hockenheim and Budapest races – and then got paddock insiders Lawrence Barretto and Rob Smedley to answer them for you…
Is Max a title threat to Lewis this year?
Oops! Error retrieving Twitter post
LAWRENCE BARRETTO SAYS…
Hi Muhammad, as good as Max's form is, I don't think he's a title threat, unfortunately. In my view, he has driven better than anyone else across this season, which shows what a talent he is. The Hungary battle between him and Lewis was a delight and I'm certain we will see many more of those when F1 resumes after the summer break. That sets up an exciting second-half of the season. But a title challenge? He's already 69 points behind and Lewis tends to hit another gear from Spa onwards. This year, it'll be a step too far.
Could Kvyat replace Gasly for Spa?
Oops! Error retrieving Twitter post
LAWRENCE BARRETTO SAYS…
Hey Justin, yes, of course they could replace him for Spa. Red Bull have form when it comes to mid-season driver changes. But I'm certain they will not. There's no doubt Gasly has had a tough start to life at the senior team and it won't have helped his confidence to see Verstappen excelling in the same car. Sure, it appears that boss Christian Horner's patience is running out so drafting Kvyat in might work, given he has shown a newfound maturity since returning to F1 this year. But he will need time to settle – and what if he struggles again? If it was me, I'd keep Gasly until the end of the year and then make a decision. That gives him nine races to prove his worth. If not, Kvyat and Albon are worthy options and Gasly could head back to Toro Rosso.
What's going on at Renault - and why are customer team McLaren beating them?
Oops! Error retrieving Twitter post
LAWRENCE BARRETTO SAYS…
Hey CMPartfait, like many things in Formula 1, it's a combination of things. Their power unit, for starters, remains their Achilles' heel. On the chassis side, they haven't delivered a strong package this year and the in-season aerodynamic development has been disappointing. And while Daniel Ricciardo and Nico Hulkenberg are very good drivers, neither has performed at their best consistently this year. In contrast, McLaren have a driver line-up that is delivering week in, week out, a car that is a huge step up on last year and a team operating at a high level. That means even when they have troubles with their Renault engine – and they have frequently – their strengths elsewhere help soothe the pain.
How did the FIA know Alfa Romeo's Germany starts weren't legal?
Oops! Error retrieving Twitter post
ROB SMEDLEY SAYS...
Hi Martijn. It is quite simple. They will have alarms on their data viewer system that will check to see that the software configurables and parameters are all within the tolerances set by the technical regulations. When they are not then this will be flagged and the anomaly logged by the system. The FIA electronics engineer would then go into the data to check the source of the flagged anomaly and they would have seen that there was clearly a breach of the 70ms maximum slew rate (the time allowed for the clutch torque to reach the target demanded by the driver).
What are the tyre rules for a wet race start?
Oops! Error retrieving Twitter post
ROB SMEDLEY SAYS...
Hey Paul. If you start behind the Safety Car then you must start on the full wet tyre and you are only free to choose compound or tyre type after the SC has entered the pits. This is basically due to the fact that if the FIA deems it wet enough to have to start the race behind the Safety Car then they believe that for safety all cars should be on the tyre that will offer the most grip in the wet. If instead the race is started under the normal start procedure, but the track is wet with a corresponding declaration of a change in climatic conditions, then you can choose either the full wet or the intermediate wet tyre.
Why was the race distance reduced in Germany after the initial laps behind the Safety Car?
Oops! Error retrieving Twitter post
ROB SMEDLEY SAYS...
Hi Andrejs. Nowadays we don't refuel and therefore the cars are filled prior to the race with the correct amount of fuel to get to the chequered flag. With the wet start rules introduced a couple of years back which allow for the field to circulate behind the Safety Car on the full wet tyre until the point that the race director deems it to be safe enough to start the race, the cars are using fuel. If we didn't remove these laps from original race distance it would mean that the cars would run out of fuel. You can't pre-plan for these laps prior to the race by the way, because they are not fixed in the amount that the race director will choose to carry out. He may do a single lap before he decides the track is safe enough for either a rolling or standing start, or he may decide he needs 5, 10, 15, etc.
Should Max have made a second stop in Hungary?
Oops! Error retrieving Twitter post
ROB SMEDLEY SAYS...
Good question! If Red Bull had pitted the lap after he would have come out behind Hamilton due to what we call the undercut. Lewis entered the pits on the lap of his pit stop just over one second behind. At that point we can say that Lewis's car was around 0.5s/lap faster judging by how fast he caught Max after their first pit stops. We need to note that immediately after the pit stop in question Max has now got tyres that are more than 20 laps old compared to the new ones that Lewis had just fitted and this will have been equivalent to another 1.0s of lap time. If we add the raw pace to the tyre delta then it means that in the out-lap alone Lewis would have made up too much time for Max to have come in the following lap and still be in front. Red Bull therefore did exactly the right thing by staying out, otherwise they were committing themselves to second place rather than playing the only cards they had and staying out in the lead for as long as possible. You have to remember that Lewis was a little bit faster on the hard tyre and in addition he had a 'free' pit stop (meaning he could stop and not lose position. This means that he held all the cards in this situation, making it very difficult for Red Bull to do anything other than exactly what they did.
What tech do race strategists use?
Oops! Error retrieving Twitter post
ROB SMEDLEY SAYS...
Hi Peter. Yes, strategists use very sophisticated tool sets to help them both choose and then manage in real-time the race strategy. Years ago we used a single, deterministic output tool which essentially minimised race time, but the models that we use now are far more sophisticated. We have introduced a much more statistical approach now where rather than looking at a single simulation output the teams will run upwards of millions of full grid simulations to find the optimised solution which has the highest probability of success. This is known as a Monte Carlo simulation approach. In addition teams also tend to deploy a branch of mathematics with the underlying simulation models known as Game Theory. This essentially tries to understand the possible moves of each player in the game (in our case the drivers) and then counteract these so that my particular player (or driver) can win. This combined with the Monte Carlo simulation can be very powerful in terms of guiding both pre- and in-race strategy. Of course the tools should only ever act as a compliment to human intelligence and intuition, which can still trump all over a machine output on some occasions. As with all things in F1, it is always the challenge of finding the correct blend of computation and human power to find the optimised solution.
Got a question for our experts? Tweet us using the hashtag #F1Inbox and we'll try and answer it for you!