Feature
F1 POWER RANKINGS: Hamilton retains top spot as Vettel and Verstappen drop down order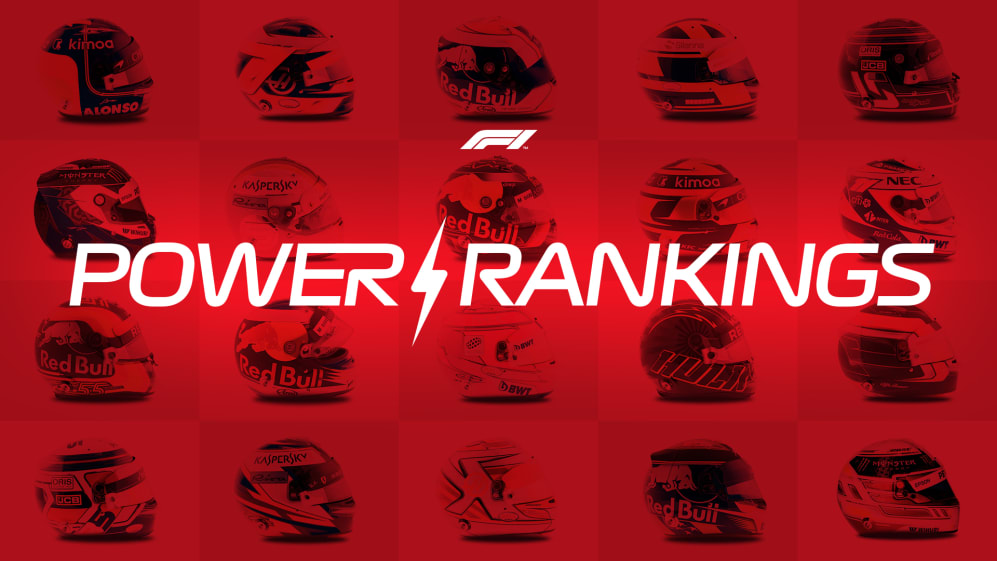 A shock victory on Ferrari's home turf sees Lewis Hamilton remain top of our Power Rankings, while a few familiar faces have dropped down the order after a tricky run of races…
How it's done
Our team of experts assess each driver after every Grand Prix and score them according to their performance across the weekend - taking machinery out of the equation

Our experts' scores are then combined to produce an ongoing overall ranking which reflects driver form - taking only the three most recent races into account
This week's Top 10

There really shouldn't be any shock to this ranking after the past three races, but the win in Monza was the cream on top of the cake for the championship leader. Strategy was key, but so was Hamilton's tyre usage in Italy. While Kimi Raikkonen overworked his rubber in catching up to Valtteri Bottas, Lewis Hamilton was able to push, cut down the gap, and get within DRS range without blistering his rears like the Finn had. Combine this racing intelligence with the wherewithal to give racing room in his battles - and Monza was one of Hamilton's finest hours. Add that to Belgium and Hungary and there's no beating him. His form is incomparable right now.

A regular in the rankings since his early season heroics, Pierre Gasly rises almost to the top of the pile this week following a sensational run of form at tracks where the Toro Rosso was expected to struggle. Spa and Monza are the big-engine tracks, but Gasly's performances displayed the step engine supplier Honda have made. That's not why he's up here though. It's his ability to draw the most out of those steps forward that have seen him climb the list. His qualifying performances have been electric and his race craft exemplary. It was only contact with Fernando Alonso that cost him a likely points finish in Monza, with the Frenchman one of many left unimpressed with the Spaniard's driving.

With the weight of the team's financial burden lifted from his shoulders, Sergio Perez has been back to his best of late and Monza was another fine showing. He was unlucky to suffer disappointment in qualifying, only the team's misjudgement in an incredibly tight Q1 in Monza going against him. That he finished in the points and on the heels of team mate Esteban Ocon shows just how well he drove, again, on Sunday. Absolutely punching in the results right now.

Even if the wins aren't coming, Raikkonen is driving at a level we've not seen in years. While qualifying mistakes were the norm in the early part of the season, in Monza he took advantage of the tow to record the fastest lap in Formula 1 history. Come Sunday, he diced beautifully with Hamilton to set up a titanic fight for the win that looked to be all his. Was the rear blistering his own fault or the consequence of Mercedes' tactics? Perhaps a touch of both. But Raikkonen still came home to record his 100th podium.

It was another strong weekend from Romain Grosjean as he continues to make his case for a 2019 contract with Haas. Prior to Monza, he had been solidly in the points at the last three races, displaying the sort of form we've always known he's been capable of laying down. His post-race disqualification for a technical infringement on his car was a bitter blow, though with the team appealing the stewards' decision, he may get back the points his mighty drive deserved.

The enigma that is Max Verstappen. Blessed with such skill and talent, yet jagged edges clearly remain. Along with Hamilton, Max had been the in-form driver of late, his performances regularly putting his team mate in the shade. But in Monza, racing at the limit of what his down-on-power car was capable of, he pushed further that what the stewards deem acceptable in his defence of Valtteri Bottas. The outbursts that followed clearly affected the remainder of his race in a negative way too.

After a counter-intuitive drop in position last week, Ocon's scores from Spa and Monza have started to outweigh the negative score from Budapest. Are we really staring at the possibility of Ocon being without a seat next season? It seems almost too cruel a consideration to give due credence - and yet here we are. He's been one of the performers of the season and a regular in our top ten. His Spa and Monza performances are evidence of his undoubted talent.

A slide down the order this week that owes much to the ascent of others - but is a reflection too of the mistakes and penalties in Budapest and Spa. Yes he took a podium at Monza but Bottas was never on Hamilton's pace in Italy. In a weekend when he admitted he'd likely have to play wingman at some point this year, it happened immediately. Unable to fight for the win, he had to be used as bait and then as a road block. A smart strategy but it was born of making the most of the situation rather than the driver making the most of the car.

The German Grand Prix score may have gone, but Sebastian Vettel will be ruing the Italian GP in equal measure. It was another race in which a needless error cost him valuable points. Monza was a Ferrari slam dunk and they came away losing ground in the world championship. And all of that hangs around Vettel's neck. If he expected to be given the win he was much mistaken, but it is his race craft for which he has been marked down the most. Once again he failed to leave racing room and once again it cost him. It's these mistakes which ultimately could and now look likely to cost him the title.

After two races in which his team mate has had a rough run, Carlos Sainz has shown the pace and the form that brought him to McLaren's attention as their team leader for 2019. On his birthday weekend he was impressive again in Monza, bringing home critical points in the battle for fourth.
Dropping out
Kevin Magnussen drops out this week due to Sainz's re-entry - even though the Dane put in a plucky performance with a damaged car.
On the bubble
Red Bull's Daniel Ricciardo sits on the bubble as does the hugely impressive Sergey Sirotkin, whose hard work at Williams is starting to pay dividends.