Report
F1 Pre-Season Testing: McLaren fastest as Vettel crash sidelines Ferrari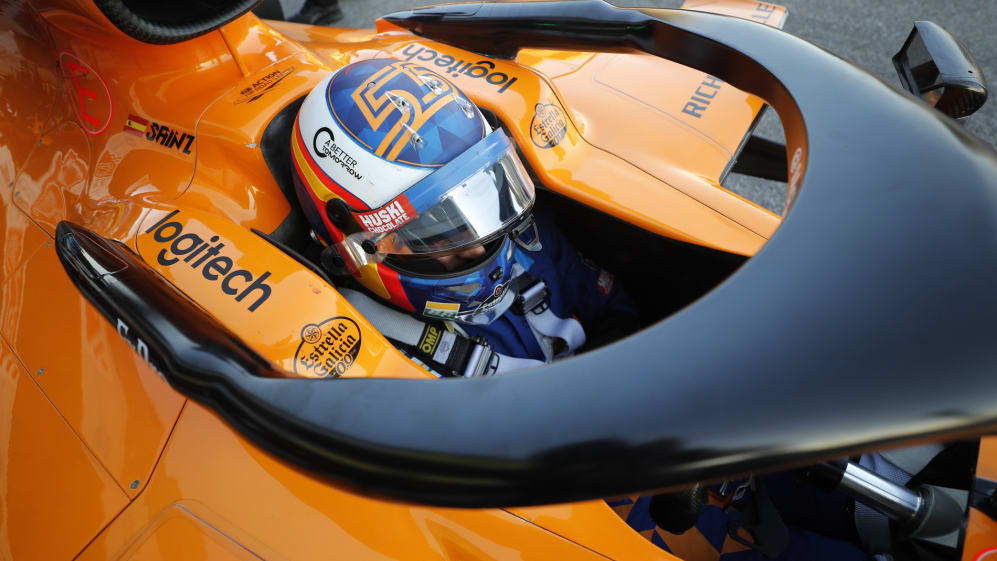 If Ferrari had cause to gloat yesterday when Mercedes lost most of their afternoon's running due to an oil leak, the shoe was on the other foot on Day 2 of the second week of 2019 pre-season testing in Barcelona, with a crash for Sebastian Vettel in the morning ruling the Scuderia out of the majority of the day's running.
Vettel was on his 41st lap of the day when his Ferrari SF90 left the road at Barcelona's Turn 3. Imagery from the crash showed Vettel having a big impact with the Tecpro barriers, with the German forced to go to the medical centre after his car's g-force sensor was triggered by the incident – although he was later declared a-OK.
The incident, which Ferrari said was caused by a mechanical issue, impacted on both Vettel and Charles Leclerc's seat time, with Leclerc only managing to head out on track in the final 10 minutes of the day.
That left McLaren's Carlos Sainz to scoop up the fastest lap of Wednesday's running – and of testing so far – with his 1m 17.144s set in the pre-lunch session, ahead of the Racing Point of Sergio Perez and Vettel's Ferrari. Sainz was on the second fastest C4 compound of tyres, as was Perez, while Vettel's time came on the C3s.
Lap-wise, it was a good day of running for a number of drivers, with Sainz, Alfa Romeo's Kimi Raikkonen, Haas' Romain Grosjean, Red Bull's Max Verstappen, Toro Rosso's Daniil Kvyat and Williams' Robert Kubica all logging over 100 laps – the second successive day that the Williams squad have made it over the magic tonne mark, after their delayed start to pre-season testing.
Aside from Vettel, two other drivers caused red flags during the day. Sainz parked his McLaren with water pressure issues, while Verstappen stopped at the end of the pit lane and had to be retrieved by his mechanics. Raikkonen, meanwhile, ground to a half after the chequered flag at fallen to end the day.
So six days of pre-season testing down, two to go. And after plenty of long running and race simulations on Wednesday, expect to see teams chucking in some quicker times on Thursday and Friday to try and steal the headlines ahead of the Australian Grand Prix.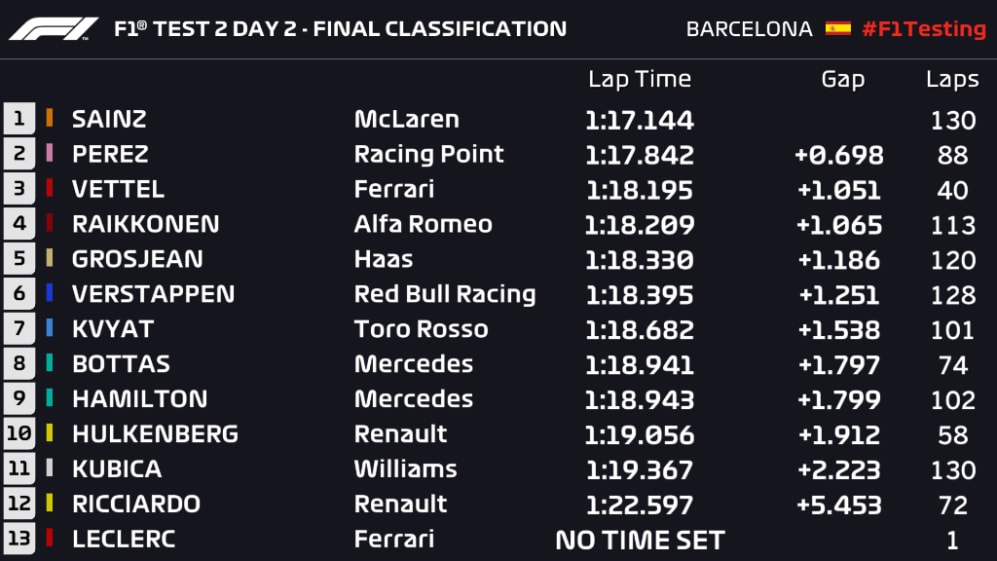 Fantasy F1 – get in the game!
Have you picked your Fantasy F1 team for 2019 yet? Head here to choose your dream team for this season!