Vettel at a loss to explain Ferrari crash in pre-season testing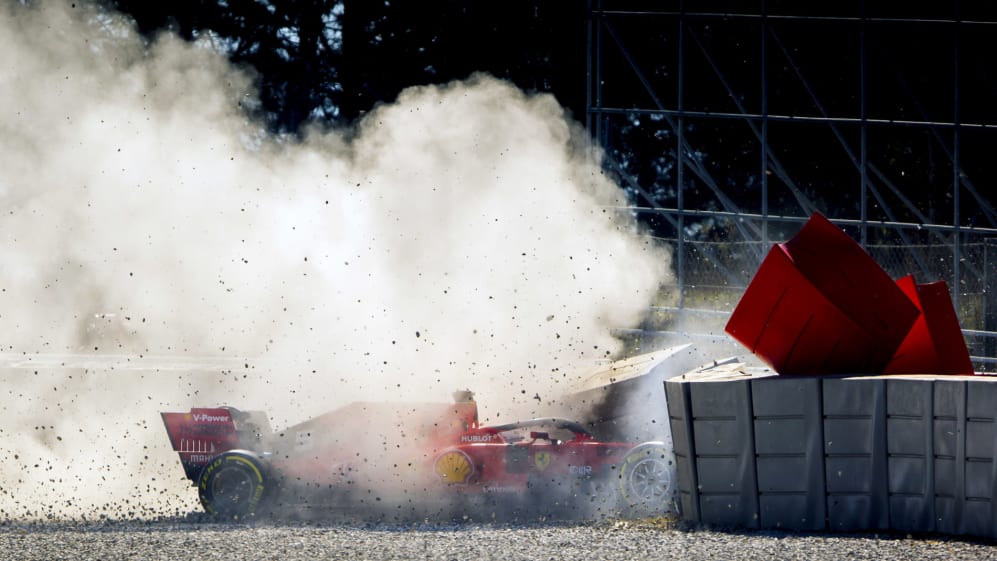 It had all been going so well for Ferrari. That is until Sebastian Vettel skated off the track at Turn 3 and straight into the barriers at the Circuit de Barcelona-Catalunya on Wednesday morning...
The four-time champion escaped unhurt, but his Ferrari required the best part of six hours' work before Charles Leclerc could drive it out of the garage just minutes before the end of the day's session.
Vettel had enjoyed a reasonably encouraging morning, clocking up 40 laps and the then second-fastest time of the day before his off-circuit excursion. And speaking to the media in the aftermath of the crash, the German confirmed that he was still largely in the dark about what had transpired.
"I was going into Turn 3 and I had a feeling there was an issue with the front-left corner," he said, "and then from there it wasn't anything that I could have done to avoid the impact. After that I wasn't in control anymore and went straight into the barriers.
"We are flat-out trying to understand. It would be a lot easier if there was a lot of run-off and the car didn't hit anything because now, due to the hit, it's fairly damaged. We have to be very careful in understanding exactly what is the problem. That is what everyone is looking at here at the track and also in Maranello. It's important to us."
With rivals Mercedes notching up 174 laps between their two drivers on Wednesday, Vettel was also left to rue the lost run-time for Ferrari that his crash had caused.
"We had [planned to put] more laps on the board than 40 this morning, so for sure it is not ideal in that we are losing time," he said. "But right now it is important to understand what happened. I hit the wall quite strongly and I think the Tecpro and the wall did their job and the car did its job but of course after the impact the car was very damaged. That's what also makes it quite difficult to reconstruct what was going on before the impact."