Report
F1 Pre-Season Testing: Sainz scorcher keeps McLaren top halfway through second day of Test 2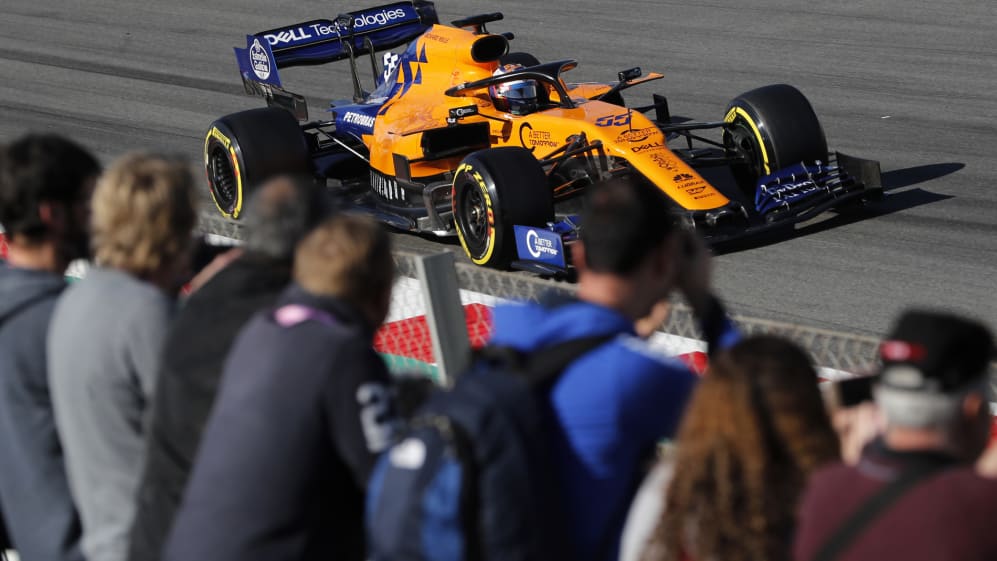 McLaren's Carlos Sainz posted an eye-catching 1m 17.144s in Spain on Wednesday morning, the fastest lap of 2019 pre-season testing so far, before his McLaren ground to a halt out on track.
The Spaniard's as-yet-undiagnosed issue brought out the first of three red flags seen during the session, before Max Verstappen brought out another when his Red Bull had to be recovered from the end of pit lane.
But the biggest incident of the day so far came from Sebastian Vettel, who appeared to suffer a mechanical failure at Turn 3, spearing off the track and hitting the barriers on the outside of the corner. The incident was enough to trigger Vettel's in-car g-force sensor, necessitating a trip to the medical centre for the German, but he was later declared fit and well – although damage to his car meant he was unable to return to the track before lunch.
Vettel crashes Ferrari in pre-season testing
Other than Sainz's headline lap – which was some 0.110s faster than his former Renault team mate Nico Hulkenberg's previous fastest time, set at the end of Week 1 – it was a quiet morning timings-wise, with many teams focusing on long-run pace, before the anticipated lap time push towards the end of the week.
Sainz headed Vettel by over a second, the German setting a 1m 18.195s before his accident, with Verstappen third fastest for Red Bull, while Valtteri Bottas, who missed almost all of his running yesterday after an oil leak was discovered onm his Mercedes W10, was fourth – the Finn making up for yesterday's time loss by grinding out 75 laps, three more than Daniel Ricciardo, whose plan for Wednesday morning had been to run a race simulation for Renault.
Follow all the action from Barcelona on our live testing blog