F1 Pre-Season Testing: Vettel heads Sainz at the end of Day 1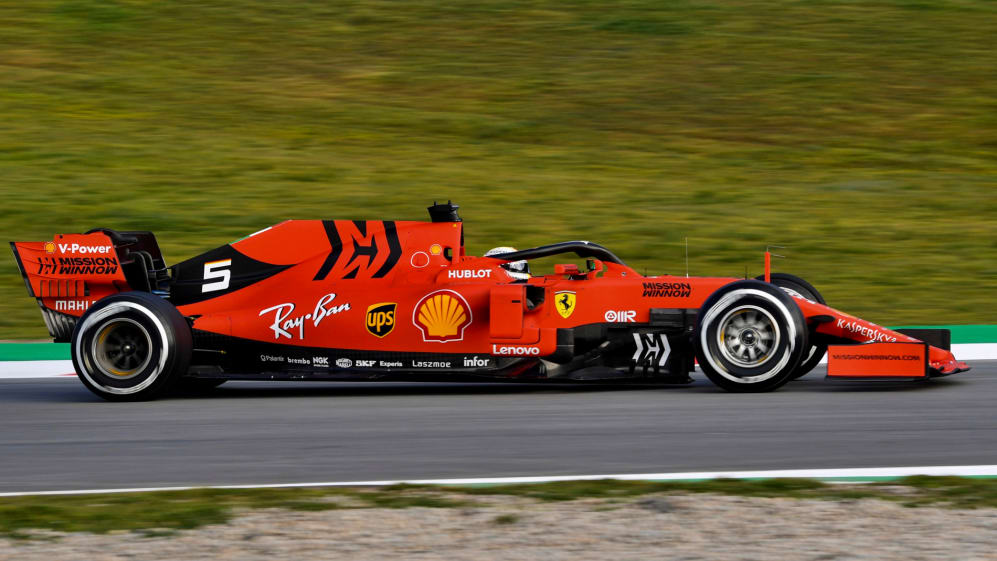 Sebastian Vettel enjoyed a satisfying return to the cockpit of a Ferrari as 2019 F1 pre-season testing began in Barcelona, finishing the day comfortably at the head of the field in his SF90.
Vettel was both the fastest driver – his 1m 18.161s set before lunch making him one of only two drivers to lap the Circuit de Barcelona-Catalunya today in under 79 seconds – and the one with the most laps under his belt, completing around two and a half race distances. A minor spin for the German, when he lit up the rear wheels coming out of the final chicane, was the only cloud on his horizon.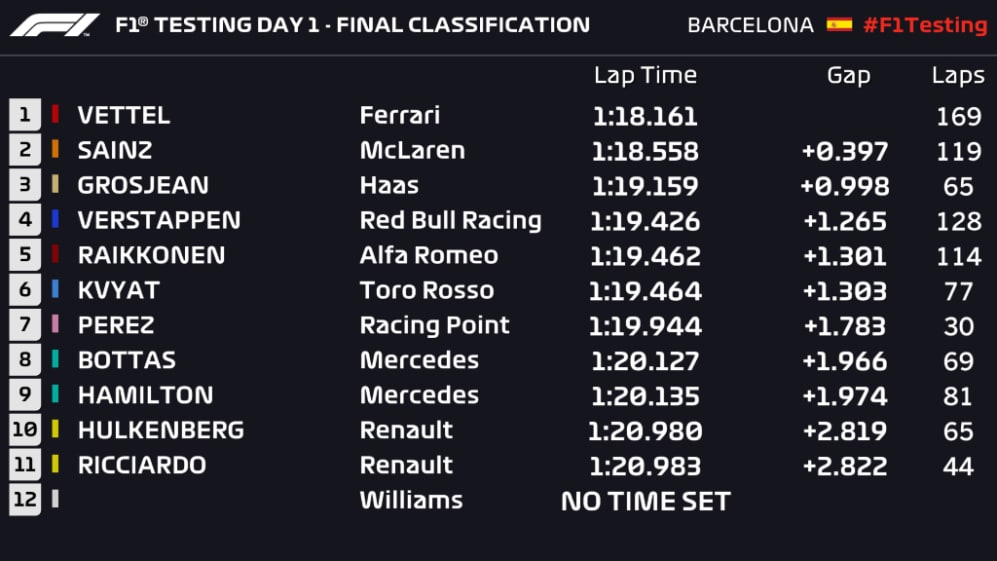 McLaren's Carlos Sainz caused a shock by going P2, lapping around four-tenths off Vettel's time to start his first season with McLaren on a high note – barring a brief hiccough where his car lost drive and had to be pushed back to the pits – while Romain Grosjean was another surprise, going third fastest for Haas.
IN PICTURES: Nine 2019 F1 cars make their test debuts
It was a positive day for Max Verstappen on his first Red Bull test with Honda power, the Dutchman enjoying some issue-free lapping to finish fourth, ahead of handing his RB15 over to Pierre Gasly for the Frenchman's first run in the car tomorrow. Verstappen finished the day ahead of Sauber's Kimi Raikkonen, who overcame the embarrassment of ending up in the gravel trap five minutes into day one of testing to go fifth.
Having both sat out the first half of the day, reigning champion Lewis Hamilton and Renault debutant Daniel Ricciardo both got their first proper run-outs of the year after lunch, Hamilton finishing down in ninth, while Ricciardo was 11th on his first laps in anger in Renault's R.S.19 challenger.
The only team not out in the crisp Spanish sunshine were Williams, who confirmed that they were unlikely to run in the tests before Wednesday.
So it's Sebastian Vettel who ends the first day of running with the biggest smile on his face. How will team mate Charles Leclerc fare when he gets a go in the Ferrari tomorrow?