Ricciardo admits qualifying crash caught him by surprise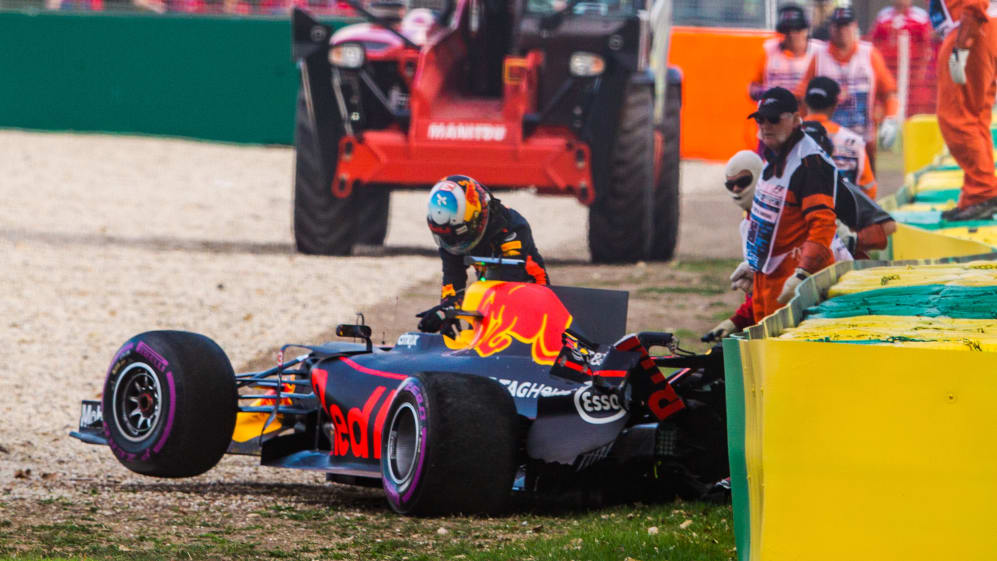 Daniel Ricciardo admits he was caught out by the snap oversteer that pitched him into the barriers and out of the final part of qualifying at his home Grand Prix in Australia.
The Red Bull driver had looked on form when he grabbed fifth in Q2, but then crashed out of the pole shootout on his first flying lap. As a result he looks set to line up 10th, which would be his lowest grid slot at Albert Park since 2013 - though he could be lower still if his damaged RB13 requires a gearbox change.
"I'm fine physically - emotionally I'm obviously a little disappointed," Ricciardo reflected. "It happens. I have to try and have a bit of perspective: at least it didn't happen in Q1.
"We made a big step in Q2, it was looking alright, but then the [first lap] in Q3 was a little messy and Turn 14 just caught me out, caught me by surprise. I went in, the rear broke away, and unfortunately there wasn't a way of catching it or saving it.
"I was pushing, but not overdriving to the extent that I felt I influenced it more than I should have. It was a tough one. We are still trying to get on top of the cars - and we understand there is still a bit of learning to do.
"But no excuse - I didn't have any problem: there was no puncture, nothing. We have more downforce on the car - they are more loaded - and when they go it is a bit harder to bring it back."
Ricciardo conceded that Red Bull had not expected to be so far off the pace of Mercedes and Ferrari, but did not rule out still putting on a strong Sunday showing in front of his home fans.
"Coming here we thought that we would be in the range of half a second off Mercedes - and that was okay as we can build from there," he added. "But we are more than a second off. I have seen Max's (Verstappen) lap that was pretty tidy - and I've heard his comments - and think he couldn't have got more out in Q3.
"The good news is I didn't use two sets of ultrasofts in Q2, which means I have got a new set of ultrasofts for the race - if I do a two-stop strategy that would then work in my favour. And a safety car would make the whole situation a bit nicer. A safety car with about 15 laps to go - that would be my dream scenario!"
Team mate Verstappen, who qualified fifth, doubts Red Bull can achieve more than a top five finish in Melbourne: "We don't have the pace to challenge Mercedes or Ferrari. So I'm just hoping for a clean start - and then [it will] probably be quite a lonely race for me."