Feature
Need to know: Spain
From session times to previous winners, we break down the key facts, stats and information ahead of the fifth round of the season...
Barcelona: an F1 testing paradise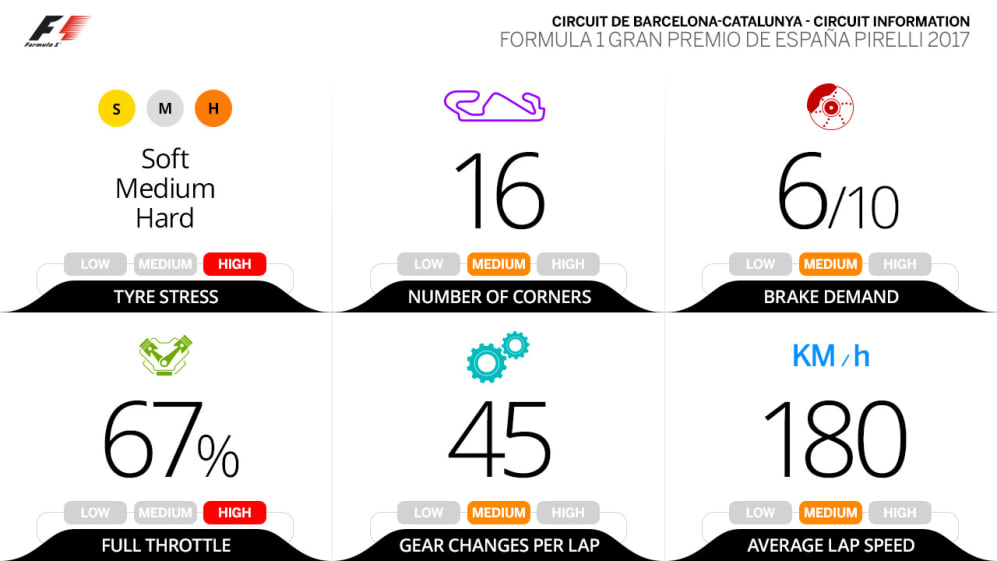 The Circuit de Barcelona-Catalunya is a venue the teams and drivers know arguably better than any other, thanks to so much pre-season testing being done here. All will be keen to find out just how far their machinery has evolved since they were last here in early March – and how well the major update packages most are introducing this weekend perform. Other differences will be higher track temperatures and the use of Pirelli's hardest tyre compound. Neither drivers, cars nor their rubber get much rest around this track. Only brakes have a relatively easy time of it. The first two sectors comprise primarily medium- and high-speed corners, while the final one is mostly low speed - hence set-up is a compromise. But get it right here and you should be looking good for the rest of the season…
The key corner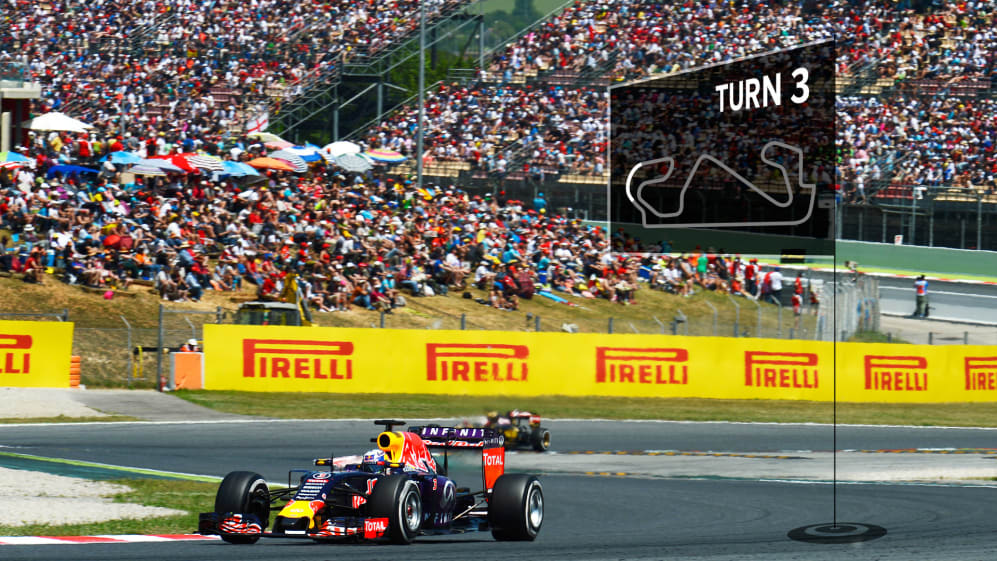 After the straightforward right-left flick of Turns 1 and 2, drivers are quickly confronted with one of Barcelona's biggest challenges - the sweeping right-hander that is Turn 3. It may not inflict the highest lateral g-forces – that honour goes to the high-speed Turn 9, at about 5g – but its varying radius and its sheer length ask some serious questions of the cars and the men at the wheel. This year's wider tyres and revised aero mean it's now in theory possible to take it flat out, but only if set-up and balance are perfect – and only if the driver's neck is up to it!
Can Bottas or Ricciardo join the winners' club?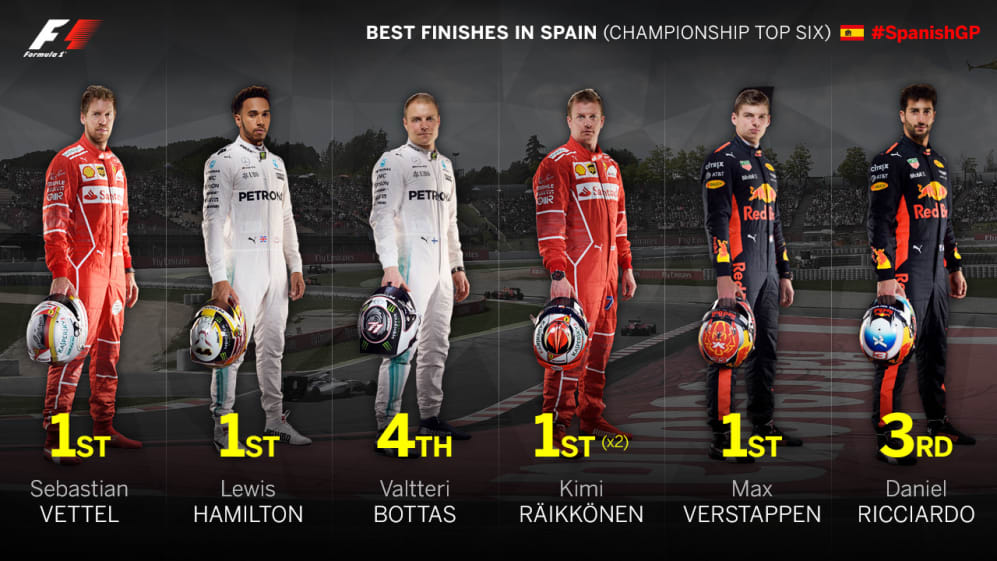 No less than four of the top six in the current driver rankings have won in Spain. Look further down the order and the stat becomes five in eight courtesy of Felipe Massa. What it tells us is that no one team or driver has had a monopoly on Barcelona success of late – in fact 10 different drivers have won in the last ten years, with no back-to-back victories since Michael Schumacher in 2001-2004. Perhaps the perfect time then for either Valtteri Bottas or Daniel Ricciardo to become members of an exclusive elite.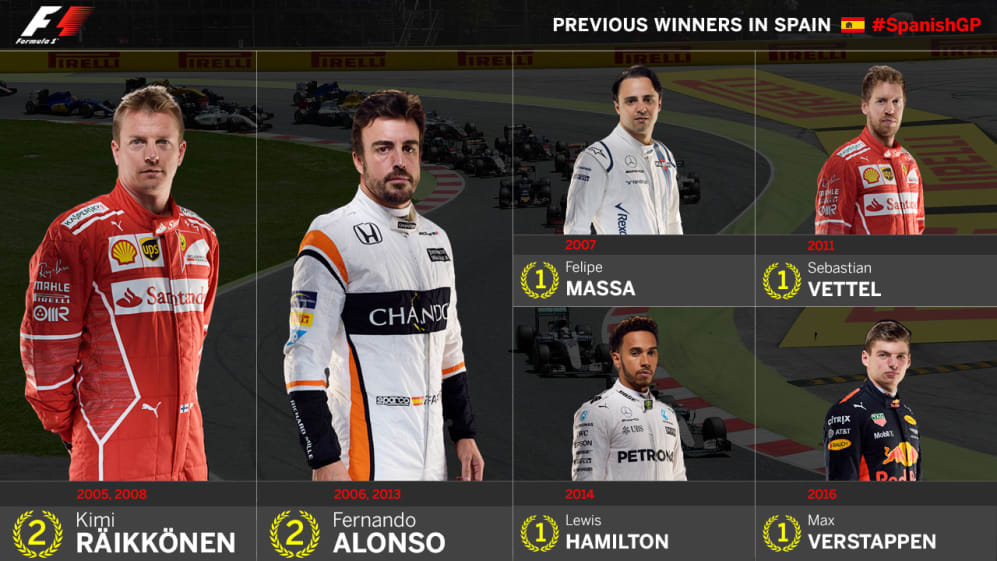 Red Bull seeking qualifying breakthrough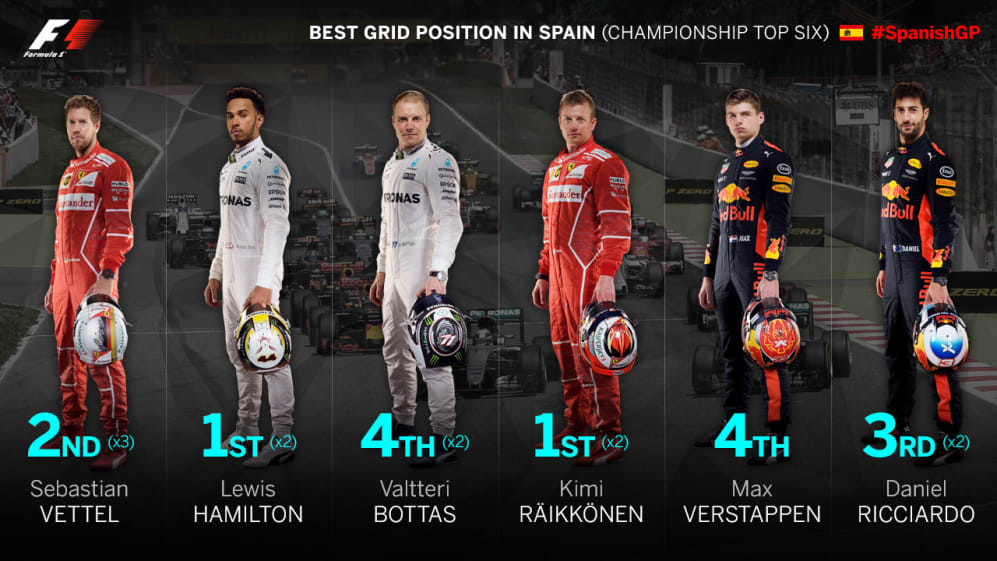 Though four of the current grid have won in Spain, only two – Lewis Hamilton and Kimi Raikkonen – have taken pole position. Max Verstappen's unexpected race victory last year came from fourth on the grid, while Red Bull team mate Daniel Ricciardo has never been on the front row here either. Could that change in 2017? Ferrari's and Mercedes' recent form would suggest otherwise, but with major updates promised for the RB13 in Barcelona, don't count out the men from Milton Keynes.
Alonso the untouchable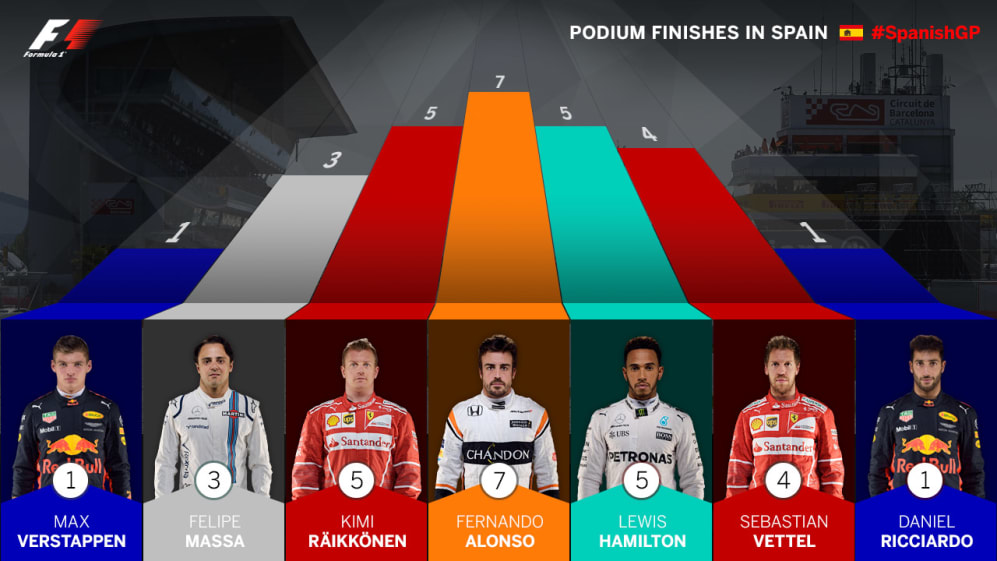 One previous winner unlikely to be challenging for a repeat this weekend is Spain's very own Fernando Alonso, currently languishing 20th in the driver standings. But, of course, not only has Alonso twice tasted victory on home soil, in terms of Barcelona podiums he has no peers among the current grid. Regardless of this Sunday's result, there will be no knocking the two-time champion off the top of this pile.
Ferrari looking for lucky 13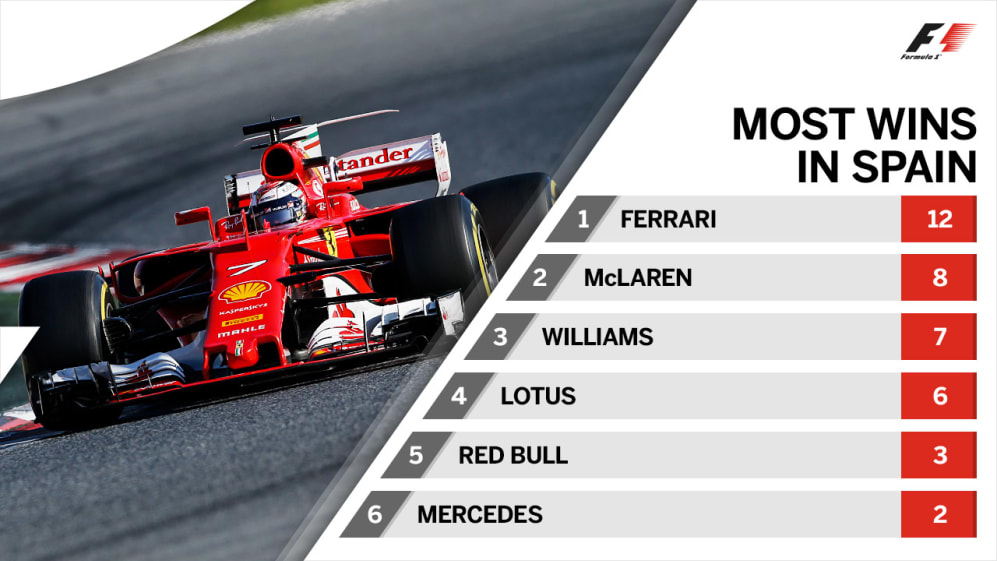 If Ferrari triumph in Barcelona this weekend it will be their 13th Spanish Grand Prix victory. Their dozen wins to date is unparalleled, with McLaren closest on eight, followed by Williams on seven. The bad news for the Scuderia is that Mercedes have been the dominant force here of late, winning two of the past three races (Verstappen's 2016 glory came after the two Silver Arrow drivers ahead famously took each other out). However, given the speed they showed in pre-season testing here, only the very brave would bet against Sebastian Vettel and Kimi Raikonnen challenging for the top step come Sunday.
Quote unquote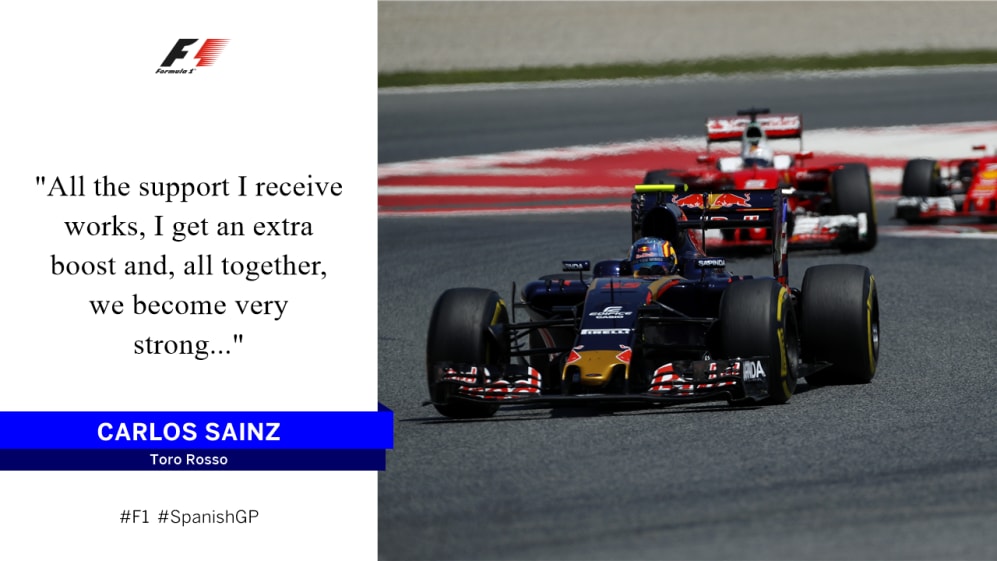 If Fernando Alonso is Spain's F1 legend, then Carlos Sainz is its up-and-coming, young pretender. He may have only raced here twice, but there is no denying the Toro Rosso driver benefits from home support. In his 2015 rookie year he started fifth – still his best F1 grid slot to date – and finished ninth, while last season he qualified eighth and was sixth at the flag. That remains his best Formula One result so far.
The Stroll standard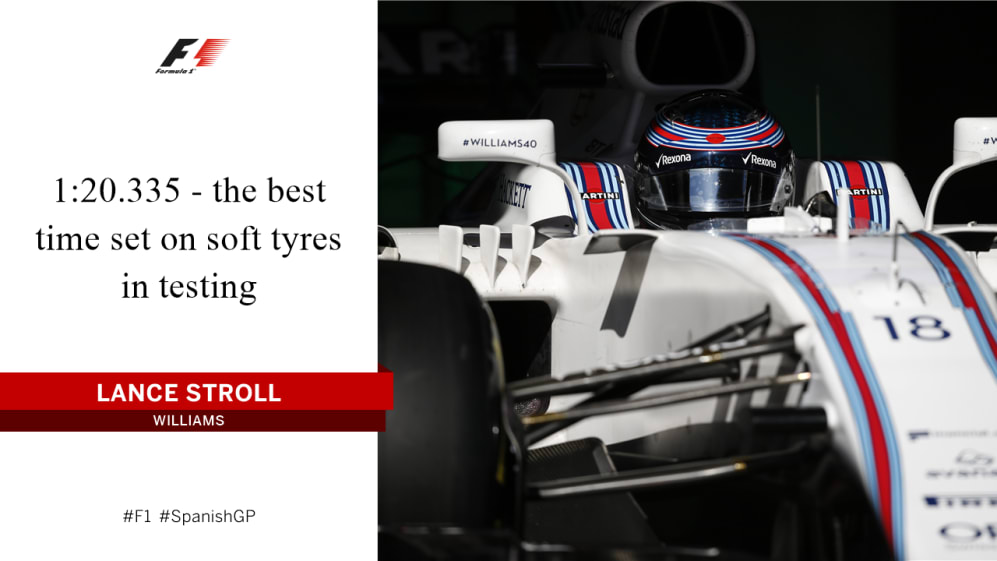 The fastest time around Barcelona during pre-season testing was a 1:18.634 by Ferrari's Kimi Raikkonen. However, that was set on Pirelli's supersoft tyre, while most drivers clocked their quickest lap on the even stickier ultrasoft. But neither of those compounds is available this weekend, with soft, medium and hard rubber having been nominated by the official supplier. That means a bit of a voyage into the unknown, with Lance Stroll's time from March above the immediate benchmark. For reference, last year's pole time was Lewis Hamilton's 1:22 dead, while the fastest lap of the race was a 1:26.948 set by Toro Rosso's Daniil Kvyat. Expect to see both tumble this weekend.
Those all-important session times...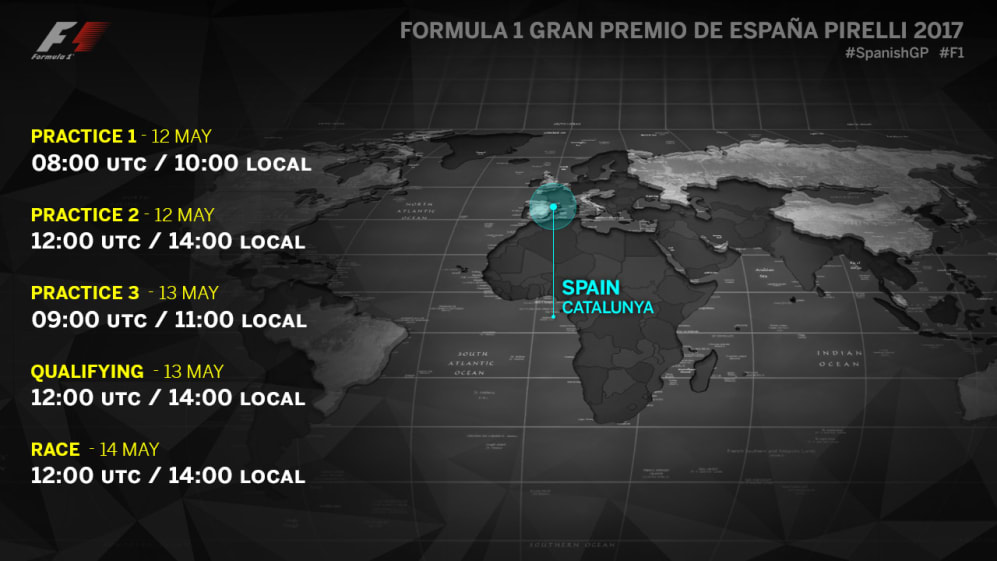 Don't forget, if you are registered with F1® Access (it's free!) you can follow live timing and commentary from Bahrain on Formula1.com, or by downloading the Official F1 App. For more details, click here.