F1 Testing: Ferrari edging Mercedes, according to the final test data
Ferrari finished Formula 1 pre-season testing as they started, topping the timesheets at the Circuit de Barcelona-Catalunya. So does this mean Prancing Horse are the team to beat after another strong day? Let's take a closer look at the numbers…
Tension at the top
0.003s. That's all that separated last year's two title protagonists – Ferrari's Sebastian Vettel and Mercedes' Lewis Hamilton – on the final day of the final test. It's a remarkable end to a very productive test for almost everyone.
So how comparable are the laps? Well both were set on same compound of Pirelli tyre – the C5, which is the softest of their range. And they were completed on a similar stint and on reasonably low fuel.
But of course, we don't know the exact fuel loads, and as the stint graph below shows, Vettel's leading time was set just before lunch while Hamilton did his towards the end of the day, when temperatures were cooler and conditions generally quicker.
Ferrari and Vettel, who provide the baseline in the graph above that combines the three best sectors from each team but not necessarily on the same lap, had the edge in the opening sector, at just under a tenth.
That advantage doubled in the middle sector. However, Mercedes hauled back two tenths in the final twisty sector. Mercedes technical chief James Allison admitted the team waited for a number of days to run the softer rubber and have a look at the car in its Melbourne spec – and they are "reasonably pleased".
Perhaps most encouraging for the Silver Arrows, who have appeared to trail Ferrari throughout testing, is that Hamilton says "it felt like the changes we were making helped us progress".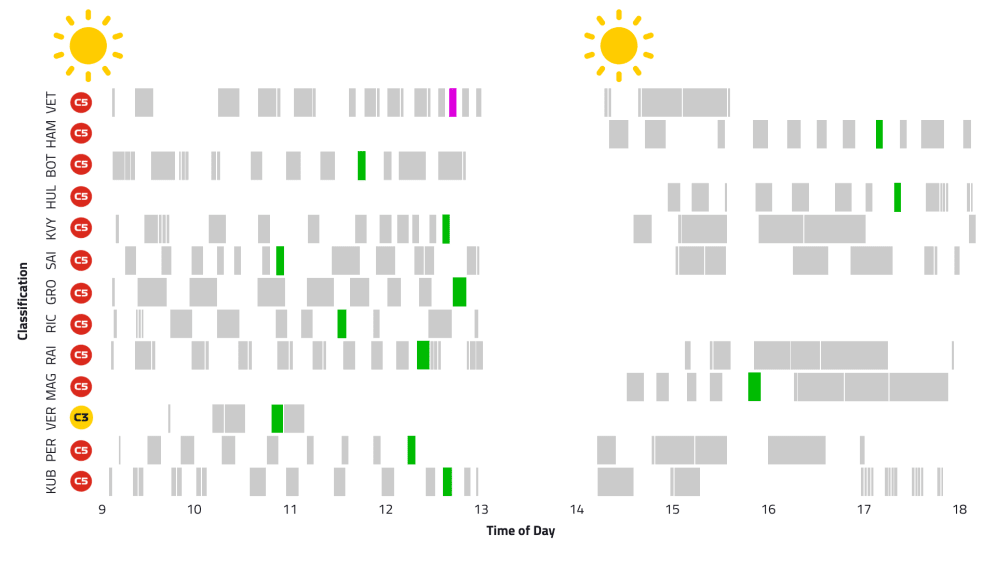 Best single lap
1 Ferrari (Sebastian Vettel) – 1m16.221s - C5
2 Mercedes (Lewis Hamilton) – 1m16.224s +0.003s - C5
3 Renault (Nico Hulkenberg) – 1m16.843s +0.622s - C5
4 Toro Rosso (Daniil Kvyat) – 1m16.898s +0.677s- C5
5 McLaren (Carlos Sainz) – 1m16.913s +0.692s- C5
6 Haas (Romain Grosjean) – 1m17.076s +0.855s - C5
7 Alfa Romeo (Kimi Raikkonen) - 1m17.239s +1.018s- C5
8 Red Bull (Max Verstappen) – 1m17.709s +1.488s - (C3)
9 Racing Point (Sergio Perez)) – 1m17.791s +1.570s - C5
10 Williams (Robert Kubica) – 1m18.993s +2.772s - C5
There's a significant gap back to the rest of the field, with Renault six tenths adrift. However, Red Bull were the only team not to run a C5 lap, with Max Verstappen spending most of the day in the garage with a gearbox issue.
If we were to adjust the times to account for the deficit between the compounds, which according to Pirelli is around 0.6s, the team would move into third, 0.288s off the pace.
Verstappen wouldn't be drawn on suggesting a pecking order, but said he was "optimistic" about Red Bull-Honda's chances. He had particular praise for Honda, who ran reliably throughout while also showing shoots of encouraging performance.
Alfa Romeo and Haas ticked off a race simulation, as our stint graph shows, in the afternoon courtesy of Kimi Raikkonen and Kevin Magnussen respectively.
When it came to ultimate pace, it was Haas, in the hands of Romain Grosjean, who had the edge between them, almost two tenths quicker than Raikkonen managed, when both ran the softest tyre.
Williams' test ended in frustrating fashion, with the team having to cut their long run short in the afternoon because according to technical chief Paddy Lowe, "a number of critical bodywork parts had reached a stage of degradation that meant that we were no longer learning useful information from the car nor indeed for Robert".
It means that Kubica will head to Melbourne, for his first race in eight years, lacking the mileage and comfort in the car that he had hoped for. But the stuttering final flourish to the graph shows Kubica was at least able to do some race procedural practices, such as starts and pitstops, that will have been very useful.
The next time we'll see the cars in practice it'll count...