Feature
F1 pre-season testing: What the data tells us from Day 2 in Barcelona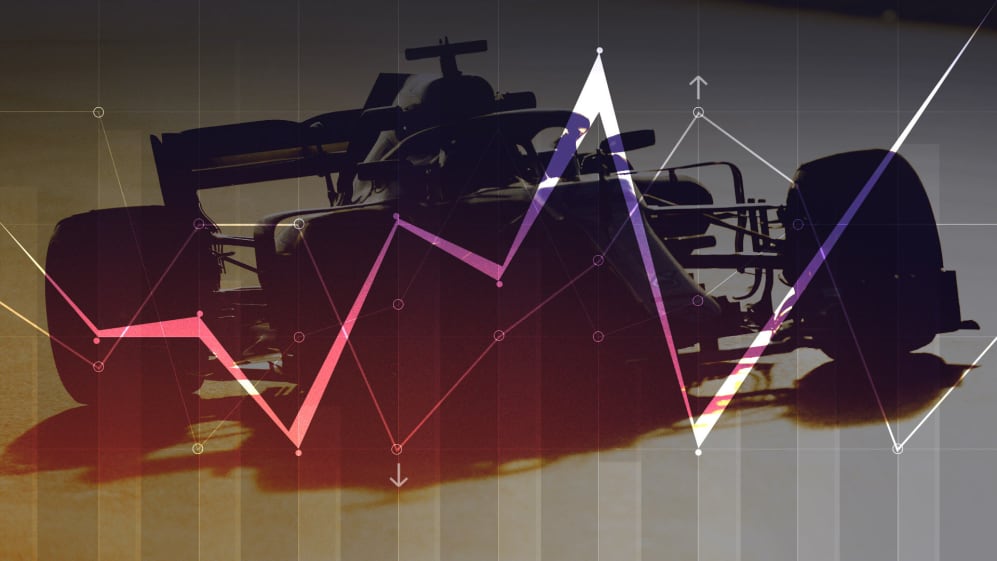 There were centuries all over the place on day two of pre-season testing, but while the opening day was super smooth for everyone, there were a few niggles that crept in and caused problems on the second day. Let's take a look at the numbers…
Mercedes have hit the ground running
Week one of pre-season testing in 2019 was not the finest for the Silver Arrows, but they've exploded out of the blocks this time around, setting tongues wagging with an innovative new steering wheel system, nicknamed DAS, and leading two leading drivers from rival teams to admit the W11 looks "very, very quick".
Lewis Hamilton had a ruthlessly efficient morning, clocking up a fraction over 100 laps before handing the car over to Valtteri Bottas. The Finn got down to business quickly, but had his running cut short inside the final hour with an electrical problem.
READ MORE: Have Mercedes just changed the game with new steering wheel?
Their tally of 183 was 61 higher than rivals Ferrari (almost a whole Spanish Grand Prix race distance) and 49 better than Red Bull. At the other end of the spectrum, Renault managed just 93 laps, almost half that of Mercedes.
The French manufacturer had a difficult day, with Daniel Ricciardo hitting a kerb hard on the exit of Turn 9, causing minor floor damage that confined him to a lengthy stay in the garage. Esteban Ocon didn't have a much better time of it, marginally breaking the 50-lap mark as he focused on an aero mapping programme in the afternoon.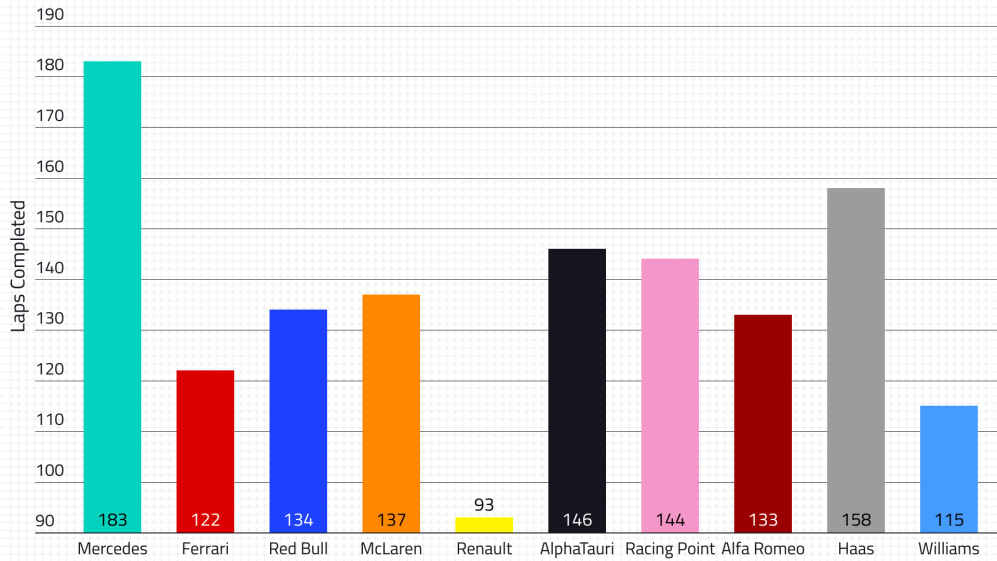 Mercedes topped the speed charts
Mercedes set the pace in terms of top speed on day two, hitting the trap around 6km/h quicker than they managed on the previous day, a fraction ahead of Ferrari-powered Alfa Romeo.
At the other end of the spectrum were Haas. They may have completed the equivalent of two race distances, but they weren't troubling the speed charts, the American team a staggering 41km/h slower than Mercedes.
Ferrari, Red Bull, McLaren, Renault, AlphaTauri, Racing Point and Williams were all within 7km/h of each other.
READ MORE: Romain Grosjean hits the barriers after spin at pre-season testing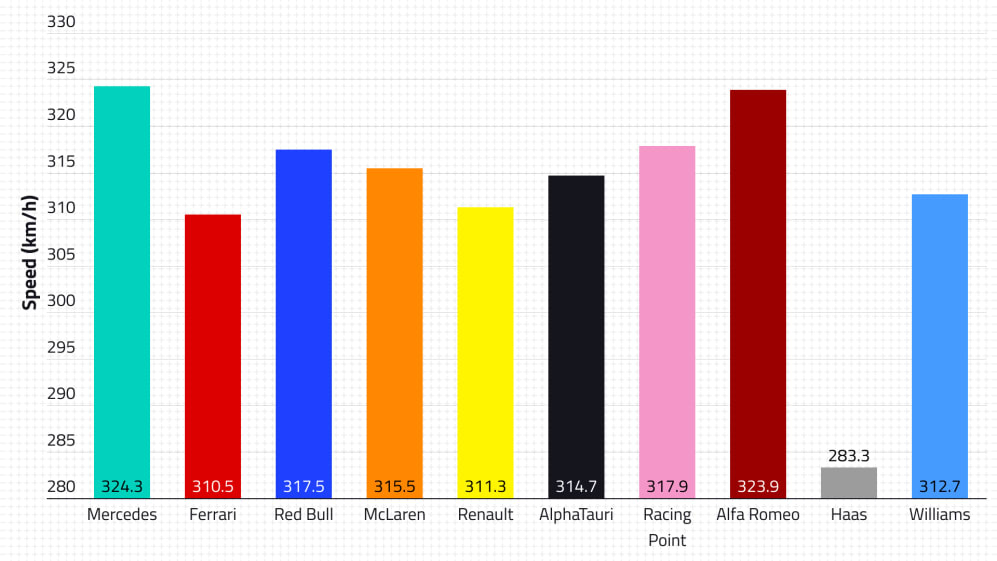 This is still early in testing, mind, so teams will be running their PUs on lower levels, instead focusing on reliability and working on engine settings and modes. We'll have to wait until next week for them to turn them up to full strength and chase performance.
Honda changed engine in the Red Bull mid-way through the day, as a precaution, after seeing something on the data. However, further tests revealed there were no issues, so the original PU will be put back in the car to prove it further on Friday.
Mix of programmes in action
The first half of Hamilton's morning involved a series of medium stints with chunky gaps in between so the team could make changes to the car in between. As conditions warmed up, attention turned to a long run, with Hamilton kicking off with a very short stint, followed by three hefty stints with a quick turnaround between each before hopping out of the car for lunch. The Briton declared himself delighted with his fitness, adding he felt so good he could have done another 100 laps if needed.
Bottas did a series of very short runs early in the afternoon before doing his race simulation. His best lap of the day came in the final stint, but he wasn't able to complete the run because of an electrical programme.
Romain Grosjean was the only other driver who looked like he did a race simulation with a run towards the end of the day, but it was significantly shorter than the race sims completed by Hamilton and Bottas.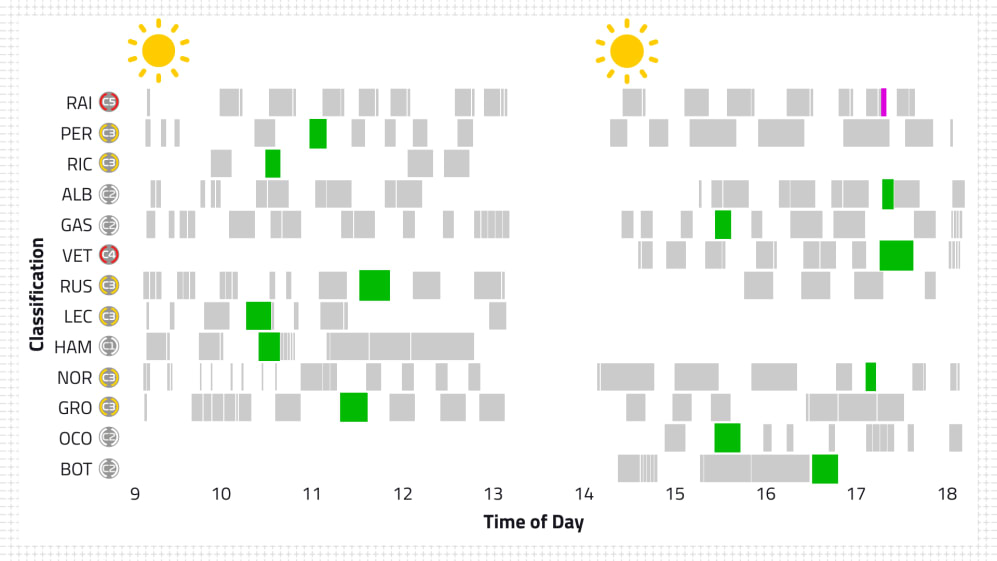 Alfa Romeo were the surprise pace-setters, with Kimi Raikkonen focusing on short runs throughout the day. It's likely they took fuel out for the final few very short runs of the day, his best lap coming on his third from last run. The Finn stopped out on track inside the final hour, causing the test's first red flag, as he deliberately ran out of fuel.
Sebastian Vettel hasn't been feeling well of late, the German suffering with a bout of flu last week, so he didn't get his first shot at driving the car in testing until Thursday afternoon. The German completed 10 medium-length runs before doing a series of four short runs with quick stops in between.
READ MORE - Pre-season testing Day 2: Raikkonen fastest before he brings out red flags