F1 TRACKS: Listen to Nina Kraviz's takeover ahead of the 2021 Italian Grand Prix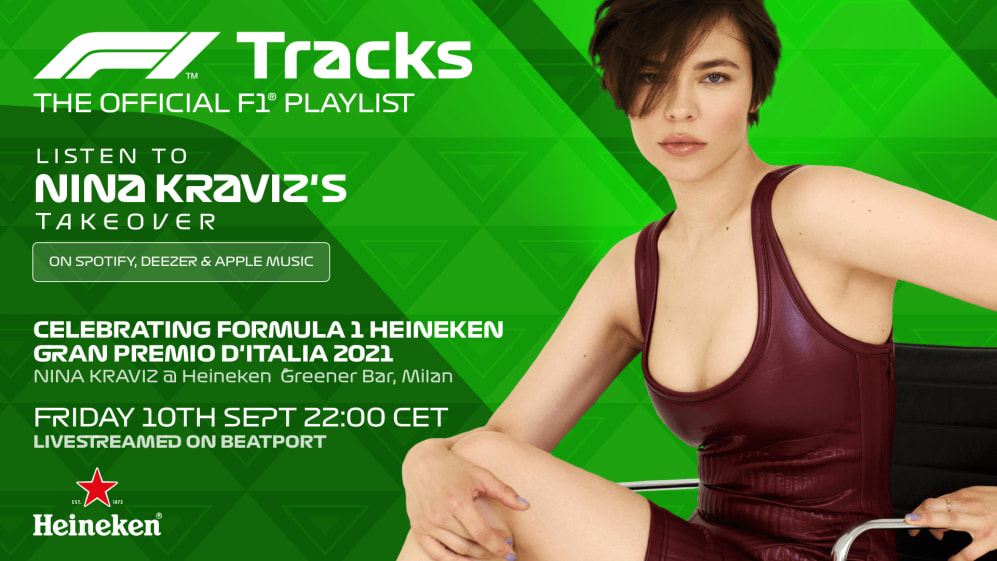 Russian DJ Nina Kraviz takes over the F1 Tracks playlist ahead of the Italian Grand Prix, and tells us about her love for F1 in an exclusive Q&A.
Kraviz, an International Dance Music Awards winner, released her latest single Skyscrapers this year and is currently touring across Europe. Her F1 Tracks takeover provides the soundtrack for this weekend's action at the Temple of Speed.
Listen to the playlist here and check out her interview below.
Q&A with Nina Kraviz
What's the best thing about F1?
For me it's all about the speed and sexy race drivers.
Any similarities between the buzz of F1 and the buzz of live music?
I am going to F1 for the first time in my life and would like to dedicate all my excitement solely to this unique experience.
Favourite driver?
Sebastian Vettel, he is the ultimate gentleman driver.
Favourite team?
Ferrari, everyone likes the red cars.
Favourite F1 Track?
Monza!
If you could pick one of your songs to be the new theme tune for F1, which would it be and why?
That would be my song Fire. It's beatless and very trancy but it weirdly feels compatible rhythmically with the fast car pace… like a perfect juxtaposition
Which F1 driver do you think would make the best music artist and why?
Lewis Hamilton. I think he actually makes music in his free time, no?
You could go to a gig with two people dead or alive, who would they be and what band/artists would you go and see?
I would take Detroit legend K-Hand with me and would use that chance to tell her all the things I did not manage to say at the time…
I'd also like to invite Michael Schumacher, Germans historically are making great music and excellent techno music. Funny enough there is an actual techno artist with the same name: Thomas Schumacher.
Tell us about your latest single?
My latest single Skyscrapers is a love song that you can totally dance to.