F1 TRACKS: Listen to Wes Nelson's takeover ahead of the Russian GP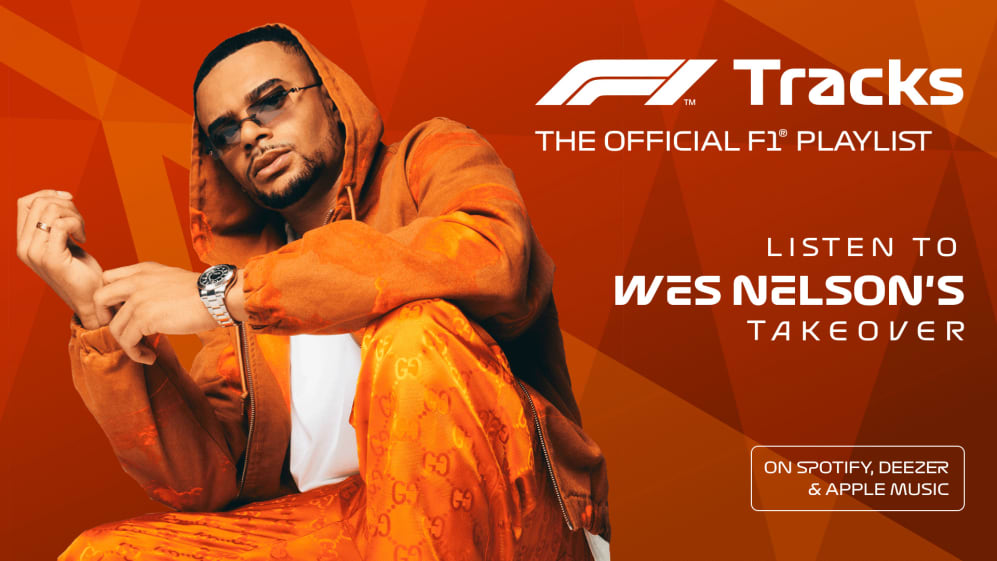 Reality TV star-turned-artist Wes Nelson is the latest to take over the F1 Tracks playlist, with the soundtrack for the upcoming Russian Grand Prix at Sochi.
Nelson starred on British reality TV show Love Island, and a number of other reality TV and panel shows, and his debut single See Nobody with Hardy Caprio made it to third in the UK chart. Further singles Nice to Meet Ya (featuring Yxng Bane) and Drive by Clean Bandit and Topic have also received worldwide airplay.
Listen to Nelson's takeover playlist for the Russian GP here, and read his Q&A below.
Q&A with Wes Nelson
What's the best thing about F1?
The speed and the excitement. I'm a bit of an adrenaline junkie myself, and even just being around the cars going that speed gives me a bit of a thrill. Even when you're not driving you get that exhilaration.
Any similarities between the buzz of F1 and the buzz of live music?
Yeah there are definitely some similarities between the two. Obviously with music it's a live show, you have got one shot and it's the same for F1. The fans are there live and that makes it really important you put on a good performance. So there are definitely similarities, there is a rush through performance in both.
Favourite driver?
It has got to be Lewis Hamilton, I think that he is doing things in the sport that no one has had before. He is breaking records, creating a path and inspiring a whole new generation of drivers and sports people as a whole. This is quite embarrassing but, I went to my world book day in primary school dressed as Lewis Hamilton. I got a boiler suit from one of my dad's work places, borrowed my cousin's motorcycle helmet and stuck a load of stickers on it.
Favourite F1 circuit?
It's gotta be Silverstone, it's a classic and iconic track. I went when I was younger and so have some attachment.
Please suggest a song for our playlist?
It's got to be Sicko Mode by Travis Scott. It's one of my favourite driving songs, gets me pumped up and makes me want to race.
If you could pick one of your songs to be the new theme tune for F1, which would it be and why?
It's got to be between See Nobody and Drive. See Nobody because of the lyrics "foot down I don't see nobody" obviously putting your foot down on that accelerator and going. But, I think what probably has to be more fitting is Drive which I made with Clean Bandit and Topic simply because, well it's in the name but also I think it's just a upbeat, fitting song.
What are your favourite memories from following Formula 1?
Going to Silverstone with my dad and cousin, I had always wanted to go and watch the Grand Prix. It's one of my most treasured memories and we were right on the finish line as well.
Which F1 driver do you think would make the best music artist and why?
It has to be Lewis Hamilton again. I mean, he does already do some right? I know he is interested in a lot of the same artists that I am.
You could go to a gig with three people dead or alive, who would they be and what band/artists would you go and see?
Jay Z, Drake and Michael Jackson. Those three all inspire me both musically but also in life and business. I'd love it if it was possible to be in a room with them and just digest their knowledge. And I would go and watch Burna Boy, I've not seen him live yet but he is heavy on my musical rotation and on my must see list.
Tell us about your new single?
Yeah so, my latest single is with Clean Bandit and Topic. It's called Drive, which is very fitting for the subject of F1. It's super fast paced, energetic and just full of good vibes. loads of dirty drops just make you screwface the whole way through. It's a song I'm super proud of and I personally love it so I hope you guys can love it too.