Feature
Williams at 40 - the essential facts, stats and stand-out moments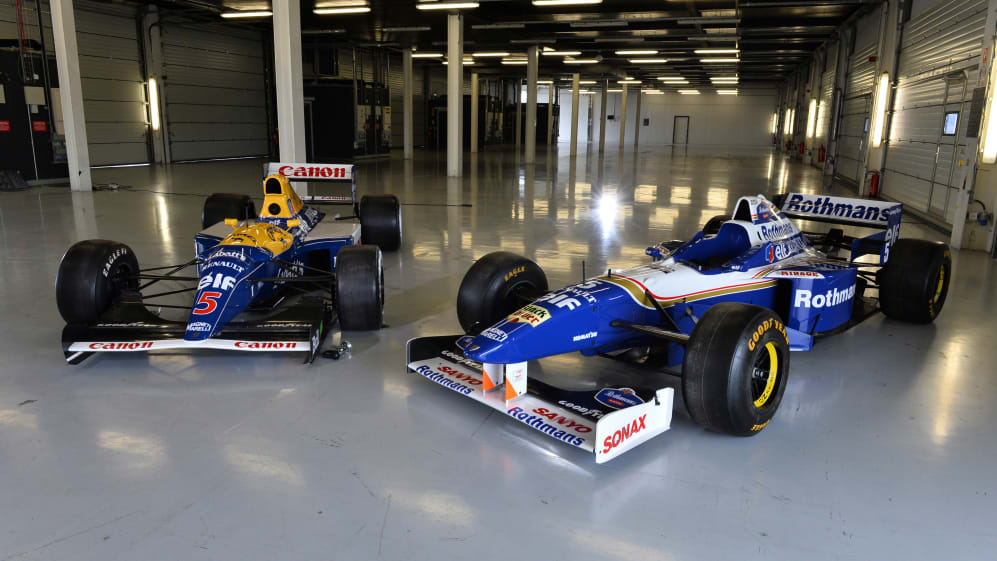 Forty years ago today, the team now known as Williams Martini Racing entered their very first event. They'd go on to become one of the most successful in history…
Debut race: 1977 Spanish Grand Prix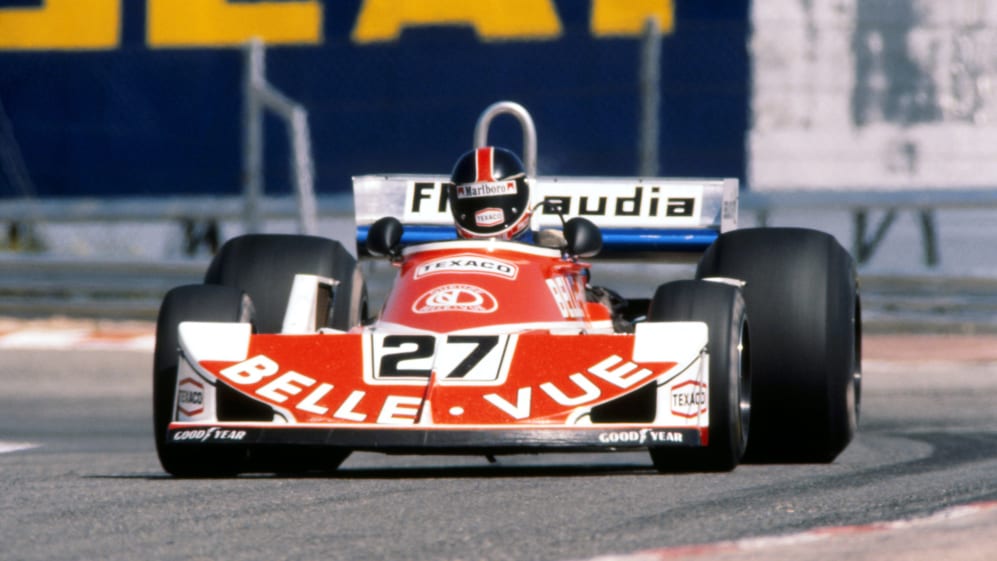 Having become disillusioned with life at Walter Wolf Racing, the team born out of his own Frank Williams Racing Cars concern, Frank Williams decided to start again, and in 1977 set up Williams Grand Prix Engineering with ambitious engineer Patrick Head. Based out of an empty carpet warehouse in Didcot, Oxfordshire, the team entered 11 races over the course of the 1977 season using a custom March 761 chassis. Belgian driver Patrick Neve was behind the wheel on each occasion, beginning in Spain (pictured above) where he finished four laps down in 12th. Things would only get better...
First race with own car: 1978 Argentinian Grand Prix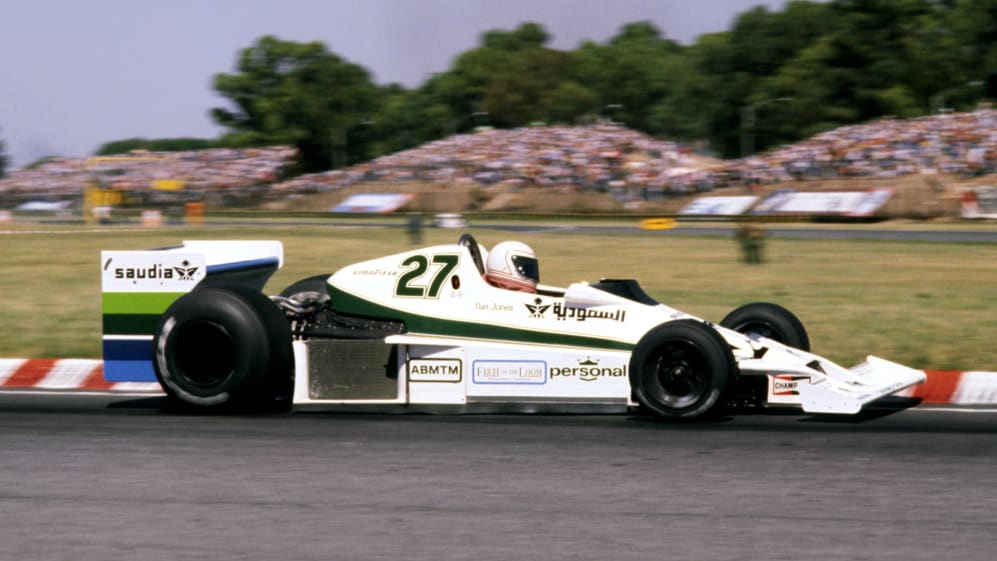 For the 1978 season, Williams produced their own machine – the Patrick Head-designed FW06 (so-called because earlier Frank Williams cars had already begun the 'FW' nomenclature). Tough Australian Alan Jones, a Grand Prix winner with Shadow the year before, was hired to lead the team's one-car assault, beginning in Argentina where he qualified 14th before retiring with a fuel system failure. Results would improve rapidly: two races later in South Africa Jones was a fine fourth, and by the end of the season he'd bagged a podium finish in the USA and two fastest laps.
First win: 1979 British Grand Prix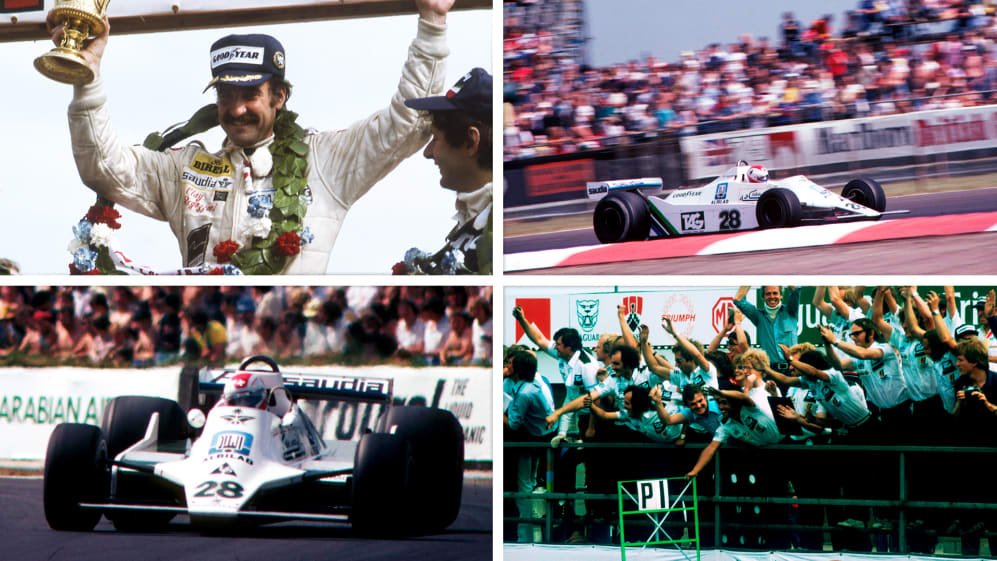 Less than two years after launching, Williams became race winners - and at their home event no less. The team's success at Silverstone was rooted in subtle modifications to the Cosworth-powered FW07's underside, with extra aluminium panels significantly boosting the car's ground-effect aerodynamics. All of a sudden Williams were way out in front and though Alan Jones dominated qualifying - giving the burgeoning squad their first ever pole - a water leak in the race meant that it was left to veteran Clay Regazzoni to deliver Sir Frank's maiden win.
Best pole lap: Keke Rosberg, 1985 British Grand Prix
As qualifying laps go, they don't come much more exhilarating than Keke Rosberg's two flying efforts at Silverstone in 1985. The swashbuckling Finn was a driver with a reputation for laying it all on the line, but in an extraordinary qualifying session he pushed himself further than he'd ever been before, twice lapping the rapid Northamptonshire venue at an average of more than 160mph – then a new high-water mark for F1 machinery.
Quickest pit stop: 2016 European Grand Prix
Over the last few years Williams' pit crew have established themselves as the best in F1, taking last year's DHL Fastest Pit Stop Award in dominant fashion. In total, they set the quickest pit stop times at 14 of the 21 races, with their 1.92s tyre change on Felipe Massa's car in Baku the quickest pit stop ever seen in Formula One racing.
Total wins: 114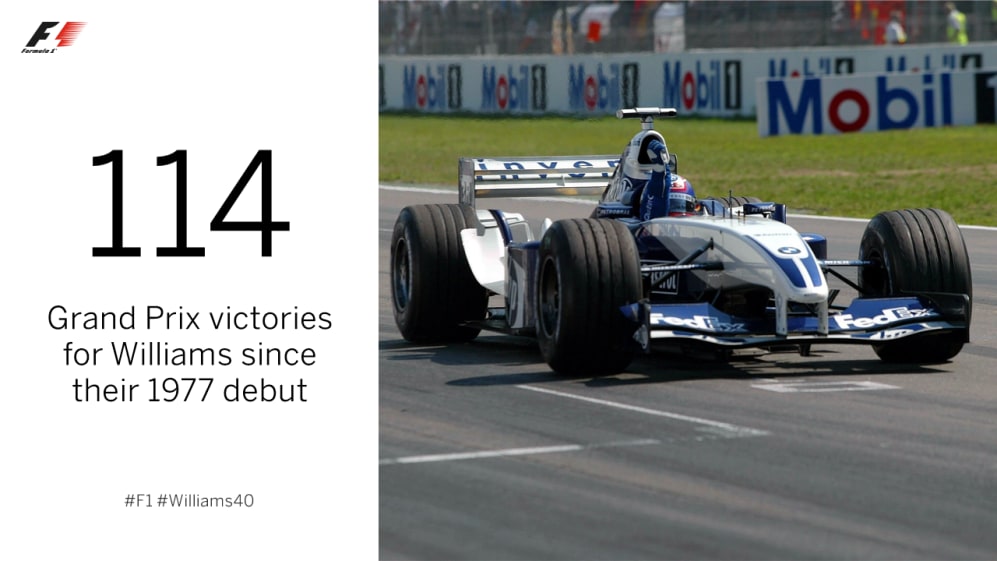 Since Williams' debut in May 1977, only two teams have won more races: Ferrari (who've won 160 in the same period) and McLaren (who've won 161).
Lowest winning grid slot: P8
On two occasions Williams have won from as far back on the grid as eighth, with Keke Rosberg the victorious driver on both occasions. The first occasion came in the Swiss Grand Prix at Dijon in 1982, while the second was in 1984 under the red hot heat of the Texan sun in Dallas, where the moustachioed Finn made full use of a water-cooled skull cap to keep his head.
Most wins: Nigel Mansell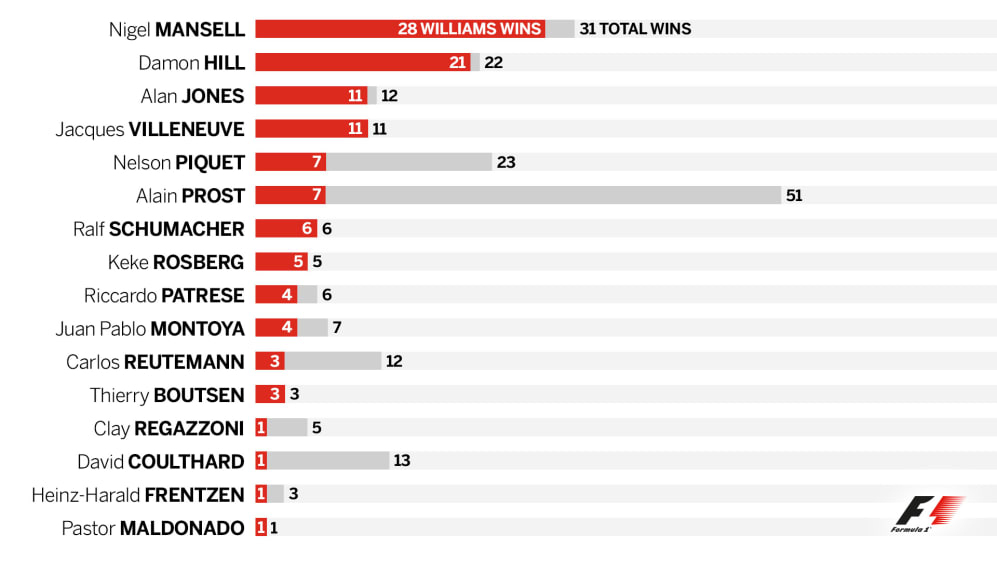 16 different drivers have stood on the top step of the rostrum for Williams, but no one has done it more times than Nigel Mansell, who won his first race for the team in 1985 and his last in 1994. Fittingly for this most British of heroes, the country he won in the most was his own, with five of his 28 victories coming on home soil.
Last win: Pastor Maldonado, 2012 Spanish Grand Prix
Having taken a surprise pole on the Saturday (aided by Lewis Hamilton's demotion for failing to provide a fuel sample), Pastor Maldonado stunned the paddock by taking an even more surprise victory in the race, coolly soaking up incredible pressure from tenacious home favourite Fernando Alonso to give the Grove-based team their first victory in over seven years. Sadly the celebrations were cut short when a post-race fire engulfed their garage – and they haven't won since.
Most dominant season: 1996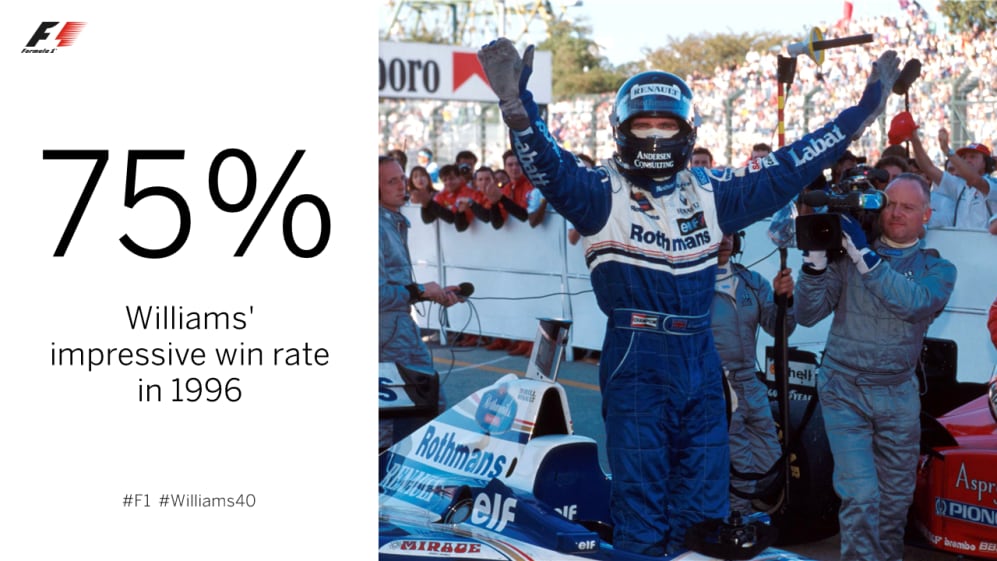 In 1996 Williams won 12 of the 16 races on the calendar as their driver line-up of Damon Hill and Jacques Villeneuve went toe-to-toe for the world title (with the former ultimately taking the honours). The Renault-powered FW18 proved so dominant that at the end of the season Williams had accumulated over 100 points more than main rivals Ferrari – quite an achievement with the old point-scoring system.
Most iconic car: FW14B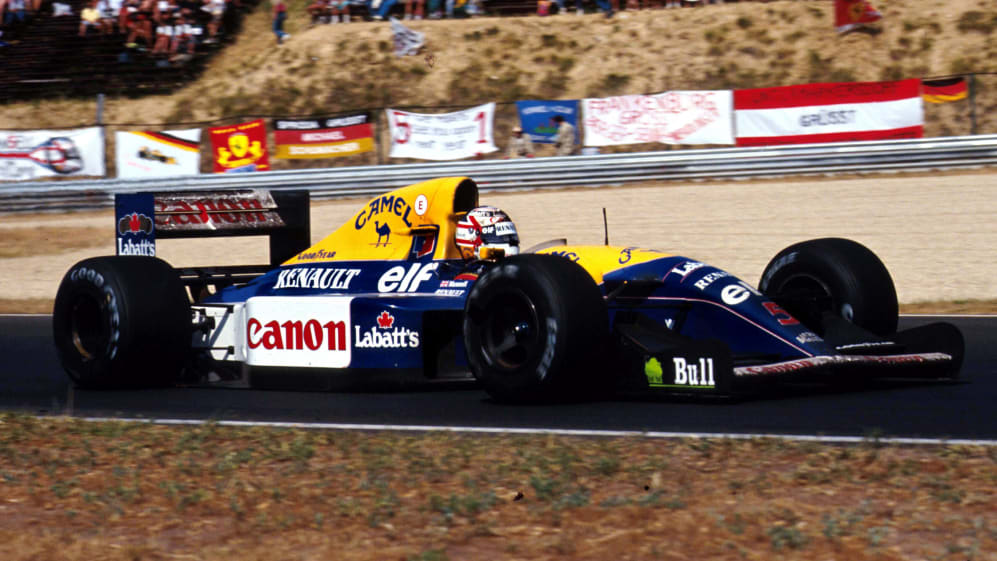 Still regarded as one of the most advanced racing machines ever built, the FW14B was the embodiment of Williams' incredible pursuit of technical supremacy. Designed under the watchful eye of Patrick Head and Adrian Newey, it featured an array of cutting-edge technology, including traction control, anti-lock brakes, active suspension and a semi-automatic gearbox. Armed with this highly tuned beast, Nigel Mansell – whose attacking style suited the car down to the ground – won 9 of 16 races in 1992, as well as the drivers' championship, while Riccardo Patrese added a further victory as the team swept to a fifth constructors' crown.
Number of drivers' titles: 7
Seven drivers' titles is a mighty number in itself, but Williams might have had even more. Carlos Reutemann came within a point of the crown in 1981 after a disappointing final race in Las Vegas, while Nigel Mansell and Nelson Piquet both narrowly missed out in a dramatic 1986 season decider in Adelaide. And who can forget the controversial clash with Michael Schumacher at the same circuit that prevented Damon Hill from claiming the title in 1994?
Number of constructors' titles: 9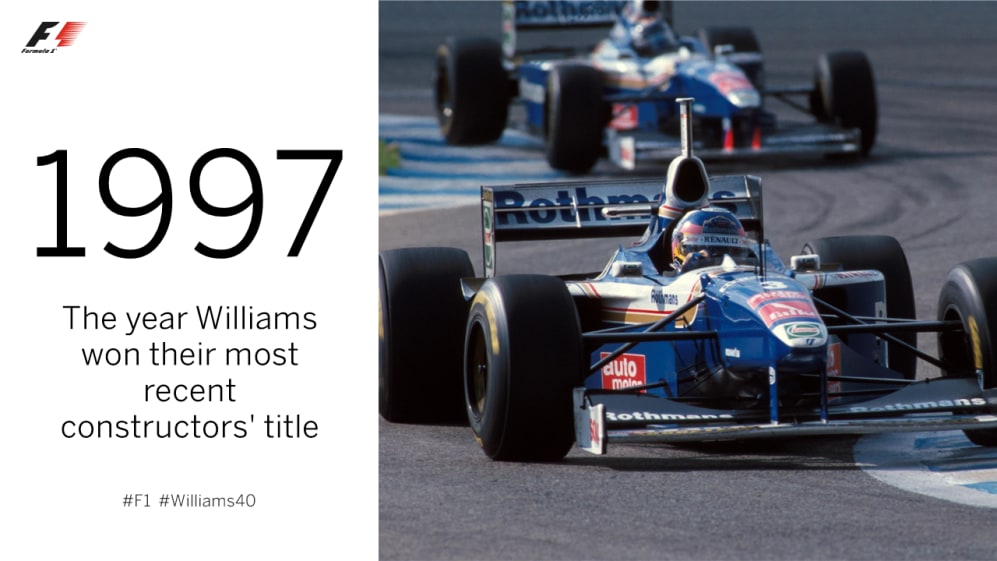 Williams won their first constructors' crown in 1980 – and followed it up with another title the following year. A switch to Honda power brought another pair of titles in '86/'87 with Nigel Mansell and Nelson Piquet at the helm, before Williams began their most lucrative engine tie-in to date with Renault – a partnership that netted five constructors' titles in six years, the last of which was in 1997.
Fastest ever lap: Juan Pablo Montoya, 2004 Italian Grand Prix
It took 17 years for Rosberg's monumental Silverstone average speed to be broken – and appropriately enough it was another Williams driver who did it: the similarly spectacular Juan Pablo Montoya, who lapped Monza at an average of 161.4 mph. Two years later the feisty Colombian went faster still at the Italian track, lapping at an average of 162.9mph (see above). It remains the fastest lap in F1 history.
Number of drivers to have started a race for Williams: 39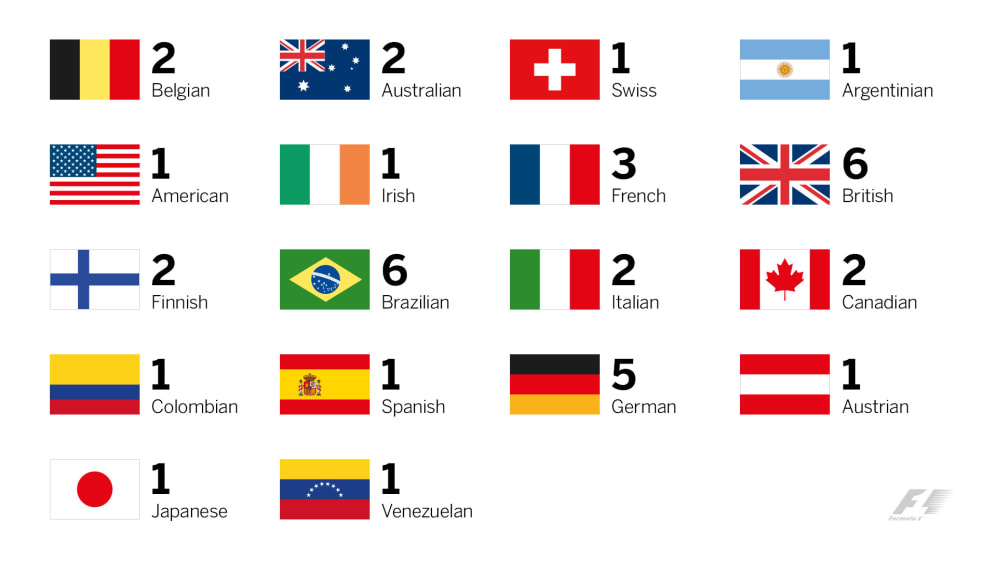 Drivers of 18 different nationalities have started a race for Williams, with Britain and Brazil providing the most. Jonathan Palmer (father of current Renault driver Jolyon) was the first Briton to race for the team, though he only had one world championship start for Sir Frank – the same as Mario Andretti (who made a one-off appearance in 1982), Martin Brundle and Jean-Louis Schlesser (who both deputised for a sick Nigel Mansell in 1988).
Longest serving driver: Nigel Mansell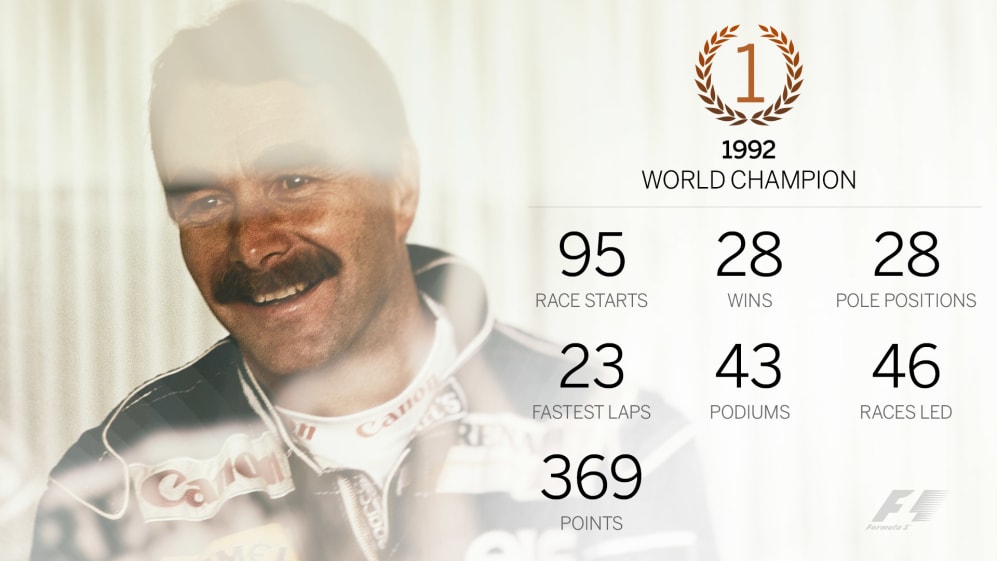 As well as holding the record for most races started (one more than Ralf Schumacher), the hard-charging Brit – in many ways the archetypal Williams driver – leads the team in most other statistical categories, including wins (seven more than Damon Hill), pole positions (eight more than Hill), fastest laps (four more than Hill), podiums (three more than Hill) and races led (four more than Hill). He would have the most points too, but thanks to the change in point-scoring systems, Valtteri Bottas holds that honour.
Biggest winning margin: Damon Hill, Australia 1995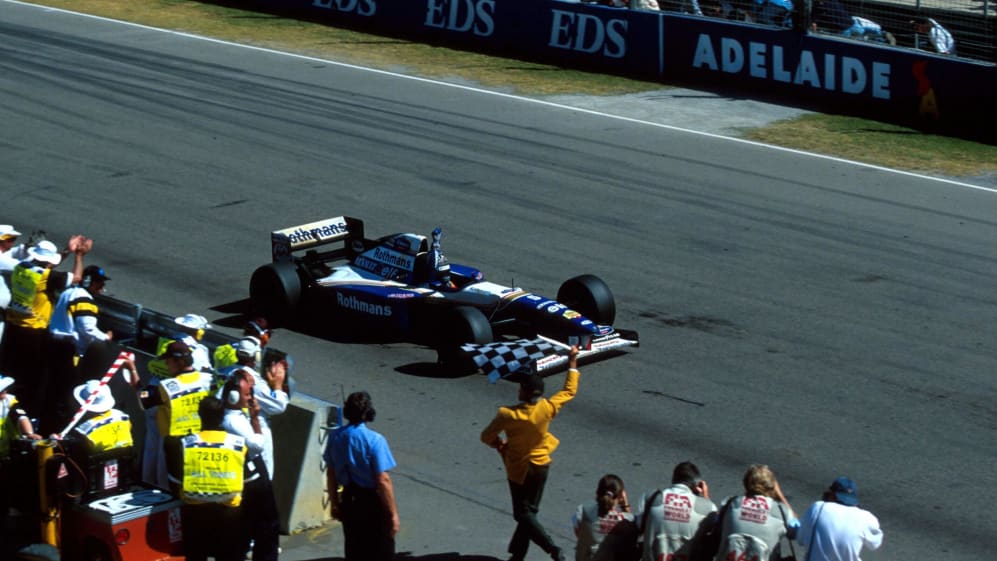 After team mate David Coulthard had embarrassingly crashed out of the lead while entering the pits, Damon Hill seized the initiative in Adelaide, finishing more than two laps clear of second-placed Olivier Panis – one of the biggest winning margins in F1 history.
Best individual performance: Nigel Mansell, 1987 British Grand Prix
There are many contenders that could go into this category – Damon Hill's drive in the wet at Suzuka in 1994 is certainly another standout – but for sheer drama Nigel Mansell's charging drive at his home race in 1987 is hard to beat. Faced with a 30s deficit to team mate (and title rival) Nelson Piquet, the bloody minded Brit roared back onto the Brazilian's tail before passing him for the lead with three laps to go via the mother of all dummies. Heroic stuff.
Best debut: Jacques Villeneuve, 1996 Australian Grand Prix
Not content with beating Williams team mate Damon Hill to pole position in qualifying – becoming the first driver since Carlos Reutemann in 1972 to start from P1 on his debut – Jacques Villeneuve then led confidently in the race until he was forced to slow in the closing stages because of an oil leak. He eventually finished a fine second behind a relieved Hill, who he'd end up pushing all the way for the drivers' title.
Most audacious overtake: Nelson Piquet, 1986 Hungarian Grand Prix
Rated by some as the greatest pass in F1 history, Nelson Piquet's audacious sweep around the outside of Ayrton Senna's Lotus - completed with wheels-on-the-grass, opposite lock flamboyance - proved the decisive moment in the historic first race behind the 'Iron Curtain'. Turn 1 has witnessed many passes since, but none as breathtaking.
Biggest fallout: Alan Jones and Carlos Reutemann, 1981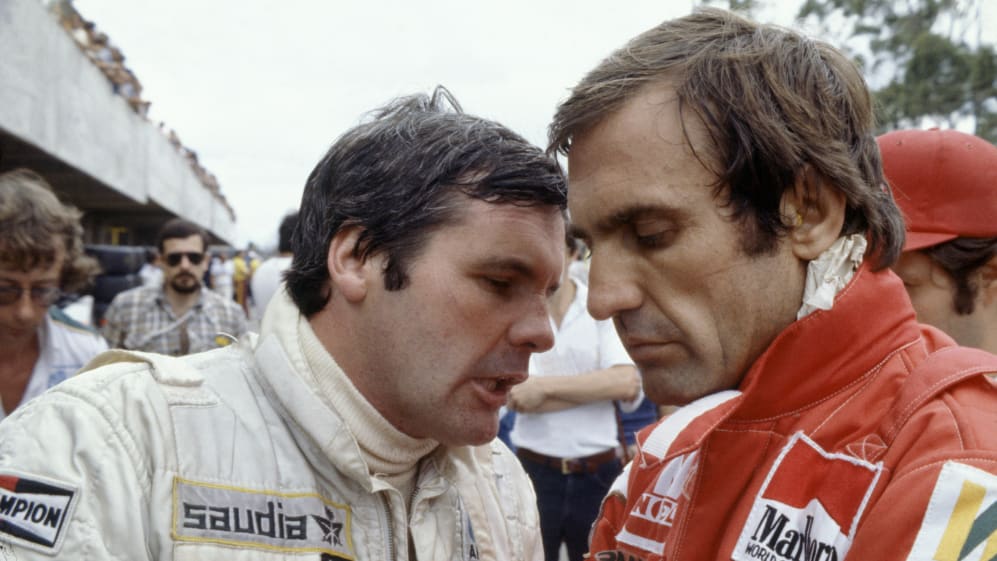 Nigel Mansell and Nelson Piquet were hardly bosom buddies during their time as team mates – quite the opposite in fact – but in terms of the biggest single fallout between Williams drivers, it's hard to look past Alan Jones' rift with Carlos Reutemann in 1981. At the heart of the matter was Reutemann's contractual status as number two, which required him to cede position to Jones – something he defiantly refused to do when the duo were running one-two in Brazil. Jones hit the roof and from then on relations between the two drivers were never less than frosty. According to legend, when Reutemann eventually moved to bury the hatchet, Jones reportedly replied: "Yeah, mate, right in your f****** back!"
Number of engine partners: 10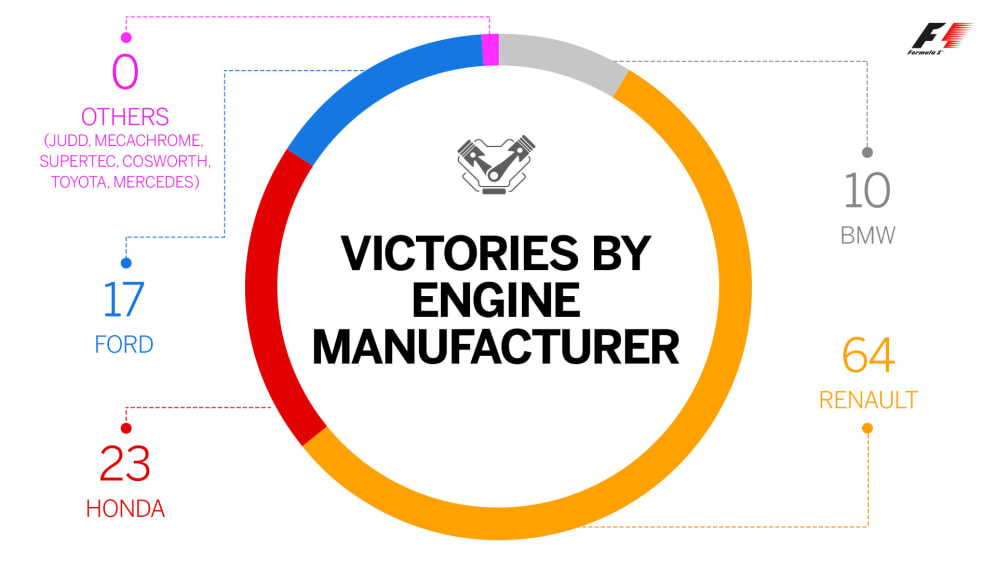 Williams have had 10 different engine partners since their debut in 1977, but their partnership with Renault stands out above the rest. They're yet to win with current power unit provider Mercedes, but who knows?