Feature
Winners and losers - China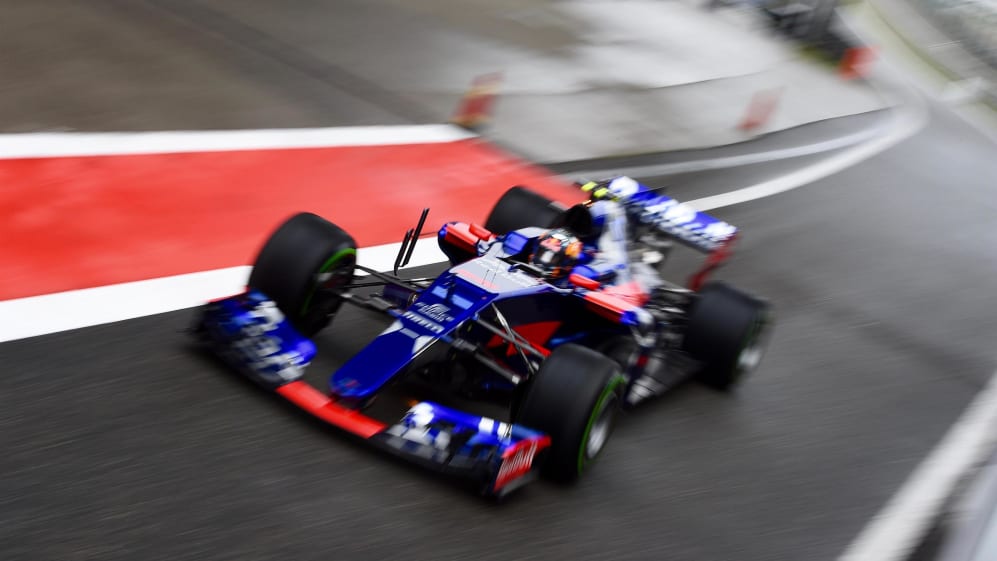 The weather dominated the opening day of the 2017 Formula 1 Heineken Chinese Grand Prix, but the last was all about the racing. So who left happy with their takeaway, and who suffered an unpleasant Shanghai surprise?
The Winners
Mercedes' fightback...
No matter how brave a face they put on their defeat in Melbourne, Mercedes badly wanted to win in China. For the first time since the hybrid era of F1, the team were vulnerable.
With Ferrari gaining momentum, the Silver Arrows needed to fight back. They did just that.
This might not have been as dominant a win as in previous years, but it was what was necessary. Oddly enough it was also only the third grand slam in Lewis Hamilton's career, as the Briton added to his pole by taking victory, the fastest lap, and leading every lap. If all behind him was breathless, Hamilton was at his serene, clinical best - and so too were Mercedes.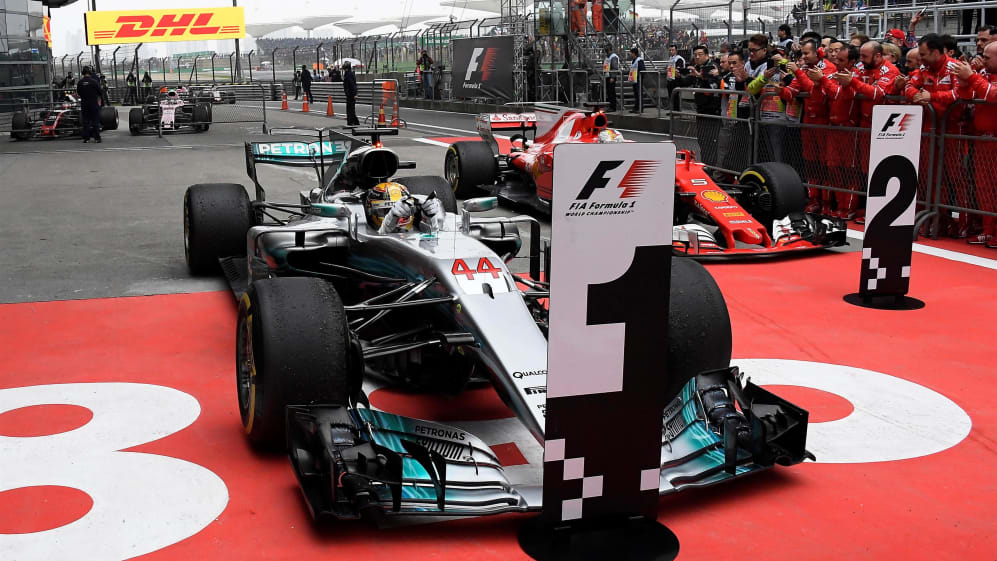 ...and the looming title fight
The first tie for a championship lead since 2012, and further proof that there is almost nothing to choose between Ferrari and Mercedes (quite literally in qualifying, where just 0.001s split Vettel and Valtteri Bottas). As Hamilton himself put it: "I think it's going to be one of the closest ones, if not the closest I've personally ever experienced - and I'm looking forward to this fight..."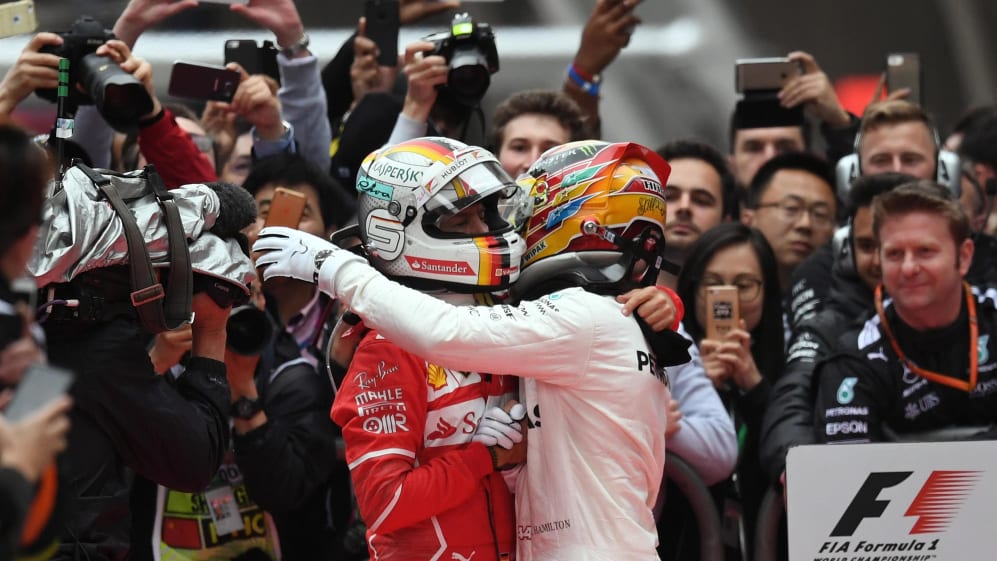 Red Bull's flying Dutchman
When Max Verstappen completed the first lap in seventh place after starting 16th, you knew you were watching another of the Dutch star's extraordinary performances. He was sixth on lap two, fifth on lap three. And once the race restarted following the safety car, he made short work of Kimi Raikkonen and team mate Daniel Ricciardo to sit second, within a few seconds of the lead. It was something special.
As it turned out, Verstappen was using his rubber at a faster rate than his rivals, and he therefore had to stop again - triggering everyone else to follow suit. That just cued up a fresh charge, as he picked off Bottas and Raikkonen once again.
But there is far more to Verstappen's game than overtaking. As his rubber faded, Ricciardo closed back in, demanding Verstappen be inch perfect under severe pressure from one of the game's best passers. It all came down to the final run to Turn 14, one of the trickiest braking points of the season - but despite the intensity Verstappen was unflappable. An eighth career podium - and his first when starting outside the top 10 - were just rewards.
"That was a very special race," he smiled. "When I woke up this morning I never expected to be on the podium. I always enjoy driving in the wet so I made the most of the fun conditions early on. We had it Maxed."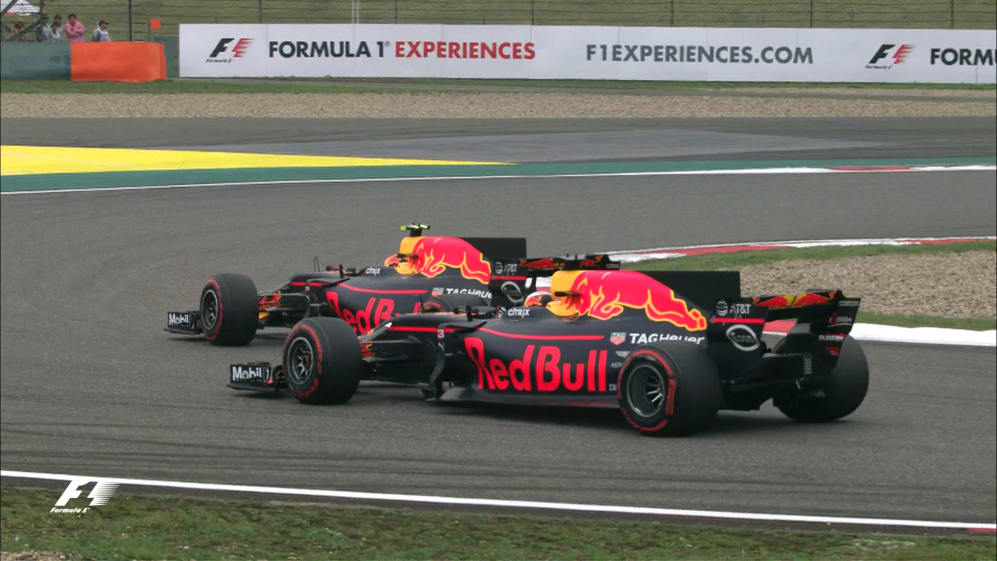 100 up for Red Bull
Verstappen's third place was significant for another reason: it was the 100th race in which Red Bull have taken a podium (and their 136th podium in total). Having entered in 2005, the team have started 226 Grands Prix in total - a conversion rate of 44 percent.
Only five teams have broken past the 100 mark - Ferrari, McLaren, Williams, Lotus and Brabham.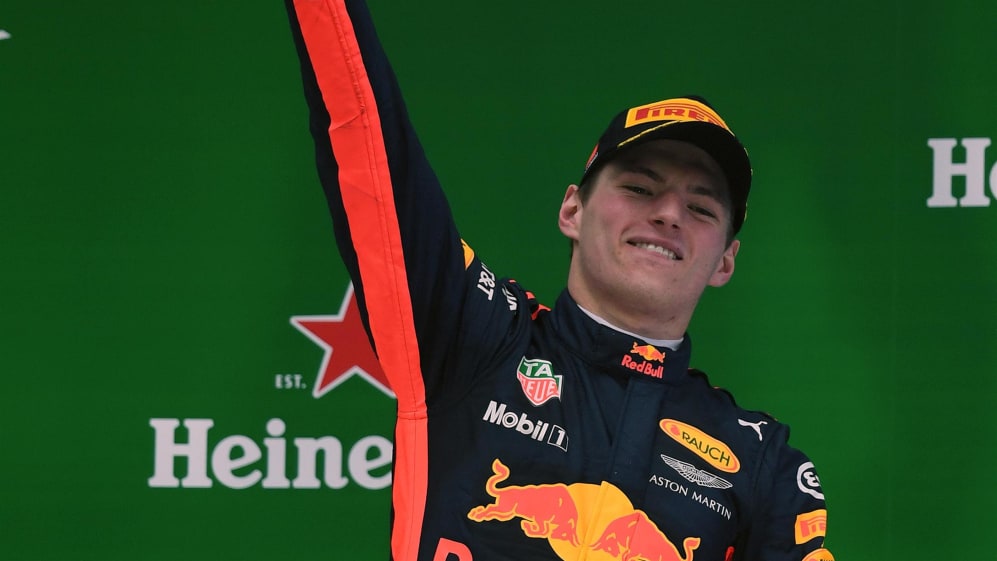 Carlos Sainz and bravery
While every driver conceded it was a tough choice between intermediate and slick tyres for the race start, only one made the gamble on the dry tyre. It was Sainz's call to roll the dice - indeed he admitted team bosses Franz Tost and Helmut Marko looked at him askance when he made the call.
"On the grid I said I wanted to start the race on slick tyres and everyone thought I was completely mad! It sounds like a funny moment now, but when everyone took the blankets off the tyres and my race engineer told me that we were the only ones the supersoft tyre I doubted my decision…"
It nearly ended in disaster too. From 11th on the grid, the Spaniard was at the back of the pack before he even reached Turn 1 as he struggled massively for any sort of grip away from the line. A few laps later, behind the safety car, he went off at Turn 2 and tagged the wall trying to rejoin.
"The tyres were losing temperature and I pushed too hard and spun," he explained. "I hit the barrier when I was getting back in the right direction, and it was a big hit with the left rear wheel. I was really scared!"
But fortune favoured the brave. Sainz survived the impact and began making progress - at one stage even inserting himself into a fight for the lead, along with Hamilton, both Ferraris and both Red Bulls. He would wind up seventh, best of the rest behind the top three teams - and having made a mark with his bravery.
"The gamble definitely paid off! It was just an incredible race, I felt so comfortable in the car today and to finally cross the line in P7 is a great result!"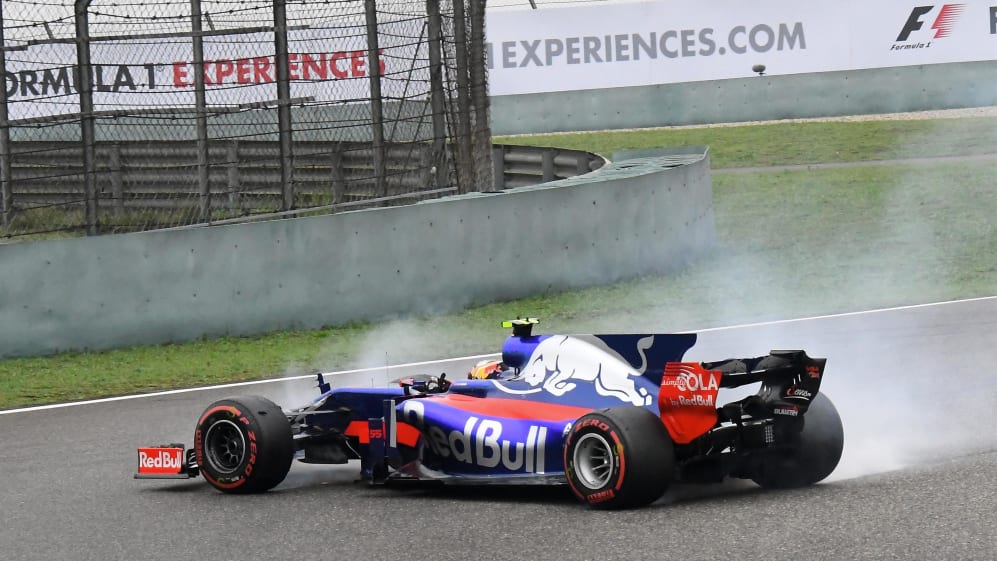 Haas seize their opportunity
Haas garnered four points courtesy of a feisty drive from Kevin Magnussen, who took on and beat the Force Indias. And with a little better luck in qualifying, they might have had Romain Grosjean in the points too. But on a weekend when changing conditions, safety cars and intense racing stretched the drivers and strategists alike, Haas came through for their first points of the year.
"I had a good car all the way through the race," Magnussen revealed. "I'd made a really poor start, so to come back from that and push, I was really happy.
"The race was really well managed. It was good strategy to get me out on the supersoft after the intermediates. You had to fight for it, in terms of passing. It's not easy, but you also have grip, so you can take different lines and get close in alternative ways. It's so much more fun when you're fighting in the points."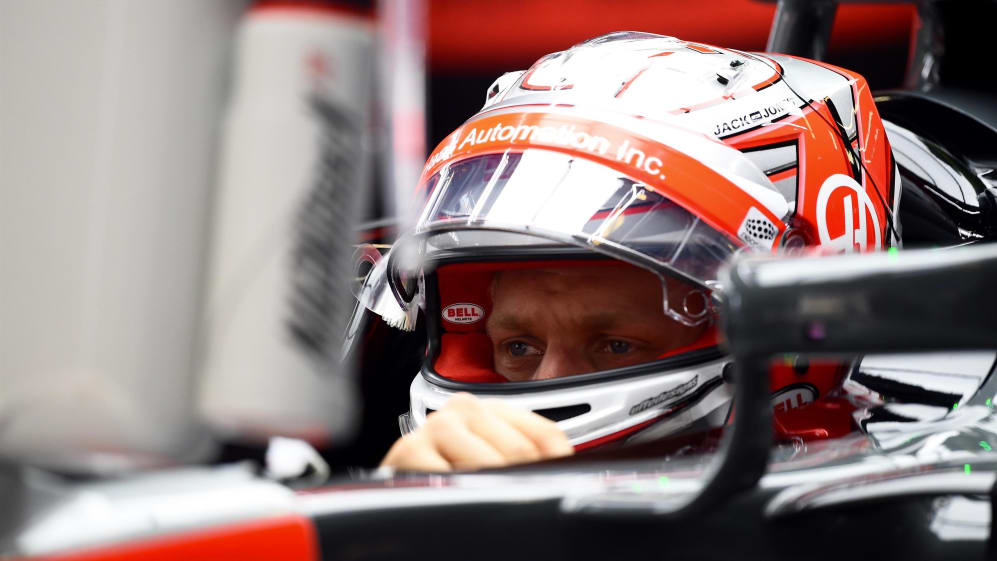 Alonso's Shanghai heroics
Fernando Alonso once again dragged his McLaren to positions in which it had no ostensible right to be in China. Thirteenth on the grid became eighth at the end of lap one, and by lap 10 he was up to seventh, just 9s off the lead.
It wasn't fleeting either. He was still seventh on lap 33, when he and compatriot Carlos Sainz duelled for position - Alonso once again demonstrating his lightning sense of opportunity to dive back past Sainz even after losing position on the back straight. He couldn't hang on, and neither could his car, as technical gremlins struck and forced him to bow out. A second straight retirement then - but equally a second straight reminder that the two-time champion remains one of the most magnificent drivers in F1.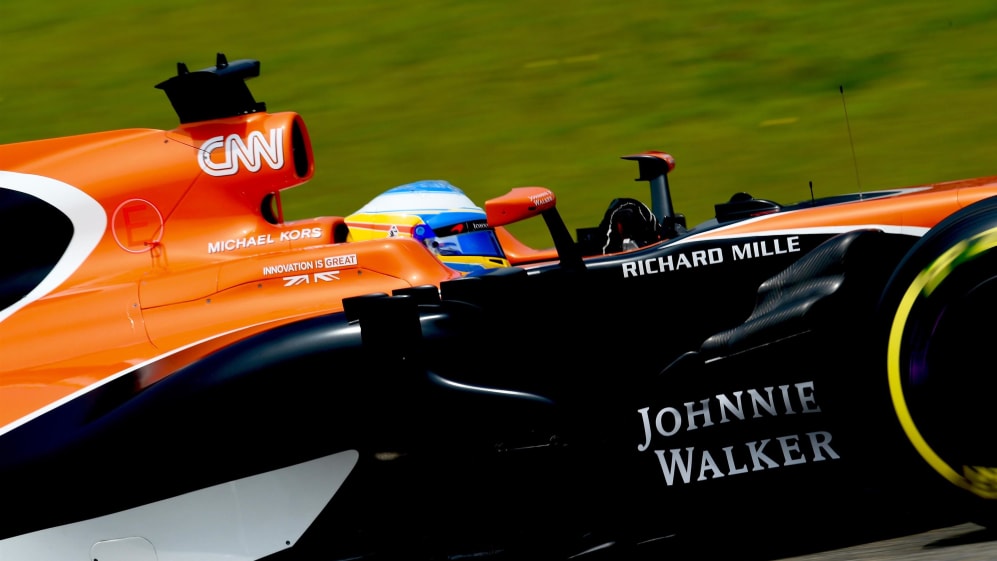 The F1 fans - at home and the circuit
For the second race of 2017 the field went to the grid with uncertainty over the identity not just of the winning driver, but also the winning team.
There was uncertainty too in terms of the weather, which had a part to play in a dramatic start as Sainz gambled, Lance Stroll and Sergio Perez clashed, and Antonio Giovinazzi came unstuck.
The action didn't abate. There were more than 50 overtakes in total, including some spectacular moves from the likes of Verstappen, Ricciardo and Grosjean - including an early contender for move of the season as Vettel and Ricciardo went wheel-to-wheel, quite literally, at Turn 6.
Then there was the sportsmanship between the top three drivers afterwards, and the general atmosphere generated as huge numbers of Chinese fans flocked to the circuit to salute their heroes. A special race - and 2017 is only just getting started.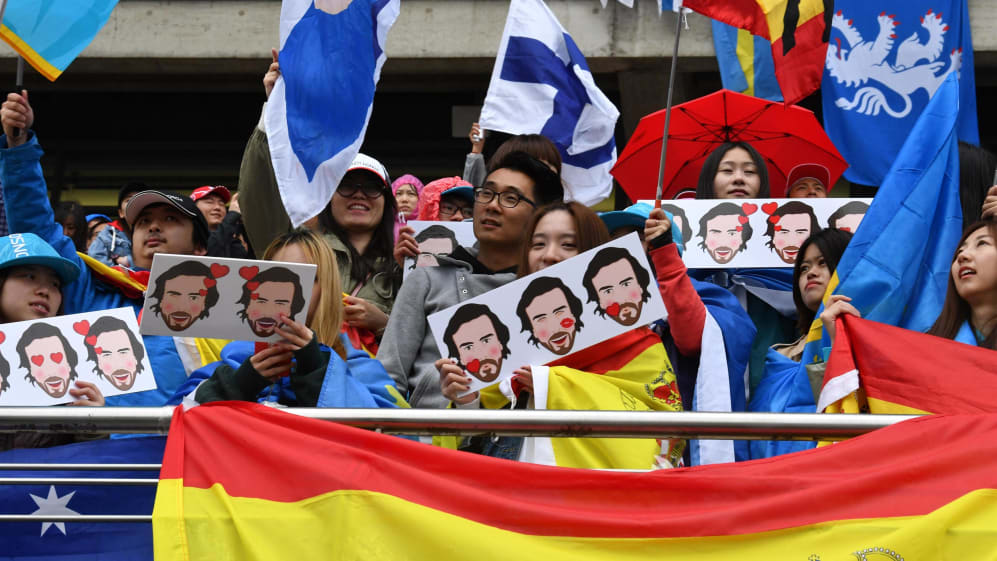 The Losers
Valtteri Bottas
Unlucky to miss out on the front row by just 0.001s, Bottas nevertheless made a strong start to challenge for second into Turns 1 and 2, and looked settled in third during the early stages.
His race took a hit during the first round of stops, as a slow pit led to him being released in fifth - but the major mistake was entirely of his own making as he spun behind the safety car, having overstepped the mark while trying to warm his tyres.
As Bottas labelled it an 'amateur mistake', Mercedes backed him to bounce back. His pace during the race was strong too, allowing him to fight his way back up to sixth, within a handful of seconds of Verstappen in third. Even so the Finn is under pressure - with a one-year deal at Mercedes, he needs to prove he is worthy of an extension. Repeat performances of Shanghai will not exactly help his cause...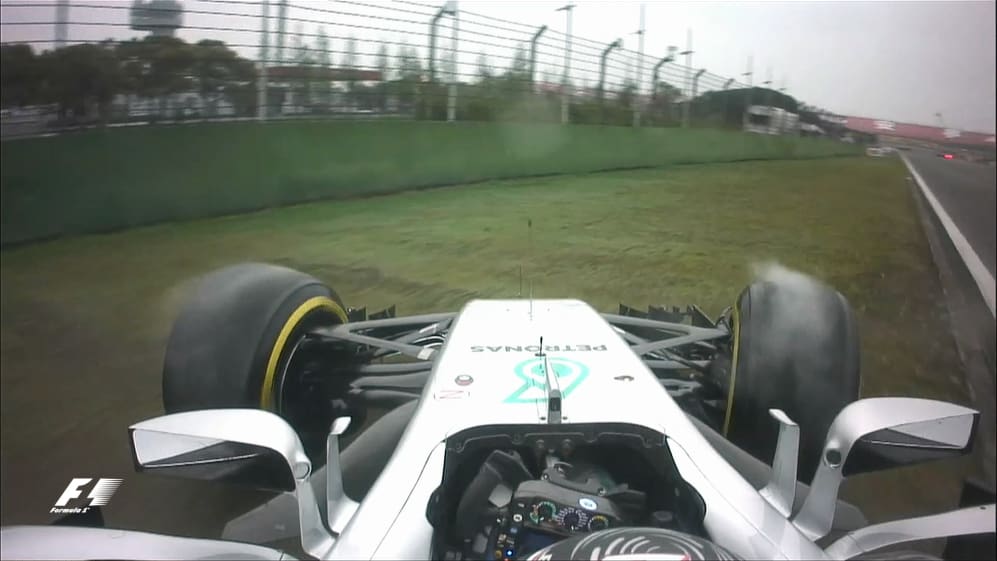 Ferrari and fine margins
With just slightly better fortune, Ferrari would have been in the winners' column for the second time in a row, and in truth they didn't really lose in China. They just finished second.
Having beaten Bottas to a front-row starting spot by the finest of margins, Vettel kept second place after a bold round-the-outside run from Bottas in the first turn, then pitted at the end of the lap for slicks as Hamilton, Bottas, Ricciardo, Raikkonen and Verstappen elected to stay out. The German's strategy looked great, until the Virtual Safety Car skewed things and then a full safety car threw the advantage back with the top five. He then had to fight back, and oddly was trapped behind his own team mate until lap 20 despite the Finn complaining of torque problems. Had he been prevailed upon to give way sooner…
Then there was time lost catching and passing the Red Bulls, and by the time the red car was clear, Hamilton was just too far away in a well-matched car.
Raikkonen, meanwhile, was perplexed by the team's decision to leave him out for five extra laps compared to Vettel - which effectively dropped him behind the Red Bulls and limited him to fifth at the flag. In the Finn's own words, "I feel we should have done much better..."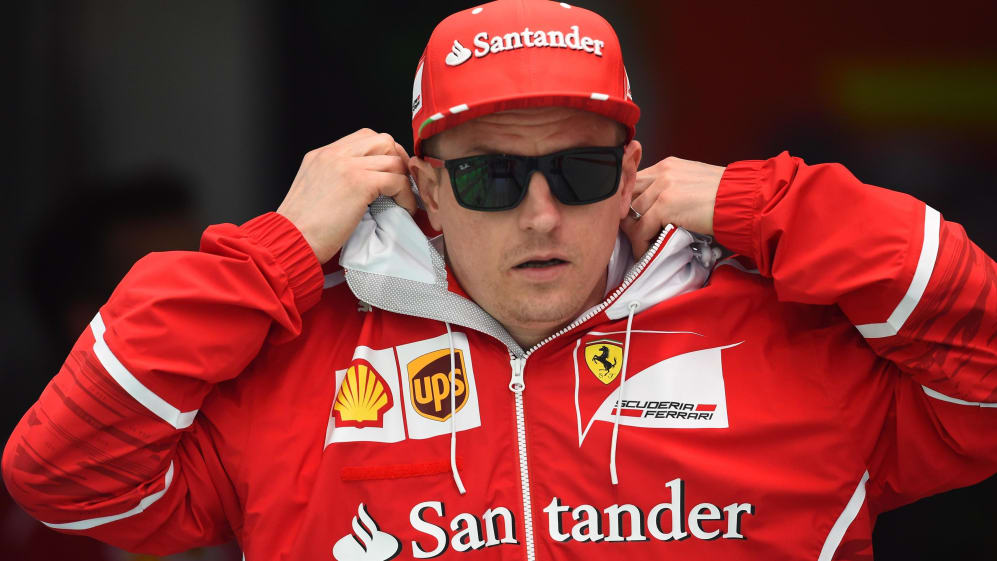 Renault's race unravels
Simply put, Renault had a horrible race. Palmer lined up 20th, due in part to a five-place penalty in qualifying, and with little to lose decided to pit for slicks before the start - a gamble that didn't pay off as he spun. Hulkenberg, meanwhile, had lined up seventh, was sixth after the start, and opted to pit after lap one. That dropped him to the back of the field - and as the VSC and then safety car were called, the German lost out heavily. By lap 10 he was 14th, just two spots ahead of Palmer.
Worse was to follow. A five-second penalty for overtaking under the VSC - unfortunate given the overtake was on a car exiting the pits, and came down to a matter of centimetres - was followed up by a penalty for overtaking under the safety car. His final stop elongated by 15s, Hulkenberg could do no better than 12th, one spot ahead of his team mate, when points should have been possible.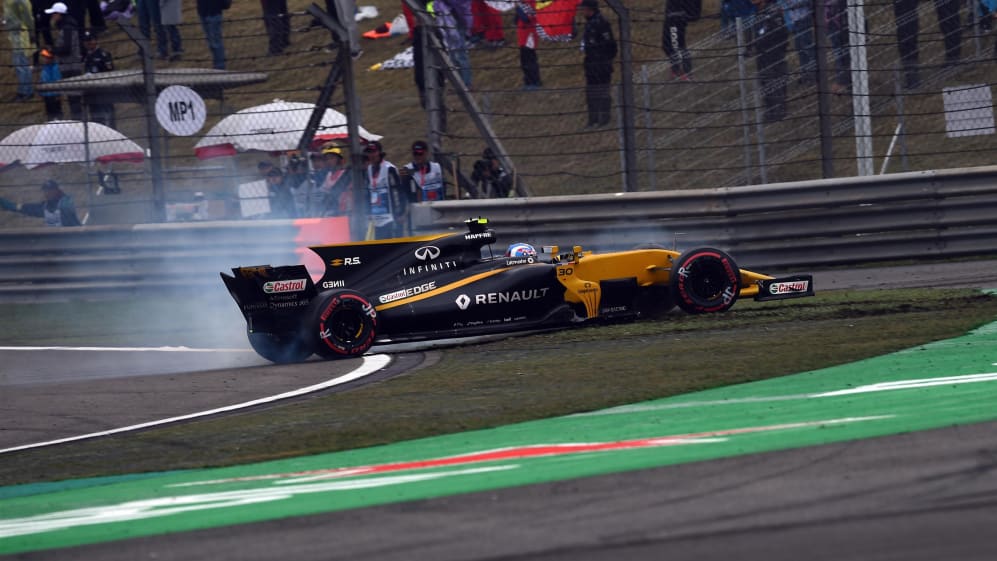 Williams fail to convert
Williams were the only team outside the top three to get both cars into Q3 on Saturday. But such promise fell apart on Sunday, as they left China with 14th and a first-lap DNF.
Lance Stroll's rookie start continues to tread a challenging path - he has completed just 40 racing laps, the fewest of any driver. His undoing came in the melee of lap one - Sergio Perez tried to nose up the inside at Turn 4, Stroll was not aware and turned in as normal, and was duly flicked into the gravel and out of the race. The stewards investigated, but deemed it a racing incident.
Massa, meanwhile, went into freefall. Completely unable to generate the tyre temperatures needed, his race instead became a parallel to ice skating as he slid down to a distant 14th.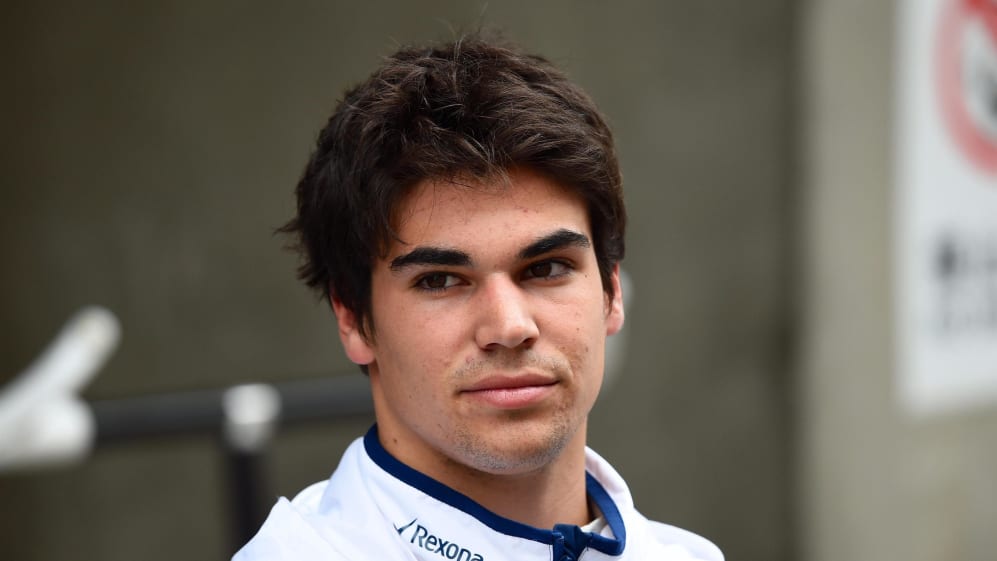 Antonio Giovinazzi
It would be unfair to judge the Italian too harshly given his lack of experience - the inevitable downside of being drafted in to replace the absent Pascal Wehrlein. But he did at least come into Shanghai with wet-weather experience, having run for Sauber during the pre-season wet tyre test at Barcelona.
Given the limited window of opportunity before Wehrlein returns, Giovinazzi didn't do his cause many favours, however, by crashing twice in two days.