Feature
F1's Best Drives #10 – Schumacher walks on water in Spain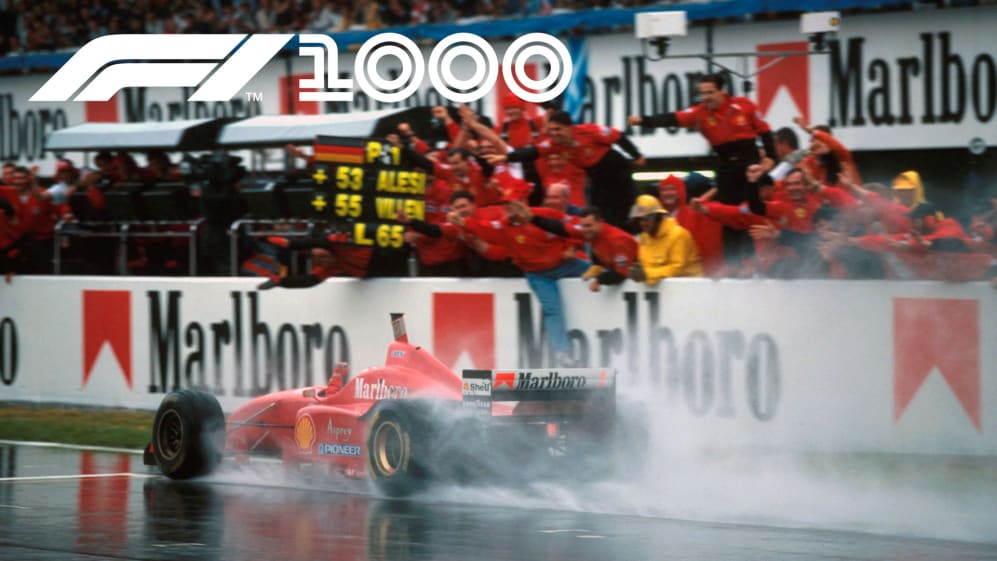 The upcoming Chinese Grand Prix will be the 1,000th race in the world championship's glorious history, and in celebration we're counting down the 10 best performances of all-time, from virtuoso drives to brilliant comebacks. And who better to curate our list than Hall of Fame journalist David Tremayne, who has been on the ground at more than half of all of the F1 races run to date. Kicking off DT's list, a certain German megastar…
Who:
Michael Schumacher
Where:
Circuit de Catalunya, Spain
When:
1996
Race number:
588
Neither Michael Schumacher nor Ferrari boss Jean Todt allowed themselves to get carried away when the German won the 1996 Spanish GP in stupendous style in the rain. "This is not the time to talk of the dawning of a new age," the Frenchman, who is now FIA President, cautioned. "We have won one race. Our objective is to continue improving."
But this was an historic moment, the first success for their new alliance that was running in only its seventh race. They had laid down a marker – and in some style. Nobody could know at that moment just how successful the partnership would be in the years to come, with titles from 2000 to 2004, but the manner of Schumacher's dominance certainly got the attention of Sir Frank Williams, who had seen Damon Hill win four of the first six races and his other driver Jacques Villeneuve one of the other two, and spoke of the threat Ferrari posed for the future.
Poor weather had prompted the suggestion that the race might be started behind the Safety Car, but when a last-minute cessation of the heavy rain occurred, a normal grid start was employed.
Villeneuve made the best start from second, as Hill, Schumacher and Eddie Irvine in the second Ferrari all lagged off the line. Thus Jean Alesi and Gerhard Berger in their Benettons sandwiched third-placed Hill, with Rubens Barrichello pushing his Jordan ahead of Irvine and Schumacher.
His fastest lap was a whopping 2.2s faster than anyone else's
As Irvine spun off on the second lap, Schumacher lost no time closing on Berger, and soon they were fighting for third place as Hill uncharacteristically went off the road two laps later, spun four laps after that, and another three laps later spun and hit the pit wall.
But Schumacher was having no such problems in the dreadful conditions, indeed he was revelling. He relieved Berger of his place on the fifth lap, overtook Alesi – himself considered a strong wet-weather driver - on lap nine and then Villeneuve on lap 12. Once in the lead he simply drove away from the field, setting a string of fastest laps that saw his advantage stretch from 2.9s on lap 12 to nearly 15s on lap 15.
His 14th lap was the race's fastest, a whopping 2.2s faster than anyone else's. This was even more remarkable when you consider that in dry conditions in qualifying, his Ferrari had been nearly a full second slower than the Williams duo.
In the end he finished 45s ahead of Alesi's Benetton, but like Jim Clark's majestic wet-weather triumph at Spa in 1963, Schumacher's success was not without its problems. His engine began to run roughly from the 18th lap before clearing, but the misfire soon returned as the unit ran on only eight or nine of its 10 cylinders after his lap 24 tyre stop.
Yet despite losing 10 km/h on the straight, his thoroughly deserved win was never in question. That day he and Todt broke ground and laid the foundation for the years of domination that lay in their not too distant future, and would make him numerically the most successful driver in F1 history.