Feature
F1's Best Drives – Moss withstands the might of Ferrari at the Nurburgring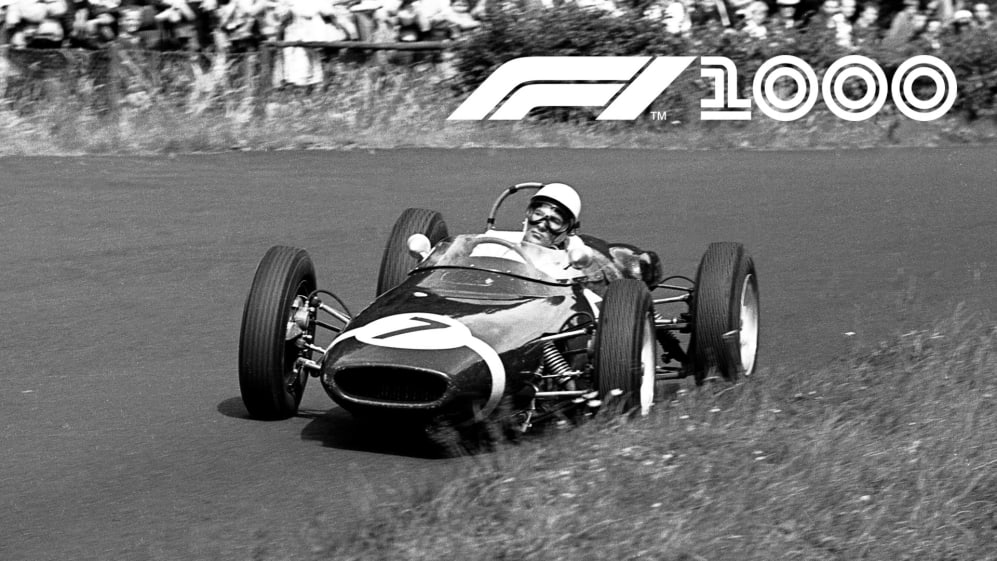 Last year saw the 1,000th race in the world championship's glorious history, and in celebration we counted down the 10 best performances of all-time, from virtuoso drives to brilliant comebacks. Here, Hall of Fame journalist Daid Tremayne looks back at Stirling Moss' David vs Goliath victory at the Nurburgring in 1961, as he bravely withstood an all-out Ferrari assault to triumph in his under-powered Lotus.
Who:
Stirling Moss
Where:
Nurburgring, Germany
When:
1961
Race number:
100
Stirling's great drive at the 1961 Monaco Grand Prix to defeat the Sharknose Ferrari 156s of Richie Ginther and Phil Hill is one of the magical stories of the race's history, as he steered his underpowered four-cylinder Climax-engined Rob Walker Lotus 18 to a 3.6s victory.
But in many ways, his triumph over Hill and his title-contending team mate Wolfgang von Trips three months later in the German Grand Prix was even greater, given that the Nurburgring was the sort of sweeping, open track on which they could really use all the power of their flat six-cylinder engines.
But Moss could make the impossible possible, and the Nurburgring was a drivers' circuit.
READ MORE: F1's Best Drives #5 – Fangio's race of a lifetime
Hill took pole position from Jack Brabham in his newly Climax V8-engined Cooper, Moss in Walker's now slightly updated Lotus 18/21, Jo Bonnier's Porsche and Trips.
Heavy rain just before the start led to confusion over tyre choice, but soon Moss was leading on his Dunlop D12 'Green Spot' rain tyres, after surviving some of Brabham's tough tactics in trying to keep him behind. Soon Hill and Trips, who continued their season-long intra-team battle, were his main challengers after Brabham had slid off the road.
Moss had driven flat-out all the way on the world's most demanding track, putting all concerns about his tyres' durability from his mind
Stirling had liked the tyre in practice and knew that he needed to run them in the race if he was to have a chance against the Ferraris, much to the consternation of Dunlop's Vic Barlow, who was deeply concerned that they would fail at high speed if the track was dry. Stirling told him that he had no choice.
As long as the track was wet, the risk was minimal, but as it steadily began to dry out, the risk increased and the advantage transferred back to the Ferraris. Moss should never really have been leading as it was, since he was giving away some 30bhp, and soon Hill and Trips were reeling him in.
READ MORE: F1's Best Drives #6 – Villeneuve wrestles unfancied Ferrari to victory
With three of the 15 laps left, the red cars were beginning to hound their dark blue rival. But then it began to rain again, and he pulled out a fresh advantage as the 156s slithered and slipped their way round in his wake. By the time Trips had found a way past Hill, to beat him by 1.1s and place himself in firm contention for the title which he hoped to settle in the next race, at Monza, Stirling was already 21.4s further up the road than the ill-fated German aristocrat, and receiving the winner's laurels.
He had driven flat-out all the way on the world's most demanding track, putting all concerns about his tyres' durability from his mind, and it was one of his finest performances. Afterwards, he and Trips laughed happily as they shared the wreath, neither knowing they had enjoyed their last F1 victories. Trips, having won the British Grand Prix at Aintree in July, would die in a crash at Monza, leaving Hill to clinch the title, while Moss would finish neither there nor in the finale at Watkins Glen.
His heavy crash at Goodwood the following April, meanwhile, then brought to an end his extraordinary F1 career.
This article was originally published in April 2019