Feature
F1's Best Drives #9 – Button's against-the-odds Canadian comeback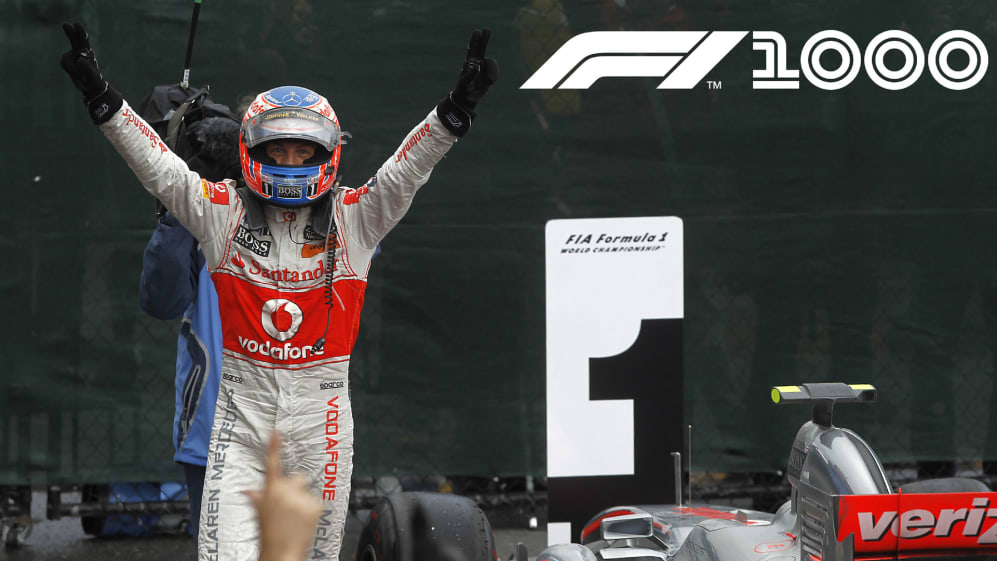 The upcoming Chinese Grand Prix will be the 1,000th race in the world championship's glorious history, and in celebration we're counting down the 10 best performances of all-time, from virtuoso drives to brilliant comebacks. And who better to curate our list than Hall of Fame journalist David Tremayne, who has been on the ground at more than half of all of the F1 races run to date. Here, he recalls Jenson Button's epic drive at the 2011 Canadian Grand Prix, which saw the Englishman emerge victorious over four and a half hours after the race had started!
Who:
Jenson Button
Where:
Circuit Gilles Villeneuve, Canada
When:
2011
Race number:
846
It was more like an endurance race than a Grand Prix, as the rain-spoiled 2011 Canadian GP on Montreal's Circuit Gilles Villeneuve took more than four hours to complete.
In the end it resulted in a sensational last-lap triumph for Jenson Button, who turned a series of disasters – including taking off team-mate Lewis Hamilton – into a sodden afternoon of reparation to McLaren.
The rain was so heavy that the event was started behind the Safety Car, and no sooner had it begun to dry out than much heavier rain fell.
READ MORE: F1's Best Drives #10 – Schumacher walks on water in Spain
Sebastian Vettel led easily for Red Bull from the Ferraris of Fernando Alonso and Felipe Massa, with the McLarens chasing the Mercedes duo of Nico Rosberg and Michael Schumacher. After inadvertently tapping Mark Webber's Red Bull into a spin on the second corner, Hamilton passed Button but dropped behind him again on the sixth lap after meeting stern resistance from Schumacher at the hairpin. As they completed lap 7, Hamilton pulled out to repass Button, who failed to see him and moved to his left, accidentally punting his team-mate into the pit wall and retirement.
As the Safety Car was deployed again, Button was given a drive-through penalty for going too fast behind the original one.
Halfway round the last lap, Vettel made a mistake. It was all Button needed
After serving that, he was for a while the fastest man on track on intermediate Pirelli tyres, but at the end of the 24th lap, the rain was so bad that the race was red flagged, with Vettel heading Kamui Kobayashi, who had yet to pit his Sauber, Massa, who had stopped, the Renaults of Nick Heidfeld and Vitaly Petrov, Paul di Resta's Force India, Webber and Alonso, and Button in 10th.
After 125 minutes of hurry up and wait, the race was finally restarted in that order.
Vettel soon pulled away again as Kobayashi held off Massa and Schumacher, who switched places on lap 51. Button, meanwhile, was charging back from last place after having to make an unscheduled stop after a collision on the 37th lap. On intermediates, then slicks, he had challenged Alonso until the Spaniard spun off and beached his Ferrari.
Heidfeld then ran into the back of Kobayashi, losing his front wing and triggering a fifth Safety Car period on the 56th lap.
The race went green again after five laps, and second-placed Schumacher found himself under intense pressure from Webber and Button.
The Englishman passed both Webber and Schumacher and set out after Vettel, who was 3.1s ahead. Then halfway round the last lap the German made a mistake and lost crucial momentum after sliding wide on a wet patch in one of the chicanes. It was all Button needed. After four hours, four minutes and 39 seconds the longest race in Formula 1 history was over – and despite his six pit stops, he was the winner.
"The last lap is always the important one to be leading," he laughed. "And I was leading half of it. If Seb hadn't made his mistake it would have been very tricky. It could have gone to the last corner, but when I saw Seb put a wheel on the wet, I thought, 'I'll take that!' I got some luck in the end, and I think I deserved that."