Report
F3: Collet reigns victorious in wet Sprint Race as Hadjar assumes championship lead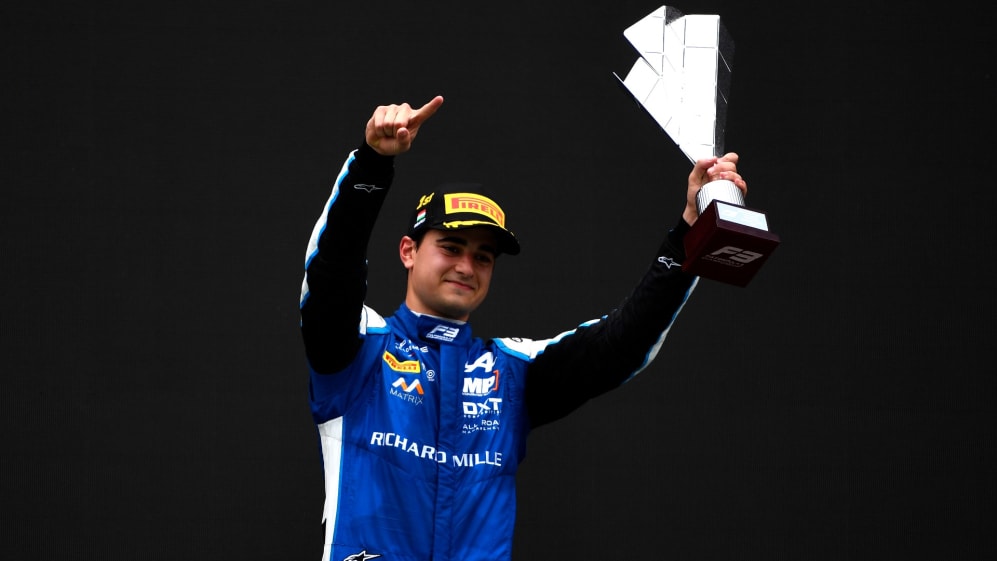 Caio Collet wrote his name into the books as he claimed his first Formula 3 victory, in the Hungarian Sprint Race. The Alpine junior overcame troublesome conditions in a frantic race to stretch a remarkable 8.7s advantage at the chequered flag ahead of Franco Colapinto and MP Motorsport team mate Kush Maini.
Reverse pole-sitter Oliver Goethe's debut got off on the wrong foot. An error, going wide on the rolling start because of the sodden Hungaroring circuit, allowed Colapinto to immediately snatch the lead into the opening corner and the Campos Racing driver steadily dropped down the order.
FP3: Sensational Latifi leads Williams 1-3 in wet final practice in Budapest as Leclerc takes P2
Meanwhile, his team mate David Vidales found the barrier to bring out the Safety Car on the opening lap. Executing the perfect restart a few laps later, Colapinto pulled away from Hadjar, allowing the Red Bull junior to fall back into Collet's clutches, who promptly swooped around the outside of him at Turn 1 for second.
Turning his attentions to the leader, the Brazilian threw everything he had at him until a third appearance from the Safety Car gifted him the opportunity he had been waiting for. A mistake from the Van Amersfoort Racing driver allowed Collet to dive past for the lead and in a flash, pull over a two second gap out front within a lap and he never looked back.
Oops! Error retrieving Twitter post
As the track continued to dry, several drivers became even more cautious with their wet Pirelli tyres, desperately trying to prevent them from falling off their performance cliff – except for Maini. Avoiding many of the battles early on, the Indian driver's tyres looked considerably healthier than those around him – making his way past Victor Martins, who was enduring an unusually untidy race littered with mistakes, a waning Hadjar, and fighting off Jak Crawford to cling on to the podium.
However, it was the fight outside the top three that proved to have the farthest-reaching consequences. A last-lap collision between Crawford and his PREMA Racing team mate Arthur Leclerc spelled disaster for both their races, sending them tumbling out of the points and earning the Monegasque driver a five-place grid drop for Sunday's Feature Race.
Consequently, Hadjar was promoted to an all-important fourth place, allowing him to dethrone Martins and take his place as the drivers' championship leader for the first time this season by one point. Oliver Bearman benefitted from the Leclerc/Crawford incident as the Ferrari junior moved up to fifth ahead of ART Grand Prix's Martins and Gregoire Saucy.
Oops! Error retrieving Twitter post
Staying out of trouble, Goethe managed to bring home eighth despite his first F3 race struggles early on and finished ahead of Trident's Roman Stanek and Zane Maloney.
In the teams' standings, things remain as they were for the top three teams, with PREMA leading ahead of ART and Hitech Grand Prix. A one-three finish for MP has been rewarded, as they move past Trident into fourth.
They'll have another shot at victory when Alexander Smolyar lines up on pole for the Feature Race, which is scheduled to get underway at 1005 local time on Sunday.