Report
F3: Mini overcomes late drama for Sprint Race victory in Budapest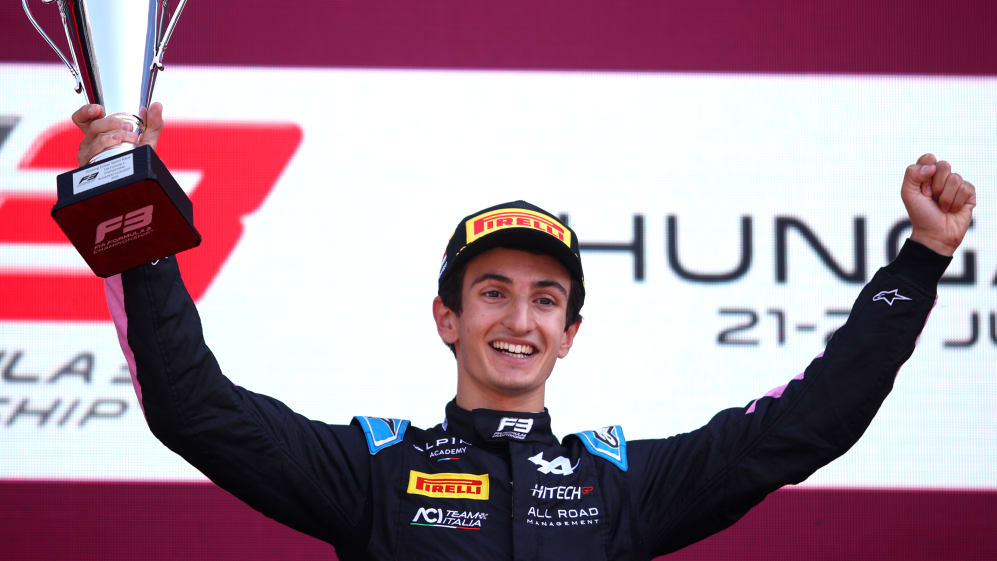 Gabriele Mini might have lost the lead off the line from reverse grid pole, but the Hitech Pulse-Eight driver took it back where it counted to take his second win of his rookie Formula 3 season. Gabriel Bortoleto strengthened his title lead to 46 points in second, as Nikita Bedrin fought hard to cling on to his maiden podium for Jenzer Motorsport.
Bedrin initially looked quickest off the line taking the lead around the outside of Turn 1, while Tommy Smith and Sebastian Montoya made contact on Lap 1.
F3: O'Sullivan and PREMA dominate wet-to-dry Budapest qualifying
Struggling to pass Christian Mansell at the start, Bortoleto took advantage of the DRS on Lap 7 to execute a late dive up the inside of the Campos Racing driver for third.
Out front, Bedrin left the door open for Mini to breeze past back into the lead on Lap 8, and the Alpine Academy junior steadily built up a two-second buffer to second and a further five-second gap to third.
Oops! Error retrieving Twitter post
Feature Race pole-sitter Zak O'Sullivan and Nikola Tsolov tangled at the midpoint of the race, with the Williams junior clipping the rear of the ART Grand Prix car, forcing the Briton to box with front wing damage.
A Safety Car wiped out Mini's advantage on Lap 13 after Montoya stopped on track. When racing resumed on Lap 17, Tsolov made contact with Josep Maria Marti, eliminating them both from the points.
F2: Doohan takes first pole of 2023 in Hungary qualifying
With only one lap left, Bortoleto pressured Bedrin to get a bad run out of the penultimate corner, and the Trident driver pounced to take second, as Mini took the chequered flag 4.2s clear.
Paul Aron and Oliver Goethe dispatched Mansell on the restart to claim fourth and fifth. Colapinto finished seventh, as the late contact ahead promoted Jonny Edgar, Gregoire Saucy and Dino Beganovic into the final spots inside the top 10.
For a full in-depth report of the FIA Formula 3 Sprint Race from Budapest, visit the official F3 website.