Feature
F3's newest champion Gabriel Bortoleto on his breakout season and what comes next
"The first thing I did when they told me it was over was undo my belts, but they were like, 'No, no, no, no! Don't leave yet, stay in the car, stay in the car! You need to drive back.' I just wanted to jump out and go around hugging everyone."
It's an odd scenario to win a championship during qualifying, but such was the level of performance displayed by Gabriel Bortoleto throughout the 2023 Formula 3 campaign, it was wrapped up before lights out in Monza.
HINCH'S HEROES: Hinch picks out his top performers from the Italian Grand Prix at Monza
The Brazilian was in imperious form from start to finish, with an incredible level of consistency that left rivals cut well adrift. His success is more understandable when you talk to the 18-year-old, who exhibits racing wisdom beyond his years.
One of the select few drivers under the management programme headed by Fernando Alonso, perhaps that shouldn't be too much of a surprise. His fast start to 2023 certainly wasn't to those in the Trident garage.
"Testing is testing," says Bortoleto. "We didn't know how other people were running but we were always very fast from that first day I got into the car. My mentality was that we would be able to finish in the top five. I arrived at a good level at the start of the season in Bahrain.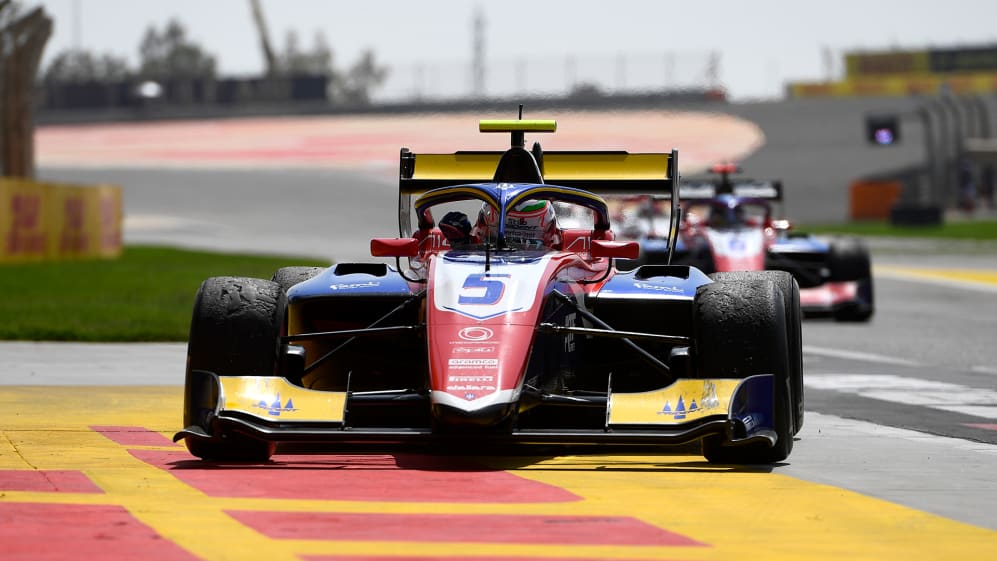 "It's an amazing feeling, knowing you're in a winning car at every track. I can trust that my car will be competitive and that I think is the greatest feeling you can have as a racing driver."
Taking the lead of the championship in race two of 18 in the 2023 F3 season, Bortoleto had a vice-like grip on things early on. Back-to-back Feature Race wins to open the campaign left his nearest rivals breathless, and he continued punching in top five results seemingly at will.
GRILL THE GRID: The drivers put their geography skills to the test as we crown our 2023 winner
It was when the championship returned to European shores that Bortoleto says the penny dropped and early-season confidence turned into full blown title aspiration – and the Sao Paulo native smartly shifted into management mode.
"I think after Melbourne, I realised that we really had the chance to win it. Trident were always quick in Bahrain and in Melbourne I managed to adapt my driving style quickly to the track, so I was like, 'Okay, let's go to Europe and see.'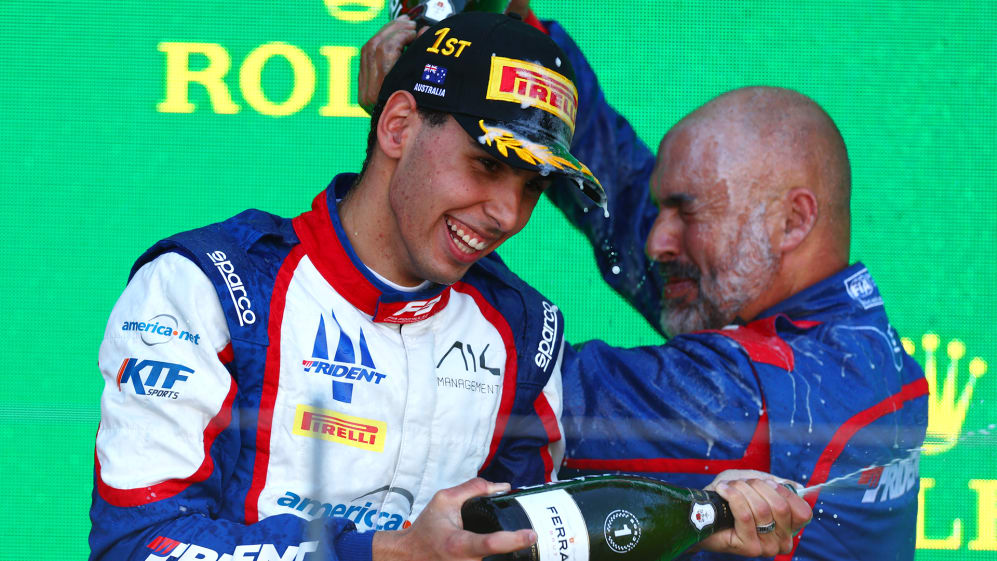 "In Monaco, I would say the car was at its worst all season and I was able to be P5 in the Feature Race. That's when I said, if this is the worst moment, I can have some amazing ones this year."
Interestingly, Bortoleto didn't stand on the top step for the remainder of the year after Melbourne.
READ MORE: 'We just try to build the fastest car' – Horner hits back at suggestions RB19 is tailored to Verstappen over Perez
"I'll be very honest, I don't think I maximised results at every race. I always wanted to win. I'm never happy finishing P5 or P6. But sometimes, I just couldn't. Maybe I didn't have the pace to do it or I wasn't driving perfectly.
"I was always able to be very close and in the points for what the car gave me, apart from Spa where I got zero. Maybe I was too focused on getting the points during the season and sometimes I lost some opportunities to win, but I was always able to score. I feel like I was always able to get something out of the car."
Bortoleto's championship-first mentality gave his rivals no hope of closing the gap in the end. He headed to the final round 38 points to the good. It meant rivals Paul Aron and Josep Maria Marti had to secure maximum points from Monza to even stand a chance of overhauling the Brazilian.
Neither was able achieve the two points for pole position required to take the title fight into Saturday, leaving Bortoleto strapped in the car in the pit lane as champion. For the final two races, he reverted to instinct.
THIS WEEK IN F1: Take our Italian Grand Prix quiz for a chance to win a very special prize
"After I won the championship in qualifying, I really wanted to have a little bit more fun and try to be a little bit more aggressive, go back to my natural way of driving. I needed to be careful throughout the season because you could easily crash or not finish the race, but at Monza, I had freedom.
"It felt great to drive and to pull off some of those moves and then in the Feature Race, because of the aggressiveness I managed to get to the front but then dropped back and had to fight through again."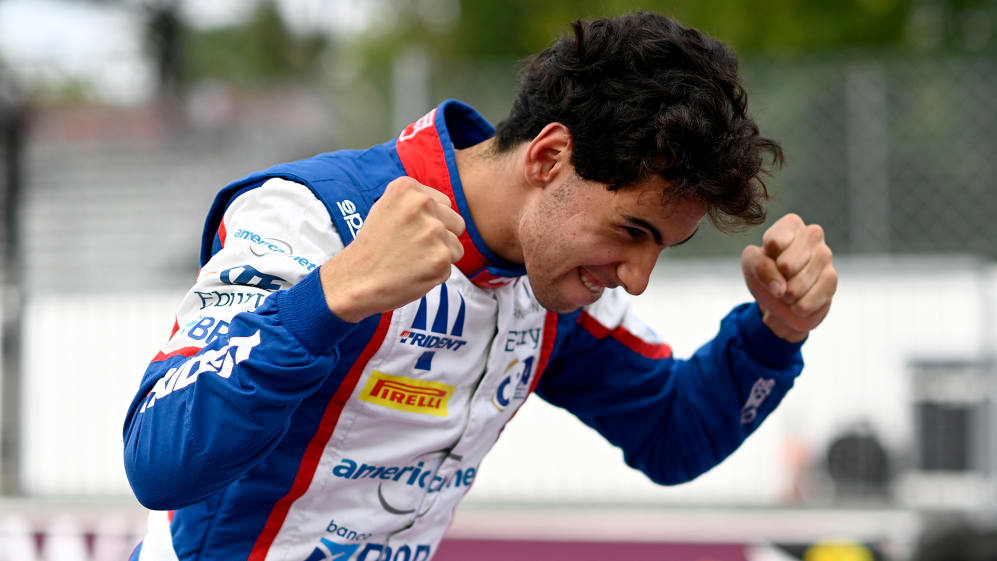 F3 success in 2023 marks Bortoleto's first championship title in single-seaters in what was his most impressive campaign to date in junior formula. The fundamentals have always been present, but the intricate final details are where Bortoleto believes he made the difference this season.
From understanding the Pirelli rubber to the importance of cultivating a team culture and fighting for his mechanics and engineers alongside personal ambitions, the Trident driver says he reached a new level in 2023.
POWER RANKINGS: Two drivers are tied at the top as the scores come in from the Italian Grand Prix
"One hundred per cent, I've improved massively through the season. I think the speed was already there from the beginning, but the main thing for me was racecraft, saving the tyres and dealing with the car.
"I think I improved my mentality a lot, my way of thinking and how to work as a team. With Trident, I realised that if you do things properly with the team, working with them, being close with them, living with them almost, you get to know them personally as well as professionally.
"You carry them with you in whatever you do. It makes a really big difference. The team is always trying to give their best for you, but when they have a feeling of great respect for you, they will do the maximum they can two times over, and I will do the same as a driver because I really care for Trident."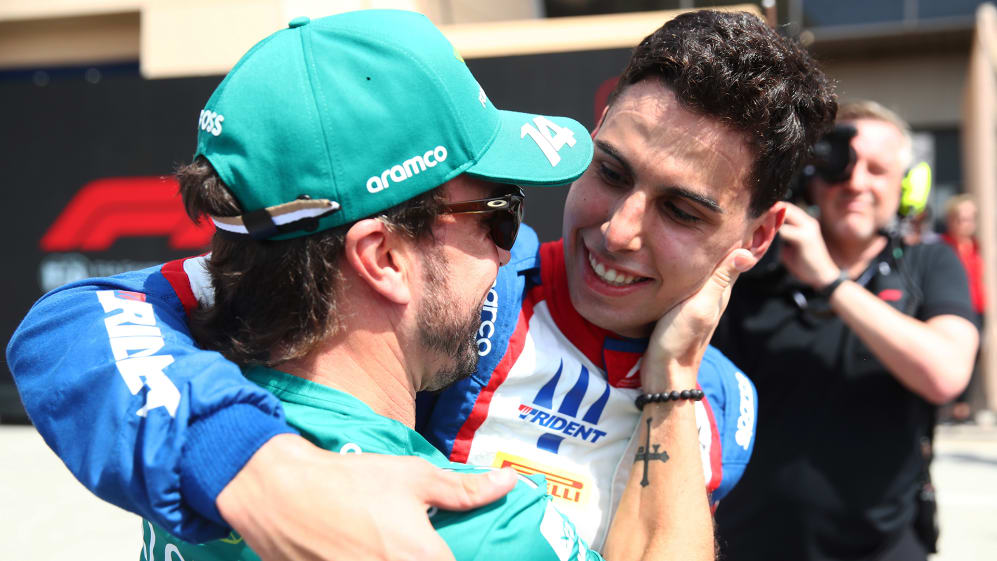 Similarly to mentor Alonso's first F1 title in 2005, Bortoleto's fast start and early pace made a big difference as rivals tried to keep pace but ultimately fell short.
The Spaniard was a significant presence underneath the podium in Bahrain following the 18-year-old's first win. For Bortoleto, having 'El Matador' in his corner has been a career-changing experience, and plans are well under way for his next steps in 2024.
BEYOND THE GRID: Nico Hulkenberg on his Formula 1 return with Haas, his family life, and much more
"He texted me after the title and on Saturday night saying he was sorry for not being able to be in the pit lane when I won or under the podium as he was busy in meetings, but he was very happy for me and proud of what I did this year.
"He's seen I've been very focused and dedicated for this. I saw him on Sunday and we were talking, planning things for the future."
That future looks very bright for Formula 3's first Brazilian champion. Already lining up plans to graduate to Formula 2 next year, you will want to keep an eye on Gabriel Bortoleto. Many in the F1 paddock already are.