Feature
FANTASY FOCUS: Who should be in your team for Great Britain?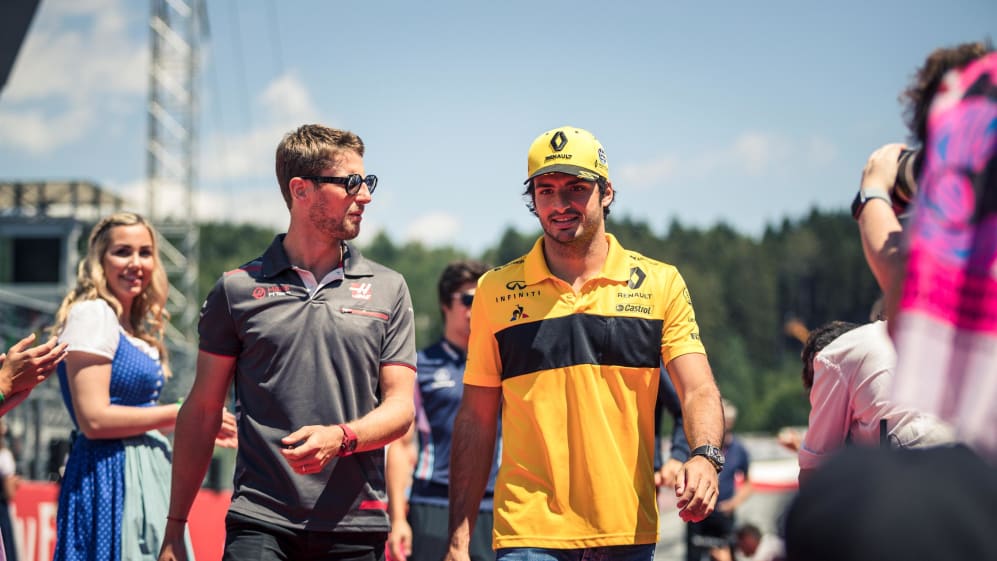 Have you mastered your Fantasy F1 strategy for the British Grand Prix? If you haven't, fear not. Ahead of this weekend's third and final part of Formula One's first ever triple header, here's a few tips and tricks that may help you along the way...
Silverstone streak bonuses
The streak bonus – which is awarded to the drivers who qualify (five points) and/or finish the race (ten points) in the top ten for a fifth time in a row – has certainly given our Fantasy F1 players something to think about when selecting their dream team.
So those who had Max Verstappen in their team for the Austrian Grand Prix would have been delighted with his performance. The Dutchman completed his fifth-consecutive top-ten race in Spielberg to gain his bonus, meaning his streak counter resets this weekend.
Looking ahead to this weekend, Kimi Raikkonen is the only driver placed to obtain a streak bonus. The Ferrari driver has finished the previous four races in the top ten so could unlock that bonus at Silverstone. He's had success in this race before, winning in 2007 and finishing third last year, so it wouldn't be a bad shout to give him a run out (if he isn't in your team already...).
It's also worth considering the constructors' steaks, which requires the teams to deliver both drivers in the top ten - in either qualifying or the race - for three races in a row. Haas are the only team poised for a bonus, though they're only eligible for the qualifying streak.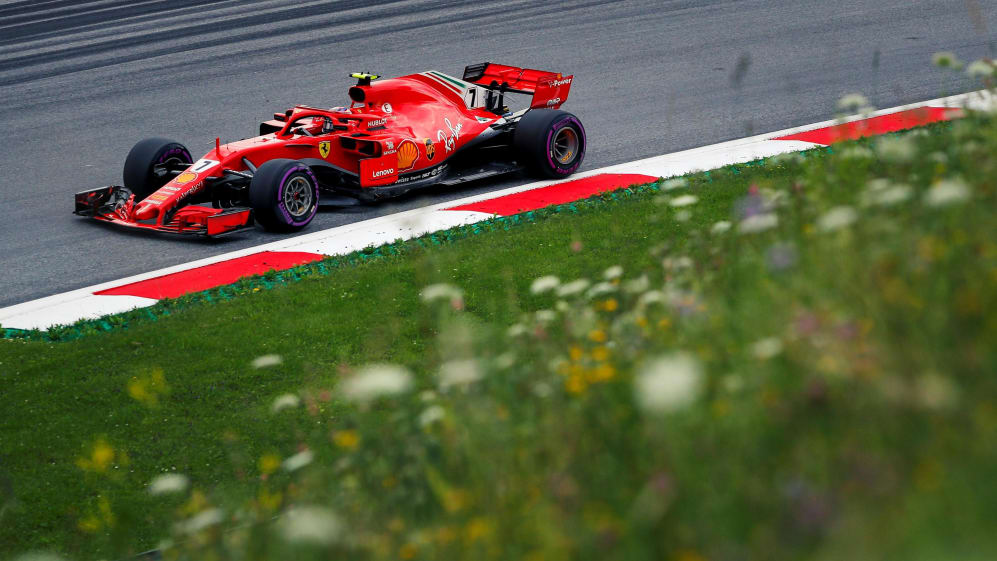 The big winners in Austria
Talking of Haas, their drivers were the big Fantasy F1 winners at the Red Bull Ring, much to the delight of our players who have shown loyalty to Romain Grosjean.
The Frenchman has had a tough start to the season but finally landed his first top-ten finish of the season, with his P4 helping him leave Austria with a 28-point haul. Given his highest total was nine heading to Austria, we suspect there were a few happy team owners at the weekend.
His team mate Kevin Magnussen has been a popular pick this season, and he delivered 23 points with his P5 – the third time this season he has gained more than 20 points. The Dane is enjoying a consistent season and will hope to continue that form at Silverstone.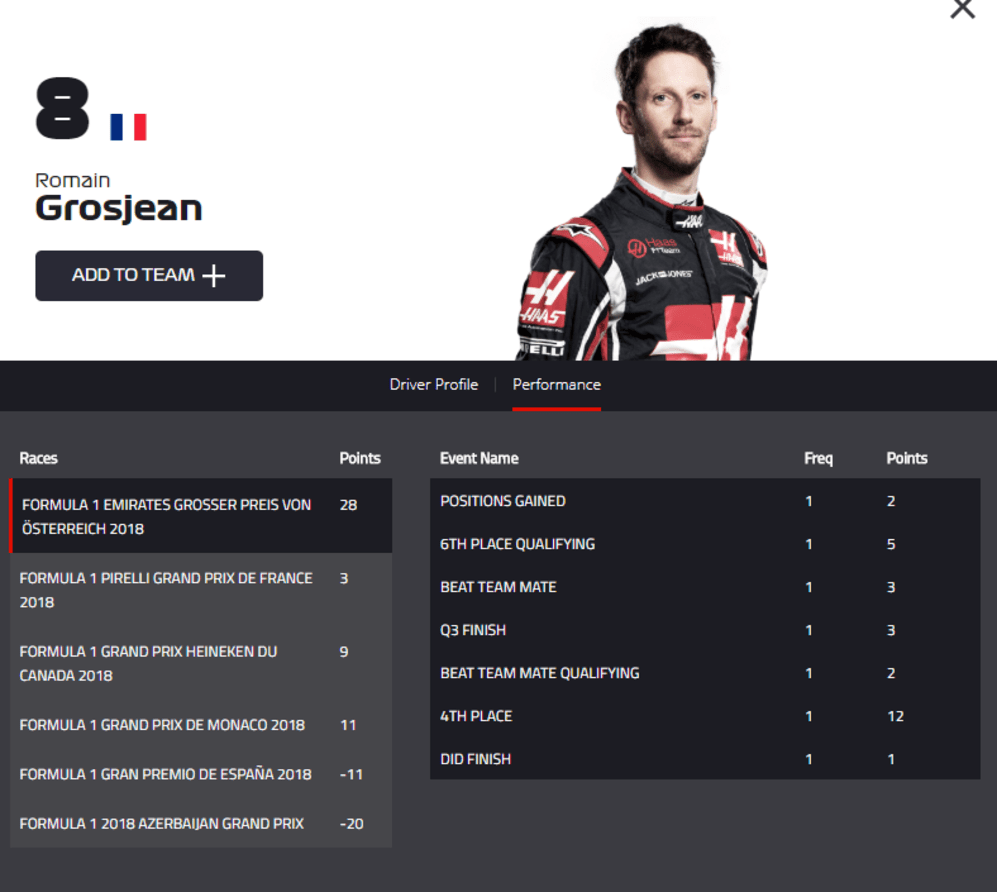 Mixed fortunes for Red Bull
Austria was a mixed result for those Red Bull fans out there. Race winner Verstappen was the top scorer at Spielberg with a mighty 56 points, and he'll head to Silverstone on the back of three consecutive podium finishes for the first time in his career.
Daniel Ricciardo, however, had a birthday to forget. The Australian turned 29 on Sunday but left the Red Bull Ring with -3 points after an engine failure ended his race, as shown below. He has only been on the podium in Silverstone once before, so he'll certainly be keen to make amends this weekend.
For the players who had Red Bull as their chosen constructor, 53 points for the weekend isn't a bad return. They were the second-highest points scorers behind Ferrari (69 points) while Mercedes' two retirements meant they finished the weekend with 30 points.
Hamilton to bounce back?
If you haven't got him in your team already, is now the time to pick up Hamilton? A bad weekend for the Mercedes driver, who was forced to retire from the race with a loss of fuel pressure, means his price has fallen this week to $30.2M.
So players anticipating a Mercedes bounce back, and perhaps a repeat of last year's one-two finish at Silverstone, might want to snap the four-time world champion up. Remember, you've got until before qualifying on Saturday to confirm your line-up.
Hamilton will certainly be motivated to perform this weekend as he attempts to become the first man to win the British Grand Prix six times, surpassing the record jointly held with Jim Clark and Alain Prost.
Position-gained bonus
For drivers struggling to gain the big scores with strong qualifying and/or race finish positions, the positions gained bonuses is a great way to notch up extra points.
With a maximum of ten points on offer to each driver (+2 pts per place gained), it's the cars starting further back on the grid who stand to benefit the most if they can stay out of trouble – especially when those ahead suffer mechanical issues like we saw at the last race.
Talking of Austria, McLaren's Fernando Alonso made up places with late passes on Sauber's Charles Leclerc and Toro Rosso's Pierre Gasly which gained him another ten-point maximum for places gained.
However, it's Marcus Ericsson who leads the way in that area. The Sauber driver also scored ten points in Austria and has gained 48 points out of his 65 season total in that category.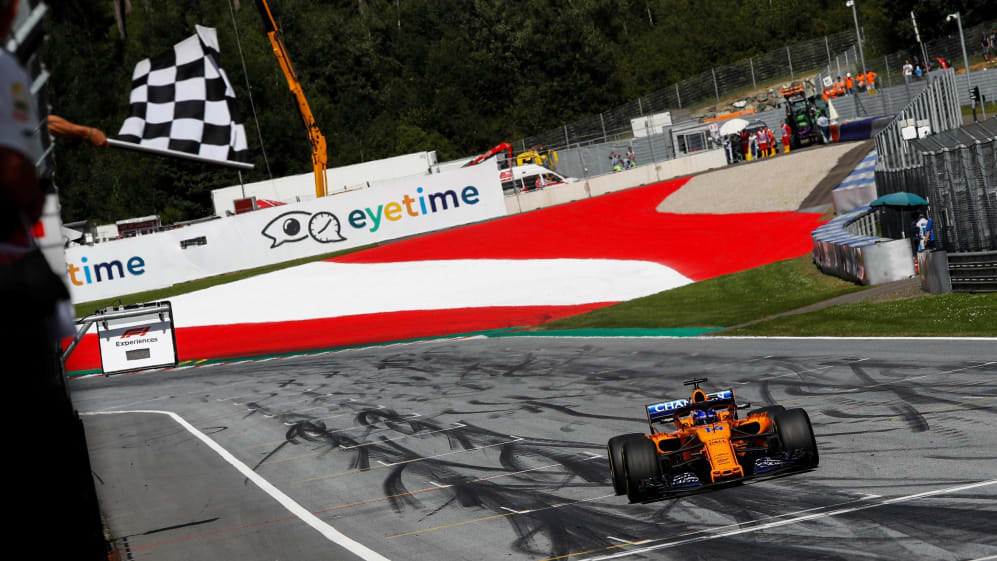 Team mate battles
Another category to consider when looking for some extra points is the 'beats team mate' area. And it's a Sauber driver again who is performing well in this section…
But this time, it's Leclerc who deserves the plaudits. The Ferrari protege's exit from the Monaco Grand Prix is the only time he hasn't won his battle with Ericsson, and he's scored 27 points this way so far.
Other dominant team mates are Fernando Alonso, Sebastian Vettel and Esteban Ocon, who have all gained 21 points this way with Verstappen, Carlos Sainz, Magnussen and Hamilton all scoring 20 points this season by outperforming their team mate.
You've got a good few days to have your game-plan ready, so good luck!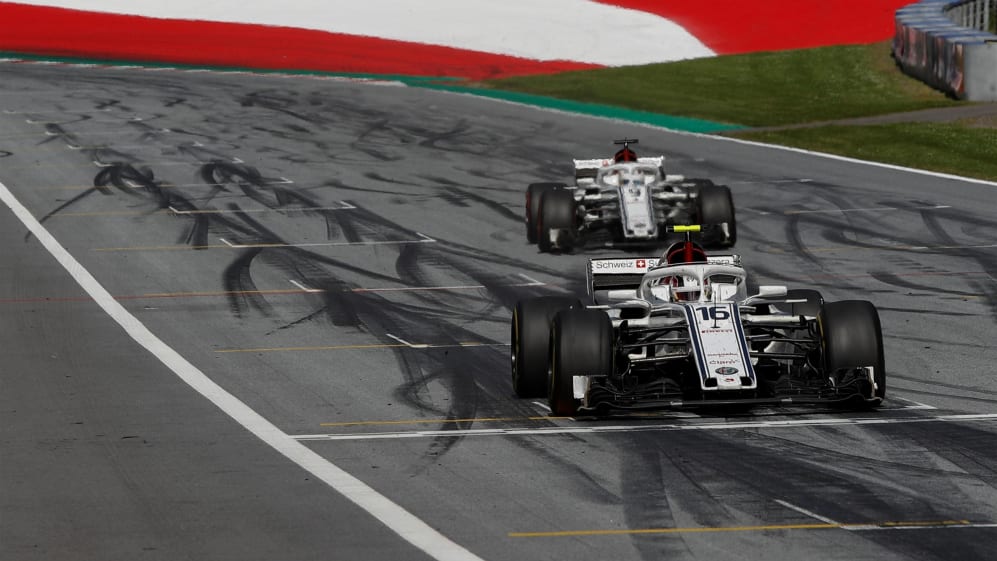 Have you signed up yet?
To start playing Fantasy F1, simply click here to create your team – and remember you can make changes to your line-up at any time up to the selection deadline, which is the start of qualifying at Silverstone on Saturday. And don't forget, there are a host of exclusive prizes on offer for the winners!