Feature
Fernando Alonso: What will the Spaniard be doing for McLaren in 2019?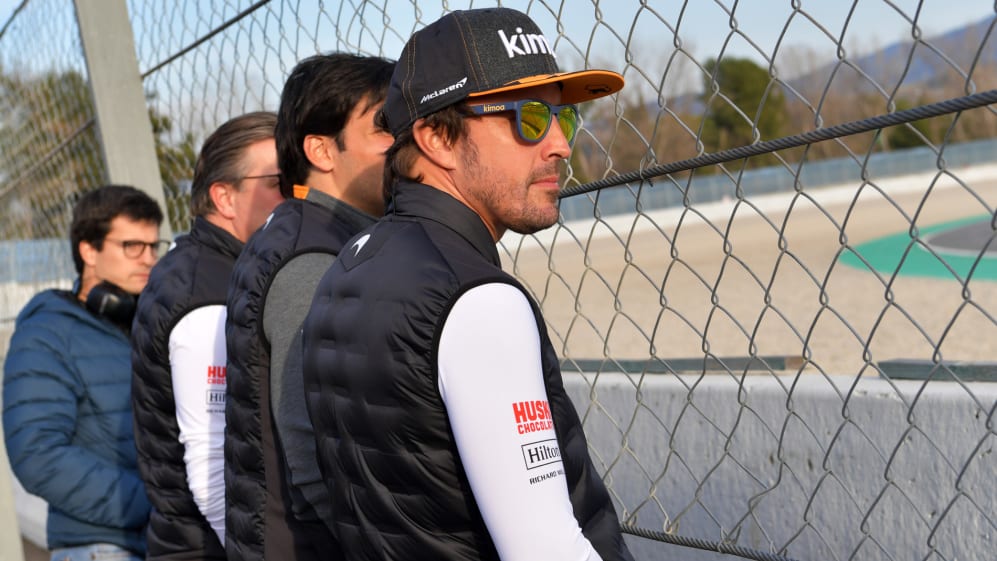 Mere months after Fernando Alonso waved goodbye to Formula 1, the double world champion has already made a comeback – of sorts... Last week it was revealed that he we be a McLaren ambassador, with the role also seeing him jump back behind the wheel of an F1 car.
The deal was announced amid plenty of hubbub in Spain. A swarm of photographers breezed down the paddock during pre-season testing at the Circuit de Barcelona-Catalunya. Nestled inside the scrum was not a current race driver, but rather one of the greats of days gone by. Alonso had opted to make a 'social' visit while F1 was in homeland. It was an opportunity to catch up with old friends and colleagues and see the latest generation of cars in the flesh. But also a chance to listen in to debriefs and team radio, something which it emerged would be part of a more formal role.
Even when Alonso left McLaren, it was clear he would remain part of the family. After all, he already had a deal in his pocket to pilot one of their cars in this year's Indianapolis 500, as he bids to become only the second man to win the fabled Triple Crown. Alongside those preparations, he is competing in the World Endurance Championship, where he is favourite to win the title with Toyota. But F1 was never too far from his mind.
"From last summer, we have been discussing different scenarios," he said. "The first one was to secure the Indy 500. Then we discussed different things over the winter and we could announce this F1 deal."
At the moment I feel at the peak of my career so probably being at home is a waste of time and possibilities for everyone
Of course his talents behind the wheel are one of his key strengths so time in the car is a must. Discussions about when this will happen are ongoing, but McLaren chief Zak Brown says Friday running on race weekends is unlikely. One of the in-season tests, this year pencilled in for Bahrain and Spain, and/or one of the Pirelli tyre tests, which are scattered throughout the year, are more realistic.
"We think [Alonso testing is the car is] important to help us develop the carfor this season and start giving us outlook for 2020 as well," said Brown.
Alonso the developer
Development is where Alonso can have great influence. He was heavily involved when this year's car – the MCL34 – was born at the McLaren Technology Centre. He gave detailed feedback on the team's problems, their weaknesses and their philosophies. He even carried out simulator work. Now that the 2019 car is running on track, it makes sense he would be in a position to help the team understand the data.
"Probably some of the results that they are getting, they don't know the background of those changes or the philosophy that is behind that design so I think that is something that I can give my input on," he said. "Maybe having a driver behind the engineers thinking helps. They analyse and make decisions looking at the telemetry. I can be the link between what they see on the data and what the driver is feeling or what the message the driver is passing through the radio. Hopefully I can help as much as I can."
His Indy preparations will take up a lot of Alonso's time. That's no surprise given how keen he is to win that race. But that doesn't mean he won't be heavily involved in other ways until he has more capacity. It seems he'll evolve into a super consultant, always on the end of a phone line or Whatsapp message, who will be completely plugged into the outfit when he's away racing elsewhere or training or front and centre when he has the capacity to be onsite.
"I will try to be present at the circuit as much as I can," he said. "Especially the first half of the season is going to be very busy for me so it is going to be difficult to attend but maybe in the second part of the year, depending on my programme for the rest of the season and 2020 maybe I will have more time. But if I am not present at the circuit I am going to be linked by either email, video conference or MTC on the simulator or in the debriefs. I still think it is going to be relevant."
Alonso the mentor
His 18 years of experience can also be utilised with regards McLaren's race drivers. Carlos Sainz and Lando Norris, with a combined age of 42 that is only five years older than Alonso, form one of the team's youngest and most inexperienced line-ups ever. Fortunately, the Spaniard has had a long-term friendship with Sainz – the pair get on well and catch up away from race tracks – while he has got to know Norris well when they teamed up on the Daytona 24 Hours together in 2018. There is plenty they can learn from Alonso, which in turn will counter their relative lack of F1 experience.
"They are both well prepared and for me it's more to make sure that what they feel and what they drive on track is well understood by the engineers because sometimes the drivers will speak one language and the engineers they understand differently," said Alonso. "Clarification is probably the biggest thing I can help with, especially as they are very new to the team."
I am doing different iconic races now because I feel I am in the best moment of driving of my career
From a personal point of view, it will be very important for Alonso to be driving current F1 machinery. Once you leave the championship, it's very easy to be cut adrift – even for someone of Alonso's immense talent. By keeping his toe in the water by driving the car on occasion while remaining across everything that is going on internally with regards the development of the car, he will remain an attractive proposition for both McLaren and potentially other teams in the future.
"I feel at the peak of my career so probably being at home is a waste of time," said Alonso. "I feel very good now and very competitive in any car I jump in. If one day [the opportunity of] Formula 1 again arrives where I can be competitive and I can win then I cannot be relaxed at home in that moment. I need to keep updated. The way to do that at the moment is to be involved somehow. I am doing different iconic races now because I feel I am in the best moment of driving of my career so I hope to win as many races as I can."